I've been thinking about buying one of those physical activity-tracking wristbands, such as a Fitbit. Have you ever worn one? Apparently a third of people stop using theirs within six months, which I think is my main concern? I lose interest in things super fast. Also, it seems like they might be an item that's easy to misplace or break. If you have any experiences to share then I'd be pretty excited about that, thank you.
This week I've been wholly focussed on returning to my health and wellness kick after being ill, which hasn't been easy. "It's not easywp_posts- me, about so many things this week. My fitness level declines super quick after taking time out. Overall, though, my body is starting to feel great! I'm feel a little stronger and healthier and more accountable for wellness. It's delightful.
I decided that it's time to focus on stepping further outside my comfort zone and trying new and slightly more challenging things. My exercise routine has started feeling cruisey. Walking uphill for an hour is good exercise and a huge improvement on couch-sitting but it's pretty boring and I feel like I'm barely breaking a sweat anymore. So, in my effort to push myself a little harder and further, here's what has / hasn't been working:
Working: 30 day fitness challenges
Last week I mentioned that I was starting the 30 Day Ab Challenge. If you decided to join me, how's it going? (And if you missed last week's article and you want to join in, it's not too late! This is the app).
I've been contemplating working on core strength for a few months now; not so much to transform into Sally Six-Pack but rather because of how it delivers a whole heap of benefits to an ageing body such as increased bone mass, stamina and focus. Plus I recently witnessed my pal Anne Marie tackle some 30-day strength challenges like a champ and it was truly inspiring. It made me feel like maybe I could kick ass at it too.
(Unfortunately I can't kick anything because I can barely move. LOL! More on that in a sec.)
So, the good parts: hands down the 30 day deadline; it's perfect for my short attention span and makes the commitment of trying something new feel less daunting and more achievable. I do have this feeling that as a clueless amateur, maybe I shouldn't be following an unsupervised 'one fits all' program that increases intensity without taking into consideration my specific fitness levels. (I decided to still proceed but with caution and listening to my body).
I'm loving how there are only four ab exercises to master, and every fourth day is a rest day (at least on the 'Beginner 1' level. I also appreciate the illustrated instructions on how to do the exercises but I've mostly been use them as a reminder; I found that YouTube videos give clearer instructions.
The not as good parts: it so difficult! At least for me and my weak core. My first day included 5 leg raises, an exercise invented by satan, and ended with an inhumane 24 second plank. Days 2-4 ached a lot.
The targets have been escalating a little too quickly for my non-existent core to deal and so I've been cheating a lot. On Day 3 I did the sit-ups on my bed because when I tried to lower my torso onto the floor my abs were just like NOPE. On Day 4, I woke up still aching but this time there was blood involved and so I raced to my doctor, convinced that I'd torn an ab, or something. (Everything was chill, though, the only issue was me not fully understanding how the contraceptive pill works).
Now it's Day 5 and things are far less sore and dramatic. In fact I'm feeling really motivated to continue and my abs are starting to feel tight, like they might be getting stronger. Right now I feel like I can actually do this, become a person who has strong core muscles.
How did you go?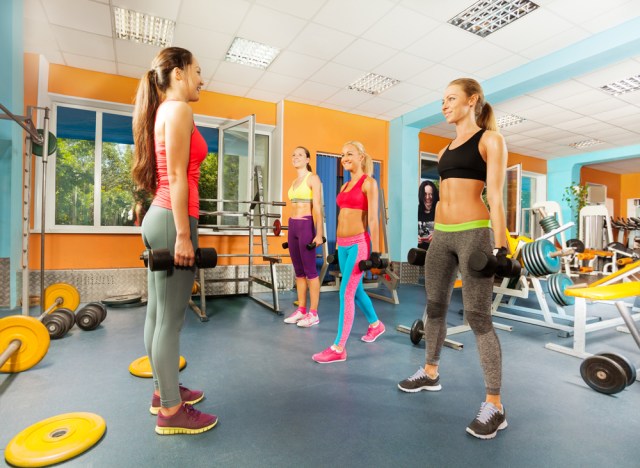 Not working (yet): Bravery
What exercises get you going? A few years ago I tried boxing and loved it, although sadly there are too many barriers for me to pick it up again right now. So I'm trying to open my mind to other non-treadmill workouts that will offer a similar challenges and diversity. Some of you have already given me great suggestions in previous columns, like martial arts and roller derby, that I've been filing away for the coming months. (I think yoga will be the first one I try).
I've mentioned my extreme fear of group fitness classes once or twice now and it's still a thing that I'm trying to work up the guts to conquer. It doesn't help that the classes all have ambiguous names like "BODYJAMwp_postsand "HHILT," which don't paint a clear picture as to what's involved and which fitness level it's aimed at. I'm too much of a scaredy cat to ask the staff because I know that once I have answers, I'll be out of excuses. So for now, I'm just casually lurking in the doorways of exercise studios, trying to psych myself up to walk through. It's a process. I think I'll get there soon, though.
Not working (yet): Swimming
Last month I got this wild idea that swimming at the gym pool would be a super fun way to get fit, never mind that it's been roughly fifteen years since my last attempt and I recall being pretty shit.
Regardless, I was highly motivated and enthusiastic. I ordered and returned various swimsuits online until I found one offering my preferred level of skin coverage and then waited until late-night, when the gym pool was near-empty, to make my maiden voyage.
I choked, literally and figuratively, because swimming is apparently not like riding a bike. I dog paddled for about 15 minutes until a child jumped into my lane and started showing me up with his legit swim strokes.
I'm still feeling motivated to keep trying but also debating my approach. I could try to learn the proper strokes but also, dog paddling kinda feels like a valid workout? Fifteen minutes of flailing around left me fucking exhausted. Does pool etiquette dictate that you need to use an Olympic certified swim stroke? Is it cool to side-eye 10-year-olds who out-lap me in the slow lane or will that get me kicked out? Are they even supposed to be there unsupervised at midnight? Get off my lawn.
Tell me about your unspoken rules, gym swimmers.
What have you been up to this week? Tell me everything. Have you joined the Autostraddle Working On It social group? We've been having some good discussions on there, come on in.
Coming up next week: Hydration and meditation!