I had high hopes for the eighth grade talent show. Our team would be lip-syncing and dancing to Madonna's "Material Girl" and for reasons that escape me now, I was the production's choreographer and apparent costume designer — shocking, I know, as I can barely dance and dress myself, let alone guide others. Probably I had a second-in-command, and I was likely in charge because I put myself in charge of everything all the time.
After a piss-poor Nirvana air guitar situation and Mary-Beth Goldstein sitting onstage lip-syncing with despondence for the eight-minute entirety of Pearl Jam's Better Man, I thought we had this shit in the bag. We were warned that the other team – our friends, who I'll call The B-Team – were planning to feature all the most popular 8th grade boys in full drag. We knew this 'cause they'd borrowed our dresses (not mine) and makeup (also not mine), which would surely delight the audience. I brushed it off. So what? Guys dressed as girls? I mean, that's not a joke in and of itself, is it? We'd borrowed the A-Team boys' flannels and baseball caps for our number, but that was just an outfit, it wasn't a joke. I dressed like that every day, actually (which may have been why I was the only one in my group of friends unable to secure a boyfriend), but it wasn't necessarily funny.
We did well. The response was enthusiastic. We even allowed our t-shirt-and-jeans-attired boys to put ballons under their t-shirts, as they were apparently envious of the other team's full-drag situation. But reader — when "Supermodel (You Better Work)" started pumping out of the tape recorder and The B-Team took the stage in full drag as promised, the response was deafening. There was whistling, hooting/hollering and manic applause. See, the boys were adorned head-to-toe in "girl" — dresses, high heels, balloon-breasts and clownish makeup including lipstick that looked like it had been applied during a high-speed chase. Nobody bothered with a wig, though. They weren't dressed as women, not really. They were dressed as drunk teenagers running late for church.
Somehow, the memory of standing in the back of the room during their performance, being the only one in the entire school not laughing, has stuck with me like it was yesterday. I'd been raised "gender neutral" and I wasn't remotely troubled by the idea of a male or female-bodied person wanting to present as the opposite gender they were assigned at birth. But boys putting on bras, dresses and lipstick for laughs, like Zach and Screech always did on Saved by the Bell? That made me want to leave the room.
So when I saw the first preview for Work It a few months ago, my knee-jerk reaction didn't have anything to do with my radical socialist lesbian feminist rage, but that still-unidentified piece of me that just doesn't get the joke. [I've also read pieces of the scripts for the first four episodes, with similar results.] It's not out of political correctness — although I tame myself for Autostraddle, my sense of humor in real life is WAY not-PC — so I know that has nothing to do with my confusion.
Why is this funny?
To answer that question, let's first start out with a briefing on the worldwide webrage regarding Work It, which is set to premiere on January 3rd. From the HRC:
According to ABC, the show centers on two unemployed men who have "learned the hard way that the current recession is more of a 'man-cession' and their skills aren't in high demand." One finds out that a pharmaceuticals company is hiring sales reps, but only female sales reps. He goes to the interview dressed in heels, a skirt, and make-up and gets hired as a woman.
GLAAD is asking ABC to reconsider airing the program at all and The HRC, which doesn't often get involved in media-related situations, has started a petition against Work It. From Glaad's letter:
GLAAD has seen the pilot and while the show's pilot does not explicitly address transgender people, many home viewers unfamiliar with the realities of being transgender will still make the connection.  Work It invites the audience to laugh at images of men trying to adopt a feminine appearance, thereby also making it easier to mock people whose gender identity and expression are different than the one they were assigned at birth.  Said GLAAD's Acting President Mike Thompson, "Transphobia is still all too prevalent in our society and this show will only contribute to it.  It will reinforce the mistaken belief that transgender women are simply 'men pretending to be women,' and that their efforts to live their lives authentically as women are a form of lying or deception."
I'd go one step further however — I don't think this show is simply transphobic, I think it's trans misogynist and generally all-around sexist and misogynist. Is the show mocking "people" whose gender identity and expression are different than the one they were assigned, or is it mocking "people" whose gender identity and expression are feminine?
Because by the way, the cisgender straight female characters of this program are idiots who spend 95% of their screentime talking about men and fighting over men. And every.single.joke inWork It relies on the idea that a men "dressing like women" is inherently hilarious. Although masculine women deal with a whole other set of oppressive discrimination (and I'm not comparing the two, this is  not Oppression Olympics I'm just saying they're different), a straight cisgender woman wearing a suit isn't inherently funny. It's trendy, even.
So why is a man in woman's clothing a joke?
It must be a joke because women are a joke!
"Today, while it is generally considered to be offensive or prejudiced to openly discriminate against someone for being female, discriminating against someone's femininity is still fair game," Julia Serano writes in her book Whipping Girl: A Transsexual Woman on Sexism and the Scapegoating of Femininity. Serano suggests this discrimination also affects how we see "effeminate" gay men, how lesbians sometimes ostracize lesbian femmes, and why the media is so attached to the portrayal of femininity as "artificial, contrived and frivolous; a ruse that only serves the purpose of attracting and appeasing the desires of men." In line with this, popular narratives about trans women obsessively focus on the "costume" of femininity, such as makeup and shoes, when in reality a lot of women — both trans and cis — don't even wear makeup or own a dress. Similarly, masculine women are perceived as pariahs for refusing to fit into the patriarchal ideal of women as artificial, contrived and frivolous.
So maybe part of why I don't find this joke funny is that I don't find women inherently silly and  also, the situation of feeling uncomfortable about having to fit into a specific box and appear like a certain "type" of woman is hardly an experience exclusive to cisgender males made to don mini-skirts in a sitcom.
Anyhow, that's not the only sexist strand running through this field of fail! The idea that women have an easier time getting jobs than men or that women actually have surpassed men in workplace inequality is grossly misleading to begin with. It's evidence of the EVIL BACKLASH Susan Faludi discusses in her book, Backlash: "The backlash is at once sophisticated and banal, deceptively 'progressive' and proudly backward." As we discussed earlier this week, the gender wage gap remains but there are plenty of people dedicated to making us think otherwise (though rarely consciously), including, apparently, the creators of this show.
However, let's suspend our disbelief, beliefs, and everything else we know to be true in this world, and go with it. Basically, two men are told they're not welcome in a space because it's a women's space, and rather than respect that, they find a way around it! Surely these women are delusional! How silly of us, to think there's anything men can't do, and how nice of them to take it upon themselves to circumvent our sexist system and bless us with their abilities. A touching narrative reminiscent of Soul Man, the 1986 film about a white guy who dons blackface in order to obtain a full scholarship to Harvard! (It's also worth mentioning that the "men finding a way into a women's space" scenario is particularly insulting/problematic/loaded because historically, trans women have often felt or been excluded from women's spaces where they unquestionably ought to be included.)
ABC has a truly fantastic record of LGBT representation, which makes this show especially disappointing. The head of ABC has apparently defended the show by saying, "I'm a Brit, it is in my contract that I have to do one cross-dressing show a year; I was brought up on Monty Python. What can I do?" GLAAD points out that "there has been forty years of progressive social change since Monty Python's television heyday." I'd add that Monty Python was also smart and funny. Work It! is not. It's stupid! All the jokes are stupid and boring and lazy.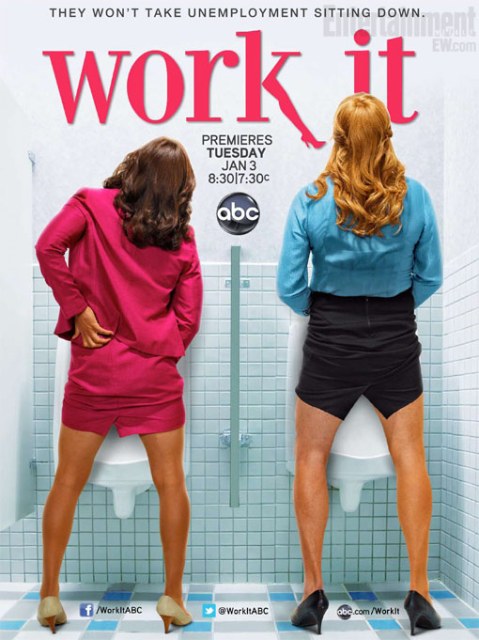 The B-Team won the Talent Show, by the way. And this show will air, and I'll be unable to watch it because I don't like that joke and it makes me feel weird, but also because it's sexist and transphobic and not funny. But will the rest of the room be laughing? I guess we'll have to wait and see.
UPDATE 12.21.2011: GLAAD and the HRC have placed a full-page ad in Variety asking ABC to reconsider the program, which they say will harm transgender people. They are attempting to secure a meeting with ABC to discuss the show. In their written statement, GLAAD points out that in addition to harming trans people, Work It also manages to also be offensive to women, people of color and the unemployed. Find out more about their campaign at glaad.org/workit.