WORK IT:
ABC has cancelled Work It — not because it's a misogynist piece of shit or because GLAAD asked them to, but because it got shitty ratings! Furthermore, a slew of negative reviews didn't exactly garner the show any new viewers.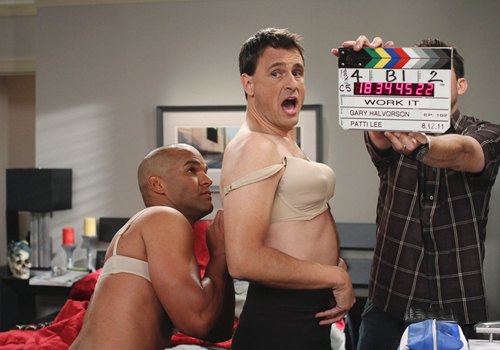 Four days ago at the Television Critics Tour in Pasadena, Paul Lee, ABC Entertainment topper, said he was confused by the GLAAD and HRC campaigns against his show:  "I didn't really get it. I loved Tootsie. I still love Tootsie. I didn't get it. But that's probably me…."
+
SYD THE KID:
The Internet and Odd Future's Syd the Kid, an out lesbian, did an interview with LA Weekly in which she expressed her disdain for the word "lesbian" and, well — read it for yourself:
On the lack of out-of-the-closet gay urban artists: 
"There's Alicia Keys, who's married to Swizz Beatz – we know that shit ain't real. You got Queen Latifah kissing Common in movies. Missy Elliott saying she don't wanna hang with bitches. You know she loves her some bitches."
On the word "lesbian":
"I hate the word 'lesbian.' Or 'pussy.' Or even like, 'thespian.' They're just awkward words! If you know me you might hear me say the word 'gay,' or something. I'd much rather say gay than lesbian. Not only that, but I don't know if I'd kick it with a group of lesbians anyway."
Firstly, wow! I've heard a lot of Alicia Keys rumors over the years, but I had the impression it was far from certain. Queen Latifah is common knowledge and Missy Elliot is semi-common knowledge. It seems like Syd the Kid's thing is just to say whatever the fuck she wants all the time and not worry about the consequences, or something.
+
BRITNEY SPEARS
Britney Spears posted a home video of her son dancing to "Shake Your Grove Thing," the best part is when the other kid comes in on his fucking crazy-bike.