Feature image by Bia Jurema, used with permission
Nobody expected an album about celebrating queerness and reckoning with faith to hit #1 on the iTunes Christian music chart in February, least of all Preacher's Kid creator Grace Semler Baldridge.
When the singer-songwriter, who goes by the stage name Semler, started making covers of the Relient K and Switchfoot songs that comprised the soundtrack of their youth, they figured the project might find an extremely niche audience on the TikTok account they share with their wife, Elizabeth. Baldridge was stunned to encounter an outpouring of support and engagement from other folks who, like them, grew up with those bands and felt a desire to reclaim them from conservative Christian culture.
The response inspired them to get back to writing their own music. "I had been marinating on growing up in faith – the confusion that surrounds that and the sense of comfort that I have in being a Christian," said Baldridge, who is queer and genderqueer. They express their lingering confusion honestly, with lyrics that cut to the heart of the matter.
"Youth group, church camp they really tried it on us/Now I'm grown up and I'm fucked up/Is there still a God I can trust?/If you're out there, I'm waiting/If you're out there, I'm praying," they sing on on "Youth Group."
"I told my wife, 'I think I accidentally wrote a Christian record!'"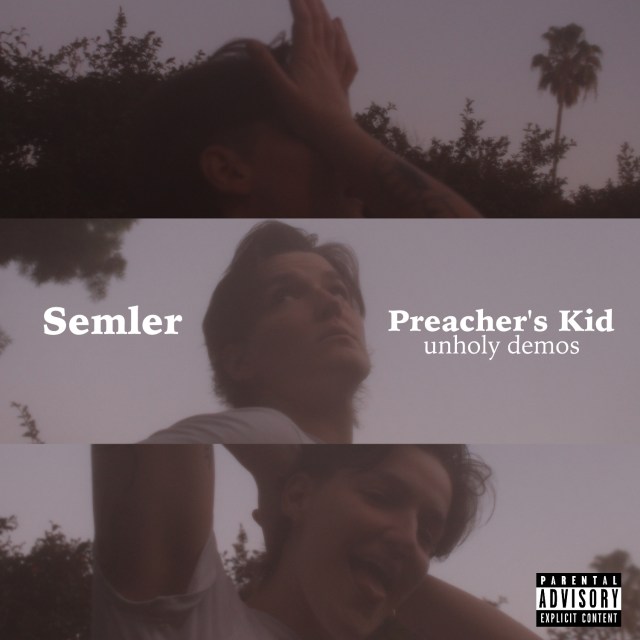 They meant it as a joke, at least at first, but soon enough they were uploading their EP, Preacher's Kid, to Distrokid and claiming their space in the Christian music scene. Baldridge's biggest hope, they explained, was that it might reach other queer folks who had been harmed and rejected by Christians and churches and who were trying to figure out how to relate to their faith in light of that hypocrisy.
'"I thought if we could maybe get it into the top 40 on some Christian charts, then people who need it might find it and find comfort in it," they said. "For anyone who has felt ostracized in the name of God, I was hopeful that I could share my story so they know they're not alone. I felt so alone for a long time. I hope other people might find a bit of companionship."
On February 11th, the album reached the top of the Christian music charts; over a month later, it remains in the top 50. The album offers singer-songwriter folk with an edge, recorded with guitar, piano, harmonica and vocals using a single microphone in Baldridge's apartment between Zoom calls. Sub-titled "unholy demos," the songs have the quality of a project that their creator didn't quite anticipate getting hundreds of thousands of plays. This only adds to the charm and that familiar sense of chaos that comes with trying to reconcile the parts of yourself that people have told you couldn't belong together.
If I had known people would listen to Jesus from Texas I would've played it in time before uploading it to distrokid DAMNNNN IT

— Semler (@GraceBaldridge) March 12, 2021
The album's breakout success happened not with the support of a Contemporary Christian Music label or a carefully coordinated PR campaign but thanks to a massive outpouring of support from queer Christians, exvangelicals, and others who long for new narratives of faith, doubt, and relationship to the Divine.
In the days after the album blew up, my friends started texting me, knowing that Preacher's Kid was extremely my shit. Frankly, I was not in the mood for feelings and dodged their recommendations as long as I could, but I eventually gave in and was hooked.
Semler's music relishes in specificity, offering little details that are at once deeply intimate and totally relatable. On album standout "Jesus from Texas," Baldridge reflects on a lost friendship, singing, "My best friend found God so we lost touch/I guess a savior beats a friend who thinks you're good enough/I hope she finds love and peace/And if her kid comes out I hope that she calls me." We may not all have lost a best friend to conservative Christianity, but most of us have someone who broke our hearts and whose call we would still drop everything to take.
Rejection isn't the whole story of Baldridge's experience as a queer Christian, of course, but ambiguity has played a significant part in their journey away from and back toward faith. They grew up with an Episcopal priest father in a congregation that was quietly affirming — there were LGBTQ+ members and gay folks in leadership, but Baldridge never heard an outwardly affirming sermon. They filled in the gaps with the larger cultural message, which was largely non-affirming. They searched 'gay Christian' on YouTube and found nothing but ex-gay testimony. At Young Life and on mission trips, they heard a message about sexuality that felt incongruent with what they observed in their congregation. Even though Baldridge knew on some level that their dad would be accepting, he was one of the last people they came out to. Today the two have a close relationship, and Baldridge describes him as "selfless and kind."
"Nothing I've ever said to him that has caused him to like stutter or pause. I talked to him about top surgery, and there is no way he would know what that is, but he was just like yeah great! His example allowed me to be open to coming back into faith," they explained. The two have grappled with Baldridge's high school experiences, too. "I've been able to tell him, you know, 'while you were quietly affirming and for that time in the early 2000s that was good, it didn't protect me from the other stuff.'"
After a decade or so of ambivalence, Baldridge has actively sought out queer faith communities in person and online over the past two years. They still struggle with many aspects of Christian culture but are seeking to find the congruence that has felt absent for so long.
"Queer people have had to reclaim a sense of dignity in who the creator made us to be," Badridge said. "Being aware of queer theology, listening to queer affirming podcasts and sermons, finding churches that are totally inclusive, for me it makes it feel like it was all worth it. Finding this home, finding queer Christian spaces and engaging with communities has made all the difference for me to feel solid in the work I have ahead of me."
Baldridge plans to continue making those connections and hopes their music can facilitate community for others, too. They're planning to release another single in April and hoping the positive vaccine news will make touring possible soon enough. They look forward to meeting people who were once convinced, like Baldridge was, that they were all alone.
"There are so many of us, and we've been so conditioned to think that the path we've found ourselves on was one of isolation and no community," they said. "Especially this past year, I've found the opposite to be true and a deep fellowship with other people."
Part of what makes Preacher's Kid so effective is that Baldridge simply doesn't allow anyone else to set the terms about what "Christian music" can be, or what Christian people can be. In their life and with their music, their goal isn't to prove they belong in the culturally-constructed box of traditional Christianity but rather to blow a hole in the box itself. They've been reading the Bible, exploring their gender, and making music about their faith, doubts, and relationships — and trusting that they can find the sacred in all of these acts.
Coming out and coming into themself "opened me up to a curiosity and possibility about the Divine that changed my life and inspires me every single day to look for that in other people. I'm not saying I get it right all the time, but it's part of my walk now. It's about the possibility of like, how big is God? All the limitations of the Divine were shed as I stepped into my queerness."