From my time in culinary school and all the interactions I've had with chefs over the past couple years, one of the most surprising things I have learned about the food industry is that most chefs hate brunch. I guess I understand why they would. People come clamoring into restaurants with a million demands about how exactly they want their eggs cooked. Chefs think the whole bottomless mimosas thing is bunch of bullshit, and they don't want to provide you with both sweet and savory options in the middle of the freaking day. Servers are miserable. I get it, I really do.
BUT at the same time, I could NOT DISAGREE MORE. Brunch is my favorite. Why? Because I WANT to eat pancakes at 2 pm without feeling like a complete waste of human life. I want to also eat a fritatta because I'm probably not going to eat again until 10:00 pm. I don't want to wake up early on a weekend just so I don't miss the breakfast cut off. I want to drink cheap champagne and orange juice to my hearts content while I gossip with my friends, just feeling good about being ALIVE. In fact, I think brunch is practically like the world's greatest therapy session. Yea, some people like to get all dressed up for brunch and actually do their makeup and hair, but I am not one of them and neither are most of my friends. Brunch doesn't care if you wear gym clothes and haven't washed your hair in days. And chefs, I know you hate brunch, but I think you are doing really great things with it! Your breakfast and lunch mash-ups are the best (breakfast pizza, I bow down to you) and I often crave them more than your dinner entrees. Sorry. So without further ado, I present my top 5 places to have brunch in NYC:
1. Café Mogador
My all time favorite place ever that I'm not really cool or model-esque enough to eat at but I don't care because the Middle Eastern Egg platter and that freaking zahatar pita is perfection defined.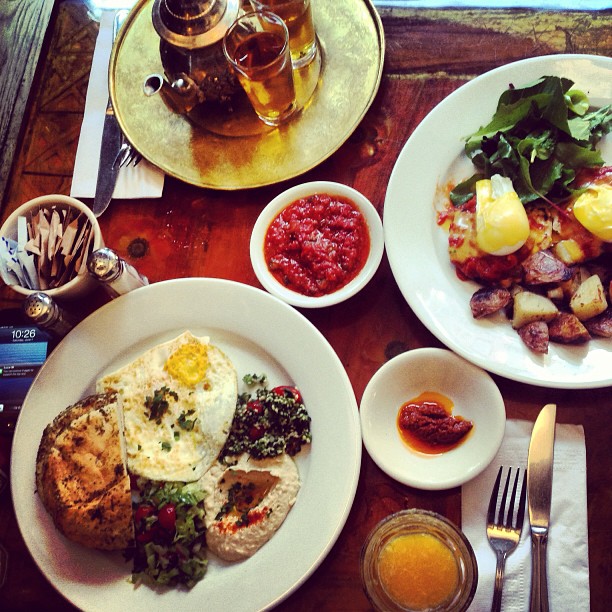 2. Buvette
Super long lines always but they always move really quickly and I don't even care because LOOK at how fluffy these steamed eggs are.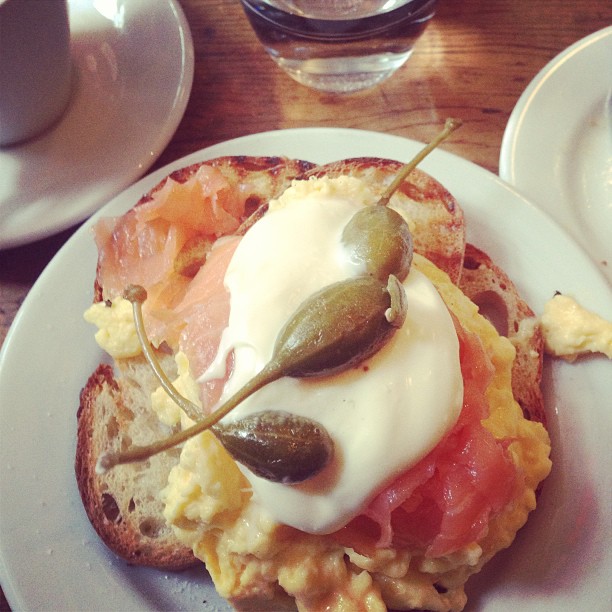 3. Russ & Daughters Café
This is a new restaurant by the people behind my favorite bagel shop. Classic Jew fare by people who have been killin' it for 100 years.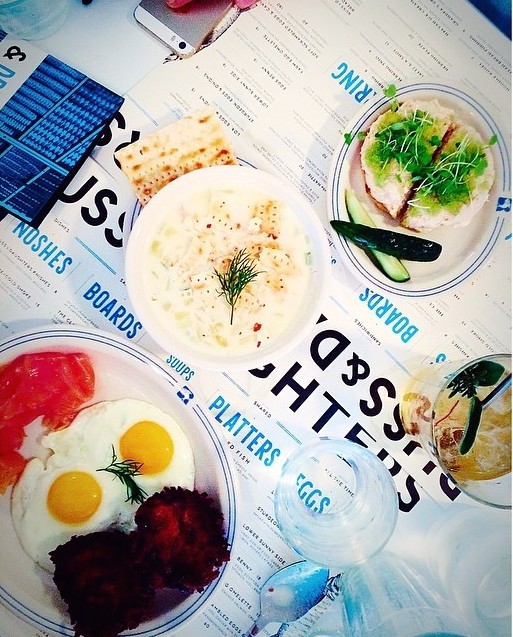 4. Supper
Ladies, you need to get the polenta and eggs with the shrooms. You need to do it.
5. Roebling Tea Room
I have no picture but I just need to point out that I die for their granola and egg salad. Also it was one of my first and favorite dates with my girlfriend so it hold a special place in my corazon.
---
And I couldn't leave you guys without a brunch recipe. This one is inspired by my birthday trip to Tulum, Mexico (Which I could write an entire food post about in itself). Huevos rancheros are perfect because it's like eating tacos in the mornings but better because EGGS. Here are the ones I ate in Tulum with a side of boozy juices.
I don't have a picture of this recipe so close your eyes and pretend. If I were to entertain various individuals for brunch, I would probably make these because a) they are nearly impossible to screw up and b) they would probably justify margaritas before noon.
Huevos Rancheros – Serves 3 or 4
Step 1: Make A Salsa Verde. There are infinite recipes on the inter web, but this charred version from Bon Appetit is my favorite.
Step 2: Make the beans (Or you can skip this step all together and use a can of Goya black bean soup which is already perfection. A trick I learned from this lady.)
You Need:
1 15 oz can of black beans
1 bay leaf
2 green onions, white and pale green parts only, sliced
1 large garlic cloves, minced
Small handful of cilantro, chopped
Salt and pepper
Directions:
All of these things together in a pot with 1/2 cup water, and cook until simmering.
Mash it up a bit with a potato masher, or fork, if you like that sort of consistency (I do).
Season to taste with salt and pepper and keep warm.
Step 3: Assemble those babies
You need:
oil
6 soft 6-inch corn tortillas
6 eggs
1 cup shredded Monterrey Jack or Pepper Jack (or more if you like cheese)
1 avocado, sliced
cilantro
Hot sauce, for serving
Directions:
HEAT: a large non-stick skillet over medium-high heat and add a little oil.
BROWN: tortillas on each side, about 30 seconds per side. Keep tortillas on a plate lined with a kitchen towel and fold the towel around the tortillas to keep warm.
ADD: more oil to the skillet if necessary and cook the eggs undisturbed until the whites are set but the yolk is still runny, about 3 minutes. Do this in batches if you need to.
TO ASSEMBLE: Spread the tortillas with some of the black bean mixture, top with an egg, cheese, avocado, cilantro and hot sauce to your heart's desire.