After we wrapped up things in Graceland, Geneva and I actually did cross the country. And between the plains, the deserts, and the mountain air, we found beauty in it all.
---
Tuesday, 9/15
The day we left Memphis we weren't sure where we were gonna land next. I mean, lord knows we didn't wanna leave, and neither did Eli. We were spoiled by our suite and totally tuckered out, and Albuquerque — our next for real stop on this trip — is about fourteen hours from there by car, and there was no way either of us was down for attempting that. Instead, we opted to get a late batch of breakfast sandwiches and hit up Oklahoma City, which is right in the middle of that trek to New Mexico.
First, we wrestled Eli out of bed, though.
Going to Oklahoma City meant throwing ourselves into nothingness, or at least what feels like nothingness. Big, wide open nothingness. The lush trees lining the road remained, but the stretches of land on either side got longer and longer and longer and, well, just infinite. 
And going to Oklahoma meant getting lost in the thick of something new. It meant getting further and further away from the fast pace of the east coast or big cities. It meant driving away from all the fucks the world had to give. It meant finally feeling tiny in the big, wide universe, in all the best ways.
It also meant stopping at a Love's Truck Stop for the first time in my entire life.
Oklahoma City was pretty munch smack-dab in the middle of the route we'd planned out for the trip, and it was also the space in which things really started to change. The names of chain restaurants on the side of the highway started changing, and big chain coffee shops faded into the distance. Gas station names started changing. The landscape, ever so slightly, started changing. And the tone and pace and feeling did, too. I guess I did, too.
I felt more and more like I was getting lost, more and more like there was no turning around, more and more like maybe the rest of my life was going to be an open road than the places I stopped to rest alongside it. This may have been related as well to the time we veered off our route to find a gas station and ended up in the most beautiful and brilliant little park on the way. We left the plan behind, went looking for one thing, and ended up surrounded by something else entirely. Something better.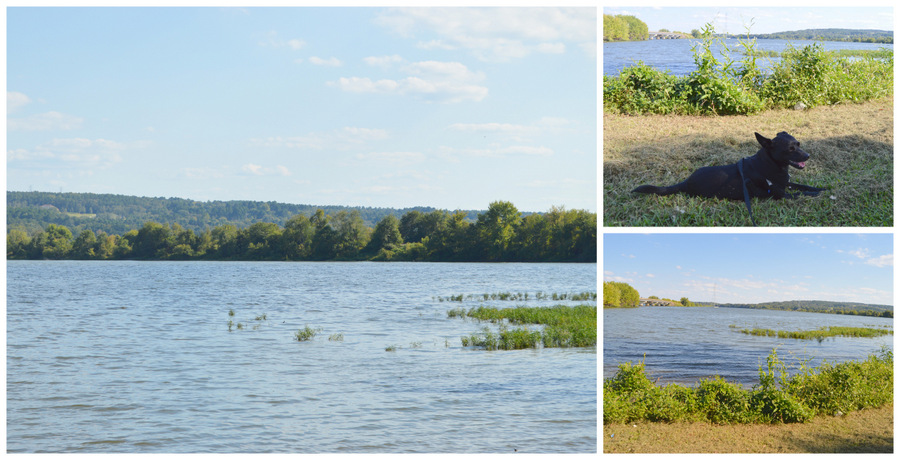 I was feeling wild, and just in time to enter the wild west. Every stop was marked by Route 66 memorabilia. Cherokee Nation newspapers were being distributed in convenience stores. Men were wearing cowboy hats and pickup trucks were filling the roads.
We were not in Kansas anymore, or Tennessee, or DC, or New Jersey. This was the new chapter. This was the point at which things began feeling alien, and new, and unlike anything I'd seen or done before.
And to top it all off, we drove into a sunset that could have totally just killed me, right then and there.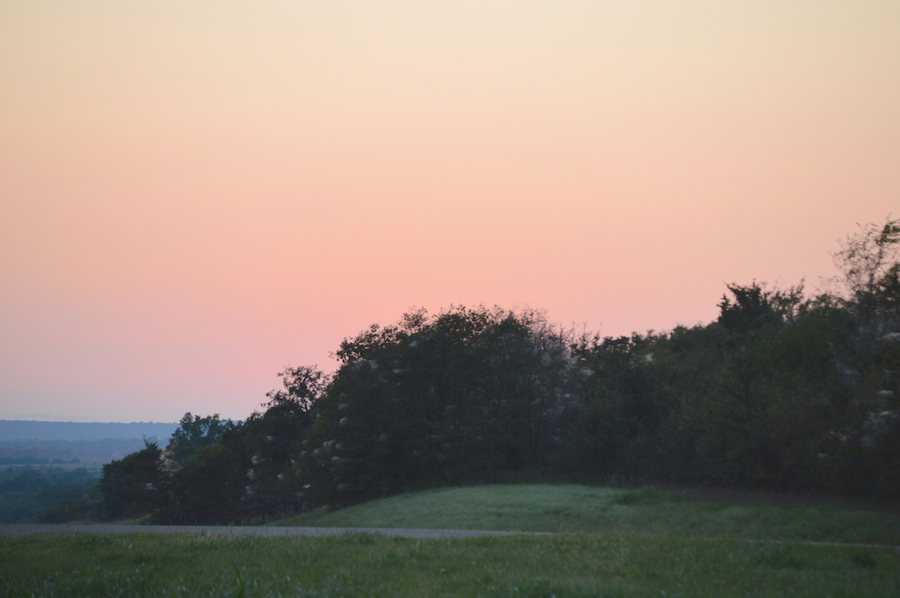 Geneva and I admittedly didn't really give Oklahoma City a try once we'd landed — we were too exhausted and it was way too late and we were too far out of the main area of town to really give a damn about what was going on. Instead, we ordered a pizza and recharged for the next half of the ride.
---
Wednesday, 9/16
We left Oklahoma at daybreak, or at least we meant to and then we ended up leaving at 11:15 AM. That was okay, though, 'cause in broad daylight we were better able to watch in awe as the scenery unfolded and the landscape started changing right before our eyes.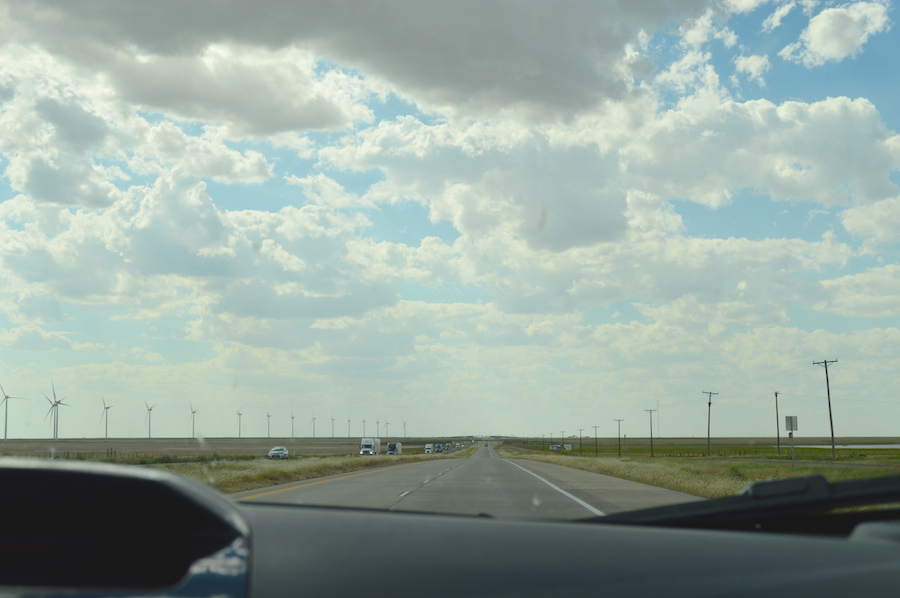 All the Tennessee and Oklahoma trees faded away on Route 40 as we headed across Oklahoma, into Texas, and then into New Mexico. All that was left were fields full of cows and one billboard surrounded by wild horses, some literal tumbleweeds in the middle of the road, and then nothing but bushes, or dirt, or miles and miles of green grass. The closer we got to Albuquerque, the more faded and spotty the greens and blues of grass and water became, and soon it was just rocky terrain and desert sand as far as the eye could see.
We continued through Cherokee Nation, then Navajo Nation, then I'm pretty sure Mojave Nation, stopping at one or two places alongside the highway to search for authentic pieces of pottery or rugs or anything, since it was all beautiful, that we felt we could squeeze into the car.
Our navigation system decided on this leg of the trip to route us through Texas, which I had been steadfast in my refusal to do by choice but really didn't end up having a choice about at all. The bonuses included finally being able to rev my engine and drive 75 MPH on a major highway and getting lost in fields of windmills set up on either side of the road.
We got into Albuquerque in line with our ongoing tradition of getting in too late to eat at a restaurant, so we opted instead to get drive-thru Mexican from Filliberto's, which I highly recommend. The vegetarian options abounded, and the platters were massive. Not bad for 11 PM, I think.
---
Thursday, 9/17
We headed into Old Town the next morning, which was steps from the hotel we were crashing in. We loved it so much we literally walked back to the hotel lobby and asked to stay another day. Old Town was a bustling series of plazas and stand-alone shops housed in preserved pueblos and restored buildings from the 1700's, and every other corner was marked by a store filled to the brim with locally-made food or artisan goods or labeled an artistic co-op.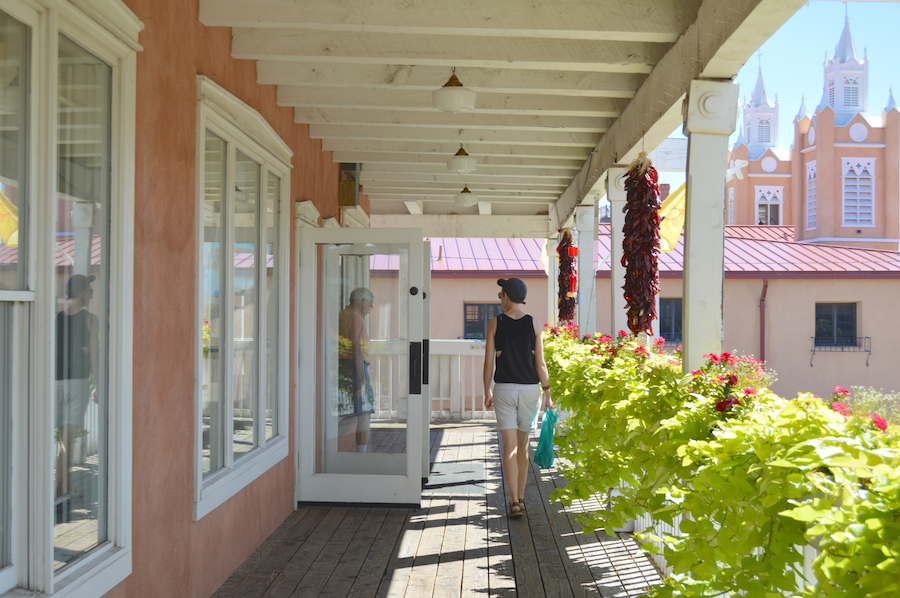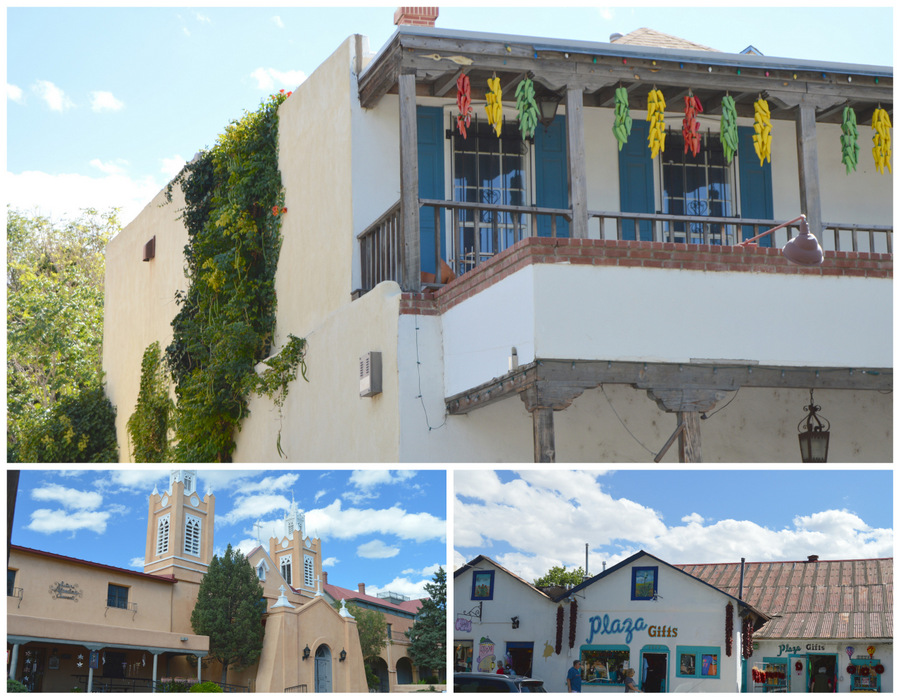 We wandered around buying souvenirs, taking all of the pictures, and scouting out the best happy hour in town. We chose to go to Hacienda Del Rio for a late lunch / early dinner situation and drink some margaritas, which were top-rate.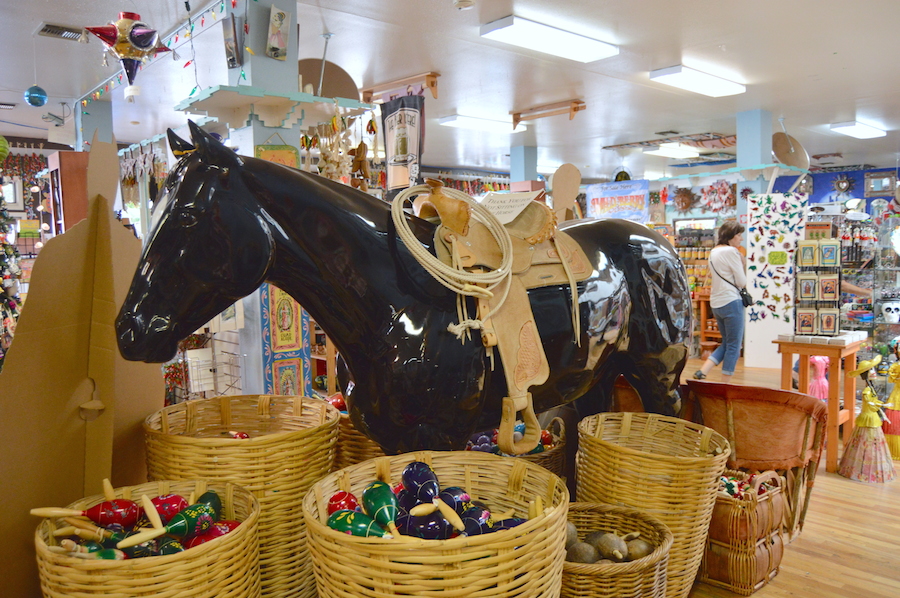 For the record, I did not buy Eli a tiny sombrero. I did think about it, though.
I was really glad we'd decided to stay an extra day — not only because it meant more straying from the plan and learning to build the adventure as we went along, but also because it was a super cool space. It was a living, breathing, homage to its own history, and the reverence evident in all of its offerings to a truly diverse mix of cultures was inspiring. New Mexico is a place where the past is alive and the future doesn't look much different, or at least Old Town in Albuquerque is. I wouldn't know about the rest of the place because we didn't dare leave the tiny enclave we'd decided to stay near. It was too perfect.
---
Friday, 9/18
Before we left Old Town, I made sure we headed toward the Rio Grande so I could dance in the sand. It turned out there was a walking path alongside it, but we were too impatient and had already settled for a babbling brook offshoot of the thing by the time we figured it out.
But that was okay.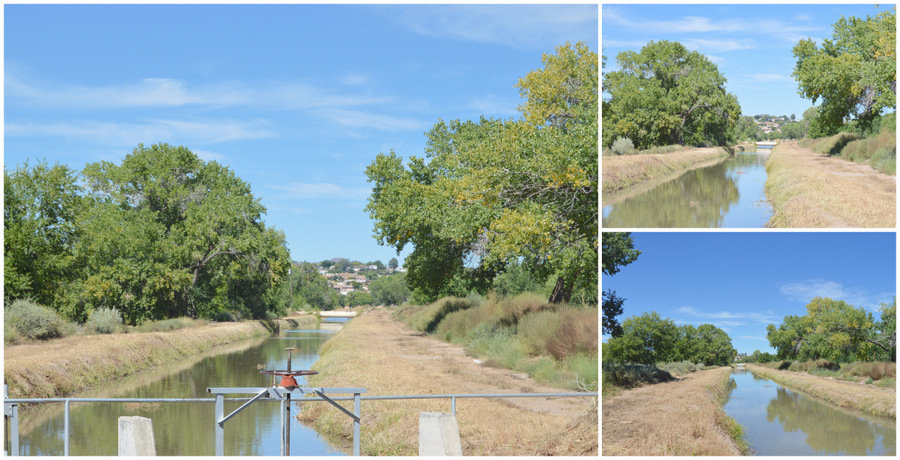 I did all, or at least a very large majority, of the driving as we headed for the Grand Canyon area from Albuquerque, which meant I couldn't take pictures through the dirty dashboard for this journal. But rest assured, dear readers, that it was beautiful. It's almost like you can tell you're approaching the Grand Canyon from hundreds of miles away. Suddenly, the rocks are deeper and more layered and everything becomes a mountain in the distance.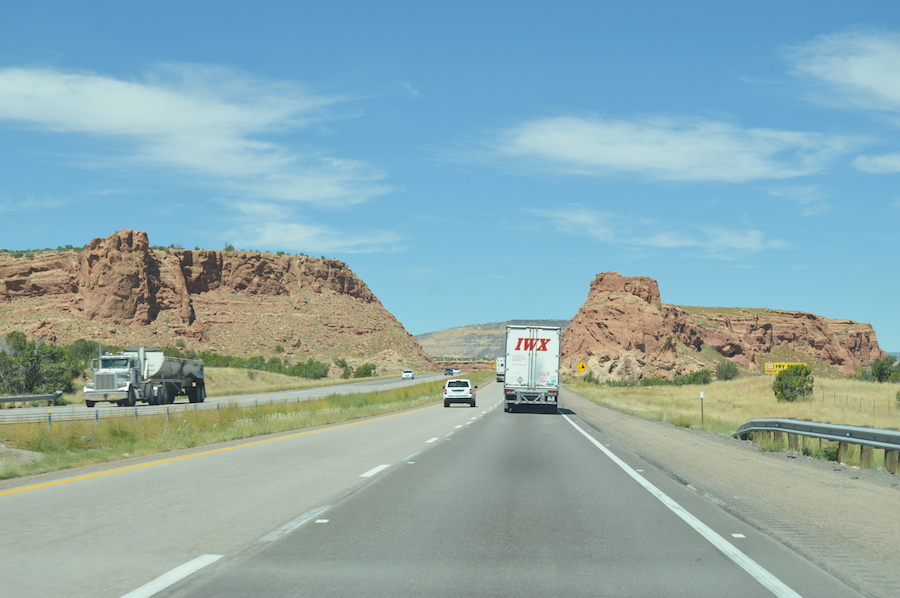 Just like Oklahoma and Texas and Arkansas before it, Arizona pleasantly surprised me. Being from the North and also the East, I was raised to have a certain image in my mind of what I would see and experience in those places as I traversed through them — and all of them proved me wrong. People were warm. The landscapes were beautiful. This was the leg of the trip, this whole mess of wide open space, where America's beauty just slapped me in the damn face.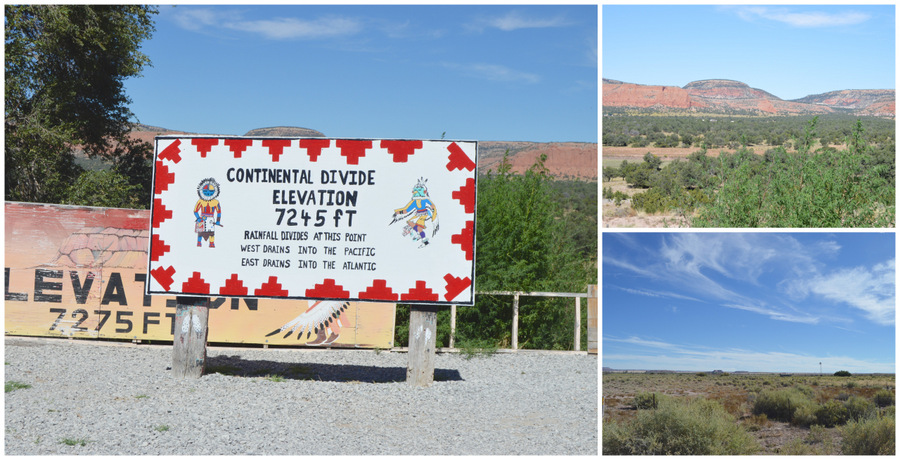 The sweltering heat of the west was worth it so far, and so were the weirdly isolated gas stops on the side of the highway. I kept spotting pieces of abandoned Route 66, passing dried-up bridges, and gasping at the perfectly preserved hills and mountains and valleys. Everything around me felt ancient and massive.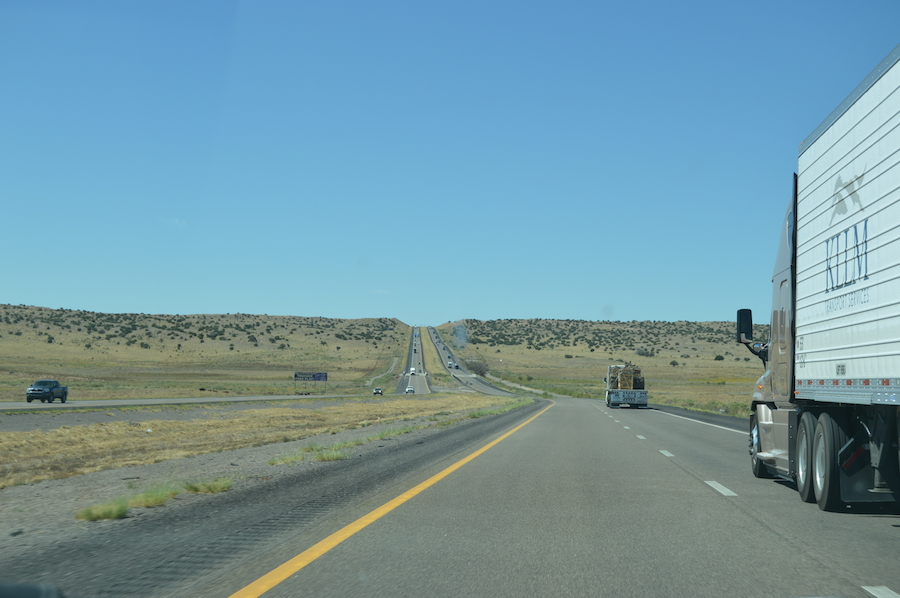 So many people crossed this land just like me. These were the same patches of sand and brush that people had been crossing for hundreds of years in pursuit of something: a new start, an adventure, greener grass. I was taking a road trip through the places people had crossed in covered wagons, and pink Cadillacs, and now, tiny Chevy Sparks.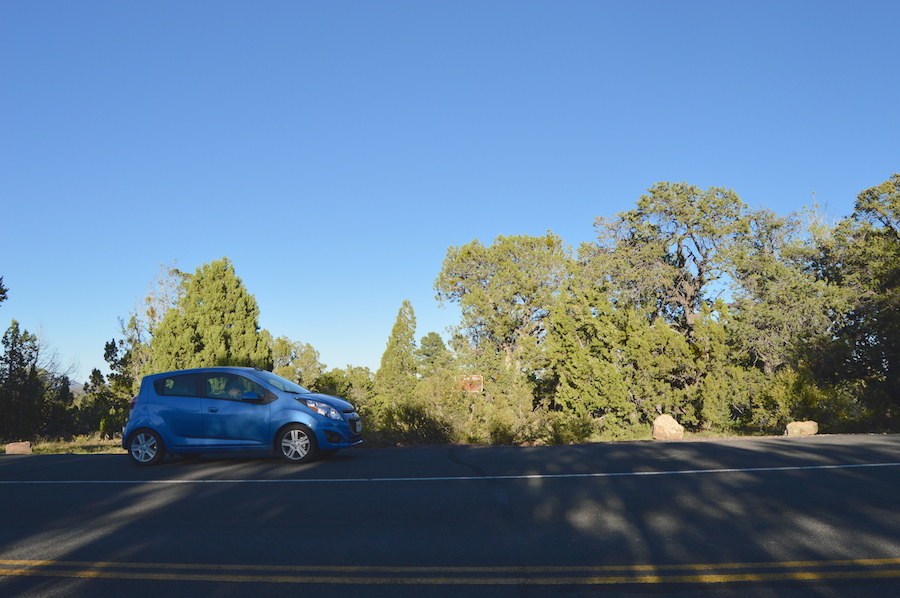 Geneva and I starting looking into places to crash for the night in the early evening, of course, and though we were hoping to land close to the canyon itself, our wallets wouldn't allow it. And that's how we ended up 1.5 hours away from the park in Flagstaff, Arizona, where it gets chilly at night and even a Motel 6 comes with a kickass view.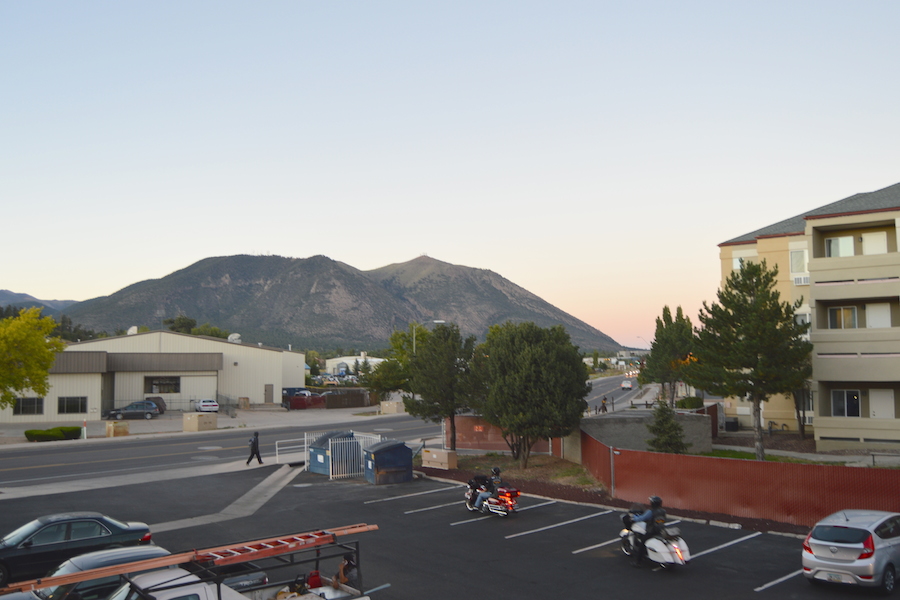 We spent the night at Beaver Street Brewery, where we played a board game called Grand Canyon Adventure that I really hope someone buys me for Christmas. That was, coincidentally, the extent of our planning for the next day, in which we'd spend the whole lot of it stuck in the middle of one of the most amazing places I think I'll ever go.
---
Saturday, 9/19
Perhaps the crown jewel in an era of feeling like a tiny speck in a vast universe is the opportunity to see the Grand Canyon. We drove up a windy road to get there, and each second was pulsing with excitement. It was like the whole ride was one big momentous occasion, one big feeling that something great was about to happen. And duh — it was.
Geneva and I both showed up to the south rim on Saturday with expectations that turned out to be super far removed from what we were actually about to get into, which made it even more wonderful. I expected to look up, to be at the bottom of something, to feel like I was in a tiny and hollow bowl made to fit millions of people like me inside. Geneva expected red desert stone, miles and miles of it.
What we got instead were infinite forests, ever-changing views, and the feeling that we were in a whole different universe.
We started our day on the South Rim Trail, and remained in that part of the park for the rest of it. We did not go "rim to rim," although I wanted to buy every magnet, keychain, and sticker that said otherwise. Instead, we walked through a trail that reminded us of A-Camp's own Angelus Oaks and spotted some wild elk or maybe deer or really, who knows, who cares, some beautiful and majestic and huge creatures, right there on the side of the trail looking us in the face.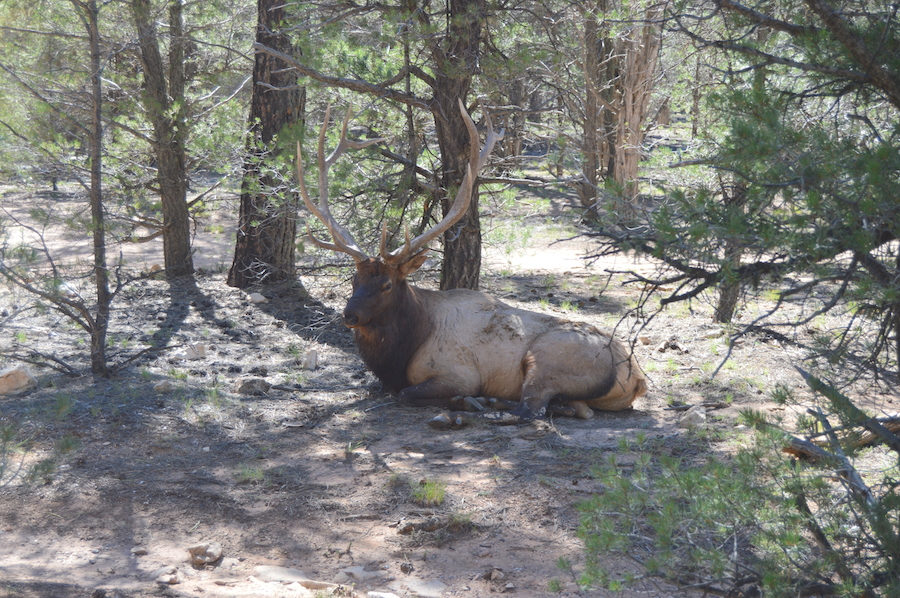 And just when I thought nothing could get more beautiful, we saw the trail opening up and approached the actual Grand Canyon for the first time.
The Grand Canyon is seriously somethin' else. I figured we would look at it and be done, but that's not how the Grand Canyon works. You look at it once and then you look at it again and again and again and from different stops alongside a slow-moving mountain road and each time you still lose your breath and feel overcome.
The Grand Canyon is an experiment in learning to see a million specks of beauty in one little piece of the planet.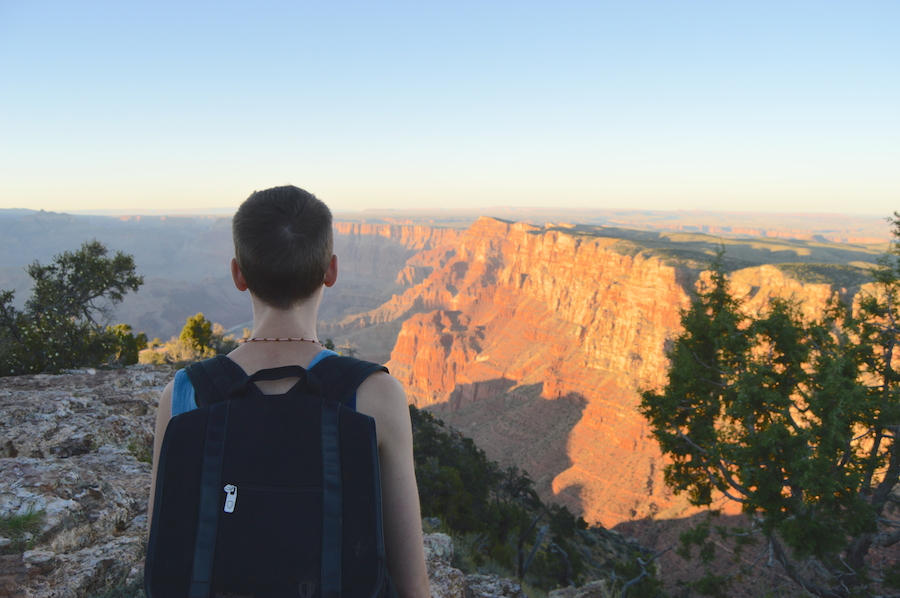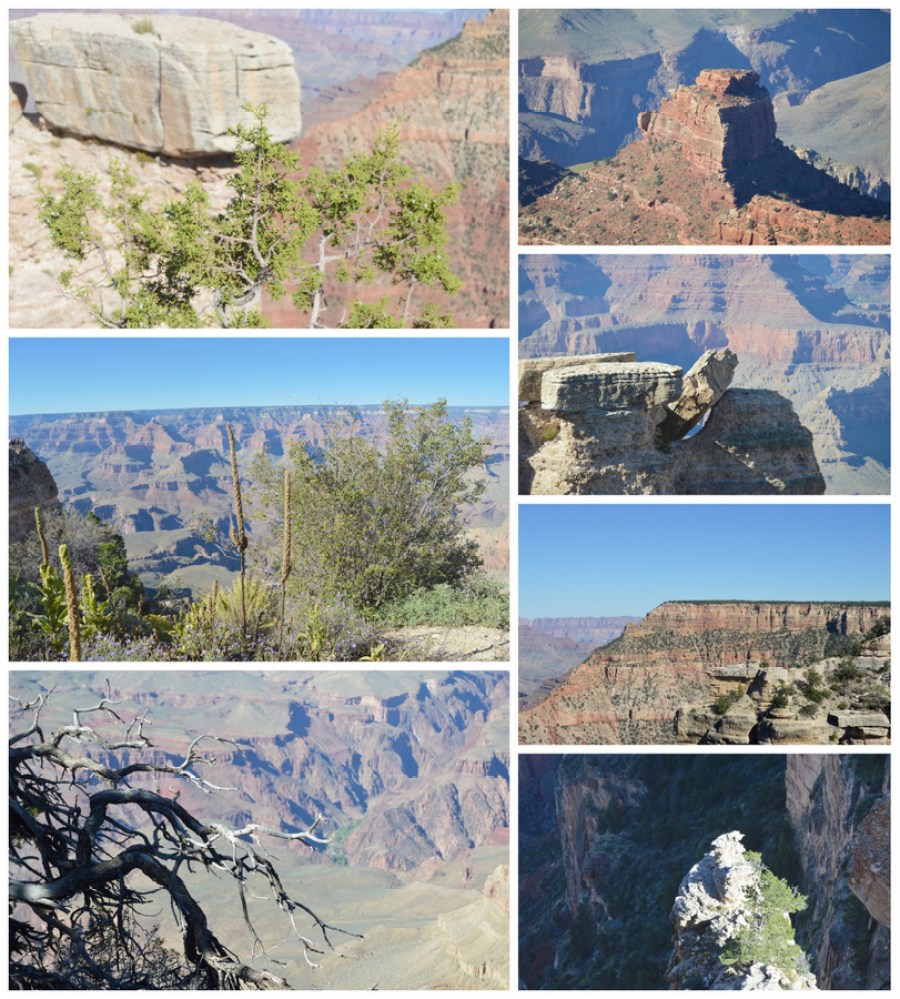 We left the trail, got in the car, and headed toward Desert View, which is 25 miles from the entrance to the South Rim and after about a zillion viewpoints. We hit up Grandview, Mather, and some roadside view stops that were nameless, each time unable to stop being in shock and awe of what we were seeing.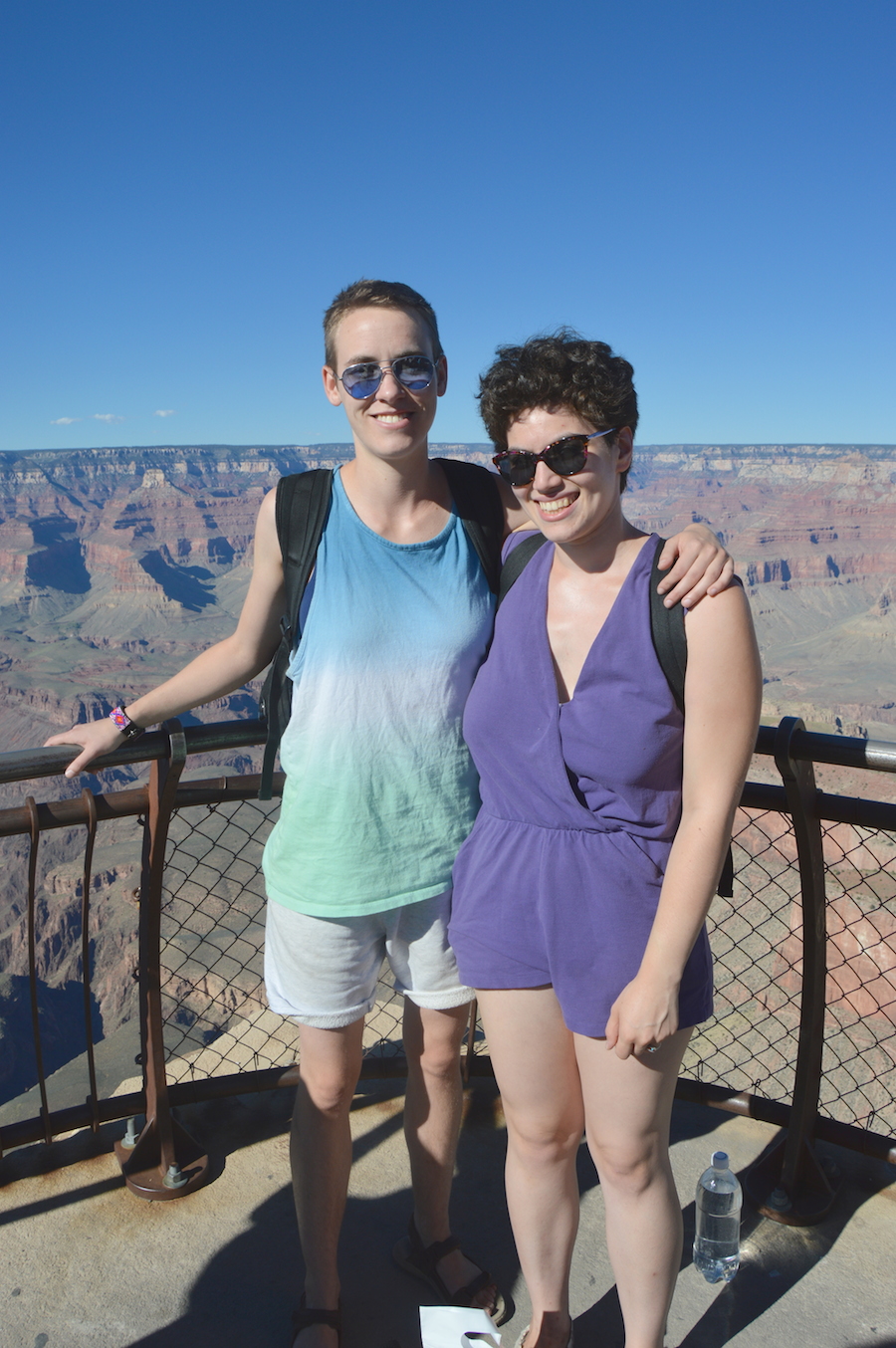 And, because we're clearly just the luckiest ducks, Desert View was a million cherries on top.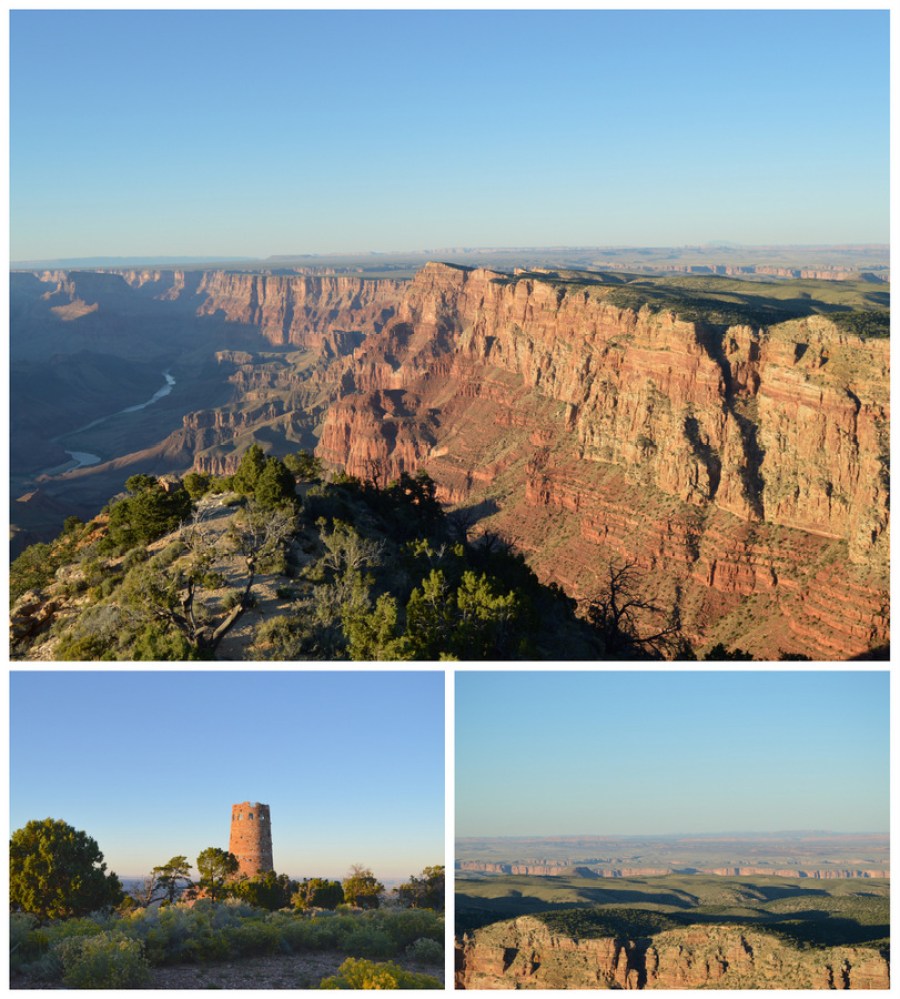 When I planned my trip, I planned to change. I really did. I planned to grow and alter and shift, I just expected that the whole mess would come at the end. I imagined that the trip would be a blur of time and space, that it would fly by, that it was a bunch of stops on the way to New Me Town.
But the trip really has been the biggest thing ever, the thing I was waiting for, the stuff to quench my thirst. In the two weeks I've been on the road I've learned to be silent and reverent in the face of nature, to see myself in mountains and peel away the layers that tug me toward them, to feel at home in endless waves of grain, to become someone new in every new place.
The Grand Canyon was our last stop before Los Angeles, and as we headed home to our hotel and set the alarm for the next morning that started feeling real in a way it hadn't the whole time. By coincidence, we'd picked all the highway sign cities as stops along the way: Route 40 directed us consistently to Nashville, then Memphis, then Oklahoma City, then Albuquerque, then Flagstaff, and even then to the Grand Canyon. As we pulled around the corners closest to that stop, the signs finally started giving us mile markers to LA, and 482 looked like the tiniest number I'd ever seen.
Soon, the spiritual journey was ending. I was going home. But along the way, I feel like I've figured out how to fit back into my skeleton. I can belong anywhere. (I have.) I can fall in love with every place. (And have.) I'm doing the thing I wanted to do, and from here there's a million ways the rest of it can unfold. No matter what, though, I'm confident there's gonna be something beautiful along the way.