Last year, San Francisco's Mission District saw the doors of Esta Noche closed for good. The 33 year old queer Latino bar's closure was dismissed by sites like Eater and the San Francisco Weekly as little more than a drag-show-offering-dive where by mid-afternoon, you could catch "glimpses of dudes blowing other dudes behind open doors." To the largely queer and trans Latino patrons who populated the bar, it was decidedly more. Through interviews in Juliana Delgado Lopera's book Cuéntamelo: Oral Histories of LGBT Latino Immigrants, we learn that Esta Noche enabled queer and trans immigrants to find community; it was a place where queer and trans Latinxs could find employment; the bar provided a creative outlet for performers, one of the only in the once predominantly-Latino Mission District to have all-Latinx drag shows.
San Francisco also recently saw the closure of The Lexington Club, the city's only remaining lesbian bar.  When writing of the club's closure, Lila Thirkield, the Lexington's owner, wrote about how painful it is to lose queer spaces and much like Esta Noche, it was a matter of no longer being able to afford rent in a rapidly-changing neighborhood.
What we're really talking about here is violent displacement, also known as gentrification. According to KB Boyce and Celeste Chan, the closure of spaces like Esta Noche and The Lexington Club signify a new stage of gentrification – the loss of public gather spaces for queers and queer and trans people of color.
"With queer and trans people of color (QTPOC), there's such a history of being pushed out, a sense that we have no place to publicly belong. Even though some can gather privately, there are a lot of QTPOC who are working-class, poor, or homeless, who are pushed from The Piers in NYC or the streets of San Francisco. There is no place to be. We have a presence that is both invisible and policed," Boyce said.
Boyce and Chan are the people behind Queer Rebels Productions, formed in 2008 with the goal of building artistic spaces for queer and trans artists of color. Since the beginning, the group has wanted to do a multi-ethnic QTPOC festival, like the one they're holding on May 29 and 30. QUEER REBELS FEST! is the couple's attempt to move beyond the mourning the QTPOC community so often must do in the face of police brutality and the murders of Black Trans women, women of color, Black women, and Black men. In short, QUEER REBELS FEST! is a reminder of those who are still in San Francisco, holding onto queer and trans people of color artistic spaces. The festival will feature two nights of proactive new performances from queer and trans artists of color, including Ryka Aoki, Wizard Apprentice, South Central-born drag queen Persia, and Elena Rose, among many others.
Queer Rebels first event emerged from Boyce's performances as TuffNStuff, a cross-dressing Blues musician. After receiving a $500 Queer Cultural Center grant, the group organized/curated Queer Rebels of the Harlem Renaissance for the National Queer Arts Festival. The community really showed up for the event, so Boyce and Chan decided to keep going. The goal now is to be part of a larger QTPOC movement, with Queer Rebels challenging audiences to think about who is honoring queer/trans ancestors and who has artistic freedom, voice, and legacy.
"There aren't many physical spaces dedicated 24-7 to queer and trans artists of color," Boyce said. "We exist in the overlap – between queer spaces and people of color spaces. And now all of these spaces are rapidly disappearing. We're trying to hold it down for queer/trans people of color in San Francisco, be part of a larger movement for QTPOC arts, and also assert our presence is a city that is driving POC out and becoming whiter and wealthier."
Besides being life-giving, queer and trans art keeps those histories alive. Chan says that so many of the people who are getting pushed out of San Francisco are the ones who helped build the city. Events like Queer Rebels Fest is a way of asserting QTPOC existence, the Queer Rebels co-founder says.
"We're here on our own terms; we're not waiting around for the colonial gaze to acknowledge us. In so many spaces, we are pushed out, marginalized – but actually, really, we have a lot of collective power."
And it's true: When queer and trans people of color get pushed out of San Francisco, the city also loses.
"Can we be more clear about what makes San Francisco special? It's that mix of Esta Noche queens, the Hot Boxx girls at Aunt Charlie's Lounge, Chinese immigrant seniors waiting at the food bank, Folsom Street Fair furries, and guys in assless chaps. It's the Tamale lady, the now defunct Bay Area Women of Color BDSM Project; it is Rhodessa Jones/Idris Ackamoor making art in the city for 30 years, Mission artists René Yañez and Yolanda Lopez, who were evicted from their home of 35 years, and the Sisters of Perpetual Indulgence. It is the artists, artists, and more artists who make this place special," Boyce said. "San Francisco has been a hub of communities of color and counterculture. Don't move to San Francisco, displace people, and then complain about all the homeless people whose displacement you may have perpetuated."
The sentiment was echoed by Queer Rebels Fest performer Persia (with Daddies Plastik) in an unlikely hit from last summer called "Google Google Apps Apps," a heavy, yet danceable song about white tech workers who are gentrifying the Bay Area and the Mission, in particular.
What the city doesn't need, Chan says, is more Google buses.
"What it does need is to make sure that people of color, working-class, queers, trans people, artists, immigrants/refugees, writers, and freaks can still afford to live and work and play here," Chan says. "It needs to remain a kaleidoscope of culture and history, freaky art, and lefty politics. As Queer Rebels, we're committed to being here and staying here – and promoting, supporting, and nurturing new work by queer and trans artists of color. Gentrification and economic violence lead to erasure, so we need community now more than ever. We are not leaving. We are fighting for the heart of the city."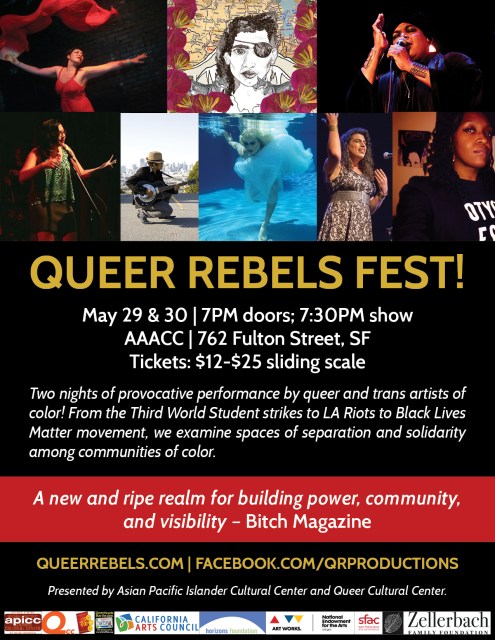 WHAT: Asian Pacific Islander Cultural Center and Queer Cultural Center co-present QUEER REBELS FEST 2015
WHEN: May 29-30, 2015. Doors 7 p.m., Show at 7:30 p.m. $12-25
WHERE: African American Art and Culture Complex, 762 Fulton Street, San Francisco
MORE INFO: WWW.FACEBOOK.COM/QRPRODUCTIONS