"A tough life needs a tough language – and that is what poetry is. That is what life offers – a language powerful enough to say how it is. It isn't a hiding place. It is a finding place."  – Jeanette Winterson
Death is the specter that shadows all trans women, though it follows some more closely than others, and we may call it by different names. In her extraordinary book Passage, Indigenous trans woman poet Gwen Benaway takes both death and the reader by the hand to bring us on a journey through the Great Lakes of her ancestral home, trauma, trans femme desire, and above all, truth. With a gaze that is frankly astonishing in its clarity, Benaway holds up fragments of her life story, transforming autobiography into powerful testament to women who have been marked by violence, grief, and survival.
"now I try to breathe
your gelatinous body,
how your water held me
 in soft suspension,
whenever I feel like
dying" – from "Lake Huron" in Passage
"Passage is a love letter to the lakes of my childhood," says Benaway, who is of Métis and Anishnaabe descent, "If someone was to ask me where I come from, my clearest answer is those lakes. It's where the Indigenous parts of my father's family lived since the world began […] The Great Lakes is what brought my father's family together and it holds our origin story. So in that sense, Passage is a reflection of ancestral waterways and our "beginnings" as a people."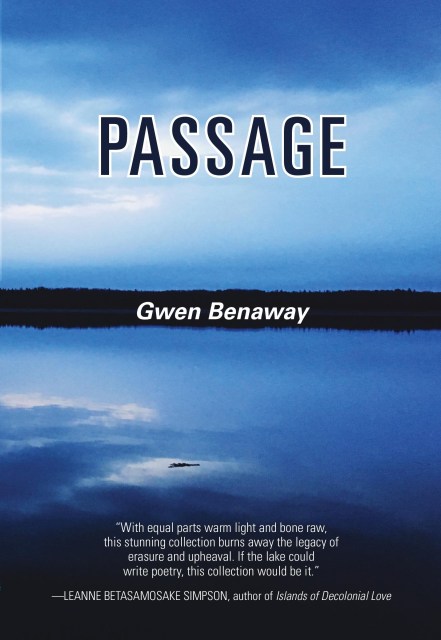 Yet the land also holds ghosts and grief for Benaway, as much as life and solace – a result of the violent atrocities of colonization and genocidal nation-building as well as the poet's personal experiences. With understated grace, Benaway's poetry travels through this haunted landscape, unearthing stories of loss that Eurocentric settler narratives of history have tried to forcibly forget:
"ancestral home, the Great Lakes
 and the muskeg past them, boreal
 veins where the dead camp,"  she sings from the page in the poem "North Shore," and later on in the piece,
"when I push past borders
hiding in a Northern truck stop
I find no road maps. just the memory of the dead
echoes of a people and a place
 I only name in translation."
As a settler of color who has lived in cities built on unceded, colonized First Nations territories for most of my life, my own relationship to the exploration of Indigeneity in Passage is clearly very different from the author's.  Yet the Indigenous roots of the book can not – must not – be ignored, for they are an essential facet of Benaway's unrelenting pursuit of the truth in her poems, as are her experiences of gender and desire.
"So this funny thing has started happening," Benaway says, "People have stopped introducing/referring to me by my Indigenous nations, Anishinaabe and Métis, and are just introducing me as "a Trans poet" […] Before transitioning, the focus was always on my "Indigenous" heritage. I think this reflects how white people value radicalized/marginalized people. We're object lessons in tolerance and diversity for them."
"so ask me again in your voice,
your eyes meeting mine, hands
seconds away from touching
what my life is about,
 I'll tell you I'm a priestess ,
summoning joy from a darkness
 only I see." – from "Kensington Series" in Passage
Marginality and the invisibilization of the body – the refusal of others to see Benaway for the Indigenous woman, survivor, person she is – is a central theme of Passage that weaves through many of its constituent poems. In spare, devastating language, Benaway confronts both her reality and of so many trans women and Indigenous women whose bodies have been seized, used, tossed aside – perhaps most climactically in the poem "Rescue," which is a sustained, piercing cry of rage and mourning for the disappeared and the lost:
"I dream now
of retribution,
 when the day
 all the children
like me, the ones
with broken arms
and cut lips,
the starved
in basements
and shuffling
through hallways
like viruses
[…]
when I stop
waiting for the world
to find me and bring
my body home"
This poem is at once an testimony of the speaker's survival and a confrontation of a society that allows – encourages – rape, abuse and oppression to happen. The implied question here is: Why didn't you see me?  Why didn't you protect me?  Why did you let this happen? Rather than answer this question directly, Benaway turns her gaze inward instead, demonstrating that she has already reclaimed her own personhood with the simple assertion and here / I am, not whole / but yes, still here / ready and willing / to be seen."
This final sentiment, an affirmation of the self that comes from within rather than an untrustworthy external gaze, is echoed and strengthened throughout the final half of the book, as Benaway explores the ways in which she has transformed her experiences of trauma and danger into growth. For example, in "Death," a playful piece that compares trans women to vampires (notably, a mythical creature traditionally said not to be able to see its own reflection), Benaway offers up this "mortal wisdom":
"how aging pushes me out
into places I never meant to go,
how death makes me kind
 and got me into heels"
"I've learned being Trans means I'm no longer human," Benaway says with a characteristic touch of wry humor. "I'm a stick figure of gender politics. I'm someone's liberal cause. I'm a demonic transvestite. I'm a pervert. I'm not feminine enough. I'm a sell out for going on hormones. Blah blahblah. It's endless. In the words of Notting Hill, "I'm just a girl, standing in front of a boy, asking him to love her." Or more realistically, I'm just a girl, standing in front of KFC, praying that it's open."
Sparks of that characteristic humor, hope, and wisdom dart through Passage like fireflies lighting a journey down a forest path at night. Benaway walks with death in her poems, but she also holds the twin forces of life and desire close, reminding herself and the reader that there is power and beauty in the marginalized body that lives – that her strength goes beyond mere survival.  In a poem simply titled "Trans," she states with quiet conviction:
"nothing is more beautiful
 than a woman who knows
exactly what she wants
and what I want
is myself"
Passage is a unique work, that perfect rare combination of memoir, feeling, social commentary, and consummate poetic grace. Benaway plays no tricks, tells no riddles or lies, dispenses with the smoke-and-mirrors conceit so commonly prized in contemporary poetry. She has no need for these things. Instead, she reaches deep into the flesh, lays the bones bare: life, death, desire, grief. Passage does what poetry should – it tells the truth.
"Let's not be silent in the face of our murderers," Benaway declares. "Name them as oppressors and cover them in the blood of our dead. They will kill us even if we're polite, grateful, and kind. No matter how we pass, we are a threat to everything they believe. We must shout them down with the fury and love of our hearts.
So create. Write. Paint. Act. Bake. Whatever. Just give life into this world and fuck them, one mouthful at a time."