Every year, the Human Rights Campaign rates American corporations on how they treat their LGBT employees. On the face of it, American corporations seem to have the public sector beat. After all, in 29 states companies can fire or refuse to hire someone for sexual orientation and/or gender identity, perceived or otherwise. Yet corporations, even those with offices and locations in those 29 states, are taking the reins and developing policies that prohibit this kind of discrimination. So is Corporate America more progressive than the American government? That's what the numbers seem to say.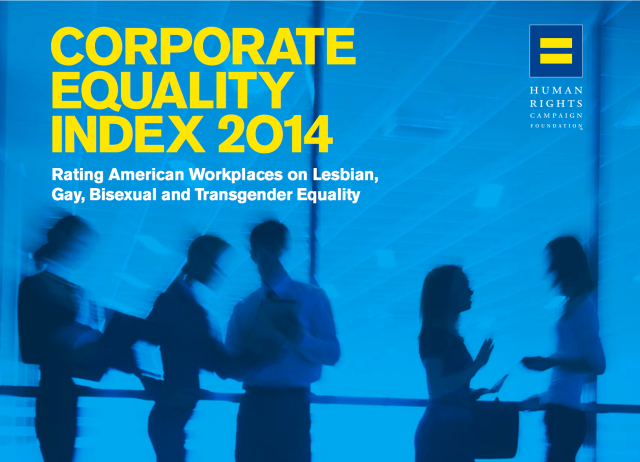 Based on the HRC Corporate Equality Index, there's been a drastic improvement since the first survey in 2002 – in the inaugural year, only 13 businesses scored 100 percent. This year a record-breaking 304 corporations earned that "perfect" score. That seems, well, really high. So given how high that number is, what exactly are the criteria were that a corporation had to meet to score a 100?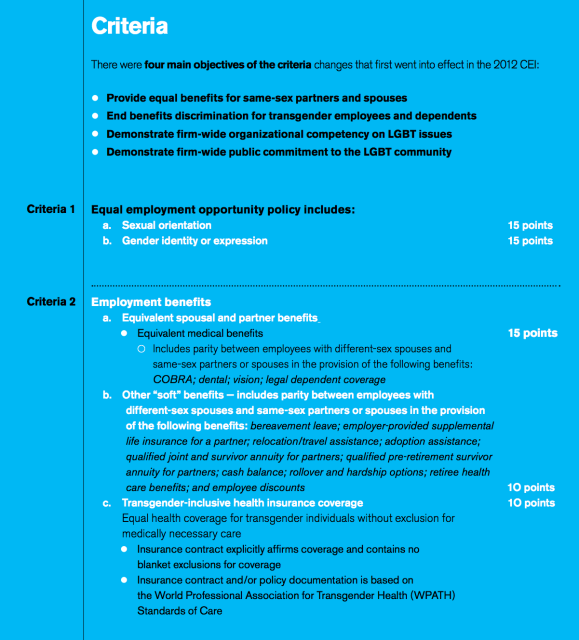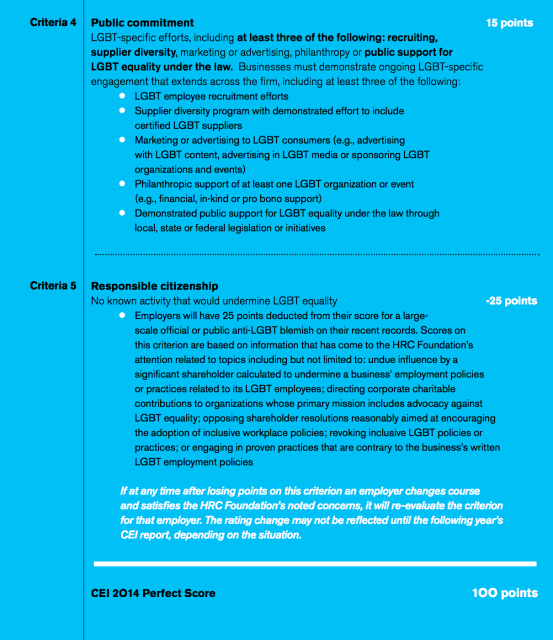 Obviously, one survey can not and should not encompass everything to everyone. Rarely is data itself problematic; data is data, as long as the way it was obtained is methodologically sound. What can be problematic is how it's interpreted, especially if (when; we're all human) the people doing the interpreting bring their own values to the table. The data and interpretation are different; one might be solid while the other might be flawed. That said, let's look at what's going on with this index:
The idea that these vital components can be weighted is nuts – who's to say that one criterion is worth 15 points where another one is worth 10? Especially when one of the items worth ten points is trans * inclusive health care and the HRC has come under fire for not representing trans * and minority interests? We have to go into these numbers accepting that the weight we personally assign to each of these may be different than those who created the survey.
Under criterion 2, the one all about benefits – good benefits are how companies retain their most talented employees. Frankly, corporations would be crazy not to extend these benefits to as many employees as possible, because that makes it very easy for employees to be scouted into other positions. Though same-sex partner benefits are very important, they are also a bit self-serving. That's just something to keep in mind – you can be fine with that or not, that's all you. But just know that it is to a company's benefit to treat LGBT employees equally in this respect, and so using it as evidence of their ethical superiority may not be logical.
Under criterion 3, organizational LGBT competency, a corporation must have at least 3 of those bullet points to garner the ten points.  That's a pretty darn low bar. Especially when one considers that the first bullet point is that workers must be aware of LGBT inclusive policies, which is a pretty basic everyday facet of an office. Like, the only way this could be considered a high bar is if we're talking about limbo.
Under criterion 4, Public Commitment, advertising to the LGBT audience is considered the same as philanthropic support. While acknowledging LGBT community members in advertisement increases visibility and is important in some ways, those two things don't necessarily seem to be on the same level.
Who decides what is a large-scale or official anti-LGBT blemish, as stated under criterion 5? Because that seems really subjective, even with the guidelines laid out. Does it include political donations to anti-gay candidates? What about employee donations to the Salvation Army that the corporation matches? How public does the blemish have to be before it's enough to lose a corporation 25 points?
Wal-Mart not only made this list, they got an 80 out of 100. For many of us, any index that includes Wal-Mart and suggests it's a good place to work for anyone, LGBT employees included, is immediately called into question. Wal-Mart's businesses practices are terrible – and because it's the world's largest company, they hold the market share on employees and employee treatment. The things Wal-Mart does affects America's corporate climate as a whole. And they're doing really terrible things, things that also deeply affect their employees, who are often women, of color, and poor. Perhaps the HRC has some explanation that accounts for these things, and that talks about Wal-Mart's treatment of gay employees while acknowledging their overall problematic stance? Oh wait, let's look at this statement from Dina Fidas, director of HRC's Workplace Equality Program:
 "There is no more succinct way to say we have arrived than the Walmart story."
The story to which Fidas is referring is Walmart beginning to offer partner benefits to same-sex couples. That's the whole story. That bar is so low, it's underground.
This point of view from HRC doesn't work for a few reasons. Wal-Mart participates in many kinds of discrimination. And they have been called out publicly for it. HRC has been consistently criticized for its lack of engagement with intersectionality, and this is an example of why; Wal-Mart offering partner benefits to a gay employee won't mean very much if that employee is also denied access to a promotion because they're a woman of color, denied the option to work full-time so they can't get benefits in the first place to support their family, and have to work two other jobs because they can't live on what Wal-Mart pays them. It's alarming that HRC doesn't acknowledge this in what is meant to be a comprehensive report on corporate ethics. Cracker Barrel is another that made the list but in reality isn't doing a wonderful job. The bottom line is though numbers are helpful and national policies can mean local change, that's not always the case. When you're looking into corporate culture, there are so many details that have to be considered. Yes, there's a non-discrimination policy in place, but is it enforced? How about relations between co-workers – is harassment ignored? Do non-normative queer people get passed over for better assignments because they're not invited to play golf? What is it actually like to exist in that environment? Numbers can't always paint that picture for us, and neither can over-arching policies.
Ultimately, it seems that this survey is literally measuring the bare minimum of corporate responsibility to queer employees, and that it seems to be ignoring intersectionality. These criteria forget that gay people can also be women, people of color, gender nonconforming, working-class, or all of these, and that more goes into making equality than offering partner benefits to same-sex couples (though that is really important). But does that mean the numbers are meaningless and should be discounted?
Not entirely.
First off, seeing the trend over time does indicate progress, even if it's slogging progress towards the absolute tiniest minimum of equality. And it does indicate that if we set new goals and work toward them as doggedly and with as many resources as we've worked on equality up until this point, then maybe in 15 or 20 years, we'll have a new bare minimum. And if you are looking for a place to start a conversation about workplace environment for LGBT employees, then the Corporate Equality Index and the accompanying database is a good place to start, just not a good place to finish. And that's okay. One thing can't be everything to everyone. But let's all push our understanding when confronted with numbers like this, and let's all push our workplaces to be even better at treating their employees equally.