Kink parties often have "a look," and that look can be exhaustingggggg. I love wearing high-maintenance black fishnets and nothing else as much as the next slut, but sometimes it's cold or you have a weird body feeling or you don't know what you're actually up for this evening or you want to make an outfit out of clothes you might wear in any other context or you don't want to channel Leather Mommi Barbie. What do you wear when you don't want to wear a PVC corset and heels, and when a button-down and crisp pants aren't your style either?
What do you actually like? What do you actually feel comfortable in? What do you want to get out of the evening? What will make you feel like a crazy hot badass? Wear that. Follow the dress code if there is one of course, but be your own rad self, too. And mix and match the different categories below to make all black a little more interesting.
---
Mesh
Where else are you going to get to wear see-through clothes in public? If total transparency isn't your thing, mesh panels can strike a balance between comfortable and sexy, and you can play down the potential althleisure vibe with other, dressier elements.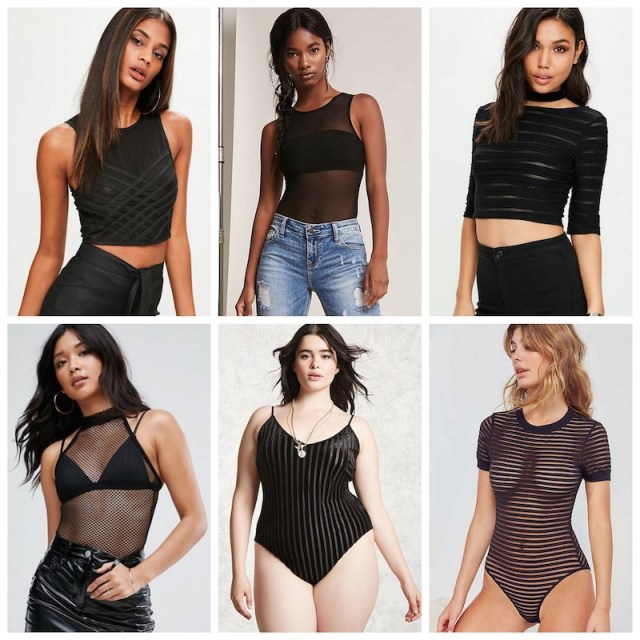 Black Lattice Bandage Mesh Crop Top. Semi-Sheer Mesh Bodysuit. Black Sheer Stripe Crop Top. Body in Mesh with High Neck. Plus Size Mesh Stripe Bodysuit. Out From Under Shadow Stripe Mesh Bodysuit.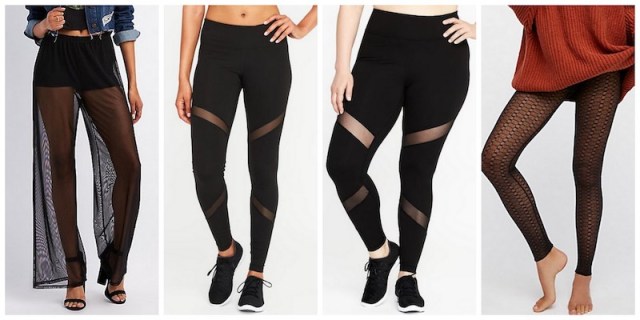 Mesh Palazzo Pants. Mid-Rise Mesh-Panel Compression Leggings. High-Rise Go-Dry Plus-Size Mesh-Trim Leggings. Kristina Fishnet Legging.
---
Shine
Why not reflect all the light in the room?
Chainmail Halter Top. Night Glow Long-Sleeve Blouse. Coated Triangle Bralette.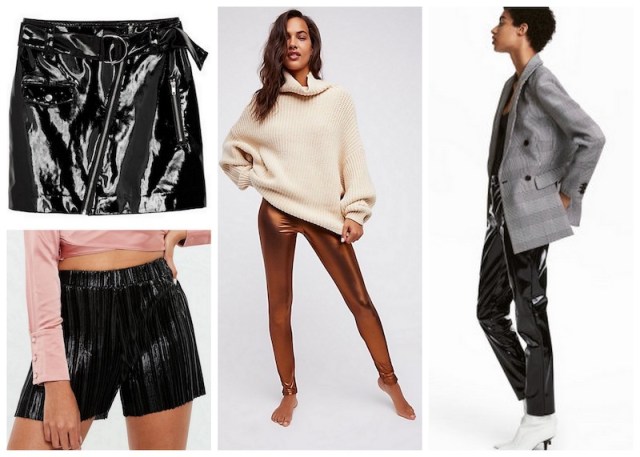 Patent Skirt. Black Metallic Shine Pleated Shorts. Slim-Fit Pants. Shine Girl Legging.
---
Cut Outs
Cut-outs are fun because they feel like being a little more dressed than usual at the same time as being a little less dressed than usual. Maybe you're in jeans but they're also slit higher than your underwear would be if you were wearing any. Maybe you're in a high-neck shirt but it's open low. Maybe you're in a bodysuit but it's really a bra and underwear held together with wishes. The world is your hand-wash-only oyster.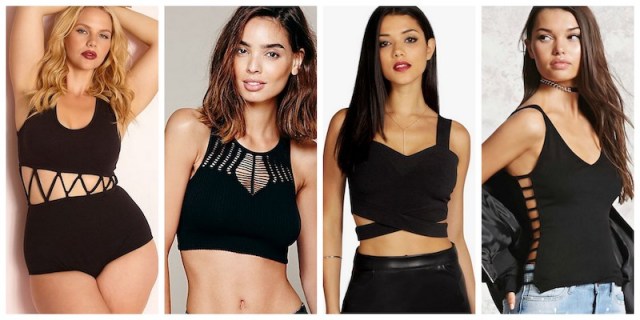 "Playing Games" Cut-Out Bodysuit. High Neck Bra. Sally Cut Out Bralet. Ladder Cut-Out Tank Top.

Ladder Cut-Out Skinny Jeans. Cutout Skinny Jeans. 12×12 Cutout Leggings. Leggings in Wet Look with Cut Out Detail.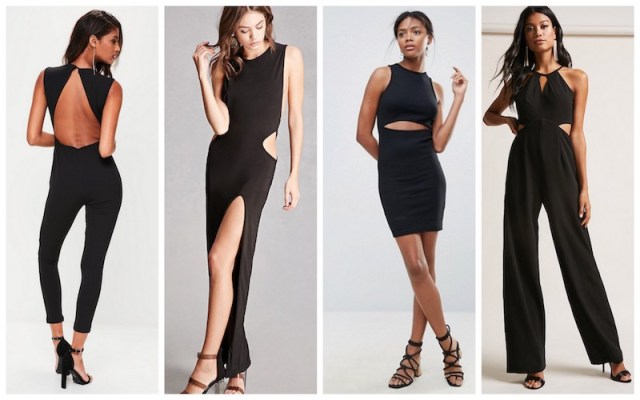 Black Cut-Out Backless Jumpsuit. Cutout Wide-Leg Jumpsuit. New Look Cut Out Body-Conscious Dress. Cut-Out Maxi Dress.
---
Straps
Like cut-outs, but more so.
Truly Madly Deeply O-Ring Strappy Tank Top. Megan Strappy Shoulder Detail T-Shirt. Phoebe Strappy Velvet Bralet. Erin Plunge Strappy Caged Bodysuit. Bella Strappy Front Bralette.

Plus Size Strappy Jumpsuit. NBD Fiona Open Back Dress. Embellished Halter Neck Romper. Strappy-Back Halter Jumpsuit. Nora Strappy Back Swing Playsuit.
---
Leather
Sometimes you do want to be Leather Daddy Barbie, but also still comfortable.

Faux Leather Mesh-Panel Bodysuit. Faux Leather Bustier Top. Faux Leather Pull-Ring Crop Top. Plus Size Faux Leather Bodysuit. Faux Leather Crop Top.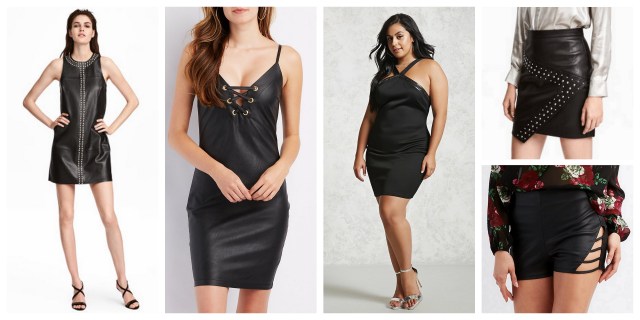 Studded Dress. Faux Leather Lace-Up Bodycon Dress. Bodycon Dress With Faux Leather Detail. Skirt With Studs. Faux Leather Caged Shorts.
All-Over Faux Leather Legging. Faux Leather Pants. Legging with Faux Leather Tuxedo Stripe. Faux Leather Leggings. Plus Size Faux Leather Cropped Pants.
---
What's your favorite play party look? Let us know in the comments!