Maybe you have heard me mention it a few times, but I'm a grad student. I'm a grad student coming down the home stretch, and so I am writing a thesis. Which, as you know if you've ever written a thesis, means my brain looks like: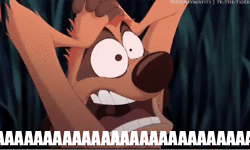 I feel chaotic and disorganized and tired literally all the time. And I wondered, is there a better way to do this? Is there a better way to make my technology help me do this? And if I'm having this problem right about this time, what's the likelihood that other academically-inclined queers are having similar issues/feelings? It's that time—you've scheduled up your March and you've realized how short March is. You, who are students, either graduating or marching steadily toward finals; you, who are writing a thesis and your advisor is disappointed by how little progress you've made; you, who are doing any sort of work with a fast-approaching hard deadline that may result in your not advancing to the next step in your long term plan NO BIG DEAL RIGHT; this roundup of technology things is for you.
---
Apps for Doing The Thing
And by 'the thing,' we're talking writing LONG ASS documents, yes? That is what I am talking about. So—
Google Docs's New Outline Tool
Google launched a new outline tool for Google Docs that let's you navigate long pieces based on the headings you've added. And the really cool bit is that, even if you haven't added headings, Docs finds logical breaks and provides an outline to the best of its ability. Now Google Docs has always been pretty wonderful, but this navigation panel makes it extremely usable for large projects. The update is only for Android devices and the web app (and with the web app, you don't even have to update, it just happens). No word on an iOS release yet.
Ulysses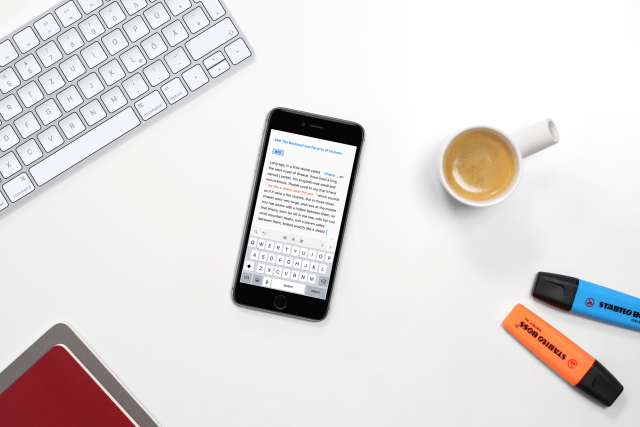 Ulysses is a plain text editor on steroids aimed at larger projects—writers use markdown to format their content as they type it, and then takes care of how it looks—export to a DOCX, pdf, HTML, ebook or even to Medium if you're a blogger like that. Everything's organized in a library, all nice and pretty, and there's no I FORGOT TO SAVE drama. You can also set it up to sync across devices using iCloud; a little less seamless with Dropbox, but it can be done. The new bit of information about Ulysses is that they just launched for the iPhone (and it's a universal app, so if you've bought it for the iPad, you won't have to repurchase it—just download it!).
Ulysses is $50 for the Mac (but there's a 10-hour free trial so you can figure out if you care for it), and $20 for iOS (iPad and iPhone universal app).
Papier
This free Chrome Extension lets you take notes just by opening a new tab in your Chrome browser. Type directly into the new tab and Papier will save your notes for later next time you open up a new tab. Choose day mode or night mode. Everything's backed up to Chrome's browser, no set-up or saving required. Really simple, like jotting something down in a notebook except then you don't have to remember the notebook. 'Nuff said.
And while we're at it, perhaps read this Lifehacker piece on increasing your Average Speed. This is how I write big things already, and it's validating to see it verbalized.
---
Apps for Focusing On The Thing
Go Fucking Work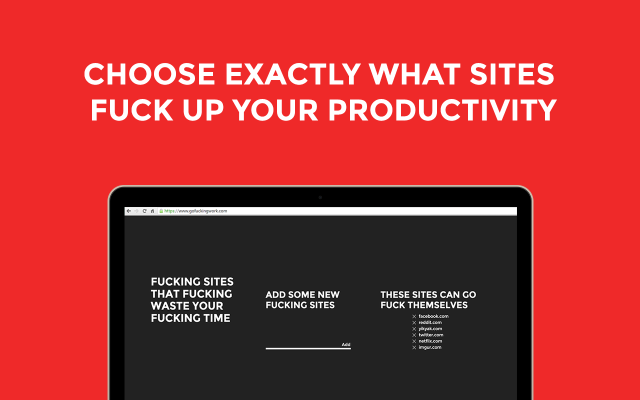 This free Chrome extension is like an extremely responsible foulmouthed sailor. Every time you open a new tab, it will tell you to Go Fucking Work. You can also tell it which sites are particularly distracting for you, and it will give you an extra reminder when you navigate to one of those pages. No worries, you can pause the cussing when you need a break. This extension is for people who like to be berated by their computers—this extension will call you a failure. If that style works for you, yeah, probably go install this.
Freedom
Like the above plugin, Freedom allows you to block certain websites. But if that's not enough distraction reduction for you, Freedom also allows you to block the entire internet. And the nice part about it is it's not just for Chrome—this sucker works on Mac and PC (and iOS and Android if you have a premium account). You install it on your device and sign in—for free, you can block on one device. If you pay $2 per month, you can block on three devices all from one account, schedule your your sessions and even take advantage of lockout mode so you can't simply turn Freedom off if you want to cheat (it's like working on hard mode). For $3.75 per month, you can block sites on mobile devices as well as computers. I'm using it right now so I don't just go look at Twitter. This post is brought to you by Freedom.
Momentum
You may have noticed many Autostraddle staffers use a Passion Planner that allows us to write down our daily focus (and if they don't use it, they at least make jokes about it). If you're not ready for that kind of commitment to a physical object, but still want to clarify what you're working on for the day, might I suggest Momentum? I first learned about it by studying the Studyblr tag on Tumblr (which is another good way to procrastinate not doing the thing DON'T DO THIS). It even comes with inspirational quotes—it's like an ever-changing motivational poster that you can customize and that keeps track of a to-do list for you. This is like the opposite of Go Fucking Work; if you need a positive push in the right direction, this plug-in is for you.
So queermos, how are you writing that long thing? Take a short break to let us all know! You deserve that break, but then GO FUCKING WORK. I'll be joining you there, in no-fun* work land.
*j/k, you know I fucking love this shit. It's just overwhelming, ya know?