Welcome back! Good to see you again. Did you cut your hair? It looks great. Goodness, where do we begin?
The United States of Tara season finale airs Sunday but if you have Showtime On Demand you can watch it now, like I did. It was good. We will discuss next time!
Also, some of you wrote last time about Skins, which is a British show that's been getting a lot of press lately for being cool and good and having a lesbian storyline and I have yet to see it, but it airs on BBC America so I'm going to try and figure out when I can watch it.
Additionally, Damages is ending and I have missed about 87% of this season so DON'T TELL ME ANYTHING YOU GUYS, but I am going to get caught up on it eventually. I love that crazy hot mess of a show.
All right, without further ado…
The Carlytron TV Awards for the Week Ending on 3/28/09
The FINALLY!! Award

This week marked writer Brian Fuller's return to Heroes, and you could really see the difference. The dialogue was WAY BETTER, the twists were WAY TWISTIER, and the whole show just seemed to flow better. I'm hoping we'll see an overall return to excellence in the near future. Swoosie Kurtz was well cast as Angela's socialite friend, and I'm also very happy to see more Angela stuff cause she's the best character on the show. Though I have to say, I totally called that Micah would be Rebel.
The ZZZZZZZ Award
This goes to Grey's Anatomy and will continue to go to Grey's Anatomy until it gets it shit together (read: never). Derek came back, Izzie had her surgery, blah blah, Derek and Meredith are engaged, everyone sucks except Bailey, blah blah. Callie and Arizona, our resident (ha! puns!) lesbos, danced around a living room and then got sad about Izzie together. Borrrr-iiiing. Also, fuck all of the residents for not even saying hey to Izzie before her very dangerous SURGERY to remove a BRAIN TUMOR. I don't like her either but I'd at least go and say hey, what's up. And did anyone else think it was a bit presumptuous for the Chief to tell Alex to donate some sperm to fertilize Izzie's eggs? I mean… I know he should have talked to her and all but still… back off.
The SHUTUPSHUTUPSHUTUP Award
Simon on the Real Housewives of NYC, who is generally awful but this week he insisted on accosting Ramona at a fashion show instead of behaving like an adult, which was painful to watch and abhorrent even for him. Also, Kelly from the same show. She refused to put her name on a charity event that her "friend" (castmate? I don't even know) was organizing. Um … OK. I like how this season, everyone is just hating everyone else and that is the entire plot. Like, nothing is happening, they're just talking about each other and having food with each other to talk about how much they hate each other. It's amazing. I was going to give Bethenny the Awesome Award but I'm saving it for next week when she's really going to deserve it.
The Hot Girl of the Week Award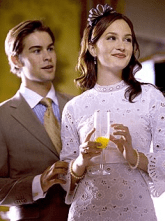 We bid farewell to yet another Ali Larter character on Heroes this week, this time Tracy Strauss bit the dust in a totally rad, crazy way … AND they set it up for her to come back T2-style, which is sweet. In this episode, she was sweaty in a tank top, ran around for a bit, then froze herself. Awesome.
Honorable mention goes to the one and only Blair Waldorf on Gossip Girl, because she looked smashing whilst falling into a downward spiral that only ended (for now) when she asked Nate to spend the night with her. I'm sad that this is delaying the Bluck action (Get it? Blair-Chuck? I'm really clever) but I also like when they're running around trying to mess with each other, makes for entertaining television.
The Funniest Thing I Saw All Week
… was actually Dollhouse, believe it or not. Everyone gets high and acts ridiculous, the best part being Adelle and Topher eating junk food, talking crazy, and preferring to hoist themselves over railings instead of walking around. Which brings me to…
The Dollhouse Award for Dollhouse
Another great episode, and we got to learn a little bit more about the Dollhouse itself. It's apparently funded by a creepy research lab (as most TV/film research labs are) who went from testing on animals to testing on humans. Echo's alter ego, Caroline, tried to expose them but was caught and offered an opportunity to become a Doll. Verrrry interesting. Also Boyd plays the piano. Can't wait to see more, it's getting better each week.
The Sitcom Roundup
Ok so let's be honest: 30 Rock, the Office, Better Off Ted, and How I Met Your Mother are always going to be good. They might have off weeks but they will always be good shows. So here I will just list my favorite parts of each, keep it simple, etc.
30 Rock: OMG the Muppets killed me. As a Muppet owner myself (I'm sure most of you are familiar with Esmerelda Fitzmonster), I was really excited that this is how Kenneth sees the world. Also funny: Liz's feud with Jenna, Tracy going into "space," and Jack throwing up all over himself.
The Office: In a very Jerry Maguire-esque moment, Michael leaves and takes Pam with him. Of course, this is only after he gets drunk at work, embarrasses himself thoroughly, and tries to get his job back… but hey, that's Michael.
How I Met Your Mother: Three words: Canadian Sex Acts.
Better Off Ted: This continues to impress me.
All right, that's all for this week! Woo!