Hello homosexual ladies & allies, this is Riese, your
Go-To

Default Girl for Party Time, here to give you the lowdown on Dinah Shore Weekend, which began yesterday (April 1st) and lasts until April 5th. I mean — I'm not like "AT" Dinah Shore or anything, but clearly we must cover this event for Autostraddle. Luckily Autostraddle's graphic designer, A;ex, who's repeatedly expressed [much to my dismay] no interest in writing anything, ever, IS AT DINAH SHORE and will be providing the best coverage she possibly can. Right now that seems to mean … um. Where is she? BRB.


OK! According to Twitter, she's currently at Universal Studios. That's cool. It's raining here. Sweet, sweet, I'll just write the Pre-Dinah post for her. Can't be that hard, right? I bet they have a website.

Ew, they have a song auto-playing, that's my number one website pet peeve. According to the website copy, it is "the greatest women's week on earth." I think the Michigan Womyn's Music Festival might have a few things to say about that, but moving on.

Sooooo … every year, a bajillion lesbians travel from all around the world to Palm Springs, California, where they all proceed to get drunk, make out, and openly stalk actors from Showtime's hit series The L Word. It's more or less my idea of a living hell [I prefer being alone in my room talking to my stuffed dog Tinkerbell], though somehow this year I am slightly jealous and wish I was there. Mostly 'cause I was invited to participate in the Celesbian Rock Band Tournament, and I jump at any opportunity where I am invited to do something as a "celesbian." [see: OurChart.] [HAHAH! Jk! You can't see OurChart anymore!] Instead, I am going to Cleveland, Ohio, for somewhat less exciting reasons.

Our photoblogger Robin went last year and has so kindly shared some of her amazing photos with us, to give you a little taste of what life is like at the Dinah. So shall we kick off Autostraddle's totally completely ghetto Dinah Shore coverage? I have received word that if I write this thing, commentary will be added by people with first-hand knowledge.
---
White Party!
This has to be a white party, I saw it on The L Word. Robin's such a good photographer! Anyway, so this is the White Party, when lots of lesbians look worse than usual because you have to be smokin' hot to pull off all white. I think the point is if someone spills a drink on you, there's gonna be a Girlfight, and that's the first rule of Girl BarClub. Ta-da!:
Here we have a woman on a stripper pole, and a woman watching her, thinking about taking a little muff dive later and wondering what she's gonna do with all that junk, all that junk up in her trunk, wanting her to loosen up her buttons baby and so on. Also major Capri Pants disaster happening in the background.
Runway Show!
This is a contest they hold at Dinah Shore to see what happens when Celebrity Lesbians stop being polite, start getting real, and don IT originals clothing for a big ol' Fashion Show: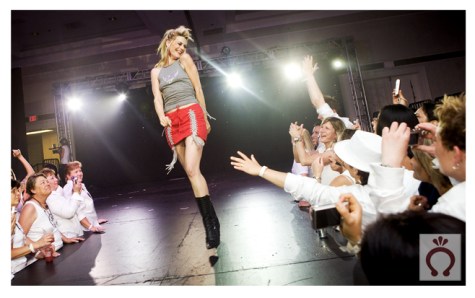 ---
I am 99% sure that this is Dani from A Shot at Love With Tila Tequila, a.k.a. the inventor of FUTCH. It's like Fetch, but gay and with shoes. She wants you to tell your girlfriend that she says hi.
Robin: "It's Dani, alright.  Her girlfriend last year was a Tila look-alike (only taller)."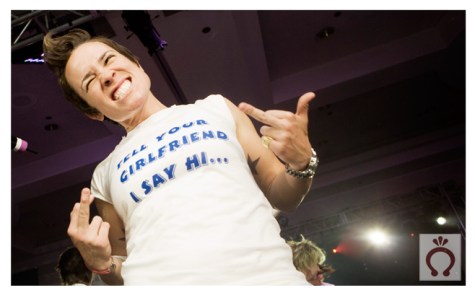 Look! It's a girl in her underpants!
Robin: "I think Jackie Warner was kickin it with this girl for awhile. Hot."
---
This looks like Gweneth Paltrow from a certain angle. It's like that Ani DiFranco album where she's like "I'm okay, if you get me at a good angle, and you're okay, in the right kind of light, we don't look like pages from a magazine but baby that's alright."
Robin: We heart Queer as Folk, yay!
This year's fashion show, taking place on Saturday April 4th, will feature Dawn Denbo & Her Lover Cindy, Tinkerbell's secret girlfriend Michelle Paradise, Queer as Folk's Michelle Clunie, Jill Bennett and Work Out's Briana Stockton.
This will follow AN AMAZING CONCERT BY LADY GAGA.
Alex: "My number one feeling about Dinah this year is: Lady Gaga. I have no other emotions. I don't think my brain capacity can handle much else."
I'm getting more and more jealous every line I write. I should go listen to Tegan & Sara's "So Jealous" and build an Alex shrine. If you're wondering what I'm gonna be doing on April 4th, I'll tell you. It's my Grandparent's 60th Anniversary Party! I KNOW! The Indigo Girls won't be there, unfortunately.
---
Hello, here is Tinkerbell's number one band and our besties Uh Huh Her, who this year will be performing at some sort of Gammorah-esque pool party on Saturday April 4th that lasts for eight hours. Also there's some serious apostrophe abuse happening at the Club Skirts Website. "Cabana's." What does the Cabana possess, exactly? Oh right. "Sexy Go-Go's." OH! And the girls will be wearing "bikini's"! What does the bikini own exactly? Sigh.
See, it's grafs like this that make me unsuited for interacting with other humans. Good thing I won't be attending this concert.
Robin: "I was sitting on stage for this one.  Leisha was seriously into those weird bubble skirts last year."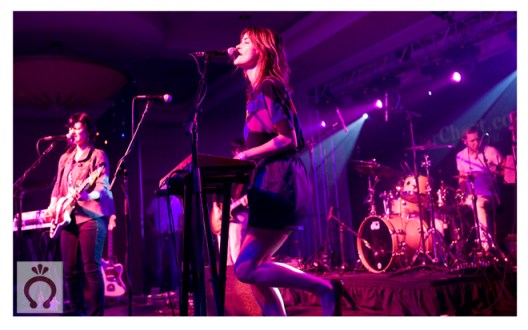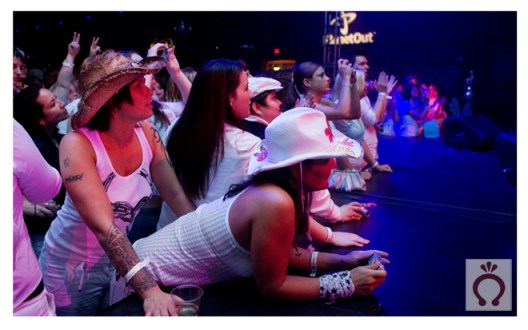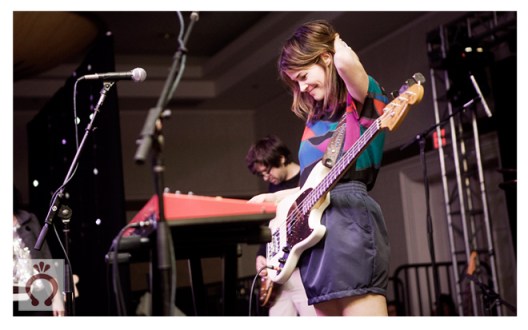 ---
Pool Party!
Soooooo … shaker of salt … I like pina coladas … take me away to Margaritaville … this appears to be a sparsely attended pool party. Maybe this is the BETTY concert.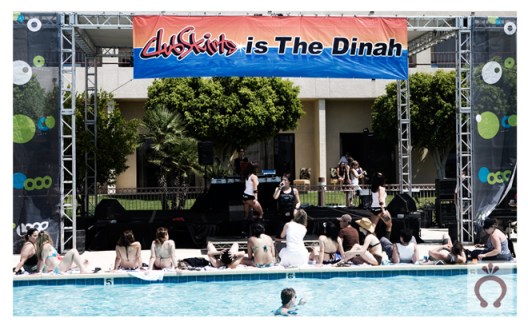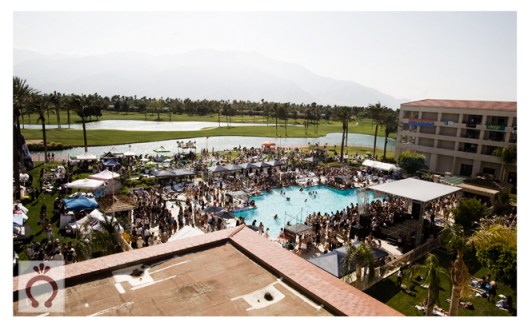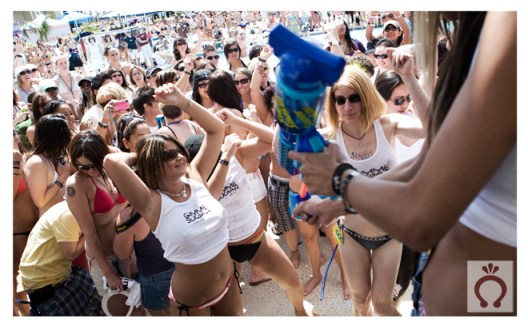 Alex: "A wet T-shirt contest waiting to happen? How did I miss this craziness last year?"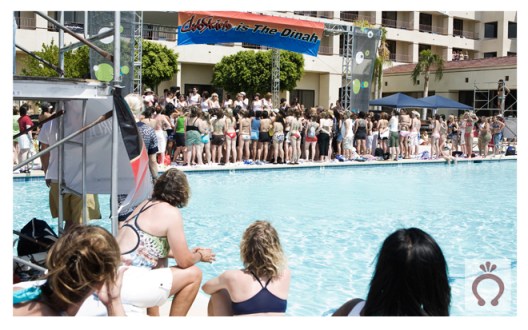 ---
Here is an event that involves attractive ladies, bikinis, and wrestling: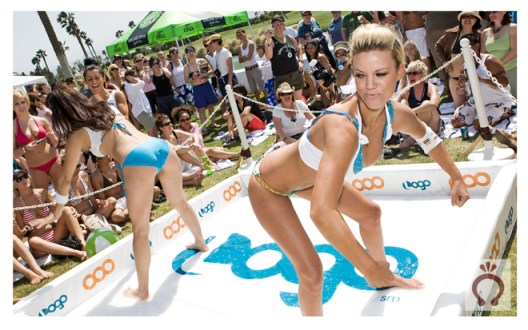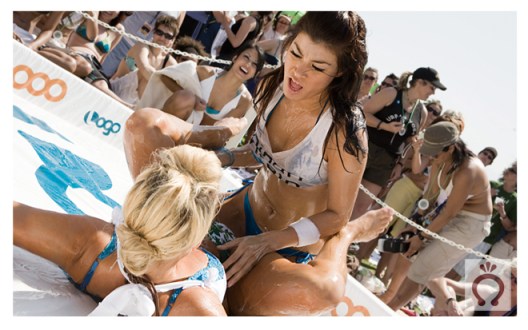 ---
I have a lot of feelings about this picture, I hope someone took her up on that offer. Seriously if that woman put that arm inside our special correspondent's vaginal canal, she would probably split right open and bleed from the eyes. It would be like she was miscarrying herself.
Robin: I was so afraid of this lady. Not of the ladies above.  I was not afraid of them.

This is Elizabeth Keener, she was Dawn Denbo on The L Word and is probs one of the Top Ten Lesbian Event Hosters of all time. You know? Like all those hot girls that are always hosting things. She's right up there with Dani Campbell, Jill Bennet, Lori Michaels and that Michelle Woolf person.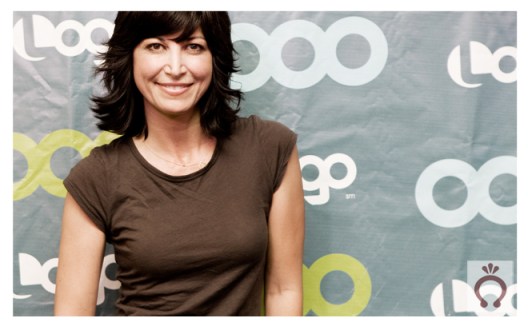 This is our favorite Celesbian Jane Lynch who can do no wrong: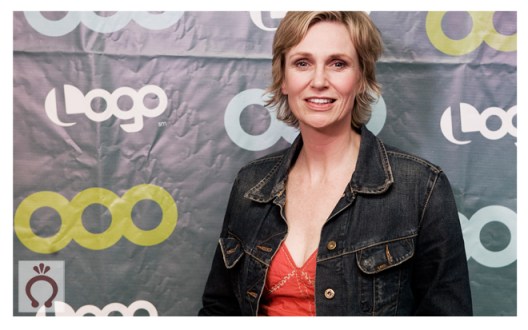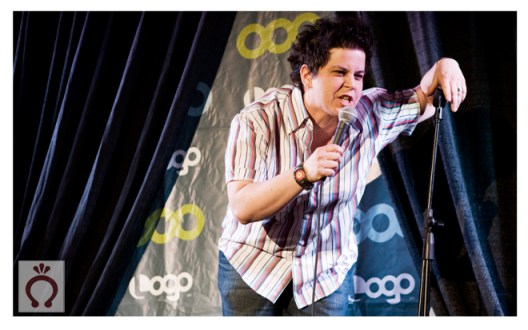 This is Julie Goldman, the funniest comedian I've ever seen in my life. (She was on the Rosie Cruise in '08, I peed in my pants like ten times). This year she'll be performing in the 'Funny Girlz 4" Comedy Show at the Zoso Hotel Ballroom at 7:30 on Thursday April 2nd with Michele Balan & Poppy Champlin.
Robin: I would like to add that this show last year was so hilarious!!! I was dying.  Please, everyone, support our dear friend Julie Goldman because she is a genius.
Complete

Incomplete list of the events happening:

FRIDAY:

The White Diamonds Party – featuring Katy Perry & the LOGO Red Carpet & the celebrity fashion show @  The Palm Springs Convention Center.

Margaret Cho Comedy Hour: Jessica Kirson and Gina Yashere @ 7:30 at The Riviera's Grand Ballroom.

SATURDAY:
-Cabana Pool Party – featuring Uh Huh Her
-Rock Band Competition (Alex: Which I am fully attending and plan on taking home the gold for the Team.)
-Indigo Girls in Concert (Alex: Sorz guys, I am not attending this one.)
-The Hollywood Party – featuring Lady Gaga 


SUNDAY: Wet and Wild Pool Party

So in conclusion, this year's festivities look very festive. And if you want the best Dinah Shore coverage possible via iPhone, Autostraddle will be where it's at. And if I can't get in touch with A;ex, I'll just do when I couldn' sit hrough the L Word — I will make shit up. For example, I still haven't watched Episode 604.