The GLAAD Media Awards happened on Saturday night at the Waldorf Astoria Hotel in New York City, New York, and because I live in the Big Apple, I attended the event with Autostraddle fashion/style writer Aja, who was a champion for many reasons, not the least of which was: she told me how to get the vodka stains out of my suede shoes after the red carpet interviews were over and the complimentary Ketel One White Cosmopolitans began to flow freely. (I couldn't get any of the bartenders to tell me the secret recipe for a Ketel One White Cosmopolitan, but my taste buds revealed that it was just vodka and lime juice and maybe triple sec.)
As I'm sure you know, Autostraddle won GLAAD's Outstanding Blog Award this year, at the awards ceremony in Los Angeles. I didn't expect any special treatment, though, and especially not after I arrived and came face-to-face with journalists from every mainstream pop culture website and magazine on the planet and the big names in commercial gay websites too. When the GLAAD bosses led us upstairs to the red carpet, Aja and I walked-walked-walked past The Hollywood Reporter and Variety and Entertainment Tonight and Deadline and Out magazine and Logo with their big fancy video cameras and microphones and sound check guys, and found our spot near the end of the line (with our phones and camera and back-up AAA battery-powered tape recorder).
The way red carpets work is you stand patiently and wait for celebrities to make their way down the line, and then you say where you're from and either the celebrity or their handler decides if they want to talk to you. Usually, the further down the line you are, the more exhausted everyone is from answering the same questions over and over under the crazy hot lights that make their skin look so good for Getty in their too-tall, toe-crunching shoes. And so I thought, before we got started, that maybe we'd get two or three good quotes and some pictures of blurry famous people as they whipped past us.
Well, I was in for a surprise! Not only did the GLAAD folks who were working the red carpet go out of their way to bring us the celebrities they knew our readers would want to hear from, but every person I said "Autostraddle" to stopped in their tracks to come over and talk to us. Lots of media folks sought us out all by themselves. They hugged me, high fived me, shook my hand, and told me repeatedly how happy they are that this website exists and continues to do what it does. More people than I can count told me to say thank you to Riese, over and over, all night long.
I'm telling you this part of the story for two reasons:
1) Our senior editorial team spends a lot of time talking about Autostraddle's place in the world as more and more giant mainstream sites and magazines with millions of dollars at their disposal jump on the bandwagon of writing about LGBTQ people. It's something Riese talked about recently in her Business of Art Fix. I've been a professional lesbian writer for seven years, and I have been around the whole entire block when it comes to creating queer content, and I can say with the certainty of experience that there is no place on the internet like Autostraddle, and it was so affirming to see famous queer folks knowing our name and thanking our writers and editors for their commitment to creating a safe, ethical space with a larger purpose.
2) I was as keenly aware on the red carpet as I am right now that the reason Autostraddle continues to exist and the reason I get to fulfil my soul's purpose by working here is because of you. You, you, you, you. Your financial and emotional support continue to make this possible. At the after party — which Aja and I never really knew if we were invited to, but went to anyway because everyone was under the spell of Ketel One White Cosmopolitans at that point — I danced between Michael Sam and Dascha Polanco (who plays Daya on Orange Is the New Black), and you were dancing with me.
---
The Red Carpet
The red carpet was actually blue, just FYI. And these are the people I talked to.
GLAAD President Sarah Kate Ellis
GLAAD Board of Directors co-chair Jennifer Finney Boylan: Autostraddle! Let me give you a sound bite no one has gotten all night long! A year and a half ago, the GLAAD Board decided to hire this woman right here, Sarah Kate Ellis, and we have seen a complete transformation in our movement. She is a tornado! And she's so nice, too.
Sarah Kate Ellis: Aww, thank you, Jenn.
Autostraddle: That's my question, actually. It seems like the last year and a half has seen an astronomical rise of representation for queer people, on television and in mainstream news media, especially. Do you feel it from where you're sitting?
Sarah Kate Ellis: Oh, I definitely feel it, but, you know, I'm always looking forward. Yes, this last year and a half has been amazing, but now we're here and where are the gaps forming? Where is the visibility just starting up? Where is the visibility building? And how are we, as a community, supporting those efforts?
Autostraddle: Where do you see the gaps right now?
Sarah Kate Ellis: We have got to stay on top of the challenges facing the trans community right now. Yes, we're seeing a rise in representation, but the trans community is struggling with unemployment, struggling with the violence against them, with high suicide rates. We want to find that balance of celebrating our progress and being realistic about the challenges we face.
Aja: If you were going to give one piece of advice to companies that are trying to be as diverse as possible with the people they hire, what would it be?
Sarah Kate Ellis: I always say, go where diversity is. We always choose from the same pot, but there are unlimited resources out there. Go to historically black colleges and recruit. I always hear people saying they can't find people of color, and I'm like, "Um, there are colleges specifically for people of color. Come on. Call them. Ask them. Get a relationship going." Instead of expecting people to come to you, go find them where they are.
---
Laverne Cox
Autostraddle: You just won an Emmy!
Laverne Cox: We did, we won an Emmy for Laverne Cox Presents: The T Word, and my Emmy is coming in the mail.
Autostraddle: Emmys come in the mail?
Laverne Cox: That's what they tell me!
Autostraddle: It's been a huge year for you. The Emmy, the Screen Actors Guild Award, Time magazine cover, Variety magazine cover.
Laverne Cox: I feel so blessed. I am just trusting in God's plan. I am so proud of the seven young people who were brave enough to let us tell their stories on TV, and some of them are here tonight, so I'm excited to reconnect with them. I feel very grateful to work with our entire cast at Orange Is the New Black. There's so much talent there. Our bench, as Jenji Kohan says, is so deep. It's a really exciting time.
---
Transgender model Andreja Pejić
Autostraddle: Congratulations on being the first openly transgender model to be profiled by Vogue in this year's May issue.
Andreja Pejić: Thank you!
Autostraddle: How is the world of modeling changing for trans people?
Andreja Pejić: I think we're moving away from the shock value and this sort of gimmicky casting that prevailed when I first started modeling. And that's important. Why should transgender women — why should any women — be typecast? This is an industry based on your look, not your gender or your sexuality, and it's good to see the shift toward that truth.
Autostraddle: How do you feel like we're doing with trans visibility on TV?
Andreja Pejić: We've made a few strides. Over the past year, we have had Transparent and Laverne's character on Orange Is the New Black. But like in modeling, we need to move away from these stereotypes and start seeing trans stories that aren't necessarily focused on being trans.
Autostraddle: What's next for you?
Andreja Pejić: I want to keep modeling for as long as I can. I have some projects on the way that I'm really excited about. And I'm just open to all the possibilities that will be coming my way.
---
Janet Mock
Janet Mock didn't do the red carpet, but Aja chatted with her for a few minutes and we just want you to know how gorgeous she looked.
---
Andro supermodel, actor, humanitarian Rain Dove
Autostraddle: Things are changing so fast, Rain Dove, and you are a huge part of that. How have you seen the world of modeling shift since you became involved in it?
Rain Dove: Thank you very much. I don't know if it's 15 seconds of fame, or if it's going to last a lifetime, but I think what we're seeing now is people wanting to just live their lives and not make gender and sexuality a socio-political issue. We have water issues. We have education issues. I don't want to be a part of a selfie nation, I want to be a part of a selfless nation, and it has been so rewarding to have an entire community come together behind me and say, "Let's fucking do this together."
Autostraddle: Your career is about social change as much as it is about modeling. What impact are you striving for?
Rain Dove: I want to show kids and their parents that you can have food, water, shelter and validation, and still be exactly who you are. I want to be that success story. 70 percent of my time right now is spent doing advocacy and humanitarian work. I just want to encourage people to get back out in their communities and get their hands dirty. If people can afford to buy the clothes I'm wearing when I'm modeling, they can afford to make a difference.
Autostraddle: When we're talking about advocacy and resources, the LGBT community has been focusing very heavily on marriage equality these last few years, but there's a different kind of advocacy on the way. What does that look like?
Rain Dove: I think it's time to start tackling the fact that so many LGBTQ people don't even have their basic needs met, don't have food or shelter. Homelessness, unemployment, access to GMO-free food, not allowing corporations to privatize water. I think that's where we're heading. I'm excited to see money and resources moving in that direction.
Autostraddle: What's next for your career?
Rain Dove: I have a new modeling campaign coming out, and I am so excited about it. I can't talk about it yet, but it's going to be great. Hey, can I hug you and it's like I'm hugging Autostraddle.
Autostraddle: Yes, of course! 
---
ESPN writer/editor, trans advocate, and GLAAD Board of Directors member Christina Kahrl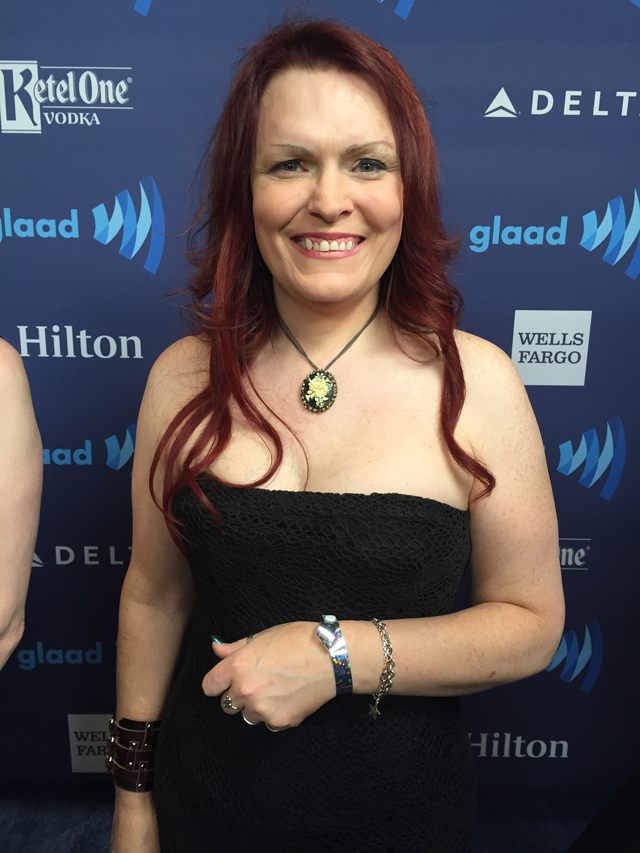 Autostraddle: What's the next step to making equality a reality in the sports world?
Christina Kahrl: We need to see someone come out and play on a major sports team. I think it's ludicrous that Michael Sam didn't make a team last year. I'm a Raiders fan. They're terrible. If you're telling me they couldn't use Michael Sam, I don't believe you.

The NFL has talked the talk, but they haven't walked the walk. Major League Baseball hired Billy Beane as their Ambassador for Inclusion, and that's a great first step. I'm looking forward to the point in time when we're going to see a Major League player come out. The NHL, however, provides a great corporate example. They were one of the first major sports to step out and say, we are going to be entirely supportive of any player who comes out, yet no players have come out. So we need to start having a healthier conversation about what it means to come out as a gay person who is also a prolific athlete.
Autostraddle: Why do you think it's so hard in major team sports for people to come out?
Christina Kahrl: I think, for one thing, players really don't want to be a distraction. They want to fit in with the culture of the team, which is a value that has been instilled in them since little league or youth soccer. But when we talk to players who are gay, who didn't come out during their careers, we find out how destructive it was for them, personally, to choose that team acceptance over personal truth. And I think a lot of that message is going to have to come from the media.
Autostraddle: I thought both ESPN and NFL Network's coverage of Michael Sam was exceptional. Rich Eisen was about to come out of his skin when Sam hadn't been drafted near the final round. But what's the next step?
Christina Kahrl: I agree. I think ESPN and NFL Network did a pretty excellent job of setting the expectation, of saying, "This is how these stories deserve to be covered." On a national level, that's great. Think about, though, even a really progressive place like New York, if a Giants or Jets player comes out, how do you think the New York Post or New York Daily News will cover that? Even if you assume the best intentions, one of the problems with allyship is that people don't always know how to do it right.
Autostraddle: That's a really interesting conversation, too, when we start talking about trans athletes.
Christina Kahrl: Exactly. I talk to a lot of journalists who work for places that aren't really national media, and they'll call me up when they are covering trans athletes and ask for help. They want to be allies, they really do, but they need some guidance. They're not even sure about pronouns sometimes.
Autostraddle: Do you think Bruce Jenner is going to change the way we talk about trans athletes? Will we be able to discuss things more intelligently and openly now?
Christina Kahrl: That's the challenge. Jenner's coming out opens up a huge conversation, and the expectation now is that the media is going to do this right. There's no excuse now. Even if you came out of journalism school ten years ago and never took an ethics class or a class about covering LGBT people, it's your responsibility to get back on top of that. You have to catch up.
---
Daytime TV and web series star Louise Sorel
Autostraddle: Oh my gosh, I didn't know you would be here. Forgive me, Louise, I'm starstruck. I have been a fan of yours since I was four years old. I grew up on Days of Our Lives. I remember when you played Rayna Kapec on Star Trek! It is an honor to meet you!
Louise Sorel: Oh goodness, thank you! Don't say that about being four, though; it makes me sound like I'm 100 years old.
Autostraddle: No, not at all. You look amazing. You got your start in film in the mid '60s and transitioned to TV in the early '80s. How have you seen the landscape change for lesbian, gay, bisexual and trans people in your career?
Louise Sorel: Oh, it's amazing what's been going on. I come from the old school, when television was very limited, but you look at web series like what Crystal Chappell is doing now, and how those promote internet platforms like Netflix with Orange Is the New Black or Amazon with Transparent. It's wonderful. If the bloody Conservatives would get their heads on straight — oh, I guess I shouldn't talk politics.
Autostraddle: No, you should!
Louise Sorel: Well, it's just that people should be allowed to be who they are, and they should be allowed to love each other, and marry each other, and express themselves fully, exactly as they are. I've had many arguments with homophbic people who seem to think gay people are a recent development, and I'm always like, "Excuse me, have you heard of the Greeks? The Romans? Let's talk about Michaelangelo. Let's talk about the great artists of our time."
Autostraddle: That's amazing. Do you think daytime television started pushing the boundaries first, in terms of representation for gay people?
Louise Sorel: I do. I also think it produced some great allies that have gone on to do wonderful things for the community. Crystal Chappell, for example. We worked together on Days and then sort of lost touch when I moved to New York, but then I saw her doing all of these gay and lesbian web series, and I've been so impressed.
Autostraddle: Is there going to be another season of Beacon Hill? You were great in that!
Louise Sorel: Thank you! I hope there will be. Ask Crystal. She's coming down the red carpet right behind me.
---
Actor/writer/editor/ web series mastermind Crystal Chappell
Autostraddle: I just talked to Louise Sorel. She wants me to ask you about another season of Beacon Hill.
Crystal Chappell: Haha! I'm going to work on it!
Autostraddle: You're working on Venice now, right? Season five?
Crystal Chappell: I am writing season five right now, actually! I'm working on a film and after that, I'm diving into Venice, and then I have to rewrite The Grove, and then we'll talk about another season of Beacon Hill.
Autostraddle: Crystal Chappell, do you even sleep?
Crystal Chappell: I did last night, but that's rare! I just really enjoy challenging myself.
Autostraddle: I'm thinking about your story on Guiding Light, with Natalia and Olivia, and it coming right in the wake of Prop. 8 back in 2008. To me, that story signified an enormous shift in media portrayals of lesbians on television.
Crystal Chappell: Things have opened up, they really have. I was with the fans wanting more, more, more from the Otalia storyline. Until I did The Guiding Light, I don't think I really understood this desperate need lesbian viewers had to be represented on screen. I have always had gay friends, I've been surrounded by gay people my entire life, and then I began to interact with these fans whose only connection to other lesbians was on television. Walking a mile in someone else's shoes, I guess, is what The Guiding Light gave me. It really opened my eyes. It's been interesting to see this slow, steady progress of cable and broadcast TV since then. It's happening, and we can see it, but I do still think there's always the worry from networks about how people are going to receive these stories.
Autostraddle: Right, so, it does feel like the real progress, the real way forward, is through online platforms.
Crystal Chappell: I absolutely think so. Netflix, Hulu, Amazon, those have been so important in opening these doors. And obviously I have a soft spot for web series.
Autostraddle: What has been the most rewarding thing for you about doing all of these queer-themed web series?
Crystal Chappell: When the Otalia storyline made me aware of the need for these kinds of stories, I wanted to start a dialogue with the LGBT community, and this community welcomed me with beautiful open arms. This community has surrounded me with really good people. I could have never imagined how warmly and openly we would be received.
---
Fusion Network news host Alicia Menendez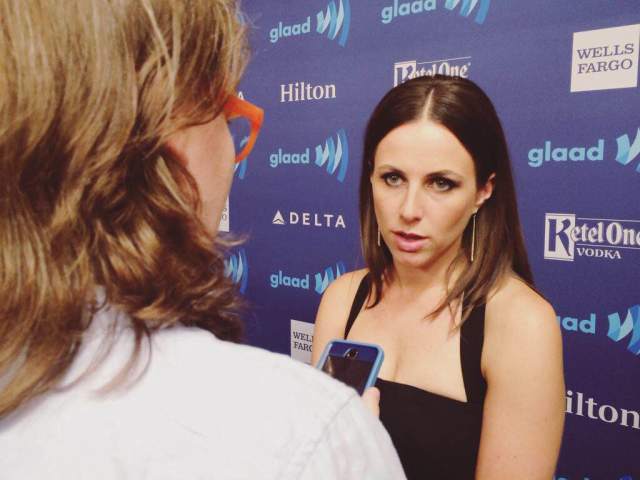 Autostraddle: Tell me a little bit about why you're here tonight.
Alicia Menendez: I'm here representing Fusion for an interview we did with the amazing trans activist Geena Rocero and her work with Gender Proud and gender marker legislation. It's a really powerful story, and I think there's no better messenger than Geena to talk about how the world has to begin its transition toward trans equality. Gender marker legislation is one way we can start taking down institutionalized discrimination.
Autostraddle: You guys at Fusion have been ahead of the curve in terms of going after trans stories to tell.
Alicia Menendez: The main reason we're able to tell trans stories well is because my good friend Janet Mock served me my ass, right? She gave me a real lesson on what it's like to be asked the kinds of questions the trans community gets asked all the time. We need to be honest about how invasive these questions are, and so I think I've been lucky to have these personal relationships and to work at a network that pushes us to tell the stories of our generation.
Autostraddle: How do you think social media has changed the way the news media talks about things like sexuality and gender and race?
Alicia Menendez: Right, social media has changed everything. There's an army of people ready to call you out for racism and homophobia and transmisogyny. And I think when you're working as a journalist, when someone calls you out — which has happened to me many times — you have to accept that with a spirit of generosity, and take it as an opportunity to learn.
Autostraddle: Do you see the other side of that as well, on social media, when you really get something right?
Alicia Menendez: The interview that Janet Mock and I did is now being used in colleges and universities to teach about intersectionality and identity, and I think that shows the power of the internet to really educate and inform.
---
Orange Is the New Black actress Dascha Polanco
Autostraddle: We're so psyched about the new season! What's in store for Daya?
Dascha Polanco: Oh, you know, still super pregnant! It's the longest pregnancy in the world, so let's see what happens near the end!
Autostraddle: Are you still loving being on the show?
Dascha Polanco: Of course. It is the same organic foundation that Jenji and the writers have had since the beginning. It's as diverse as it could be. New characters are coming in and stirring things up, which is exciting. Stories are being revisited. I really am proud of this season. I think people are going to enjoy this season even more than the first and the second.
Autostraddle: How do you feel like we're doing, generally, with women of color on television? Orange Is the New Black, to me, still feels like the exception when it comes it diversity.
Dascha Polanco: I think we're making progress, but women of color only make up maybe eight percent of people on TV, and America is a rainbow. It's not 92 percent straight white people. And I want to see TV embrace and represent that, across the board. Orange Is the New Black is a model for how we can do it right.
Autostraddle: Thank you for taking the time to stop and talk to me down here at the end of the line at the end of the night.
Dascha Polanco: Of course, my love.
Autostraddle: I have some good news for you. I believe you can enjoy a Ketel One White Cosmopolitan at this bar just around this corner. 
Dascha Polanco: Oh, you know I'm going there.
---
Wonder Woman, Lynda Carter
Autostraddle: I wrote down a hundred questions for you and now you're standing here and I can't remember them. Wonder Woman is the reason I'm alive, I think. Your show made me strong enough to make it until I could be myself when I was a little girl, getting bullied for being so different.
Lynda Carter: Wow. Thank you for telling me that.
Autostraddle: Honestly, the only thing I'm thinking right now is this pitch I have for you. A Wonder Woman/Xena crossover film starring you and Lucy Lawless.
Lynda Carter: [laughs and squeezes my arm and winks at me]
Autostraddle: What advice would you give queer kids getting bullied today?
Lynda Carter: You know who you are, and who you are is good and right. Don't let anyone tell you what you cannot do. Don't let anyone else shape who you're going to be. You are going to make it!
---
These are some people Aja and I peeped on the red carpet, but didn't have time to talk to.
---
The GLAAD Awards
Like Riese said when she recapped this year's Los Angeles GLAAD Awards, the whole thing had an air of celebration and triumph, and I was especially impressed with the trans representation. We did not have dinner tickets, so after the red carpet, Aja and I made do with two Ketel One White Cosmopolitans and a Starburst. And then we laughed and cried and clapped through the awards.
Laverne Cox introduced Sarah Kate Ellis, whose speech had everyone cheering.
Kristene Chapa, the south Texan teenager who was shot along with her girlfriend three years ago, gave a moving speech that had the audience in tears, and received a standing ovation.
Out country music star Ty Herndon covered Miley Cyrus' The Climb and made everyone cry.
And Kelly Rippa made everyone go nuts when she accepted the GLAAD Award for Excellence in Media.
Afterward, everyone hit up the after party and I chatted with a whole bunch of celebrities (off the record, because famous people want to just dance sometimes too, I guess) and the common consensus is that the world is changing and everyone is excited and Autostraddle is a huge part of that change and none of what we do would be possible without you. You are the GLAAD Award Winners of our Hearts.