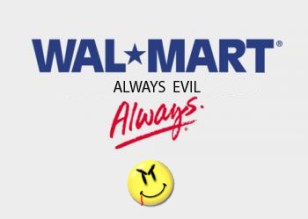 A federal appeals court has ruled that Wal-Mart was justified in firing an employee who made anti-gay comments to a lesbian co-worker. Given Wal-Mart's history of being the biggest assh*les of all time, this entire thing is pleasantly surprising.
Tanisha Matthews, an overnight stocker in an Illinois outlet, sued Wal-Mart after being fired for harassing a lesbian co-worker, identified as Amy. On a break in 2005, Matthews, who is an Apostolic Christian, got into an argument about homosexuality and religion with several co-workers. According to the ruling, Amy "reported that Matthews was 'screaming over her' that God does not accept gays, they should not 'be on earth,' and they will 'go to hell' because they are not 'right in the head.' Five other employees confirmed that Matthews had said that gays are sinners and are going to hell."
Can we just take a moment to acknowledge that that sentence exists in the world? "Five other employees confirmed that Matthews had said that gays are sinners and are going to hell." This is the world we live in.
Anyhow, after a three-month investigation, during which Wal-Mart collected statements from employees who had been present for the incident, Matthews was fired for violating the non-harassment and anti-discrimination policy. The policy prohibits anything that might be interpreted as harassment based on an individual's status, specifically including sexual orientation, and says that anyone who violates the policy could be subject to discipline, including termination. (This is the policy which heaps of women in the Wal-Mart case say was not enforced in their stores.) Matthews then took Wal-Mart to court, claiming that she had been discriminated against because of her religious beliefs and in violation of the 1964 Civil Rights Act.
And she lost. Twice.
The first court ruled in Wal-Mart's favour since there was no evidence Matthews had actually been discriminated against, and since, because she had violated the non-discrimination policy, the company was well within its rights to fire her.
Last week, the decision was upheld in appeal, because there was still no evidence. Even if Matthews' religion or her personal ideas about it support screaming about lesbians and hellfire at work, and the court ruled that the incident of harassment was still key and that "and employers need not relieve workers from complying with neutral workplace rules as a religious accommodation if it would create an undue hardship."
According to the Chicago Sun-Times:
"In her suit, Matthews claimed Wal-Mart engaged in religious discrimination by firing her for expressing religious beliefs. "But if Matthews is arguing that Wal-Mart must permit her to admonish gays at work to accommodate her religion, the claim fails,wp_poststhe Appeals Court stated in its decision.
Wal-Mart "fired her because she violated company policy when she harassed a coworker, not because of her beliefs,wp_poststhe ruling states.
The decision stated that, "in any event, Wal-Mart's anti-harassment policy establishes that her conduct qualified as harassment and that Wal-Mart may fire rather than merely suspend her.""
It would be really, really great if this entire incident could be read as Wal-Mart suddenly growing a sense of ethical and social responsibility and standing up for gay rights, but it shouldn't be. It's worth mentioning, however, that there are billions of Wal-Mart stores out there, and a lot of them are run by jerks and this one is run by a nice person. These things vary from store to store.
Target and Wal-Mart keep playing with our hearts, right? Like pick a side already, ideally our side. It's fantastic that this particular part of the chain's anti-harassment policy was put to the test and that someone was fired for making anti-gay comments, because that probably doesn't happen as frequently as it should.
The chain still has a record of denying benefits to same-sex partners, ignoring discrimination based on gender identity, and an unfortunate history of policies that "provide little to no protections for, and at times even hostility toward, their L.G.B.T. employees." And then there's that gender discrimination class action lawsuit (and p.s., go read that article right now). Which all still shows that even though it (very rarely) sometimes does the right thing, Wal-Mart is still completely, utterly evil.