I heard somewhere that there are a lot of lesbians on the Internet? Whether this is true or it is a vicious rumor, we shall see. Autostraddle is going on the road, the road to Smith College. Next Thursday, April 14, I, Katrina C. Danger will be venturing to this rumored Isle of Lesbos to lead a workshop, LOLesbians 2.0: A Discussion on Queer Internet Presence. The talk is open to anyone in the area and will begin at 4pm. And then we can partypartyparty and talk about our feelings. WE ALL JUST WANT TO TALK ABOUT OUR FEELINGS.
The flyer/my face looks like this: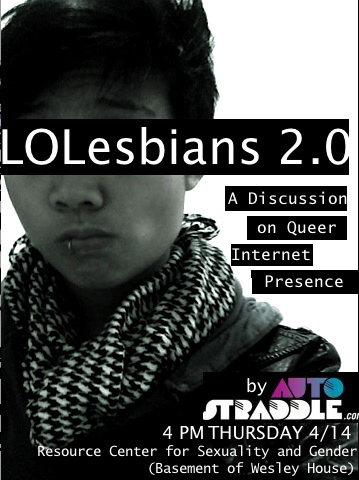 The event description goes like this:
Lolesbians 2.0 is a workshop focusing on lesbian visibility and the Internet. Led by Katrina Casino, a senior writer for the queer media culture Web site Autostraddle.com, Lolesbians will discuss the the Internet as a space in which queer women have the power to create our own visibility. Recognizing that the queer community is not something that simply exists in a physical location but rather as a stream of ideas and identities, we will discuss the Internet as a tool for organizing around not just events but ideas and address how to actualize these ideas off-line. We are here to prove that the Internet is not only a forum to discuss who we are, it is a means to create who we want to be.
You can Tumbl about it here.
And the Facebook event is here.
See you all on Thursday!