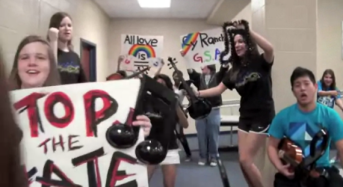 "The Great American NO BULL Challenge" is a student-led National Video Contest which aims to raise awareness about cyberbullying by soliciting 2-5 minute videos with anti-bullying themes rom students in 6th-12th grade. Entries were due March 31st and voting started April 1st — over 260 videos were submitted. So far, it seems like the kids at Cypress Ranch High School in Texas might have at least one of the ten billion awards in the bag.
The Advocate calls Cypress Ranch, based on this video, "the most anti-bullying school we've ever seen. See, the entire student body pitched in to make this bit happen, set to the song "Who Do U Think U R?" written by Cypress Ranch student Kaitlyn K.
I thought the gayest part of the video is when a girl wearing one feather earring, a la Romi Klinger, sings as the women's softball team tosses bats over her head, but I changed my mind and decided the cameo by the Cypress GSA was definitely the gayest part.
If you pay close attention — and I suggest that you do — I think there's a Where's Waldo situation happening in a lot of these scenes. You'll see!
Vote for these cats at the No Bull Challenge website.
What's your favorite part?