Today is the 42nd anniversary of Roe v. Wade, the landmark Supreme Court decision that legalized abortion in the U.S. in 1973. Today, the anti-choice March for Life happened in D.C., as it does every year. The U.S. House of Representatives voted today to pass H.R. 7, a bill that would prohibit federal funding for abortion and restrict the ability to buy private insurance that covers abortion care. It is doubtful the bill will pass the Senate, but if it does, President Obama has vowed to veto it. Such are the push-pull, left-right, Democrat-Republican, pro-anti semantics around reproductive health care in the U.S.
What the political conversation around abortion refuses to acknowledge is the reality of people's actual, lived experiences around sex and reproduction. The reality is that 1 in 3 women will have an abortion in the U.S. and that many, many people make deeply personal decisions around reproduction that are never debated on the House floor. Nor should they be.
Even though it is 2015, over four decades after the Roe decision, there is still a dense cloud of shame and stigma around reproductive health decisions. Especially if the decision doesn't fit into the typical narrative. As the editors of Untold Stories: Life, Love, and Reproduction write in the intro to this groundbreaking and moving anthology:
Creating a family, whatever that means to you, is deeply personal and unique. Yet stop anyone on the street and they can tell you a single story of what the "ideal" American family looks like. There are two parents: a cisgender woman and a cisgender man. They are white. They are Christian. They are in their mid-thirties and live in the suburbs. They are upper middle class with comfortable jobs; maybe the mom works, or maybe she doesn't. They had kids exactly when they wanted to — they didn't even need to "try." Maybe they use birth control, or maybe they don't. They certainly don't share the intimate details of their reproductive lives with anyone. It's private.

Yet, if you asked these same people what their own families look like, what the families in their community look like, you'd get a completely different picture: single parents raising children with friends and extended family; queer families with two gay dads, a lesbian mom with a gender non-conforming partner; two friends deciding to co-parent but not be sexual partners; people choosing not to become parents at all; parents who placed babies or older children for adoption; heterosexual families where one or more parent is trans; families that are bi- or multiracial; couples that choose to have an abortion and later decided ti have children… Too much life to be contained in a single story.
"Too much life to be contained in a single story." Untold Stories, developed by the Sea Change Program and edited by Kate Cockrill, Lucia Leandro Gimeno, and Steph Herold, is about life in all its messiness. The stories are as diverse as the people telling them. These stories are about grief and trauma and fear and pride and relief and connection and loss and survival and forgiveness. These stories are about people, real live breathing people, some startlingly naked and raw.
I went into Untold Stories with an open mind, having worked in reproductive health care and reproductive justice fields, familiar with the work being done by the Sea Change Program and other nonprofit organizations to end abortion stigma. I thought I was well prepared. I was still shaken by how honest these authors are, how much they trust us with their words and experiences. The authors in this book are not telling their stories behind the shrouded confessional of an internet forum or whispered on a hotline. They are coming out publicly about their experiences, which range from abortion stories to adoption stories to stories of being childfree by choice and more. This book feels like a gift.
Untold Stories directly disrupts the ongoing and frustrating conversation around abortion and reproductive health as a political wedge issue. It drives home the point, without proselytizing, that people's complex reproductive lives should be at the center of conversations about reproductive health and rights.
I especially appreciate that the broadly diverse collection of stories includes LGBTQ people, including
a woman who falls in love with a woman after becoming pregnant with her husband,
a queer black woman who chronicles her relationship with her sperm donor and her body as she tries to get pregnant,
a multi-racial femme with a gender non-conforming Korean-American partner embarking on parenthood together,
a queer black intersex man who survived sex addiction and fights for the rights of intersex children,
a Latina trans woman who came out later in life and had to renegotiate what it meant to be a parent and a spouse, and
a queer Filipina-American woman's story about abortion, family, and self-recovery.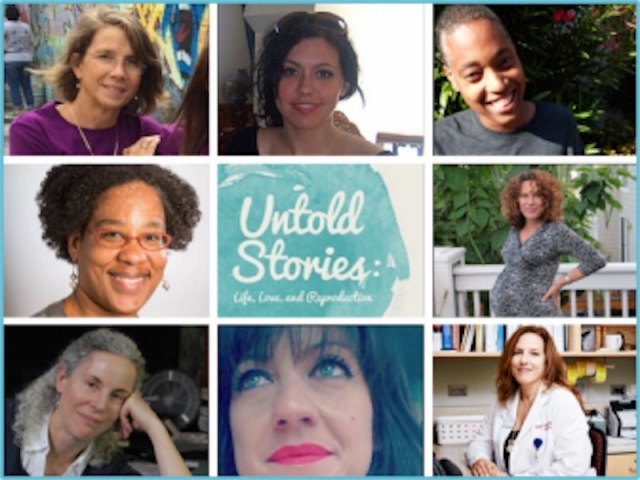 There is so much more in the 17 stories enshrined in Untold Stories. If you'd like to explore them yourself, you can purchase the book to read alone, or you can host a reading group and the Sea Change Program will send you the books with a handy discussion guide!
As we reflect on the reproductive justice and reproductive rights movements, how far we've come and how far we have to go, let's commit to centering the conversation on real people's stories. Let's commit to ending the shame and stigma surrounding abortion. Let's commit to lift up all the untold stories, to uphold the dignity of every person navigating their own, personal, complex reproductive lives.