A week and a half after three members of Pussy Riot were sentenced to two years in prison for protesting the Church's political support of Putin, Russian police have announced that they will be searching for the other two unidentified members of the group who participated in the protest. On Sunday, Pussy Riot reportedly tweeted that two of their members have fled with the intent of "recruiting foreign feminists to prepare new protest actions.wp_postsIt's unclear if the two members who fled were involved in the church protest, as the band counts over  a dozen people as members. It's also not yet clear whether the two unidentified members have successfully escaped Russia. Pussy Riot has tweeted that twelve members of the group are still in Russia.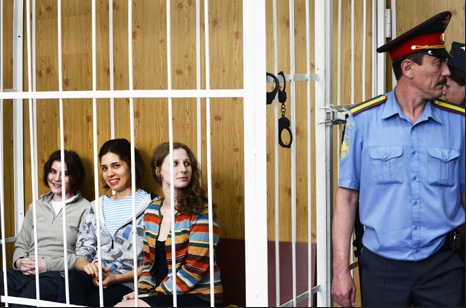 Even as the verdict of the trial was being read, one of the band members who escaped arrest played "Putin Sets the Fires of Revolutions," Pussy Riot's latest song, from a balcony across the street from the court house. And it seems that foreign feminists are gearing up to join in as well. Since the protest, groups like Let's Start A Pussy Riot! have sprung up in support, and feminist idols like Kathleen Hanna have voiced calls to action to revive Riot Grrrl through support for Pussy Riot. On her blog, Hanna wrote, "Who knows, this could be the start of a whole new thing, a whole new motivating source for a globally connected unapologetic punk feminist art and music scene. A catalyst, no matter what it gets called. Anything is possible, if anything, this band has reminded us of that."
Around the world, concerts and other events are being held in solidarity with Pussy Riot. Most recently, a pop-up art exhibit and fundraiser in Chelsea has been announced. It remains to be seen what and where the new protest actions planned by the original Pussy Riot members will be, but they already have the support of a global feminist network itching to join in. So what do you think? Is Pussy Riot going to the the catalyst for the revival of Riot Grrrl? Or something even bigger?
Hopefully, wherever the two women who fled Russia are going, they will be greeted with the same enthusiastic support that they've received online.