Feature image by S. Désirée

He will bite but never break the skin. Bulging black eyes and a lemur-like face of silky black and tan fur greet me when I first meet Marty, the nine-year-old dog. For two weeks I am Marty's guardian, a dog who from behind and up in my arms is frequently mistaken for a large black Maine Coon cat.
That Tuesday afternoon the woman who adopted him three years ago carried the dog, black nose sniffing at the outside air, shining brown eyes catching the sunlight between slats of the crate's metal entrance, up to my front door. On my shoulder I hoisted a giant black duffle bag packed with food, treats, and a spray bottle containing a mixture of water and vinegar.
On the third day, Marty peed on a woman's leg at the park. She held a Chuckit! in one hand and sat cross-legged in the grass. I was mortified. I offered her a disposable hand wipe from my purse and she gladly accepted it.
"I'm so sorry,wp_postsI said, "I'm fostering him,wp_postsI offered as explanation. Fostering him. The words landing like adjacent and off-key notes struck discordantly across a piano. What I mean is, "I don't know this dog very well.wp_postsWhat people hear is, "He's disposable and has problems."
There is someone I used to sleep with, spend time with, date. They used to say, "I would be mortified.wp_postsHe had beautiful, slender fingers, fingers that I associate with a musician, one who strums guitar. It seemed peculiarly classed to me, the word "mortified". I myself rarely deploy this word. One afternoon we are kissing, standing upright in their living room, kissing until suddenly he is picking me up. I wrap my legs around his waist, and we are on his bed, we are pulling clothing off of each other's bodies, we are skin against skin.
He pulls his cock out from a bedside drawer and his harness is holding it against his body. He is watching us in the mirror.
One evening when I hear Marty lapping water from his bowl my breathing slows and I find the muscles in my neck unconsciously relaxing. When Marty crunches through his salmon kibble dinner, I surprise myself by giggling aloud. Marty runs away from his glass water bowl, afraid of the clink sound when his dog tag meets glass.
I'm not sure if I love anyone anymore, or how.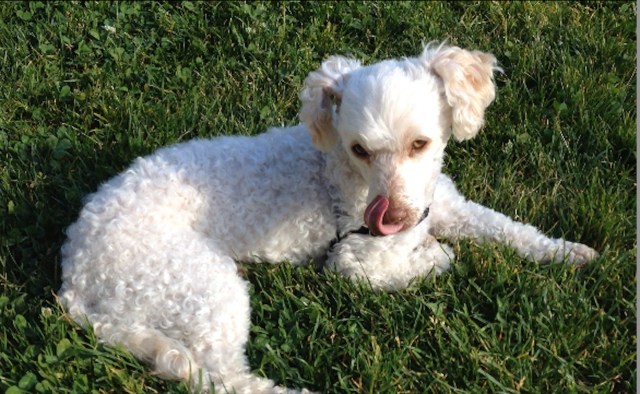 Instead, I practice safer love with nonhuman animals. Dogs. Marty. I haven't had a dog in my life since my first love dog died. Four or five in the morning, unable to sleep, and My So-Called Life reruns on TV playing softly in the background, I once cut and steamed a kabocha squash and hand-fed the little dog warm bits of it, his soft and mostly toothless mouthing sensation against my outspread and open palm. His kidneys failing.
When Marty leaves, I am bereft. I cry and cry. I smell the blankets where he used to lay, his teeth squeaking against the red rubber Kong stuffed with a bone-shaped treat that looked as though it was made of plastic and probably tasted like it, too. But Marty loved it. I cry as I place the now-absent Marty's blankets—a blue shawl I picked up from Community Thrift after leaving the crowd of a march against rape, and a deep purple infinity scarf from a clothing catalog mailed to me one winter by a parent in another time zone—into the washing machine. I press the start button quickly, willing my crying to stop when I hear the sound of water rush into the machine.
On the fourth day, my arms began to ache. Muscles I forgot I had, wan from lack of use, are suddenly declaring themselves to me. I've been holding Marty, sometimes picking him up after an unexpected and off-lead black Labrador charges him from behind, or holding him when he halts mid-step, one paw in the air or circling on his hind legs around my knees after encountering the curious noses of unfamiliar dogs across lawns and down city sidewalks.
One Saturday morning I am lying on my belly in bed, and Marty is sleeping on his bed beside me. Dappled sunlight cuts leaf-shaped spots across an earth brown jute floor covering, on which Marty often enjoys wiping his butt. His front legs bow slightly to either side, and his smile is crooked and perfect. I notice that, lulled by the sound of his soft breathing and soothed by the soft rise and fall of his chest in sleep, my breathing matches his own, my deep inhales follow his contented sighs.
I am brushing my teeth and suddenly I am crying, missing the last person with whom I shared my bed, against whose shoulder I rested my heavy head.
There is no coherent, clear idea of what exactly happened the last time I tried to be close with someone.
I don't trust Marty to not bite me. Because of this I'm not so comfortable around him.
My journal entries are terse: "Marty whines at me. I feel weary of Marty today. I want space. Being a caretaker can feel lonely and isolating."
It's 9 o'clock at night and I am practicing touch training with Marty. I take notes in my journal: "hide hand, then re-present hand and wait for dog to touch it". That's advanced level training. For now, I practice this: touch Marty's hind leg, then immediately offer him a treat. Marty will growl and snap at the air when I accidentally touch his hind legs, or sometimes when in his sleep I try to brush his long hair.
I think, We've all been touched in the wrong place.
I bake three koguma in my oven. Marty watches the entire process, from washing to poking with a fork, to observing the baking process, from his view on the floor. I am unaccustomed to the feeling that someone is constantly watching me. "I love crispy sweet potato skins,wp_postsI write that night in my journal, and glance down to see Marty's shining eyes staring intently back at me.
I meet Marty on a Tuesday. By Sunday I am writing, "I love Martywp_postsin my journal. It took me five days to decide that I love Marty.
Every week I go to someone's office and talk with them for a 50-minute hour. I tell them, "I think this person is trying to date me. He asked me if I wanted to go to the symphony with him in May. It's March."
I take Marty out to the loo, the loo being the entire outside world beyond the four walls of my home.
"I still miss him,wp_postsI write. "Love is easy,wp_postsI write.
I am constantly washing dishes, every morning and every evening.
In the every day of walks, of feedings and moments of repose and sleep, in the moments of caring for and keeping Marty alive I observe: I have a need to be loved, but I also have a need to love.
I practice loving Marty. I love him. It's easy. With Marty, love is easy.
Marty is a shifty little fellow who ostensibly wants to jump up on my bed to cuddle and then growls at me after showing me his belly.
"Not into it. Not into him. Don't trust him at all,wp_postsI write in my journal.
One night I feed Marty at 7 p.m. and then fall asleep and don't wake up until the next day just before noon. It surprises me. When I wake up, his eyes are staring unblinkingly back at me. I check the floor for any surprises, but there are none. I am glad that he's an adult dog and glad that he's housetrained. I pull on some clothes and apologize out loud to him as we leave for a walk.
There is always an underlying fear coruscating beneath my skin, the fear of chaos, being lost, something wrong, needing to escape. The threat of violence and needing to hide. No safe place to rest, to land, to be myself.
"I like you, but …wp_postsnever works, I think as I walk Marty.
I am suspicious of people who share homes with animal companions. I decide that the worst kind of "animal peoplewp_postsare the ones who have more compassion for their animal companions than for the people in their lives.
"Marty nipped at me,wp_postsI write in my journal. "I put him in his crate. I just don't feel comfortable around him and want space from him. I was petting his leg. It's unusual that he would do that."
Sometimes I feel watched by the little dog, self-conscious and unsure since sharing my home with a creature whose noises of existence and living are so close by, are right there beside me.
In the morning I write in my journal, "I noticed that Marty will not poop unless I stand outside and watch him."
I remember how when he yelled at me, he mispronounced my name. I didn't correct him. Like yelling, "lair-EE! lair-EE!wp_postsI don't like the sound of the word coming from his mouth. I don't recognize it. I don't recognize him. It is not my name. When angry, he no longer knows how to say my name. He doesn't know my name.
One month I bleed continuously for 24 days in a row. It frightens me. It is after we are gone from each other's lives.
I peel a tangelo to eat and sing "Swing Low, Sweet Chariotwp_postsaloud to myself.
One Saturday, Marty's human mom picks him up for a grooming appointment. Marty is gone for most of the day. When his human mother picks him up, she is harried. When his human mother drops him off, she is harried. I feel cranky that she has forgotten his lead, the one that I bought for him at a local pet food store, and instead there is a heavy nylon lead. I try to hide my annoyance.
How do people love?
I write in my journal, "I feel like a heavy rock at the bottom of a river."
According to the Oxford English Dictionary, "white nightwp_postsmeans a sleepless night.
I watch "Gaslandwp_postsand "Gasland IIwp_postsin quick succession on my computer while Marty sleeps on his bed. Afterwards, my eyes are glassy and my body feels slow and heavy.
One Sunday afternoon I take Marty with me to the grocery store. I hitch a "see and rollwp_postsdog carrier atop my bicycle rack. Marty's lemur-like face is visible between small holes and the dark mesh top. He is unperturbed. Along the way, I frequently stop on the side of the road and check to make sure that the carrier is evenly balanced behind me. My hand periodically reaches behind my saddle, reassuring myself that Marty is still there, still behind me, still safe, his perch secure and stable.
I feed Marty his breakfast and wonder about friends versus lovers. Wonder if that's a false dichotomy.
Marty is picked up by his human mom on a sunny Tuesday afternoon. I don't want to say goodbye to him, so I am not present when it happens. I do not want his human mother to see me cry. I do not want, in general, to cry.
After he is gone, I wonder if dogs ever blame themselves for things that happen to them, for people leaving them.
I think that adopting a dog would make me "less of a sad sack,wp_postsaccording to a journal entry on the day that Marty is picked up by his human mother.
Upon waking the next morning a word is in my head: fontanel. The day after Marty leaves, I have to use my inhaler. The day after Marty leaves, I vacuum the floor, my mouth set in a tight line, trying to forget, trying not to cry. Afterwards, I slide through all of the pictures of him that I took on my phone. I watch video of him crunching on his kibble and turn up the volume. I smile in recognition.
Solange's song is on repeat. "Some things never seem to fucking work."
I remember the words of a butch woman who once told me in her truck, in-between our kissing, "I'll be your little secret."
I hate secrets. The prospect of being or having one.
Three days since Marty's departure, I write in my journal: "I miss Marty asking to go for a walk, getting all excited and running in circles. I miss when he would touch my bare leg with his nose and let me know that he was there. His little wet nose. I miss him."
"Another day, another successful walk. I am so proud of myself,wp_postsI write.
McGee is a dog who is surrendered to a San Francisco animal shelter on 28 January. He is adopted by a human on 4 February. He is surrendered by that same human on 4 April. I visit McGee at the shelter on 9 April. It is also the day that I adopt him.
I am told by one of the volunteers who answers the phone on a rainy Saturday morning that the little dog "stallswp_postswhen he is out to pee, that he was surrendered by his owner, that he likes treats to encourage peeing.
The new little dog, light where Marty is dark, calm where Marty is a whirling dervish of anxious energy, is unsure about the park where other dogs gather. I feel his paw on my foot. He places his head on my lap. He tucks his curled up body beside my leg. When I wake up in the middle of the night, he is curled into the curve of my stomach as I lay sleeping. In sleep, and in my arms, the new dog will kick out his hind legs the way I imagine a kangaroo might kick at a foe. When he runs, his ears flap in the wind and his long legs lope with the ease and dexterity of a rabbit. "Bunny rabbit,wp_postsI call him when he trots beside me.
I think about names for the little dog in my care.
When I am holding the dog in my arms or watching his pink tongue licking his nose as he walks beside me, I try to remember: Life is so short. We only live so long. He is so precious. I love him.