2017 is already proving that 2016 wasn't a fluke. We're only a week into the new year and we've just found out about the second trans woman of color murdered in the United States. This time, Mic reports that the trans woman who's life was horribly stolen from her was 28 year tear old Jamie Lee Wounded Arrow, a Two-Spirit woman who was living in Sioux Falls. The Sioux Falls Two-Spirit and Allies group said that Wounded Arrow was a member of the Oglala Lakota tribe and was originally from the Pine Ridge Reservation in South Dakota.
Wounded Arrow was loved by many and will be sorely missed. Her murder is hitting the community hard. The Sioux Falls Two-Spirit group said "our hearts are broke as we will miss her very much. So again, prayers are needed. Pilamaye." The Sioux Falls Center for Equality also released a statement saying "Sending Love and our thoughts to Jamie Lee Wounded Arrow and her family… This marks the second trans woman murdered in 2017, and it happened in our own back yard. While the investigation is ongoing, we see that gender and race often play a role in the escalation of violence toward transgender people."
Police Lt. Michael Colwill said that "based upon the investigation, the victim's death appears to be a homicide." No other information was released at the time, but police will be releasing more information at a briefing on Monday.
Just a few days ago we reported on the murder of a Black trans woman from Mississippi named Mesha Caldwell. Who knows when we'll report on another. It could be tomorrow or it could be next week, but based on the rates that trans women of color are being murdered over the last few years, it's going to be soon. Also, while I'm saying this is the second murder, what that means is that it's the second murder we know about. So often the murders of trans women go unreported. This can be because she was a sex worker or homeless and the police don't care, or because she was misgendered, or because she was Black or Latina or Native American and the police and media don't care, or most often, a combination of these factors. America hates trans women of color and while we get more attention when we die then while we're alive, we still don't get much then.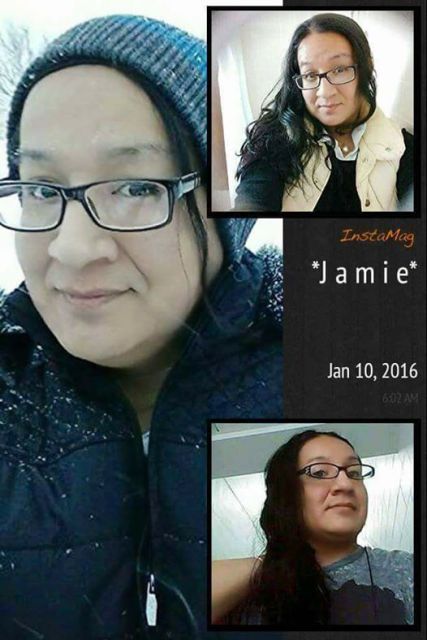 I don't know how to talk about what it's like being a trans woman of color to people who aren't. I often say that it's exhausting, that it's terrifying, that it's lonely. But a lot of the time, it's just sad. It's sad that I can't go on a date without my friends and family being worried that I'll be murdered. It's sad that my friends constantly are going to funerals for their sisters and siblings. It's sad that no matter how many times we ask for help, our cries fall on mostly apathetic ears. It's sad. My heart has broken for Jamie Lee and her family, friends and loved ones. She was beautiful. Rest in Peace and Power.
The trans women murdered so far in 2017 are:
Mesha Caldwell, 41
Jamie Lee Wounded Arrow, 28