It always gets me in trouble with other nerds when I say Star Trek: Lower Decks is my favorite Star Trek, but this week's highly anticipated Strange New Worlds crossover — "Those Old Scientists" (get it? TOS?) — showcases what makes the animated series so special. The short story is that our favorite foursome from the USS Cerritos are on a routine mission to scan a portal that hasn't worked in over a century, just to make sure it's still dormant. But it's not just any portal! This one was discovered by the crew of the Enterprise! Uhura! Spock! Of course Boimler is absolutely geeking out, and Mariner is trying to play it cool like she doesn't care when she super-duper does. While Boimler's posing for a pic inside the portal, he accidentally activates it and sends himself both back in time and through the looking glass to a live-action world. Soon, Mariner follows, while trying to save him.
Suddenly, Tawny Newsome and Jack Quaid are 3D humans with their cartoon voices! It's absolutely wild!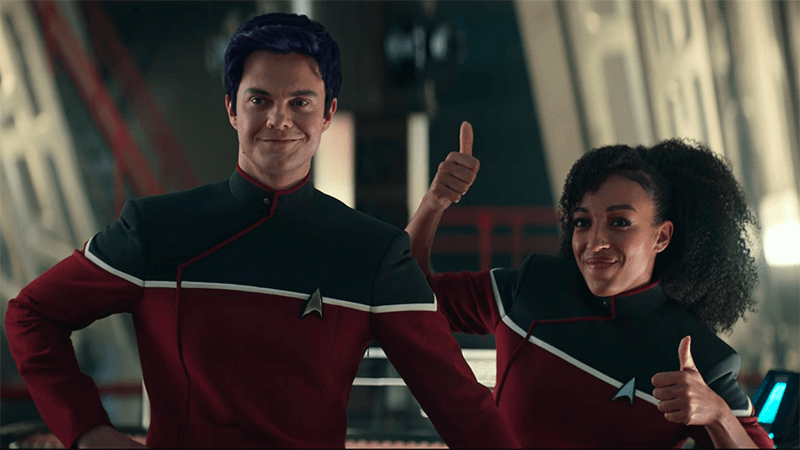 As soon as Mariner tumbles out of the portal, she starts asking about Uhura, and then makes up some kind of deep interest and knowledge in linguistics so she can hang out with her. This is baby Uhura, only in her early 20s, so the idea that she goes on to live a life that has future Starfleet crew members worshipping her? Well, it's Uhura, so it doesn't make her ego swell; it just feels like more pressure to be the very, very best. But Mariner is Mariner, no matter the timeline, so she whips out an obscure Starfleet rule and forces Uhura to take a break. And, in fact, guzzling drinks at the bar is where Uhura cracks the code about the etchings on the portal. Mariner is so proud because her slacking has saved her personal hero's day, her ultimate dream. And there's something extra rad about seeing these two Black sci-fi icons interact. It's wibbly-wobbly, fictional timeline-wise, but in the real world it's so easy to see the direct line from Nichelle Nichols to Celia Rose Gooding to Tawny Newsome.
Mariner and Boimler are strictly forbidden from sharing any future knowledge with the crew of the Enterprise, but of course they keep borking that up. Boimler is particularly stressed out by Spock, who not only smiles at him more than once, but also laughs at one of his jokes. Well, okay, Boimler was making a serious suggestion, but it was so illogical it made Spock guffaw. Over the course of the episode, they can't help but impart some future knowledge on their new pals, but it all just ends up comforting and inspiring the Enterprise team. And, I mean, how could it not? They're the USS Enterprise!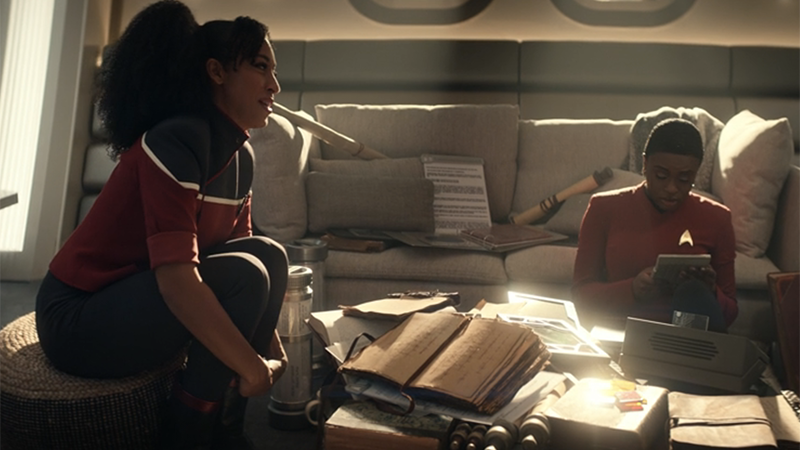 For me, the best timeline collision was having bisexual Beckett Mariner on the same ship as bisexual Christine Chapel. Star Trek pushed a lot of cultural conversations forward, but was shockingly late to the gay game. Mariner is, by far, the most openly queer woman character in the whole Star Trek world. Some of that is that Lower Decks has more time to spend on the characters' personal lives. Some of it is that Lower Decks, despite being a cartoon, is the most bawdy and grown-up Star Trek series. (It's all very Harley Quinn.) Some of it is that Lower Decks is animated and people tend to freak out less about queer cartoon smooches. But Christine Chapel came out in season one of Strange New Worlds, talking about the men and the women she has in her pocket in every port, which means Chapel was gay in the 1960s, too; we just didn't know it yet. And that retcon feels just right to me! This timeline smash made my little lesbian heart sing!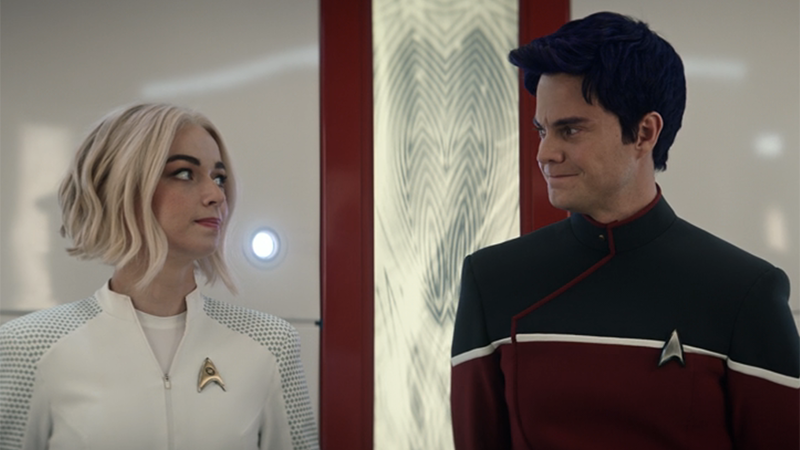 I won't spoil the episode for you. If you're even a casual Star Trek fan, it's worth a watch. The jokes are more meta than ever, and I even got a little teary at the end. The good guys win, of course, which is the reason most of us started watching this series in the first place. The growing number of gays is just the boozy cherry on top of the Orion hurricane.