The holigay season is in full swing, and I know that for many of us (including me, ahem), it means getting weird because of how much time you're spending around family and/or falling into an anxiety spiral. That's why, my dear queer friend, this Sunday Funday is a special holigay emergency edition. Got an SOS? I've got an animal video and a tidbit of good gay news to make it all go away. Like this!
These Two Ferguson Protestors Have Big Fat Lesbian Crushes on Each Other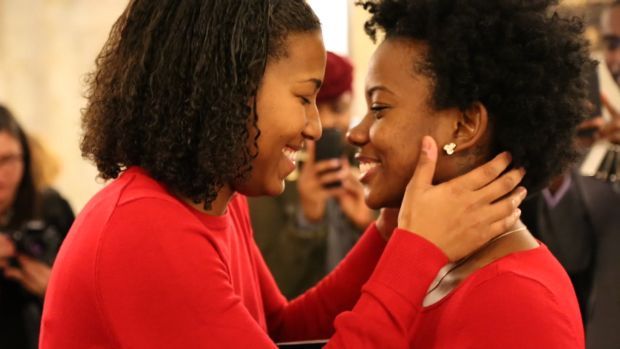 Brittany and Alexis, two leaders of the protests in Ferguson, just got gay married. The two University of Missouri students met in August, where they were doing activist things together like good humans. Both have put off school to devote themselves full-time to the movement, and right now I'm giving up the rest of my day to devote myself to reading their revolutionary love story.
Surrounded by supporters on the marbles steps of City Hall's rotunda, Templeton told the story. "Last night, we were sitting in the kitchen and she asked me, 'Would you marry me?' I said, 'Absolutely. As a matter of fact, I'll do it tomorrow.'"

Templeton added, "Since she's made me happy for 130 days, I want to make her happy for the rest of my life."

To a chorus of "awwws" and the flashing of cell phone cameras, Templeton got down on her knee and proposed officially to Ferrell.

"One hundred and thirty days ago, I fell in love with somebody and her six-year-old mini me," Templeton said to Ferrell in her proposal. "I didn't expect you to want to be with me … other than fight on the front lines with me. You have every single piece of my heart."
Janet Mock is Engaged!
In case you needed a reason to drink champagne this morning.
President Obama, Like the Rest of Us, Has No Time for Men
President of the United F*cking States Barack Obama took zero questions from men at his annual end-of-the-year press conference, making herstory one more time in his second term and also pleasing me to no end. It has also been confirmed that this complete and total disregard for men's inquisitions in the modern world was done on purpose, making it a zillion times more rewarding.
Beyonce Just Saved Christmas
Queen Bey sent Laverne Cox a Christmas gift this year, making all of our hearts swell at least two sizes. Right? Please confirm I am not alone in this.
Look at These Adorable Animals in the Name of Science
Once again, you can have it all. Get smart and get warm and fuzzy!
We Won a Thing / Victory is Ours / The Gay Agenda is Sort of Inevitable Y'know
+ The Supreme Court has given gay marriage in Florida a green flag! Expect invites soon, because the first weddings will take place on January 6. In other news, I can now watch The Birdcage and plan my South Beach wedding without any complications.
+ Ireland is finally putting gay marriage to a vote. A referendum next May will determine whether or not queers will cheers with beers about their rights in the – well, actually, what's a nickname for Ireland anyway?
+ Yesterday was "Freedom to Marry Day" in Salt Lake City because Utah's had legal gay marriage for a whole year, you guys! 365 crazy nights!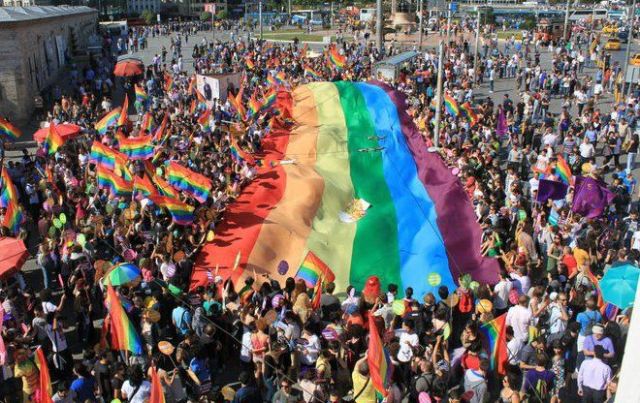 + Trans workers are now officially protected under Title VII of the Civil Rights Act, because Attorney General Holder said so. No ifs, ands, or buts about it.
+ DC's Department of Housing has a new director, and she's totally gay.
These Famous Trans Women Just Became Cover Girls
Candy magazine's latest cover features 14 famous trans women: Laverne Cox, Carmen Carrera, Janet Mock, Geena Rocero, Isis King, Gisele Alicea, Leyna Ramous, Dina Marie, Nina Poon, Juliana Huxtable, Niki M'nray, Pêche Di, Carmen Xtravaganza, and Yasmine Petty. There are not enough opportunities to say "fuck yes" about this.
Jenny Slate as Marcel the Shell Singing Fleetwood Mac Because I Built My Life Around You
I'm not entirely sure how to package this as being any more relevant to your interests. Isn't this every single one of your interests rolled up into one amazing thing?
Hamsters in Holiday Hats
It's exactly what it sounds like, only plumper.