.My goodness! Last week was so busy for me that I had to scramble to get this in on time by watching as much television as possible in one day. The lengths I go to for Autostraddle!
As always, a few announcements before we get to the awards. Last week I got to hear Rachel Maddow speak at the F5 Conference, which is a series of speeches and presentations by some of the most innovative and creative minds in design. Rachel spoke about the United States' bizarre and terrifying history of nuclear weaponry-related mishaps (accidentally detonating bombs, losing warheads, etc.) and managed to relate that to design with Murphy's Law (whatever can go wrong will go wrong, so do it right but plan for the worst). I also got to see Charlie White speak, who was incredible. Some of you might recognize his photos of Joshua, or his work in Interpol's video for "Evil". He spoke about subversion, consumerism and the uncanny valley (one of my favorite topics but I won't go into it here). What I was most excited about were his more recent forays into studying girl culture, and the subsequent video series "OMG BFF LOL." Watch them here.

Also, DVR alert! Lindsay Lohan is going to be on Ellen on Thursday! Maybe they can talk about The L Word (leggings, natch) and the dangers of over-blogging. Robin hopes that they will go to a lesbian bar together. We can only hope.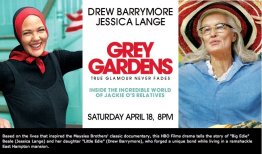 Finally, Grey Gardens premiered on HBO on Saturday but I forgot that I don't have HBO so I couldn't watch it. Luckily this is only a temporary setback, and I'll be able to watch it soon and talk about it here (and Flight of the Conchords and Eastbound and Down!) However, I have heard nothing but good things about it from my friends and I usually trust their judgment, so I'm very excited.
And now…
The Carlytron TV Awards for the Week Ending on 4/18/09
The AWESOME Award
Saturday Night Live Aired "The Best of Amy Poehler" this week, which was awesome. What's not so awesome is Poehler's latest tv offering, Parks and Recreation, but more on that later. The best part was getting to see BODY FUZION again!!
Also Heroes aired a flashback episode, which was all about how Angela had a sister (!) who can control the weather (!!) and who is actually still alive (!!!). Young Angela met a [super-gay!] young Linderman as well as young Charles Deveaux, and Bob! I liked it. It was interesting and though it seems a bit weird to air a flashback episode when the season's almost ever, it was quite well-done with spot-on cinematography and casting.
Sidenote: If you're into Heroes and want some behind-the-scenes anecdotes and photos, you should check out producer/director Greg Beeman's blog (warning: some spoilers contained).
The ZZZZZZ Award
Desperate Housewives finally came back but instead of focusing on the psychopath living on Wisteria Lane we were treated to the wrong kind of flashback episode — an entire hour of snoozefest Edie-centric flashbacks. I don't know if I care about this show enough anymore to have any sort of opinion on her death, I really just care about seeing how everything ends with Dave. Hurry up, show!!
The Death Toll
Harper's Island killed off 3 more, bringing our total to 5. This show is so much fun, I'm totally hooked.
The Funniest Thing I Saw All Week
The pro-marijuana song, "Bag of Weed," on Family Guy (obvs in honor of yesterday being 4/20). They played bongs like they were chimes. The song went on for like, an hour. Amazing.
The Hot Girl of the Week
Robin Scherbatsky on How I Met Your Mother. I've thought Cobie Smulders was hot city ever since her little guest spot on The L Word in Season Two (Remember the chick with the mobiles? Bette flirted with her and then later she dated Helena for a hot minute), and if you don't watch HIMYM you are really missing out. She drinks like a champ, owns a gun, and this week seduced Ted's intern. Also she once played lazer tag with Barney  (who is now adorably in love with her) and that gets her a gold star in my book.
The Best Show You've Probably Never Seen or Heard of Before
Taking the Stage is a beautifully shot and edited series on MTV that follows the lives of a small group of students who attend the School for Creative and Performing Arts in Cincinnati. No lesbians on the show, but it's got a wonderful blend of high school drama, talented dancers and musicians, and reality show wackiness. I highly recommend it.
Speaking of MTV, that crazy Justin-Timberlake-produced show The Phone premieres tonight, I have to admit I'm somewhat curious about it.
The Dollhouse Award for… Hey, Wait a Minute
Newsflash: Dollhouse wasn't on (it'll be back this Friday, don't fret!). It still hasn't been canceled or renewed, so let's all think happy thoughts about Eliza Dushku so that Fox will bring it back next season.
The No Need For Awards Award
Bravo's A-List Awards were awful and pointless. Riese already blogged about Laurel Holloman's acceptance speech, which was one of the few highlights. I watched them with my roommates and the only part we really loved was when the Atlanta, Orange County, and NYC Real Housewives had to go shopping and then have a fashion show, 'cause you know how much I love those bitches. The rest was terrible, even Kathy Griffin couldn't save it.
The Sitcom Roundup: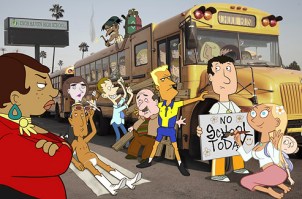 Sit Down, Shut Up: Um, this is totally awesome. After reading this cool preview interview at E! Online I checked out the series premiere of this new animated series from Mitch Hurwitz, the creator of Arrested Development. It features the voice talents of Jason Bateman, Will Arnet, Cheri Oteri, Kristin Chenoweth, Will Forte, Kenan Thompson, Henry Winkler, and many others. The animation style is pretty cool too (animated characters vaguely reminiscent of Doug over photo backgrounds) I still need a catchphrase! Oh and P.S. the Arrested Development movie is being written as I write this, so get stoked!
30 Rock: I don't even know what to say anymore, I feel like a broken record — but it's a really good broken record! It's like listening to the Knife or Poe on repeat. This show can really do no wrong. This week Jack faked Jenna's death after a mishap at the Teen Choice Awards, Tracy hired and choreographed a bunch of trannies to replace the usual TGS dancers, and Liz unknowingly joined a ladies-of-leisure fight club. Just watch it, please.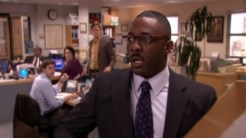 The Office: Also an awesome episode. Michael and Dwight face off over clients, Jim messes with Andy, and there are some amazing things happening with cheese puffs. The old opening credits were back as well, which saddens me but I will find a way to cope. There's a really cute little video about the cast and crew shooting their 100th episode, which airs in May, that you can watch here.
Better Off Ted: Ted and Veronica get hyper-competitive over wrapping paper and Phil and Lem accidentally dose Linda with a crazy experimental drug. Hilarity ensues. No, srsly, it's really funny.
Parks and Recreation: I don't want to jump the gun but this show is really not very good. I want to like it. I'm really trying to like it. I love Amy Poehler in everything she has ever done, but even she can't carry this show — how can a show about the Parks Department last for more than one season? It lacks The Office's amazing ensemble cast and I'm still hung up on why they're shooting it in trademark Office doc-style.
Seeee… The Office sets this up in the pilot: a documentary crew is coming to Scranton to investigate how a small paper company continues to exist in the Office Max and Staples dominated market. Why is there a doc crew on P&R? I don't know, and apparently the show isn't gonna tell me. It was excrutiating to watch Leslie set up that town meeting and unlike Michael Scott's massive mess-ups, no one came into help her before it got too terrible. I miss Kath and Kim.
HIMYM: See above. I think we might get to meet the mother by the end of this season!
Until next week… Tron out!