I've been shopping this idea for a show called "So You Think You Can't Dance" and it would be about me, and how even though I love to dance and love going out dancing and dance alone in my house literally every day (this has only gotten worse since getting a dog, who is subjected to 4-5 daily performances), I cannot. I simply cannot dance! I have no rhythm. My #1 dance move is "jumping up and down" and I try to make up for a lack of talent with a bounty of enthusiasm/alcohol. However, this morning on Good Morning America, the hosts were saying that The Running Man is a "new dance craze" and I mastered that shit in the '90s so I'm pretty excited to see what happens with that. Anyhow! Now it's spring, and pretty soon it'll be summer, and there's A-Camp and weddings and all kinds of shit happening where my dancing skills will be tested. So I began to wonder if my problem might, in fact, be fixable! Like maybe I could LEARN HOW TO DANCE, maybe it's a learn-able skill. Apparently people learn how to play ukulele on YouTube, so maybe I could learn how to dance on YouTube? Worth a shot.
---
Don't let the title mislead you, this is not about how to dance at "a club for women." Angela is for sure straight. The Girly Bounce sounds like a lesbian sex move, but it's actually a very sexy dance move which could be performed by lesbians or straight people, or bisexuals, pansexuals, whathaveyou. This video is one of many from Pickupdance, a group of sexy robots dressed like restaurant hostesses who dance to elevator music on the set of Who Framed Roger Rabbit. Honestly, this video was not NOT educational, 'cause Angela, who never blinks, is really patient and talks to you like you're really dumb and have no hand-eye coordination and literally takes seven minutes to teach you how to move your hips from side to side. I definitely learned something about myself from watching this video, which is that I am very stiff in the knees. I kind of already knew this because Dancing Queen Alex Vega told me in 2008 that my problem is that I am very stiff in the knees, but Angela confirmed this issue for me this morning. My dog was pretty impressed with my hip pops, though! I'm working on the knees thing.
---
For some reason The Wall Street Journal sent a reporter in Keds to Broadway Dance Studio to learn to dance in three easy steps for their next mixer or something. This seemed weird until I realized that "a Wall Street Journal reporter in Keds" is probably exactly the kind of dance student I can most relate to. I was really able to apply what I learned from taking a lot of step aerobics classes in the early '00s to these hot club moves, and look forward to taking my new skills to the stock exchange.
---
This short video is aimed at girls who "want to feel sexier and be the center of attention at the club" and consequently "drive the boys wild." The host of "Better TV," which I'm confident no longer exists if it ever really did, meets up with Nicole, the host of the world-famous Sexy Dance Moves DVD series, at her studio. Nicole is wearing a really big chunky white bracelet. If I wore that bracelet while I was dancing, I would kill my girlfriend. Like I would smash her in the face with that bracelet and she would almost definitely die, or at least get a nosebleed. The big takeaway here is that Nicole has worked with Ricky Martin, who she loves, and that she has been dancing since she was three. Doesn't everybody dance when they're three? Honestly I would've demolished this situation like a severed head if the camerawork had been better. How can I follow her hips when you are filming her torso? What do I look like, Houdini? COME ON, CAMERA GUY. D+.
---
Don't let the title of this video fool you, because it definitely fooled me into thinking I was learning "basic moves for any dance" in the form of a workout. Obviously as you may have correctly read, it's simply "basic moves for any dance workout." I already knew a lot of these dance workout moves from trying to teach myself to dance by taking Cardio Hip-Hop at the CCRB as a freshman in college before I developed a mysterious chronic pain disorder and had to drop the class so I could lie on my bed and feel sorry for myself instead. This video is a 44 minute actual workout! IT WAS HARD. I got tired. Unfortunately, because it's YouTube and not New York Sports Club, the YMCA, Planet Fitness, or the g-dawful CCRB, we had to do the whole thing to stock music instead of to the copyrighted hot hip-hop beats I dance to in the shower. Obviously I couldn't keep up with this video and just resorted to my traditional dance move, "fork in the garbage disposal." After about 20 minutes I had to lie down. I already went to the gym today!
---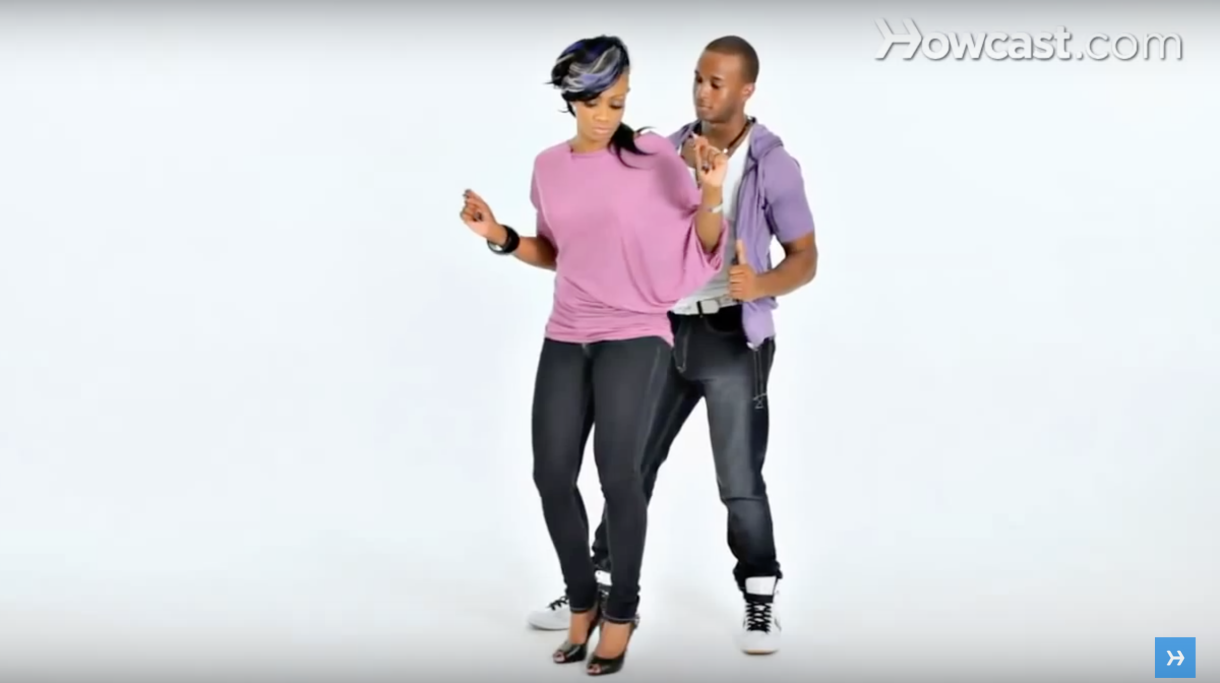 The best part of this video is the dude standing there staring at her ass the whole time like it's his job because IT IS HIS JOB. Dream job! I felt like what she was explaining was pretty simple but I still felt unable to accomplish it. So, I went and got the high heels I used to wear to this very sexy job I used to have, in case high heels were the missing link. Unfortunately, I was in such a hurry to do the sexy moves that I broke the buckle of one of my heels and it was this whole thing.
---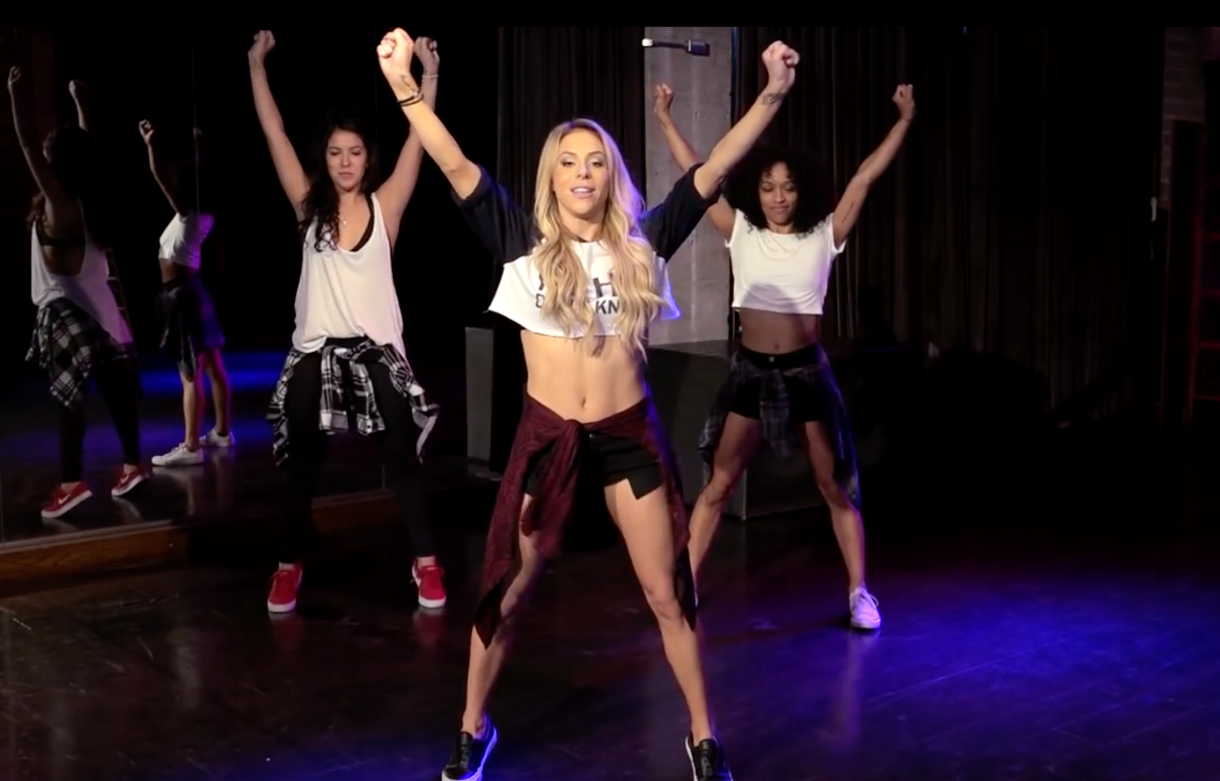 HAHHAHAHAHAHAHAHAHAHAHAHAHAHAHAHAHAHAHAHA I don't know what I was thinking
---
Once upon a time in 2010 at Girlbar Dinah Shore, DJ Samantha Ronson put on "Bad Romance," which Alex had recently immortalized in a world-famous dance video, and I remember my BFF Laneia freaked out about how cute Alex and I were at doing the "Bad Romance" dance. I think she texted somebody about it, even. So I thought, well, maybe this is a dance I know / can do. What I learned from this video is that I was wrong, and whatever I did that night was probably because I was on hallucinogenic drugs, and Laneia probably freaked out because she was scared. Her text probably said "HELP."
---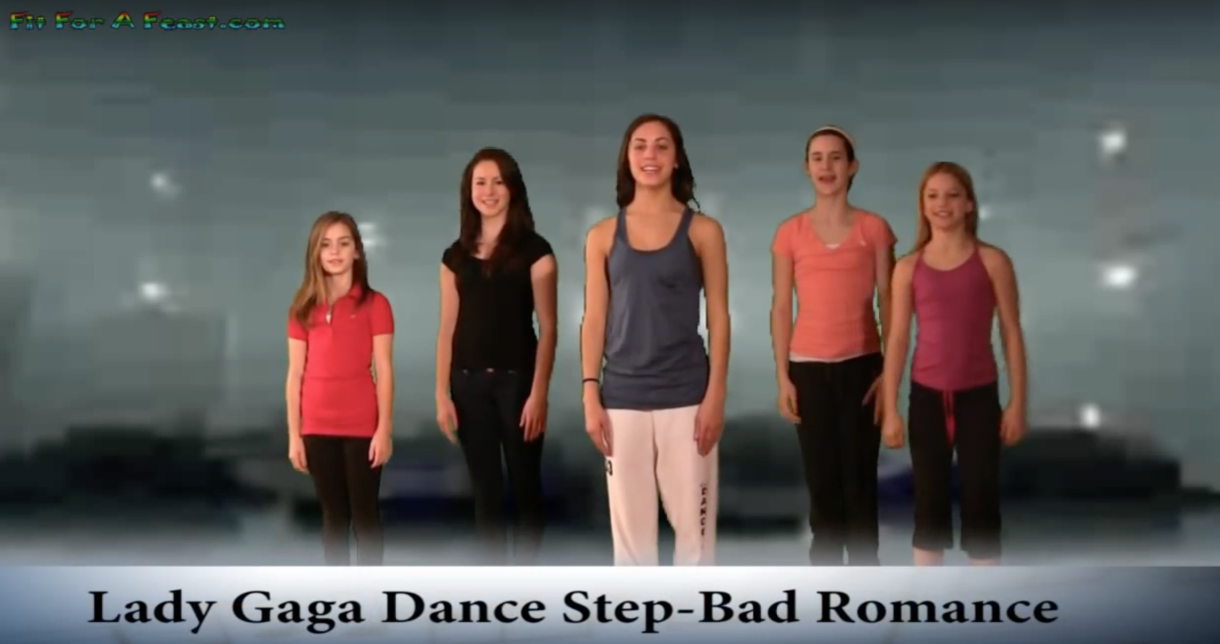 Don't worry, I didn't give up! Instead I found these nervous children in polo shirts who must have a green screen in their garage. I'm probably older than all of them put together, and therefore wiser, so I felt less intimidated by them. In the opening shot, one of the girls looked ALMOST as awkward as I looked in 7th grade, which was the year I learned that I can't dance, so I figured that if she can do it, certainly I should be able to do it. Yeah, I couldn't do it. How do people remember this shit? I did the hand motions twice and then immediately forgot. Is this the difference between people who can dance and people who can't dance? The main dancer reminds me of a girl I would've wanted to be friends with at Camp Ranana who wouldn't want to be friends with me, so it was kind of traumatic. Regardless, worth it for the special effects alone.
---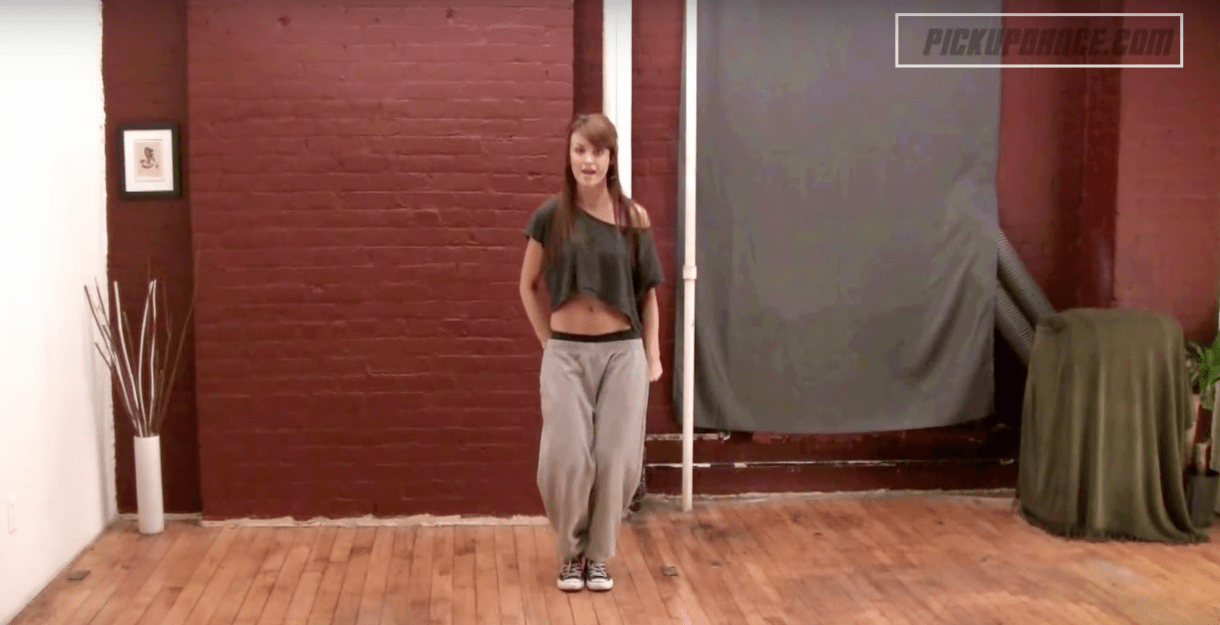 The best part of this video is how cute Angela looks in baggy sweatpants and a crop top! I wish every morning I could wake up to Angela going, "Alright ladies, it's time to learn some contemporary hip-hop" in her sexy monotone, and then explaining that contemporary hip-hop is "a newer form of hip-hop that's been popularized in dance shows, music videos and stage performances." I also like that she's moved out of the Rough Back Alley set onto a new set with exposed brick, a fake plant clearly stolen from a furniture store, a tiny picture (probably a picture of a bird), and a tank with a dead body in it, draped in a green cloth. Probably you'd think that tank was a table, and you'd put your water bottle on it, not knowing that's where she hid a dead body. No but really I couldn't do the hand movements without feeling like I was making fun of myself. My dog went to sleep. :-(
---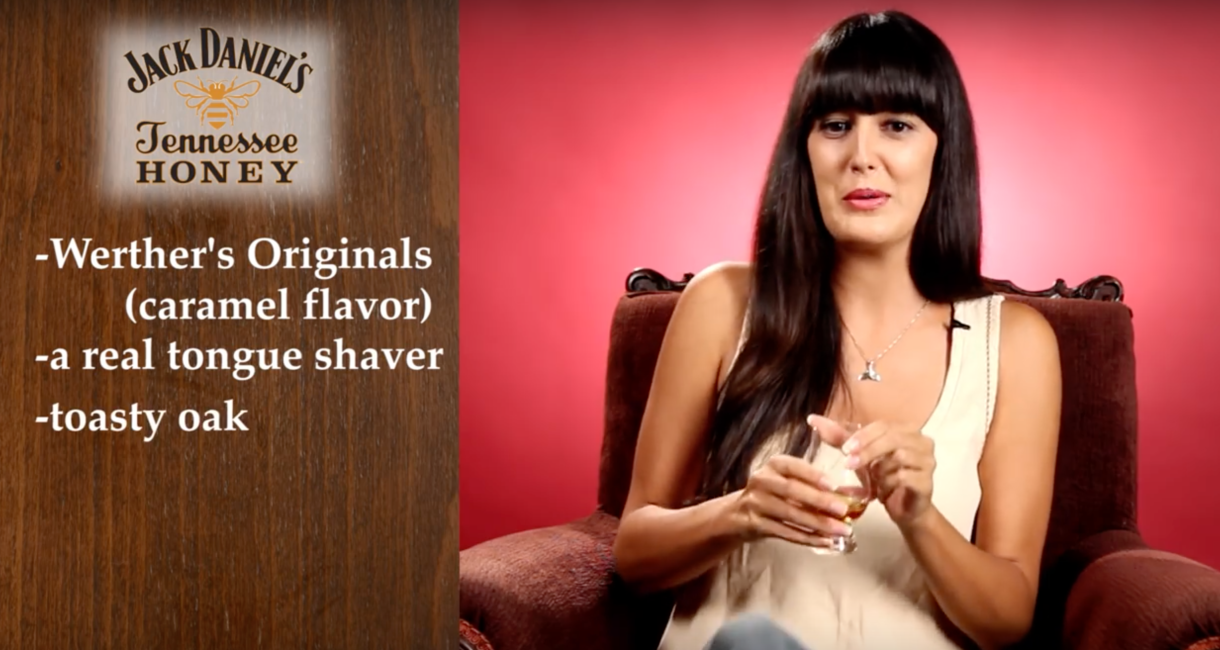 When it's all said and done, I think that this video was the best at getting me ready to feel confident on the dance floor. A++!!! SEE YOU AT A-CAMP!