Election Night was exciting, wasn't it? I followed Ali's super amazing open thread on my phone while watching MSNBC and taught a toddler how to spell Obama. We elected President Obama for a second term! We won so many things! Marriage equality did awesome this election, winning all the things! Total assholes Todd Akin and Richard Mourdock are hopefully reevaluating their morals after their losses, but Michele Bachmann still emerged victorious in Minnesota, so we've got work to do, people.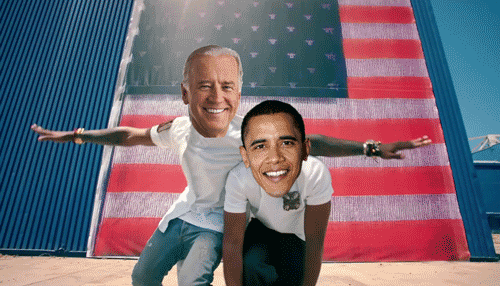 But seriously, let's get to the actually important stuff and talk about the lady with the flag in her hair and Donald Trump's Twitter tantrum. Here's my top moments of last night (not in order, so don't get mad).
7. Todd Akin's concession speech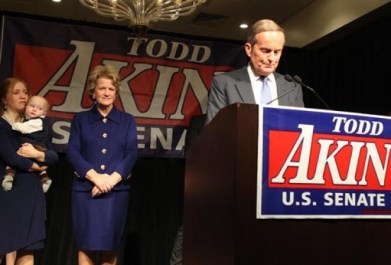 I didn't actually listen to a word of this concession speech, but just the fact that it was happening was enough to make me do a victory lap around my living room. Todd Legitimate-Rape Akin became an icon of the completely insane religious right earlier this summer with his remarks about the magical powers of female anatomy and has been hated ever since by anyone with a logical brain. To see him, and Richard Mourdock for that matter, be forced to accept that the American people won't stand for this kind of misogyny was delightful. Is it just me or is there something about concession speeches that makes me like a candidate a little bit more than when they were running? They take off their I-Want-To-Be-A-Politician-So-Badly mask and they turn into human beings for a moment. Well, as human as Todd Akin can get.
6. Rachel Maddow's Colorado messup
Did anyone else see this? This was a really endearing moment to me because you could tell it had been a long day, the MSNBC panelists were getting tired, the adrenaline was wearing off, and we were all waiting for Romney HQ to admit defeat in Ohio. Apparently, when Rachel went to the bathroom, the network called Colorado and announced Obama was the winner. Rachel didn't notice this and said Colorado was still too close to call ("Too Close To Call" was a really difficult drinking game, just so you know). This wasn't even a big deal, but when they came back from commercial break, obviously someone told Rachel Colorado had been called and she started yelling at the other panelists because no one told her. This was one of silly moments that made me feel a little less like crying/getting sick/drinking myself all the way to Blackoutville, USA.
5. Donald Trump throws a tantrum on Twitter
I've wondered for years why Trump is such an advocate of job creation after he has made a living by literally saying, "You're fired" to people. Apparently, people still think Trump is relevant in 2012 and these people read his Twitter and then talk about it on the television. Here's his tweets from last night. Warning: this man is delusional.
I can't even read these tweets without smiling. I'm not even mad, Donald. I mean, I'm a little mad that you are apparently totally unaware of how the "travesty" of the election played into Bush's election in 200, but mostly I'm just impressed you honestly believe what you are saying. (Spoiler alert: Obama won the popular vote, too, so… awkward….)
4. Two words: Tammy Baldwin
Tammy Baldwin, you guys. Is there anything else to say? There's a lesbian in the Senate and she's awesome. She said in an interview with CNN last night, "I didn't run to make history, I ran to make a difference." Four for you, Tammy Baldwin.
3. Elizabeth Warren's Victory Speech
I cried.
2. Historic Number of Female Congresswomen
There are at least 19 female Senators now. This is the highest it's ever been, can you believe that? Out of 100 seats, the highest number is 19? We still have a long way to go, but this is a huge step forward in equal representation in politics. In similarly awesome news, of the 90 women serving in congress right now, 24 of them are women of color. We also have our first female Asian-American Senator, Mazie Hirono from Hawaii. Also also, New Hampshire elected the first all-woman delegation by voting in Gov. Maggie Hassan, and Congresswomen Carol Shea-Porter and Ann McLane Kuster, who join Senators Jeanne Shaheen and Kelly Ayotte.
1. Hair Flag Lady
Does she even need an introduction? Hair Flag Lady won the hearts of Americans last night during Obama's victory speech by standing behind him and moving her head side to side with a flag proudly stuck into her hair. I don't think I've ever been more proud to be an American.