I can't say that you've definitely ever had a crush on Gillian Anderson — I mean it's possible you haven't — but probably you haven't been able to ignore the cultural impact that she and/or her characters have had. Especially on queer ladies. And she's a lady who likes other ladies in real life, even!
As the season of wearing costumes recreationally approaches, you may be interested in leveraging Gillian Anderson's icon status for yourself. Fear not! We have you covered with a plethora of Gillian Anderson based costumes, from the well-loved and recognizable to the delightfully obscure. They're all over the map, but you'll want to make sure you have the one thing that they all have in common: red hair. In the past, I've gotten this wig and trimmed it as seemed appropriate. Good night and good luck.
---
1. Dana Scully Gillian Anderson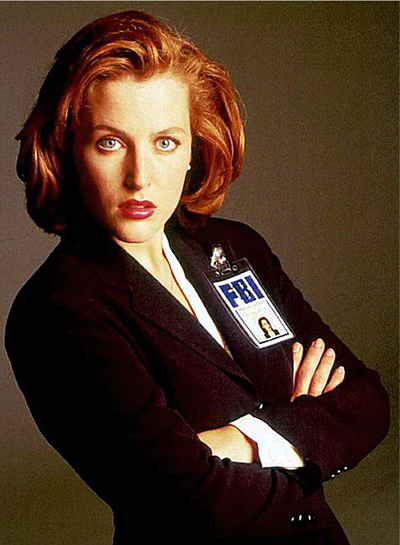 The classic. This one is pretty easy to throw together at the last minute using some basic professional clothes — you just need a sober-colored skirt- or pantsuit, a white button-down, and some no-nonsense pumps. Don't forget to forge yourself an FBI badge with some markers and pin it to your blazer. Bonus points for towering shoulderpads and some brownish-nude lipstick.
---
2. Punk Gillian Anderson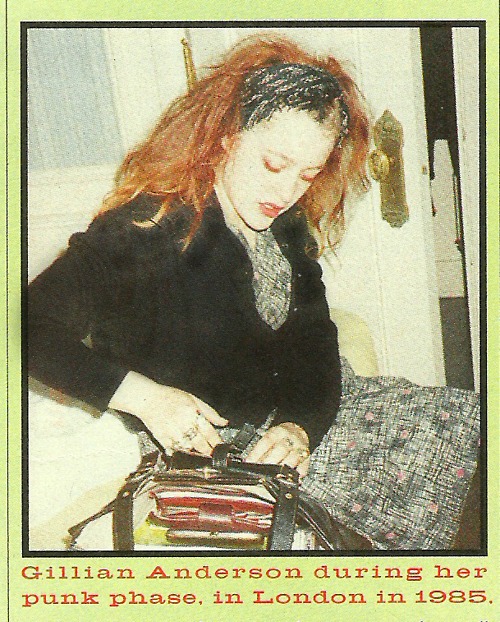 Also very easy to throw together with some stuff lying at the bottom of your closet is this adorable homage to a younger, more idealistic Gillian Anderson who probably listened to a lot of The Clash and didn't respect her curfew. If you're using a wig, backcomb the hair to get it appropriately ratty. You have a lot of room to be creative with eyeliner style, so go wild. Please report back and share what you went with.
---
3. 2001 Vanity Fair Oscar Party Gillian Anderson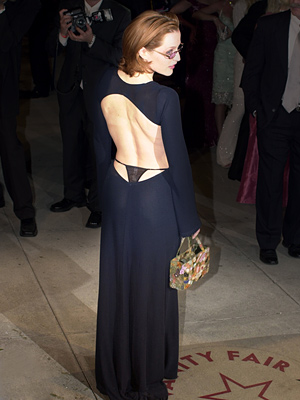 For the BOLD and DARING Gillian Anderson fan. Why not test others' knowledge of awards shows from the last decade or so and recreate this iconic early-oughts outfit? Probably you should marry the first person who recognizes what this outfit is, it will be worth the effort of wearing sunglasses at night. Seriously why was she wearing tinted sunglasses? The world may never know.
---
4. Morticia Addams Gillian Anderson
It's possible that there's another Morticia at this party, but it is extremely unlikely that there will be another Gillian-as-Morticia, and there's nothing more satisfying than having a sliiiiiiightly higher-concept costume than someone else. Who will be your Cousin It? That's up to you, not me. The important thing is the intense dress and the bold-lip-arched-eyebrow concept. Do you have a cigarette holder? Get your head in the game.
---
5. Miss Havisham As Played By Gillian Anderson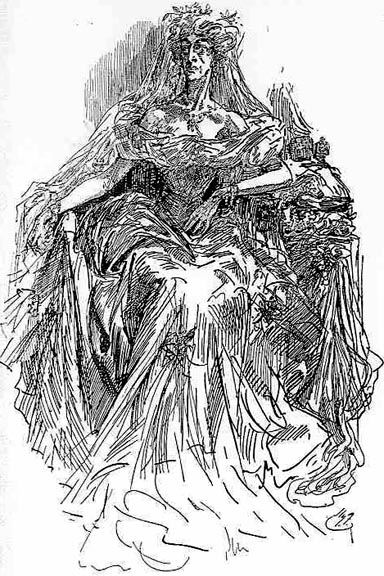 Speaking of high-concept, where were you in 2011? Was it watching the BBC adaptation of Great Expectations? If so, you would know that Gillian Anderson played Miss Havisham. This is truly an embarrassment of riches when it comes to Halloween costumes. It's super intense and spooky and crazy and allows you to imperiously correct people if they don't guess it right because they don't get classic literature, and also Gillian Anderson. You definitely want some serious pallor here, and a uniquely ancient head of hair. Here's what Gillian had to say about Miss Havisham's hair, keep it in mind when you're using method acting techniques to get into character.
"There was a specific grey I felt her hair should be, which they were able to find. It's kind of opaque and translucent but at the same time holds light. It's not white, it's not too grey, it's just this middle non-colour."
---
Bonus: Moro of Princess Mononoke As Voiced By Gillian Anderson
You didn't see this coming, did you? No, you did not. Probably because you had no idea that this character was voiced by Gillian Anderson, which is totally fair. This is an advanced-level Gillian Anderson costume, probably a good fit only for those who are looking forward to constantly explaining their costume concept everywhere they go. And/or are just super into wolves, whatever. Either way, you get a wolf onesie. Enjoy.