In the name of visibility and to honor queer and trans people of color relationships, we present this list of couples we know in real life and that make our hearts flutter on the TV and internetz. The idea for this post started in The Speakeasy Facebook group. Someone posted a link to a story about Brittney Griner proposing to Glory Johnson. In the comments section, we wondered if there were other QTPOC couples as visible as those two, and discussed how the most visible couples in media are often white couples like Portia and Ellen, or white/POC couples like Samira Wiley and Lauren Morelli. 
Visibility for lesbian and queer couples is better than it's ever been but still not as great and inclusive as it could be, which is why The Speakeasy took matters into our own hands. We sought out specifically QTPOC couples to highlight — no small task, as it happens. But we found them; in our friend circles, among colleagues, and by taking a greater look at mainstream media. This list isn't exhaustive; we know there are more beautiful relationships out there!
Some notes before you dive in (and we know you want to): In order to be considered for this post, both or all parties involved in the relationship had to be a Queer and/or Trans Person of Color. This post is in no way meant to present relationships with only two partners as some sort of perfect model. We reached out within our networks to find all types of relationships, however, people are cautious and protective of their love and their anonymity. Folks in relationships that included more than two partners declined or were unable to come to a unanimous agreement re: inclusion in this piece. We respect the hell out of that. Next time we create a post like this, we'll call out to the public.
Our list is just the beginning. It's a moment to say, "Hey, we see you. You are beautiful. You are important. You are here."
Update 11/11/14
Editor's Note: We know we dropped the ball hard by not including queer trans women of color in our post about love. It wasn't an intentional exclusion in any way but it was an exclusion none the less. We wronged our community and committed an act of trans erasure against trans women. In an effort to make things right and bring our omission to light, we continued our search for queer trans women of color in love and discussed amongst ourselves how this type of oversight is detrimental to our community and can't ever happen again.
Mey Rude has been instrumental in this discussion and has led the way in finding new couples for a future post and a couple to add to this post. We know that this addition doesn't excuse the original omission. But we hope that when future members of our  QTPOC community find this post, they will see themselves and know that we did our best to showcase love for all.
---
1. Aisha and Danielle Moodie-Mills
Self-proclaimed "Polinistas" and Executive Producers & Hosts of Politini
"Danielle and Aisha Moodie-Mills are a Washington, DC power couple often found looking fabulous and/or working incredibly hard — together. They write and publish ThreeLOL, a blog about "living, loving, and laboring out loud," and co-host Politini, a radio show where they serve politics and pop culture up with a twist."

Carmen, "Idol Worship: Two Idols Are Better Than One, Especially When Those Two Idols Are Together"
---
2. Brittney Griner and Glory Johnson
Newly Engaged WNBA Superstars
Griner's memoir, In My Skin: My Life On and Off the Basketball Court, was released earlier this year and was hailed by the New York Times as "a painful, searing and ultimately liberating memoir." Glory is a proud Lady Vol alum and forward for the Tulsa Shock, as well as WNBA All-Star (2014).
Brittney on insta || Glory on twitter
---
 3. Gabby and Katrina aka The Fairy Godbrothers
Autostraddle Writers, Speed-Dating hosts, and All-Around Representatives of Queer Brotherly Love. This GIF needs to no further explanation. JUST LOOK AT THEM, WOULD YOU.
---
4. Kim Katrin Milan and Tiq Milan
Award-Winning Multidisciplinary Artist, Activist, Speaker and Educator // Senior Media Strategist of National News at GLAAD
"My queerness was exactly the durable and malleable fabric that brought me here to this love. I am so grateful to finally have this powerful Black revolutionary in my life, I am thrilled about the quickly manifesting potential of our combined energy that nurtures creativity both for ourselves, our kin and our community."

Kim Katrin Milan, "Beyond Definition: On Queer Black Love and My Kaleidoscope Identity."
---
5. Charice Pempengco and Alyssa Quijano
Filipina Singer // member of the Filipina girl group A.K.A. Jam
Charice gained her fame the good old fashioned way: YouTube and an international singing contest. Charice then got super mega famous by appearing on The Oprah Winfrey Show, The Ellen DeGeneres Show and everyone's favorite show in the entire world, Glee. Of her X Factor Philippines girlfriend Alyssa, Charice says, "She's like my everything." They were rivals during childhood in different singing competitions, but sparks of love flew when they met again last year on Alyssa's turf at The X Factor Philippines, where Charice was a judge and Alyssa was a contestant.
---
6. The Aguirres
In early 2005, the pair met in San Francisco and were wed three years later in a private City Hall ceremony. Now residing in Boston with their motley crew family — a teenage daughter, two rescue dogs, and a barn cat who inspired their recent cattoos — M stays busy repping lesbians who code in mobile gaming, and Aja works for an organization that connects, supports, and represents LGBT families across the country. She also runs Fit for a Femme, and writes for Autostraddle and Qwear.
Bonus video:
---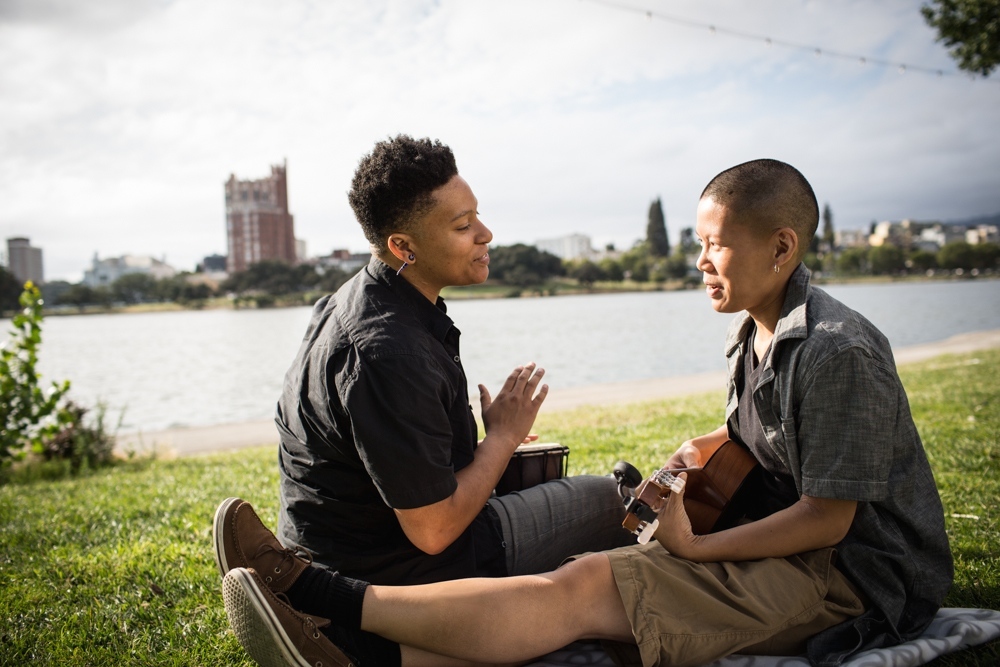 7. Jay-Marie Hill and Linda Chen
Masculine of center, interracial, and in love! The two hope that their existence and visible presence as a queer couple in the community can help break boundaries, and defy stereotypical images and expectations around what queer, brown love can look like, and we love that. They are Taiwanese-American; Black, Boricua & White.
---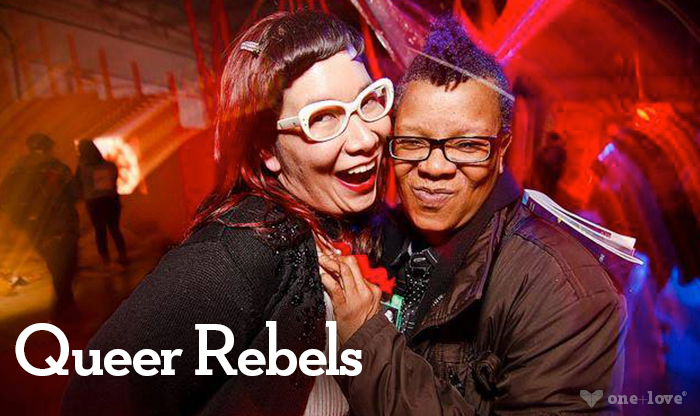 8. Celeste Chan and KB Boyce
Artists and Co-Founders/Directors of Queer Rebels, a queer and trans POC arts project
KB is a musician, audio fiend, OG Afropunk, and media maker, and identifies as Black, Afro-Indigenous, Trans/Butch/Gender fluid/Two Spirit. Celeste is an experimental filmmaker, writer, organizer, and fundraiser, and identifies as a queer woman of color and an Asian-American Femme. Her background is Chinese/Malaysian and Jewish. Multiple roads converged to bring them together. Celeste met KB's TuffNStuff magnets at Black & Blue Tattoo. Incidentally, KB acted as an extra in a film that Celeste co-directed. They met again at a dear mutual friend's Dia de los Muertos party in San Francisco in 2007. The rest is his/her/ourstory.
If you're in the Bay Area, check out Queer Rebels at the de Young Museum in SF on Oct 10; in Berlin to curate femme of color shorts for the Femme Hive conference (from a distance….there in spirit!), and in NYC this November curating QTPOC experimental films at the MIX NYC Festival.
---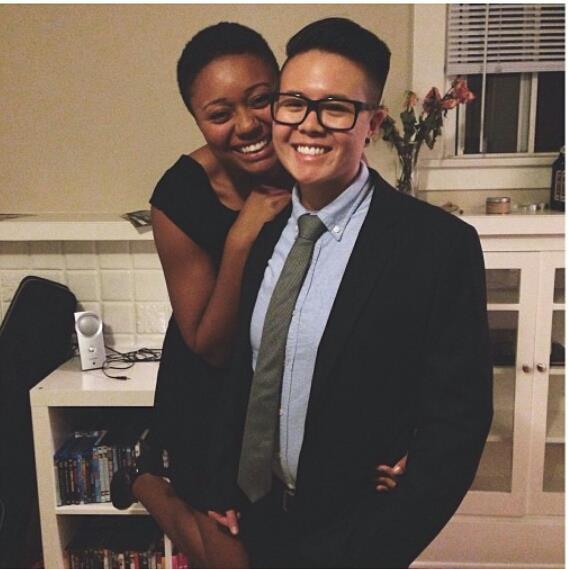 9. Kai Dionna and Alisha Nieh
Alisha is Taiwanese-American and Kai is African-American. These QPOC cutie pies just spent their first anniversary together in Thailand, on a spontaneous year-long adventure teaching English to wee ones. They met while Kai was wearing, you know, nothing. A mutual friend (Hey, Camille!) brought Alisha to a party Kai was throwing. Alisha got there fashionably late (or right on time if you catch our drift) during a riveting game of Strip Kings Cup. By the end of the night, Alisha knew Kai was the girl she wanted to eat 3 lbs of bacon with the next weekend. "We're gross. We're also in love." Follow their adventures on Instagram at: #theadventuresofalishankai
---
10. Mignon Moore and Elaine
Ph.D., UCLA Associate Professor of Sociology // Graphic Designer and DJ
After a decade of commitment to one another, Mignon and Elaine told Freedom to Marry in an interview about their decision to wed, "You know what? Even though we live in California, we can't wait for California to do this. So we got married in New York, where we grew up and where our heart is." While they made it official stateside, Mignon and Elaine journeyed to Los Cabos in Mexico with 40 of their nearest and dearest for a stunning beachfront ceremony. Their celebration was a bold mix of old and new traditions — the two walked each other down the aisle, but brought in the African-American custom of "jumping the broom," a practice born of enslaved Africans pledging marriage and commitment in a time when they were denied legal marriage. "We walked each other down the aisle because we felt like we were walking together to meet this next phase of our journey and our life together," Mignon said.
---
11. Bakari and LaShay Jones
Bakari is the founder of Bois of Baltimore, a membership-based organization connecting Baltimore-based masculine queers, a Program Coordinator with the NAACP, and c0-host of Wine & LesbiFriends, BYOB house parties in DC and Baltimore for the 21-40 set. LaShay is a Research Coordinator at Johns Hopkins University. They just got married and had the most beautiful ceremony ever. Read all about it at Elixher.
---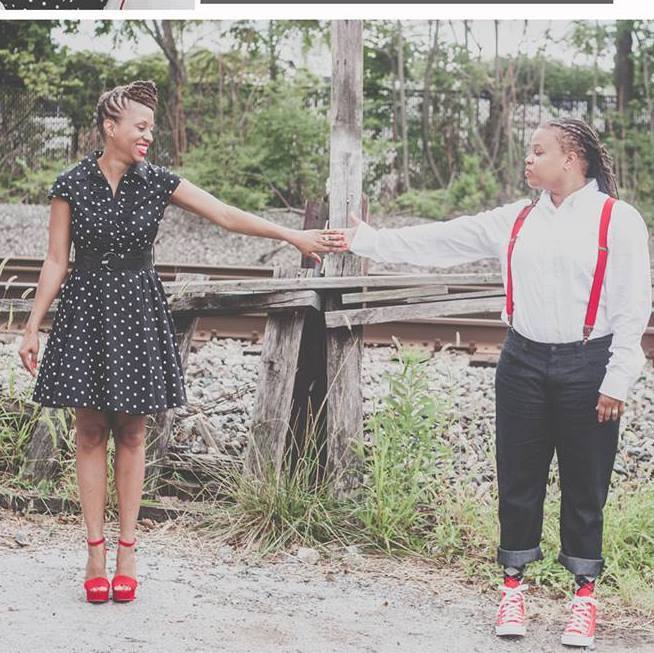 12. Shawnte Craig and Tavia Jackson
Shawnte writes, "We met through mutual friends and reconnected on Facebook. We both identify as lesbian but Tavia (the femme presenting one) is the more dominant partner. Since I'm very emotional, we often joke that Tavia is my boyfriend." We really dig their color-coordinated Rockabilly outfits!
---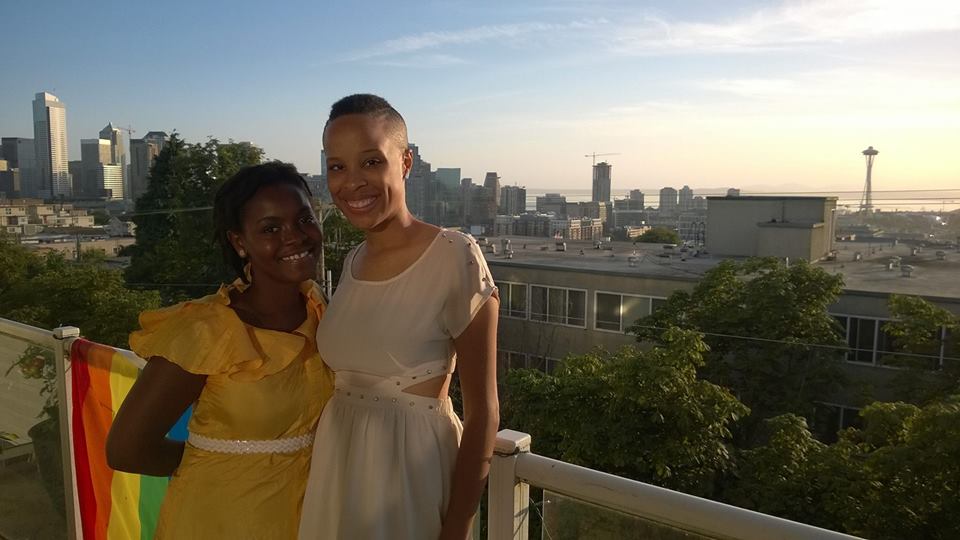 13. Denechia and Aimée-Josiane
Denechia and Aimée-Josiane met in Atlanta three years ago and have since made a cross country, social justice-fueled relocation to Seattle (with a short and incredibly sing-songy detour through Dallas, TX). Love isn't all that keeps them together — they are also committed comrades who organize to build social and political power for QTPOC tenants, workers and all oppressed people. In their spare time, they provide their cat Ms. Seven with human companionship, watch a lot of reality TV, dancedancedance and hang out with other magical QTPOC in the Pacific Northwest. Also, they just put a ring on it!
---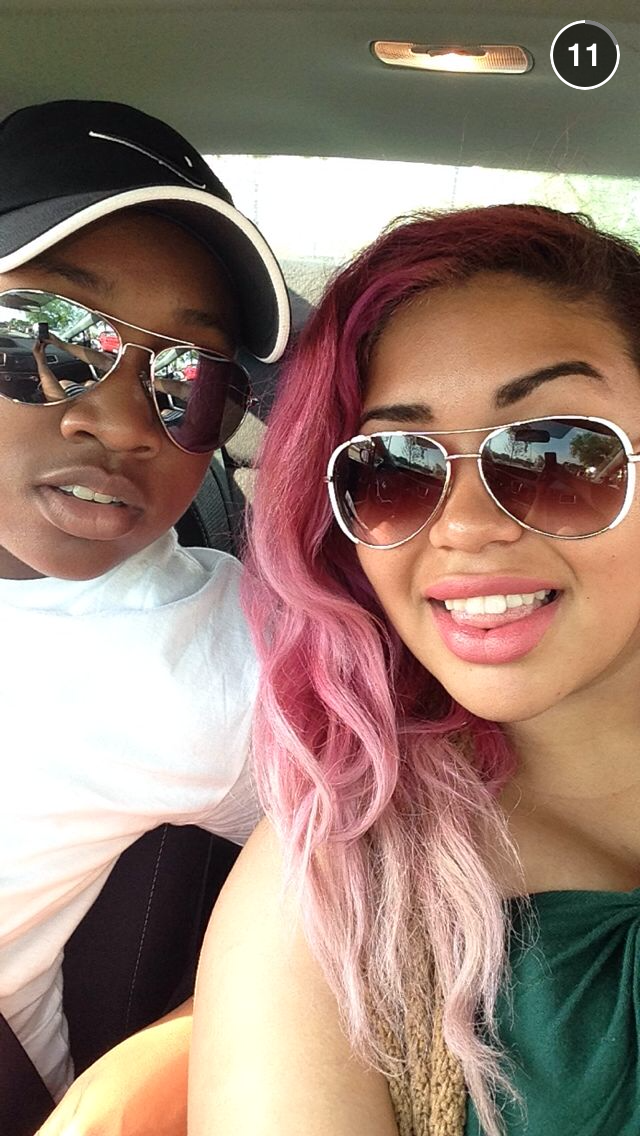 14. Kari G. and Ally A
Student // Dog Walker and Freelance Photographer
Ally and Kari went to high school together. Ally spotted Kari from across the cafeteria during 4th period lunch and knew she was the girl she had to have. They have outstanding eyebrows!
---
15. Chaun Martin and Dana Moore-Martin
Chaun has worked for the City of Los Angeles for fourteen years as a supervisor, but also promotes parties and community givebacks. Dana has worked for the County of Los Angeles for over twenty years and is a hairstylist as well. They met at The Annex in 1997 and Chaun called it love at first sight! Dana didn't quite see it that way, and they remained very good friends until a second chance came along, making an official commitment to each other on Sept 21, 2005. Seven years later to the day, the two were wed in Hawaii and then legally married in California in the summer of 2013.
The pair are inseparable best friends and both eschew stud/femme stereotypes, but admit to having a bit of a shared shopping problem with shoes, though Dana takes things a step further with purses and Chaun with bow ties. The secret to their marriage is knowing that love takes communication and work.
---
 16. Jessie Accamando and Janae Rivera
Co-Owner and Creative Partner at Creative Fish Studio // Animal Control Officer
These two are an OkCupid success story: Janae's profile said that she loved "that's what she said" jokes and Jessie's said that she couldn't live without cheese. It was a match made in heaven. After flirting via text, they finally met up in July 2014. Jessie runs a communications firm serving nonprofits and is half "supa white" and half Mexican, while Janae, who works in Long Beach as an Animal Control Officer, is half Puerto Rican, quarter black and quarter white.
Jessie paints, doodles and makes things pretty, and leads up a cool group of designers. You can track her 2014 journey of happiness on Insta via #myyearofhappy (@jessiegw). Janae's a classic romantic, can dance like a champ, and you'll find her @jaejae20 on Insta. When asked to describe themselves, they said they're social, fun and focused on being authentic.
---
17. Tzu-Yung Huang and Briyana Davis
Princeton Electrical Engineering Student // Artist & Educator
They met in college during a trip to a queer conference. Yung is a 21-year-old Taiwanese who identifies as trans and queer, and is passionate about supporting their QTPOC communities through activism and programming. Yung enjoys rugby, music, arts, video games, and the outdoors. They have a pet plant and it makes them happy (which is good because it's their senior year and they're scared of applying to grad schools). Briyana is a 23-year-old black and bendy queer currently residing in Brooklyn. Born and raised in South Jersey, she focuses her energy on loving her QTPOC communities through the arts, education, and organizing. She currently spends a large portion of her time discussing global issues and Candy Crush with sixth graders at an after school program in Brooklyn. She enjoys singing show tunes and trying to incorporate coconut milk into as many dishes as possible.
---
18. Chino Hardin and Shannon Evans
Both are Black, Native American and Italian (Chino, who identifies as transcending gender, is native, comes way of the Blackfoot nation), and they connected through humor, shared values and most of all, a deep understanding of the way they each needed and wanted to be loved. They spent five years building a strong friendship before becoming lovers, and together share a naturally playful, light-hearted love that grows steadily with each passing moment. Shannon is a full-time student at BMCC, and Chino as a project coordinator and field trainer for The Center for NuLeadership on Urban Solutions (CNUS).
---
19. Candace and Marisa
One night of dancing and three years after meeting in an Austin bar in 2008, these two became more than just friends. Marisa is 100% the old school butch to Candace's fierce femme, and they love working close to their community, spending time with family, and making fun of hipsters. They stay active by hiking, exercising and cooking together, but have the most fun when they're on a new food adventure or when they're dancing cumbias.
Marisa is a Recruitment Coordinator for the University of Houston at Victoria and before that worked in education with low-income students for many years. Candace has been fundraising for nonprofits for seven years and is currently the Director of Development at SafePlace, a sexual assault and domestic violence resource center. Marisa earned a BESS from Texas State University and Candace a BA from Pepperdine University and MA from UT Austin.
---
20. Kirin Kanakkanatt and Bex Hurwitz
Kirin is a thick femme QWOC and Bex identifies as genderqueer. It was crush-at-first-sight when they met at the 50th anniversary of the HKonJ march in North Carolina, but they took two months to figure out just how interested the other one was — discussing theories of liberation and strategizing around work, going on non-dates and cyber flirting.
"We think this is a testament to the kinds of love QWOC are consistently told they deserve and what we have to do to feel like we can accept (and ultimately create) this kind of love. We were long distance for the first months of our dating and falling in love, which means we've learned how to talk, a lot. Our relationship is founded on a mutual respect for each others intellect, alignment in personal politick, a common queirdo sense of humor and infallible attraction. We think of our queerness as both our sexual orientation and a political identity — which is acted out in our commitment to over throw white-cis-heteropatriarchy through queer aesthetic, gender bending roles and the revolutionary act of love. Also, we have a cool handshake."
---
21. Yvonne Marquez and Gloria Delgadillo
Yvonne and Gloria met their freshman year at the University of Texas at Austin when they were dorm neighbors and classmates. A year later, they became more than friends and have been together for four years now. Gloria is an organizer for a teacher's union and also contributes time to other labor organizations that prioritize economic and social justice. Yvonne is the associate editor of this very website. They live in Dallas with their puppy-son Túngï, whose name means victory in Yoruba. Eating good food, finding the best tacos, taking selfies and having social justice fueled conversations over drinks with friends gives them life.
________________________________________________________________________________________
22. Precious Davis and Myles Brady
Myles and Precious originally crossed paths through Chicago Transgender activism circles. Myles was smitten with Precious's beauty at first sight and  tapped Davis's activist comrades to get her attention. (Jen Richards, Angelica Ross, Janet Mock #girlslikeus) Soon thereafter Davis fell head over heels for the man she had been praying for her whole life. Davis is the Assistant Director of Diversity Recruitment Initiatives at Columbia College Chicago. She identifies as high femme and trans. Precious is passionate about performance art, LGBTQ youth empowerment and social justice. When Precious isn't pursing her passions she enjoys watching and emulating legendary black women in film like Diana Ross, Diahann Carroll, and Whitney Houston. Davis and Brady say they are the perfect match for each other and enjoy making each other laugh. Brady is a Trans Masculine individual who identifies with the 3rd gender  and is a family man. Born and raised on the South side of Chicago, Brady dedicates his efforts to empowering Trans individuals in incarceration, as well as bringing holistic social services to Chicago's most under served populations as The Transgender Outreach Coordinator at Howard Brown Health Center.  Brady is passionate  about nature, competitive sports, and travel. Precious and Myles  together share a common calling as facilitators  for community outreach, healing, and mentoring youth. They also enjoy spending days at the pool and talking about life sitting on the shore of Lake Michigan.