For the controller-happy among us, podcasts and gaming are a match made in heaven. But it's a big and varied world out there; there are hundreds of gaming podcasts, ranging from general gaming discussion to highly specialized discourses on sub-genres (like RPG's, old-school games, etc.) and individual areas of gaming and even individual games, like WoW. You can listen to everything from dating advice from a bunch of gaming magazine editors (Rebel FM) to in-depth discussion on the finer points of hardcore strategy titles (Three Moves Ahead) and everything in between.
And for every awesome, insightful, entertaining piece of gamer radio, there's a cut-rate program featuring a bunch of idiots shouting at each other over cheap beer. But never fear; as a self-styled expert (addict) in the field, I've gone ahead and picked the best of the best, thanks to a few thousand hours in the "field" doing "research".
1. Irrational Behavior:
Produced by the staff at Irrational Games, the studio behind BioShock and the upcoming BioShock: Infinite, this is the very best "official" podcast in the realm of gaming. It's fascinating, funny, and surprisingly insightful, as it never comes across as being corporate and frequently dives into "big-picture" questions like "do developers play games differently?" and "how can we create games that emotionally affect players?"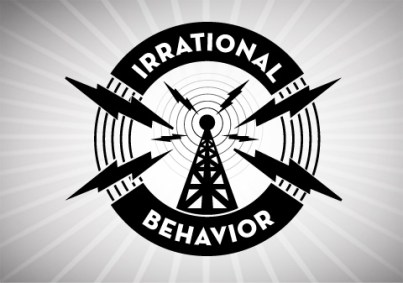 Bonus points:
You'll especially love this if: you're a major fan of BioShock, you're interested in the behind-the-scenes of a game studio, or you laugh at things like the phrase "dog in a wheelchair".
2. A Life Well Wasted:
Robert Ashley's brainchild is a slickly produced, NPR-style series that examines one major topic per episode, chock-filled with interviews with players, developers, fans and anyone else with an interesting story to tell.
Bonus points:
This is the most narrative series on this list; so if that's your thing, check this one out first.
3. Retronauts:
If you like older games (think pre-2000s), or current games with distinctly retro sensibilities (think Mega Man 9 or 3D Dot Game Heroes), you'll be in nerd heaven listening to this show. Hosts Jeremy Parish and Ray Barnholt are usually joined by a crew of seasoned veterans (and 1Up staff) – always folks who really, really know their shit about old games.

Bonus points:
If you can correctly name all the retro game tunes used as interstitials throughout and episode, congratulations, you are officially hardcore. Or possibly old.
4. Gamers with Jobs Conference Call
This is the very cream of the crop in terms of "general gaming discussion". It's a well-organized, thoroughly entertaining show with a fantastic group of characters (and its one of the only shows that regularly features a female cast member, the fabulous Lara Crigger). The general shtick is that these guys and gals are all folks with day jobs – who just happen to really, really love games – so you'll get no disgruntled game journalists yakking about some arcane bit of industry gossip here, thank you very much.
Bonus points:
There's a fantastic, active community on the Gamers with Jobs site, complete with periodic meetups and plenty of online gamer friends.
5. Brainy Gamer Podcast
This one's for the smarties in the crowd – folks who have a serious interest in the cultural connotations of videogames, or people who want to hear the real, non-PR side of game development and criticism. Michael Abbot hosts, and his guests span the gamut from mainstream critics to hardcore academics to indie game developers.
Bonus points:
Just listening to this show will make you feel smarter. Which you'll just have to counter-balance with a few more hours poured into an FPS.
Honorable mentions:
Rebel FM: While the copious fart jokes and "relationship advice" letters make this something of a "love it or hate it" affair, the Rebel FM guys are passionate about games and far smarter (and more interesting) than your average game journos.

Giant Bombcast: Definitely worth checking out, these guys are funny and very well informed.
And finally (shameless plug alert!), if you must know, I co-host a podcast myself in which I frequently discuss the intricacies of homo-flirting in Mass Effect.
---
Danielle is lucky enough to make a living writing about dorky things and working as a full time web ninja for the ACLU in Boston. You can find her musings at AfterEllen.com, where she writes the "Weekly Geek" column and reviews far too many lesbian movies. She also writes for GameShark.com, where she makes good on the "geek" label and co-hosts the Jumping the Shark podcast. Catch her any time of the day or night on her twitter account.