Hello and welcome to almost Fall! I'd be lying if I said I was jazzed about the season change in its entirety, but I'm not immune to excitement over the prospect of (Oprah voice) laaaayeriiiiing! Below, I've highlighted three trends that I'm so ready to see queer gals putting their own twist on in the coming months; let's get started with back to school and lesbian classic, plaid.
Plaid O'Plenty

1. Kirrin Finch Short Sleeve Shirt 2. Ruffle Sleeve Top 3. Torrid Camp Shirt 4. Sleeveless Tie-Front Top 5. Old Navy Long Sleeve Shirt 6. Off-the-Shoulder Top
Whether you're going for a Gogo Yubari-type thing or you just want to look like someone who can start a campfire without a match, slap on a plaid shirt and, baby, I'm yours. But you know, I like a lady who can keep me warm and wrap me up in chains. I'm versatile like that.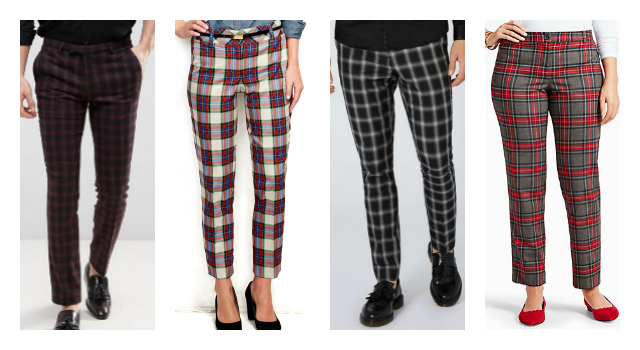 1. Tapered Tab-Front Pants 2. Lands' End Petite to Plus Pants 3. Charcoal Check Pants 4. Talbots Curvy Pants
Depending on how you wear them, plaid pants can be the perfectly preppy office look or given more of a punk flavor. Perhaps with a motorcycle or denim jacket. Which are both, perhaps, also included in this style guide.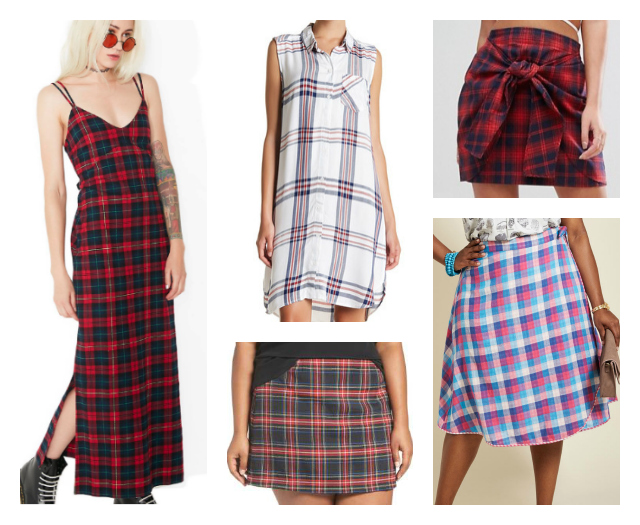 1. Strappy Maxi Dress 2. Button-Down Dress 3. City Chic Plaid Miniskirt 4. Tie Front Miniskirt 5. Modcloth Wrap Skirt
For dresses and skirts, go full-on "Smells Like Teen Spirit" or keep it mild in madras. Do your thing, girl.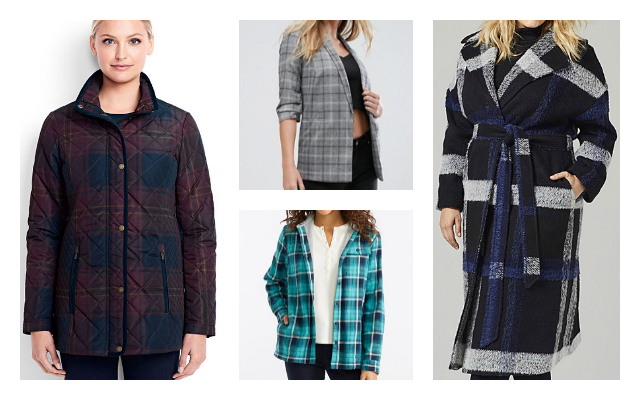 1. Quilted Parka 2. Grey Blazer 3. Flannel Hoodie 4. Wrap Coat
Are you immune to the charms of a baby butch in a flannel hoodie? I didn't think so. But also, I personally am not immune to a plus-size wrap coat with a scaled-up pattern. You look cold, girl; come join me in what's essentially an extremely fashionable Snuggie.

1. Buffalo Check Hat 2. Tartan Band Watch 3. Canvas Sneakers 4. Clutch Bag 5. Tassel Loafers 6. Pointy Toe Pumps 7. Billabong Backpack
How about just a little taste of the good stuff? Accessories are a great way to put a precociously preppy, deliciously down-home, or enticingly edgy spin on an otherwise plaid-free look.
---
Leather Mommi

1. Lace-Up Top 2. "California" Distressed Tee 3. Sheer Panel Top 4. Sheer Ruched Sleeve Top 5. Shredded Shoulder Tee 6. Faux Leather Vest
Think plaid is for squares? I got you. Try a torn up, see-through, or (faux) leather top on for size; something that tells the world you might be at the show tonight, if you can find time between reapplying your eyeliner and smoking behind the bleachers.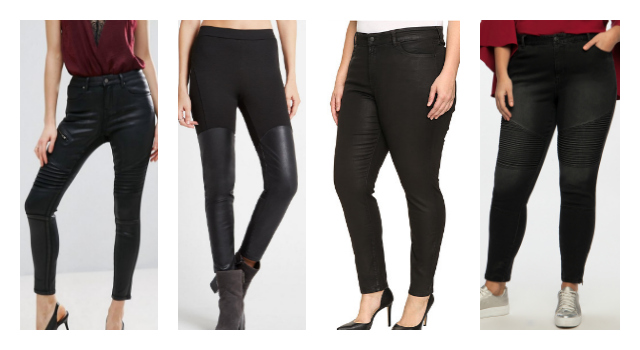 1. Coated Moto Pants 2. Leather Panel Leggings 3. Coated Plus Jeans 4. Plus Moto Jeans
The pants menu features more leather-esque looks and tightly stitched details, to protect from motorcycle accidents or whatever other knee-bruising activities you have in mind.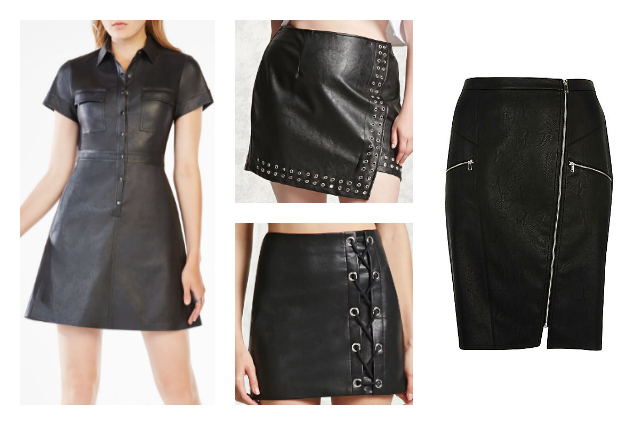 1. Faux Leather Dress 2. Grommet Miniskirt 3. Lace-Up Miniskirt 4. Zip Pencil Skirt
What better way to wear a dress or skirt than by adding a healthy dose of domme? Do the bad nurse thing in a button-down number, go gaga for grommets, or sport a zipper that's intended to be torturously long.
1. Plus Classic Biker 2. Stud Sleeve Jacket 3. Cascade Front Jacket 4. Cropped Plus Jacket
Basic moto jackets never go out of style, but a little something studded, short, or softly draped are all equally bad (in a good way) options. Vroom vroom, baby.
1. Metal Toe Boots 2. Zip and Buckle Boots 3. Fringed Bucket Bag 4. Ring Choker 5. Studded Belt 6. Harness
Opt for accessories that are heavy on the hardware. You know: a little bit country, a little bit rock 'n' roll bondage. Just straight up bondage.
---
Blue Jean Babies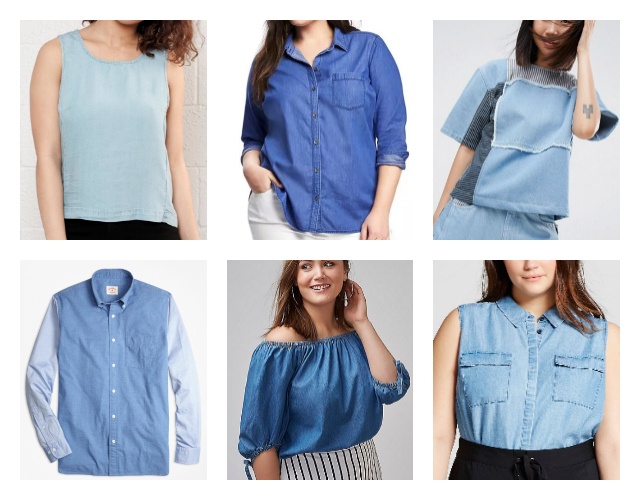 1. Chambray Tank 2. Chambray Button-Down 3. Patchwork Top 4. Color Block Button-Down 5. Off the Shoulder Top 6. Chest Pocket Button-Down
Now, a material (I think) we can all agree on: denim. On denim. On denim. Go for a classic Canadian tuxedo in a chambray shirt, or something patchwork or color blocked instead.
1. Plus Joggers 2. Patchwork Jeans 3. Chambray Joggers 4. Plus Patchwork Jeans
Remember that time I talked about patchwork denim? I really love patchwork denim. Also, drawstring waists. (praise hands emojis all around)
1. Patchwork Mockneck Dress 2. Patchwork Miniskirt 3. Lace-Up Skirt 4. Frayed Denim Dress
Then again, wearing what's traditionally a pants fabric in dress form is pretty sweet too!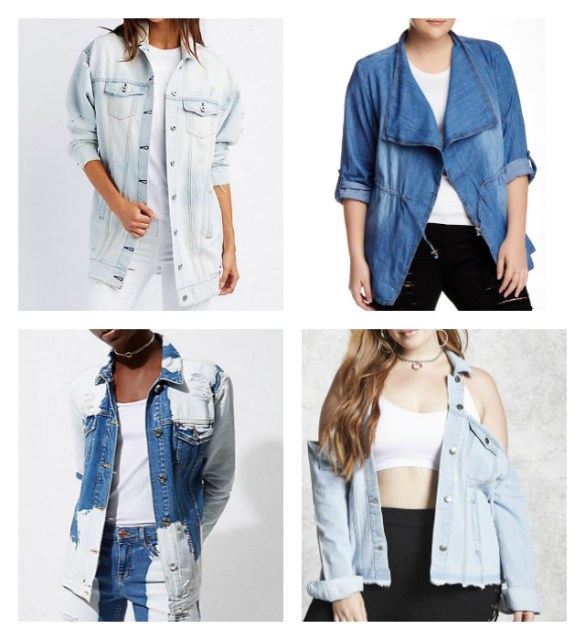 1. Longline Jacket 2. Drawstring Waist Jacket 3. Bleach Bomb Jacket 4. Cold Shoulder Jacket
And, while like biker jackets, a classically shaped and embellished denim jacket always looks good, I'm personally partial to the lovingly beat-up looks above (plus another softly draped option for good measure).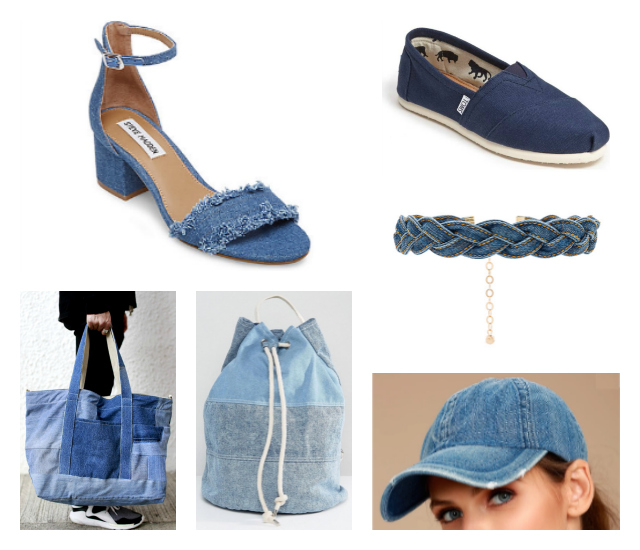 1. Frayed Sandals 2. Patchwork Tote 3. Drawstring Duffle Backpack 4. Blue Toms 5. Braided Choker 6. Baseball Cap
Finally, if you really want to go bonkers, there are a select few denim accessories out there that don't entirely scream "Alloy catalog castaway circa 1996" (or, like, only scream it in the best way). Apply sparingly and with care. Or, you know, don't.
So, sweethearts, what's your look for Autumn 2017?