Tuesday Televisionary? More like "What Are You Watching Wednesday"! Welcome to Thursday Televisionary, "Nearly Two Days Late and a Dollar Short."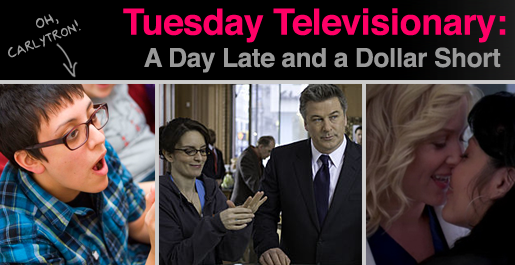 I was attacked by a wolverine on my way to getting this in on time. True story. Several wolverines, actually.
Let's see, what happened this week… did you know that there's actually two gay vegans on Better Off Ted? Yup! Jonathan Slavin, who plays Phil the research scientist, gave a cute interview to The Advocate, check it out here.
Drumroll please… season finales are upon us! Want to know when your favorite shows are ending? E! Online has a handy list.
Also, ABC announced a few early pickups, unfortunately we have more Grey's Anatomy to sit through, but yay! We get another season of Ugly Betty!
And finally, in case you missed it, Anna Torv's character on Fringe (yet another show I'd probably like if I had enough time to actually watch it) kissed a stripper this week. A stripper! If you missed it, Dorothy Surrenders has a comprehensive recap here. It's fantastic, really, I live for this crap. You know, back in high school when I was figuring everything out, I was hyper-aware of every lesbo storyline on every TV show (there weren't many to keep track of, luckily) and would record them all on one VHS tape and then I took that tape to college with me and now I'm a giant lesbian. So there you go.

And now…
The Carlytron TV Awards for the Week Ending on 4/25/09
The Awkward Award
Gossip Girl was sort of silently awesome this week. Nothing specifically grand happened but it set up the final few episodes of the season AND gave us a totally awkward Passover Seder. Good episode.

You know what else was awkward this week? Lindsay Lohan's interview on Ellen was awkward. Good lord, was it awkward. I felt uncomfortable watching it at home with my roommates. I love Lindsay and I love Ellen, though. I want Ellen to take Lindsay under her wing and get her back on track, get her a cheeseburger to eat, maybe call Tina Fey and have her write another movie that Lindsay could be in, etc. That's all she needs, really. Anyway, it was weird. See for yourself:
The ZZZZZZ Award
Heroes aired an episode called I AM SYLAR this week, and it was mostly uneventful. The finale is on AS I AM TYPING THIS so we will definitely discuss it next week. Anyway, the only interesting things happened at the very end and were basically a set-up for the finale: Mohinder, Bennet, Nathan, Claire, and Angela have been captured by the government, Danko tried to kill Sylar and failed (ruh roh), Matt's still boring, Hiro's bleeding, GAME ON!
The Death Toll
Harper's Island killed off only one person this week, arguably the guy who deserved it the most. And it would appear that the supposed dead serial killer from the past is actually alive and is the one killing everyone on the island. The plot thickens!. The bonus of watching it online is that it's sponsored by Healthy Choice, so most of the ads you have to sit through are those funny Julia Louis-Dreyfus ones (sometimes with Jane Lynch).
The Grey Gardens Update
Still haven't seen it. Working on that. Sorry.
The Hot Girl of the Week Award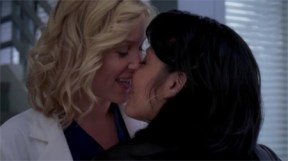 Callie, on Grey's Anatomy, played by Sara Ramirez. Callie's dad showed up and almost strangled George and Mark and then freaked out and told Callie she had to come home or else she'd lose her trust fund… because she's GAY NOW. GAAAAY!
So what did our homosexual heroine do? She cut her Dad off (oh snaps!), professed her undying LESBIAN LOVE for Arizona, shouted in Spanish (a lot) and made out with Arizona (not quite enough).
Also this hour, Izzie guilted Meredith into trying on wedding dresses, George and Karev faced off in some dumb thing that I didn't really care to understand, Meredith finally acted like a big sister to Lexie, Derek and Mark got back together and Owen finally started seeing a shrink. Then a guy jumped out a window and then a little girl died and Bailey gave a speech to the Dad and it was just the saddest thing I have ever seen. Fucking show, always making me cry my eyes water.
The Dollhouse Award for Dollhouse
Yay, Dollhouse was back! Echo was given the imprint of a woman who had died, so that was weird. Boyd's bored and having a hard time dealing with his new promotion. Topher got to program Sierra to be his ideal girl (only once a year) and they had some cute scenes together. Agent Ballard kept freaking out about the Dollhouse blah blah blah ran Mellie's prints blah blah she's had like a billion identities blah blah whatever. Eliza Dushku rode a horse in a hot outfit. That's all I've got. It was kinda snoozey… but next week looks awesome (Alpha!!).
The Sitcom Roundup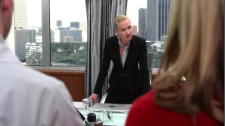 Ted got erased from the computer system at Veridian so Ted and his colleagues concocted a Mission Impossible-style espionage plan to get him back inside. This involved Lem and Phil as salt & pepper shakers and Linda trying to distract a dim security guard by talking about her breasts and getting into a shower with her sorority sisters. Obvs they got caught and Portia had to yell them ("You couldn't pull off a caper if it were sitting on a plate of lox!"). Also: jet packs! I love all things jet pack and jetpack-related.

Um, what the hell? This show gets funnier and crazier every week, somehow. This week: Elisa kisses Liz, Jack breaks up with Elisa because she killed her previous husband, Tracy has to decide between getting his wife a "hot bitch" denim jacket or a Slanket for their anniversary but ends up getting a tattoo of Tangiers the gay lion, Lutz gets a concussion, Jenna repeatedly triggers Kenneth's strawberry allergy so she can hunt down a cute paramedic, and NIGHT CHEESE.
Yay, things are back to normal now! Dunder-Mifflin bought up the struggling Michael Scott Paper Company, Charles is going back to corporate, Pam is a salesperson and Michael — and Ryan, apparently — are back at Dunder-Mifflin. And he's $60,000 richer, somehow having not screwed up the negotiations.
Hm. I have mixed feelings here. On the one hand, it was slightly better than it's been. On the other, it's still pretty bad. There was a bit of emotional heartache going on with Leslie watching Mark hook up with the reporter, but this is a comedy! It was really painful to watch. Also I Still Don't Like Tom. Sorry.
This show is really awesome. Miracle accidentally poisoned everyone. I love the attention to detail — just like in Arrested Development, they're always hiding funny things in the background, like the signs on the walls of the teacher's room. I hope that people are enjoying it too, and that it's not going over everyone's head the way AD did. That would be a shame.
Tron out!
[ad#postads]