Halloween is creeping up on us, and I couldn't be more excited — picture me doing a Julie Andrews-esque Sound of Music spin through the aisles of a Halloween superstore. Not surprising, given that I was the little kid who wanted a Count Von Count doll instead of an Elmo. All across the internet, our queer brethren are gearing up for this most spooky of months.
Halloween is so often treated as a sort of gay Christmas that being a queer person who adores Halloween feels a bit cliché. But the holiday is so dear to so many of us — for some, dressing for a Halloween party was how they first expressed their true gender; for others, it promises a night spent with like-minded friends rather than judgmental relatives of Easter or Christmas. And many of us find that this time of year, strangeness and otherness are just a little bit more welcome.
Because there's so much awfulness in the world right now, celebrating the things we love feels all the more urgent. So, let's celebrate it in style!
This guide includes three different party options, because while some of us love a glitter-fueled, spooky dance party with fellow creatures of the night, others of us prefer something on the mellower side. Whether you're a seasoned monster masher looking for new ideas or hoping to throw your first Halloween bash, something here should strike your fancy. And, of course, you can always mix and match to stitch together your own Frankenstein's monster of a party.
Grim Grinning Ghosts
Do you prefer your Halloween more silly than scary? Do you find yourself watching even the mildest horror movies through your fingers? Then this is the party for you! It also works great for folks who have kids or like to be in bed by 9 P.M.
For the décor, channel your favorite spooky yet scaredy-cat friendly theme, be that The Haunted Mansion, Hocus Pocus, or Bunnicula. That means lots of puns; lots of bright green, purple, and orange to complement the black; and zero gore or grossness.
1 / Spooky Eyes
2 / Haunted Mirror
3 / Easy Ghosts
4 / Purple Lights
5 / Pun Tombstone
6 / Animated Crystal Ball
7 / Ghost Hand Lights
Menu
This spread is very much inspired by the beloved Halloween parties my mom threw when I was a kid. Most of it can be scaled up or down easily, so while you've got a small coven coming or a mansion's worth of ghosts to host, you'll be set.
+ Graveyard Cake: I've eaten this every Halloween for the past two decades. There is nothing remotely nutritionally redeeming about it. It's a thing of beauty.
+ Black Widow Cocktail: A drink with just the right amount of venom.
+ Ghost Punch: Free of boo-ze, but not boos! Use this tutorial to add ghostly shapes into the mixture
+ Pumpkin Chili: Tastes like fall and can be made vegetarian friendly by taking out the meat or swapping it for faux-meat.
+ Purple and Green Swirl Bread: Perfect for ghosts and foolish mortals alike.
Costumes to Keep Away the Chills
If you're going with a specific cultural item, like The Haunted Mansion, as part of your theme, then you can match your costume for maximum commitment; a classic and not-too-scary Halloween monster like a werewolf or vampire is an excellent fit. The tone of the shindig also lends itself well to pun costumes or pop culture nods, so if you've been itching to bust out that "Netflix and Chillwp_postscostume, now's your chance.
If you're not looking for a full-out costume, here are some options that keep with an overall vibe that's casual, comfy, and just a tad spooky.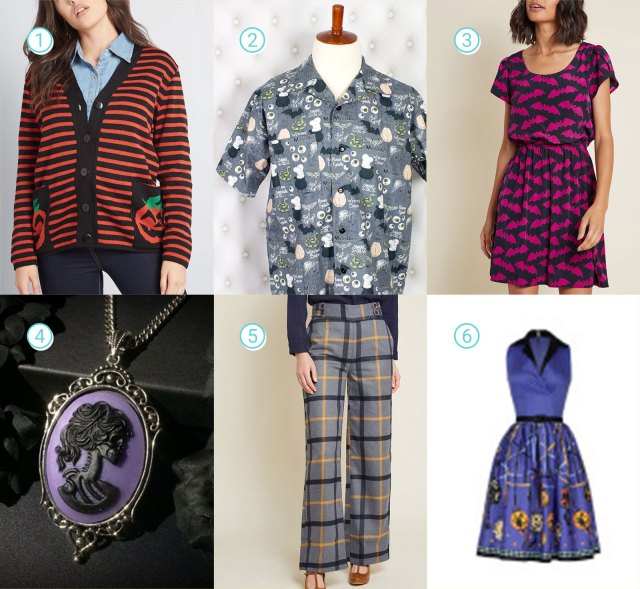 1 / Pumpkin Cardigan
2 / I Put a Spell on You Button Down
3 / Every Day Is Halloween Dress
4 / Skeleton Cameo
5 / Put Fab First Wide-Leg Pants
6 / Purple Bat Dress
Playlist:
https://open.spotify.com/user/autostraddle/playlist/4sUvtkwAHEQcNXnEenprbM
Black Bat Bash
Want to channel your inner Addams Family? Do you spend your free time discussing the queer coding of old monster movies? Then this is the macabre soirée for you, with an equal balance of spooky and swanky.
To set the scene, put together a mixture of black and white decorations with plenty of unsettling touches until it looks like you're having an afterparty in the Twilight Zone. Toss in plenty of ravens, skulls, and bats to tie the room together and you're set.
1 / Bat Balloons
2 / Bat Lights
3 / Eyeball Roses
4 / Black Candelabras 
5 / Bloody Candles
6 / Spider Web Table Layout
Menu
A selection that keeps things classy while assuring you that, yep, you're at a Halloween party.
+ Cheesy Spider Plate: Use the tutorial to make your cheesy arachnid, then select the rest of your spread using these tips from Cheese, Sex, Death.
+ Bat Finger Sandwiches: The recipe calls for pumpernickel and pimento, but you can adjust with whatever bread and filling you prefer.
+ Pumpkin Spice Cake: Makes for a lovely dessert and, assuming you survive the night, breakfast the next morning.
+ Waltzing with Vincent: Vincent Price was the king of horror, bisexual, and an honorary board member of PFLAG. Raise a toast in his honor with this cocktail.
+ Dracula's Daughter: Best imbibed while contemplating the history of lesbian vampire movies.
Devilishly Good Looks
If you're going for a full-out costume, you'll want to pick something that works with the "classicwp_postselements of the theme. You could come as a zombified, ghostly, or perfectly alive version of your favorite old Hollywood icon (perhaps one of the era's most prolific queer women) or as your favorite character from the early days of horror. The good folks at Dear Darkling have an amazing round-up of ways to dress like Universal Horror Monsters that don't require you to wear a rubber suit all night or tease your hair up a wire cage á la Elsa Lancaster.
Given their retro clout and black-and-white color schemes, coming as any member of the Addams Family or the Munsters is also an excellent option. Bonus points if you and your partner come dressed as Morticia and Gomez and spend the whole night romancing each other.
Not in the mood to get too decked out? Check out these appropriately macabre outfit options.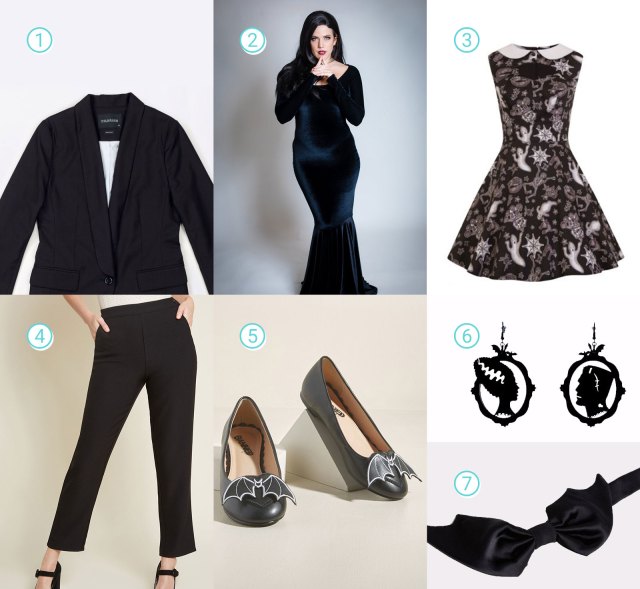 1 / Blazer
2 / Morticia Dress
3 / Spooky Mini Dress
4 / Black Dress Pants
5 / Bat Flats
6 / Bride Earrings
7 / Bat Bow Tie

Playlist:
https://open.spotify.com/user/autostraddle/playlist/6LDv1rdaIKE0kSNUw3fpAM
Scary Monsters & Super Creeps
This is for those children of the night who don't mind getting a little gory, a little sexy, and super queer. Halloween may come just once a year, but you don't let that stop you from striking fear into those who would force you into the shadows during the other 364 days. My wild and untamed things, this night is for you.
Fill your lair with black, red, and spatters of glittery gore. Tuck grotesque touches into each corner, coat hallways with eerie red light, and don't be afraid to make things a bit bloody.

1 / Blood Spattered Table
2 / Vamp Banner
3 / Disembodied Heads
4 / Enter If You Dare Neon
5 / Red Orb Lights
6 / Bloody Handprints
Menu
Lay this selection of snacks out on the slab so guests can grab a snack between bouts of dancing, raising the dead, and flirting with the cute girl who came dressed as the Jersey Devil.
+ Bloody Brains: Mmmm, brains.
+ Bloody Fizz : For an added buzz, pretend it's the blood of your enemies.
+ Hail, Hades: A luscious mix of pomegranate and tequila.
+ Pizza Skulls: A great option for any stoner zombies in attendance.
+ Bat Wings: These are one of the more involved recipes I've included, but the gruesome payoff is worth it.
Dress to Kill
Literally anything goes here, costume-wise. Sexy vampire? Extremely modest werewolf? Right on! Comfortable-with-her-sexuality-yet-shy ghoul? You do you!
Parties like this are often the ones where I, at least, find myself delving into the deepest depths of wish fulfillment. This year, for instance, I'm likely going as a modern Medusa because there are some men who deeply need to be turned to stone right now. You too may want to draw on your idols, your icons, the characters or creatures whose power you wish to channel: Nancy from The Craft, Dana Scully, Hela, Okoye, Rosa Diaz, or whoever speaks to your queer heart.
If you'd prefer some awesome, creepy, non-costume duds, here are some to get you started.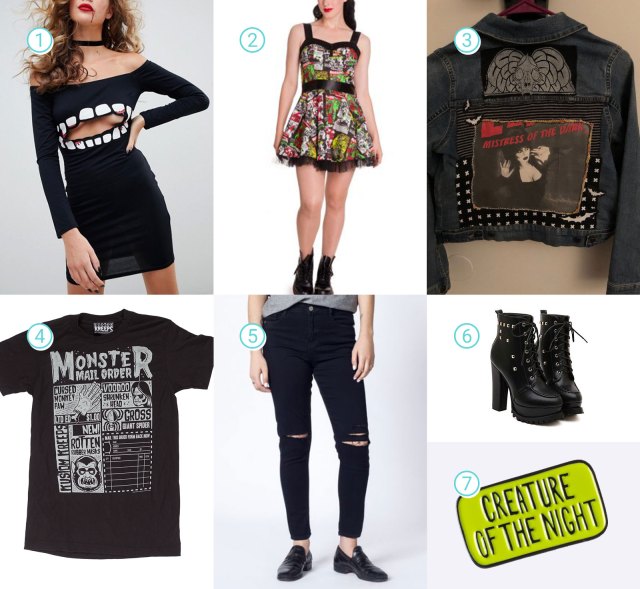 1 / Fang Dress
2 / B-Movie Mini Dress
3 / Elvira Jacket
4 / Mail Order Monster T-Shirt
5 / Slasher Skinny Jean
6 / Studded Black Boots
7 / Creature of the Night Pin

Playlist:
https://open.spotify.com/user/autostraddle/playlist/3WljmopaPHwVNGlvjOzNUo
Go forth and have a ball!