Hello, future valentines of the world! I hope you've got brunch plans (like me) because you're gonna need at least twenty mimosas to celebrate the good news comin' out in today's Sunday Funday.
If Russia Doesn't Love the Gays, We'll Have To Love 'Em More
F*ck Putin!
+ Google's Olympics doodle honored the ages-old worldwide sporting event that I don't quite understand the purpose of in Sochi this week with a rainbow graphic and a link to the IOC charter, in which exclusion or discrimination of anyone from the games is expressly barred.
+ Canada is the sassiest nation on Earth; it's clear from their persistent honoring of LGBT folks throughout the winter Olympics and  their sassy Olympics ad. "The games have always been a little gay," Canada says to itself in the mirror, imagining once more that hot women in athletic gear are strutting around Vancouver like the good ol' days.
https://www.youtube.com/watch?v=effb2JYiKXM
+ From Chevrolet to AT&T, ain't nobody sponsoring the Olympics who got time for bullsh*t homophobia.
Missy Elliot's Coming Back B*tches
When Missy Elliot returns with "100%" material that's "game-changing," I'm gonna take an entire month off from work and cruise listening to it until my life drastically changes direction. That's a promise.
THE FED RECOGNIZES YOUR MARRIAGES, Y'ALL
As of Monday, it won't matter if your bumfuck town or sprawled out city or entire fields-of-grain-ridden state recognizes your gay marriage – the federal government will.
On Monday, the Justice Department will extend federal benefits to all legally married same-sex couples regardless of whether they are living in a state that recognizes the marriage or not.

The new directive, says Attorney General Eric Holder, will provide "lawful same-sex marriages full and equal recognition, to the greatest extent possible under the law." When the benefits go into effect all married same-sex couples will be treated in the same way as opposite-sex couples in federal court, in both criminal and civil cases. In addition, same-sex couples will receive federal death benefits, be allowed the same privileges of opposite-couples if one of the partners is incarcerated in a federal prison, and be treated equally in federal bankruptcy proceedings.
Pussy Riot Speaks Russian, Makes People Laugh
The baddest girls in Russia made an appearance this week on The Colbert Report.
Why Can't We Be Friends
Imagine all the fuzzy beings…
Living life in peace…
You may say I'm an excessive cuddler…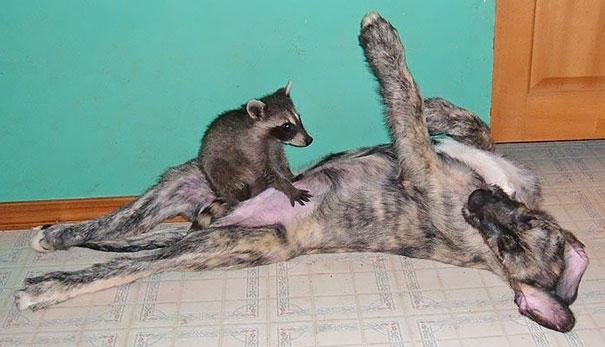 but I'm not the only one…
I hope someday I go to this farm where over 60 animals live and love together…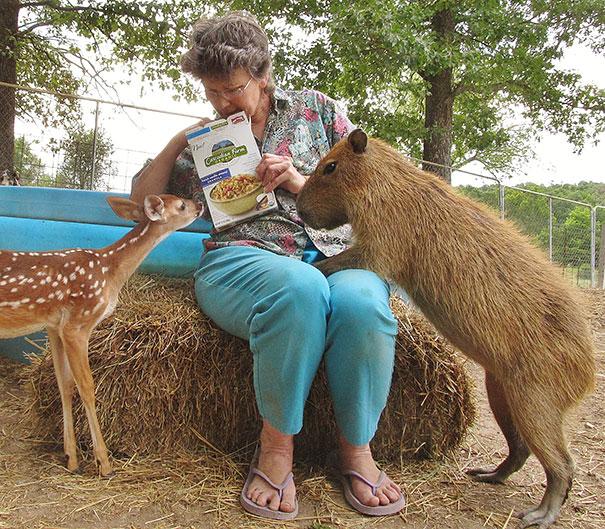 and we'll all romp as one.