In Good News Since the DOMA Ruling, a Philadelphia judge ruled that the lesbian widow of a deceased lawyer is entitled to the proceeds of her wife's benefits plan. After a long legal dispute with her wife's parents, Jennifer Tobits will receive the $41,000 sum from the profit-sharing plan her wife held at her law firm.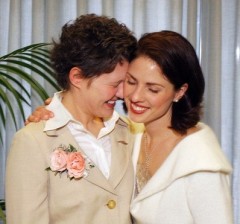 District Judge C. Darnell Jones cited both the Supreme Court DOMA case and the recent ruling on US v. Windsor as influential factors in his decision. Jones wrote, "Windsor makes clear that where a state has recognized a marriage as valid… the U.S. Constitution requires that the federal laws and regulations of this country acknowledge that marriage."
Tobits and Farley were married in Toronto in 2006 and celebrated their marriage in Illinois, where Farley worked for the prominent law firm Cozen O'Connor. Farley worked at the firm's Chicago office, but the case was brought to Pennsylvania, where the firm is based. Though Pennsylvania does not recognize same-sex couples, Tobits's lawyer believed they had a valid case based on the new federal law that confirms same-sex couples have the right to spousal benefits. Additionally, Cozen O'Connor's death benefits plan defined spouse as someone married for at least a year.
According to the National Center for Lesbian Rights, after Farley died from cancer in 2010, her parents filed to take control of Farley's estate, refusing to acknowledge her marriage to Tobits. With the help of the NCLR, Tobits petitioned that Illinois law did recognize their marriage, meaning that she should receive benefits as any surviving spouse would. In September 2012, Tobits did secure the rights to Farley's estate, however, the Pennsylvania district court put the benefits plan case on hold as the Supreme Court was considering several cases regarding the constitutionality of DOMA.
As Judge Jones was quoted here, the state laws around the Employee Retirement Income Security Act are preempted by federal law. This will hopefully take precedence in future decisions where same-sex couples are unions are not recognized.
Whether this case will have an effect on Pennsylvania law or on future LGBT state-level legislation remains in question. But since the DOMA ruling, judges have increasingly credited the case in support of same-sex marriage rights. In a recent release, Tobits expressed her optimism after the ruling in her favor: "…it's a great tribute to [my wife] that the courts have rejected these challenges to our marriage and recognized our commitment to each other and the life we built together." As it becomes harder for employers across the US to deny benefits to same sex spouses, the legal backing for marriage equality across the nation builds.