Happy Sunday Funday! I went home for under 24 hours and now tomorrow I go back to work! How relaxing! La la la. Here's an indisputably positive pile of news to make it all better.
Who Run the World?
+ Congresswoman Ileana Ros-Lehtinen is the first Republican to post for the NOH8 Campaign.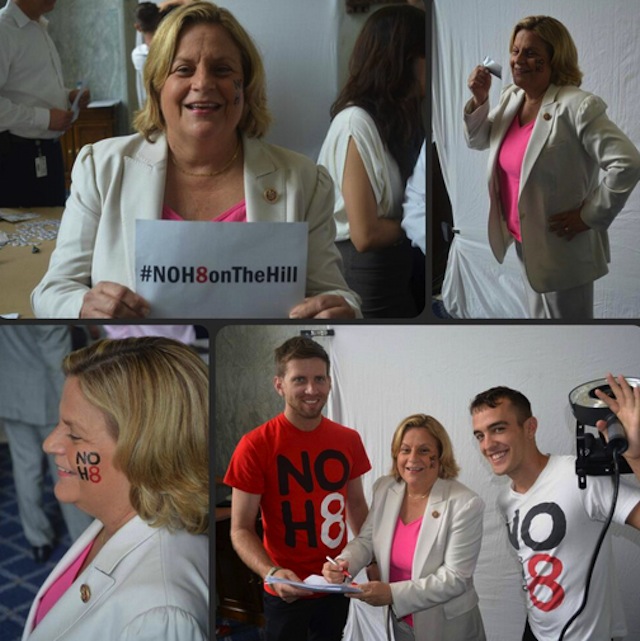 + Maryland's next Governor could be their first out lesbian one. Somewhere in here there is an 'ello Gov'nuh! joke. I can't find it, though.
"Heather is the best person to lead Maryland,wp_poststhe e-mail said. "And if elected, she would also be the first openly LGBT Governor elected in the country — a big step forward. As we celebrate Gay Pride month, we ask our friends and allies to PROUDLY stand with Heather."

Mizeur (D-Montgomery) has yet to formally announce she's running for governor, but she has been criss-crossing the state, seeking to build support.
+ If Obama's latest gay ambassadors nominees are confirmed, six total United States ambassadors will be out.
John Oliver Takes on Anti-Gay Legislation Around the World
So, About Lesbian Moms…
I think the verdict is out on our excellent parenting skills now. Meet Liz and Erin Czerwinski, twin daughters of two moms and Salutatorian and Valedictorian of their high school.
Says Liz: "When I'm asked how it has been to be raised by two moms, it's hard to say anything other than amazing. It has always felt normal to me and sometimes I even forget that it's something unique. I feel very lucky to have had such supportive and loving parents."
Ellen Is Still Amazing
Ellen DeGeneres this week pulled a Riese Bernard and gave a lesbian couple a honeymoon. Except she did it on television, and the lesbians were veterans, so it's actually really different. But still just as sweet!
Hillary's Latest Selfie
I can't welcome Hillary Clinton to Twitter with any more enthusiasm. It just isn't possible. We as human beings are blessed to be a part of her selfie feed.
Having so much fun with Chelsea, taking selfies back stage. MT:@ChelseaClinton http://t.co/QXvdrgDH7n

— Hillary Clinton (@HillaryClinton) June 14, 2013
50 Years of LGBT Culture. 5 Minutes.
Thanks to gay activist and artist Leo Herrerra's The Fortune Teller, queer history is more accessible than ever. And quick. And easy.
"The story is told through the trance of The Fortune Teller (played by Stanley Frank) and created using archival and modern footage,wp_postsHerrera explains on his website. "The film is a documentary and time capsule, paying homage to psychedelic films of the 1960′s and the modern art of the YouTube Montage film. From Mapplethorpe to Lohanthony, Uganda to Burning Man, Vogue to Sissy Bounce, AIDS to The Berlin Patient, meticulously edited clips create a kaleidoscopic five-minute journey through more than 50 years of gay history."
Wineries Stand Up for Gay Marriage, Are Great Places to Drink
Stein Family Wines is giving up some big bills for gay marriage – but you have to give them those bills by buying their wine first. This sounds like a win-win, but here's the best part – they're not the only ones.
"Everyone should have the right to marry. Everyone should have the same rights as anyone else," said Matt Gold, a partner of Stein Family Wines, in an interview with The Sacramento Bee.

Same Sex Meritage joins a widening circle of wines specifically tailored to LGBT consumers, including the Genetic Pinot Noir from the Stand Tall Wine Co., which donates 1% of its proceeds to the Napa LGBTQ Project. One of the largest labels, Barefoot Wine & Bubble, has been donating to LGBT organizations for 25 years.

Biogio Cry & Estate Wines, a New York-based company, has also realized the economic benefits of endorsing LGBT causes. Its brand Égalité, a sparkling wine from Burgundy whose name translates to "Equality,wp_postshas pledged $1,000 donations to such groups as the Gay, Lesbian, and Straight Education Network, the Trevor Project, and the Ali Forney Center, in the hopes that same-sex brides and grooms will raise a glass of their bubbly at their weddings.

"We saw this as an opportunity to do well by doing good," Darren Restivo, a representative of Biogio Cry & Estate Wines, told The Huffington Post. "We're very confident people will respect it, and that's the important factor — the spirit and the respect. How can you push back on treating people equally?"
I'll drink to that.
Shiny Happy Puppies
C'MON GET HAPPY! These sixty puppies did, after all.