Welcome to This Shit Rules, wherein members of the Autostraddle team open up to you about the beauty products they couldn't live without.
---
I feel like my curly hair is both a blessing and a curse. Under normal conditions, it ranges thusly:
I mean, honestly, I'd probably bang any of those options. But most of the time I prefer looking like royalty to looking like an evil witch. After 27 years, I've finally located a handful of products that get me in Queen Guinevere territory, like, 85% of the time. And for curly hair, that's pretty good.
Here's what I use.
---
DevaCurl No-Poo, Conditioner, and Gel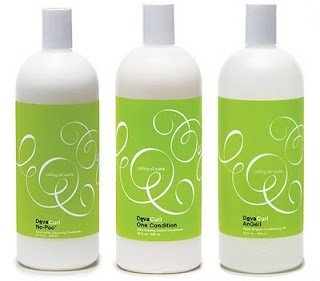 I love DevaCurl! The "no poo" cleanser is better for my curly hair because it doesn't use surfactants to make suds, which cause frizz. The conditioner is creamy and leaves my hair silky and moisturized. The gel is something I can pile on for control without worrying about flakes or stickiness. I used to use Ouidad (which is good too!) but I found I prefer DevaCurl's sort of nice, light grapefruit-y smell.
The line is kind of pricey, but the shampoo (er, not-shampoo?) lasts a really long time. Or it does if you only wash your hair occasionally, like I do. (It keeps it your curls from drying out! It's a thing!)
Buy It on Amazon: Trial Kit – 1 oz each of No Poo, One Condition and Light Defining Gel ($12.95)
Full Size – 12 oz each of No Poo, One Condition and Light Defining Gel ($49.16)
---
 Swissco Microfiber Hair Towel Plus Shower Comb
I generally use my fingers to create my part, but if you want to be more exacting than I am, a wide toothed comb like this is perfect for making straight lines. Do it while you're still in the shower with to avoid disrupting your hair's curl pattern once its already set.
Once out of the shower, a microfiber towel is awesome for keeping curls intact. Supposedly the texture creates less friction on hair and therefore causes less frizz. I'm not 100% sure if that's why it works, but I was seriously so surprised by how much of a difference this made when I switched to a microfiber towel instead of a regular towel to dry my hair.
Buy It on Amazon: 1 towel + comb ($7.08)
---
 Tangle Teezer The Original Post Swimming Detangling Hair Brush
I have one of these in pink and it lives in my shower. The short, flexible bristles are perfect for detangling my hair without breaking it. The shape also feels nice in my hand, and it gives a lovely scalp massage.
Buy It on Amazon: 1 brush ($8.99)
---
Hot Tools HTBW1852 Curly-Q Tapered Nanoceramic Curling Iron
For curls that need a touch up, this is the best curling iron I've ever found. The tapered head makes natural-looking curls that blend right in with my real curls. I definitely don't use it on a daily (or even weekly) basis, but when I need to make extra sure my hair looks good, this is my go-to tool.
Buy It on Amazon: 1 curling iron ($32.00)
---
Rhinestone Beaded Elastic Headband
Curly hair wants to be free! And sometimes, in spite of your most valiant efforts, it just will not do what you want it to. On days like these, I could use the curling iron to fix every last strand… but what I usually opt for is to pile my hair high atop my head and accessorize with a sparkly, beaded headband. I like it because it feels like I'm wearing a tiara, but it's actually socially acceptable to wear outside of a sweet sixteen birthday party.
This look is best paired with a solemnly regal air and flashing eyes that strike fear into the hearts of men.
Buy It on Amazon: 1 headband ($6.99)