Welcome to the 27th "This Business of Art / Media / Web Fix," in which I share with you things I read that I loved relating to the work I do here — online media, business, entrepreneurship, women in tech, start-ups, journalism, publishing, management, queer visibility, and so forth. You can expect this sucker to drop every-other Wednesday.
The past two weeks haven't been really big for the kind of stuff we talk about here, but I think I've found a reasonable amount of interesting information. You decide!
---
This Business of Being A Woman in Business
The Harvard Business Review's "boldness index" of Senior Executives determined that women rank a few points higher than men. Of course, their data set had twice as many men in it than women 'cause women are much less likely to be Senior Executives. I'm pretty certain the data looks this way because it takes an especially bold woman to even get the chance to become a Senior Executive, whereas men are able to rise to the top without that extra kick.
In Inc Magazine, the female CEO fired from Citibank's wealth management business (for advocating that some customers should be reimbursed for investments gone bad) talks about how Wall Street is failing women.
Oh and: if there's only one female candidate for a job and several men, there's no chance the woman will get the job. But um, the BBC pledges to make women half their workforce by 2020!
---
This Business Of Online Media
The New York Times on the alleged crisis facing big online publishers:
This month, Mashable, a site that had just raised $15 million, laid off 30 people. Salon, a web publishing pioneer, announced a new round of budget cuts and layoffs. And BuzzFeed, which has been held up as a success story, was forced to bat back questions about its revenue — but not before founders at other start-up media companies received calls from anxious investors.
This crisis is, of course, a result of ad-blockers and a "shift from an Internet of website to an Internet of mobile apps and social platforms." Consequently, it's predicted that in the first quarter of 2016, 85 cents of every new dollar spent in online advertising will go to Google or Facebook. This is especially unsettling news because in general, digital ad spending is way up. (Except right here, where it is way down?) Furthermore:
Liam Corcoran, NewsWhip's communications director, says that in recent months a wide range of publishers have called him to ask whether sudden drops in Facebook reach are widespread, and asking how they might be remedied — as if they were asking how to cure a disease.
"It's a doctor's office," he said.
How are these big media companies coping with the shift? Companies like Vox and Buzzfeed, who have lots of venture capital funding, are focusing on TV and film, while other companies like Mashable are focusing on Facebook and hoping that somehow money will appear. Thought Catalog's Chief Revenue Officer told The New York Times "we talk about our business as though we're in a shrinking market, and plan accordingly." We're also aware that we are in a shrinking market, but we're gonna just keep on keepin' on, y'all. Although I am very excited about a new header situation that should debut soon. I'm really excited about the new header.
Related, especially w/r/t the vast majority of Buzzfeed content:
 "Your problem is that you make shit. A lot of shit. Cheap shit. And no one cares about you or your cheap shit. And an increasingly aware, connected, and mutable audience is onto your cheap shit. They don't want your cheap shit. They want the good shit. And they will go to find it somewhere. Hell, they'll even pay for it."
Or, as The Next Web puts it, "If publishers hadn't let their digital properties become a cesspool of compost, ad blockers would never have seen the light of digital."
Some other popular sites are launching new initiatives: New York Magazine is debuting a new technology & culture site called Select-All today, which'll be headed up by former Gawker editor Max Read, inspired by the pop-up blog Following, which was about social media. Read says that unlike other tech sites, Select All will be looking at tech "from the culture side." Also The Verge is launching a gadget blog as a Facebook Page. I'm not sure what that entails. NYT is investing heavily in its global initiative.
The climate for smaller publishers is even more dire, and thus the conversation continues about how Medium could be the answer for small and mid-sized publishers who need full-time tech support but can't afford it (we're so blessed that Cee works part-time for us at a dramatically reduced rate). Also, Medium just raised another $50 million dollars and added some new people to their board.
+ Odyssey, described as being a bit like "a college paper on steroids," has over 10,000 writers between the ages of 18-28. These writers contribute approximately once a week and then distribute their own work for free around their own social networks. Despite possessing 30 million unique visitors a month and garnering a recent $25 million investment, these writers remain unpaid, a model which helped sites like The Huffington Post and The Bleacher Report succeed in a major way. Odyssey has 70 full-time paid editors, some paid copywriters, and unpaid "community editors" overseeing 10,000 articles per week. The founder stresses that Odyssey "isn't a media company, it's a tech company," with a focus on distribution rather than curation.
This business model seems built for college, where bright young writers are willing to swap their work for being edited and professionally branded (its intial incarnation was narrowly focused on Greek life). And indeed Lazerow says the majority of the writers are in college, though Burns stresses that they are expanding in other segments of the population as well.
+ Facebook has changed its algorithm again and this time the changes appear as if they will actually benefit sites like ours? Which hopefully will balance out the fact that we can't afford to do Facebook Instant (we need the traffic since advertising isn't our bread/butter) like other big publishers. But allegedly the algorithm will favor sites with high engagement, longer posts, and original content.
+ There's a petition to get WYNC to pay its interns more than $12/day. Now, WNYC isn't exactly buried in money, but I feel like if you're asking interns to basically work for free, you shouldn't be requiring them to work specific hours or show up in an office on certain days. Free work is what you fit in where you can, when you want to, I think.
+ Choire Sicha, co-founder of The Awl Network, is now Platforms Director for Vox, which he describes as his first real job. Melissa Bell, Vox Media's VP of growth and analytics:
"We care about brands at this company. And something the Awl did was set out to be that anti-authoritarian brand for the Internet. They came to be at a time when there was a lot of content farms on the Web and chaos and not quality work. He created a brand that had a very strong identity and kept that identity in a very smart way. But you almost have to have an expertise in all the things you're not doing to be that good at what you're doing. He built a successful business and not just with the Awl but the entire Awl network."
+ Gannett is angling to buy Tribune Publishing for $815 million dollars, which is apparently a "hostile" bid. I'm not entirely sure what this means, but it sounds like there is a lot of dramz. Gannett owns 12 percent of the total daily circulation market,
+ A 14-year-old wrote to The Financial Times to complain about gender stereotypes in their headline!
+ Why are turn-off-your-ad-blocker requests so polite?
+ Disney sold the rest of its stake in Fusion to Univision.
+ This guy realized that he only interviewed men for his pieces and then was like, hm, maybe I should go find some women to interview.
---
The End Times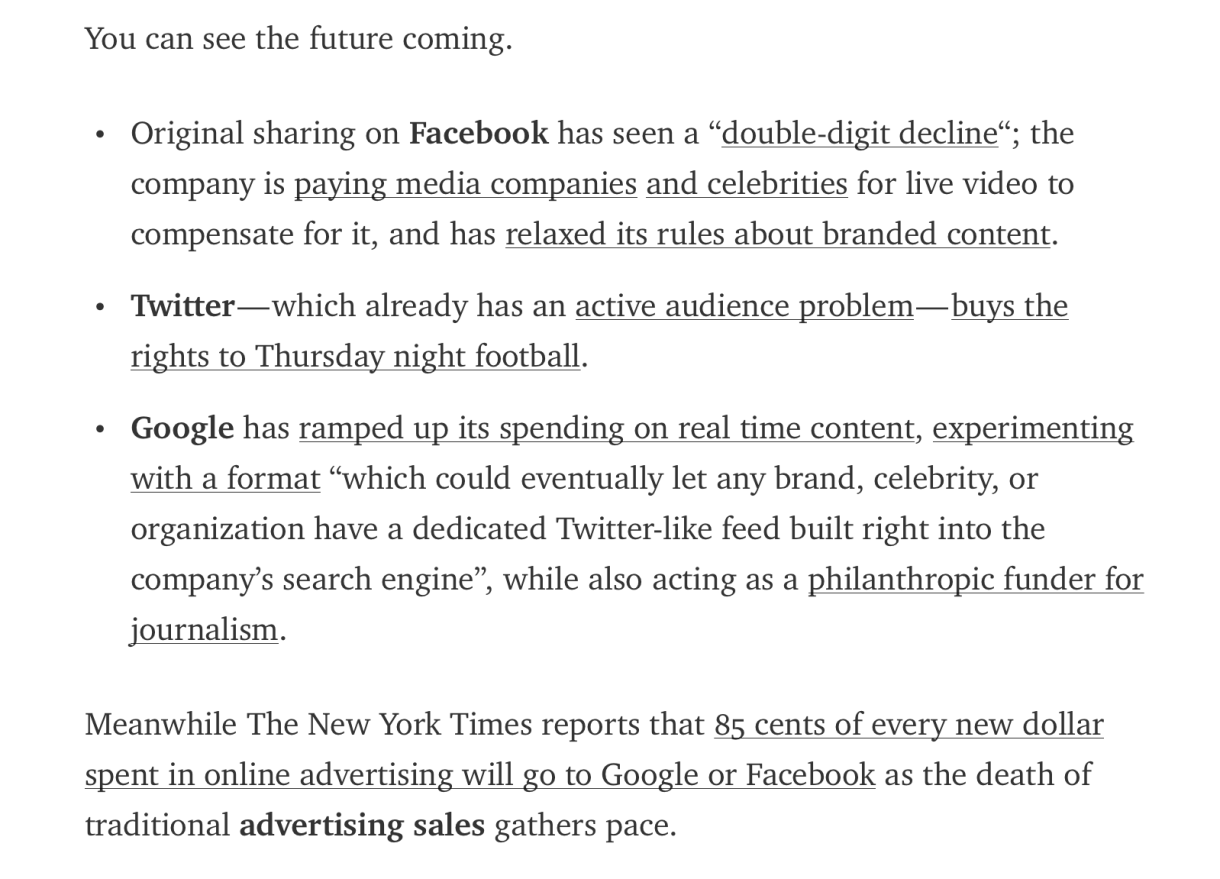 + The New York Times is shutting down its Paris offices.
+ Facebook is ruining everything.
+ Twitter's stock is plummeting even though it keeps adding new users.
---
Businesswoman's Special
+ if you are good at being serious about life, here's a 10-minute pre-bedtime trick for you
+ seven habits you learned in high school that are crucial for work success
+ 8 ways to mentally recover from getting laid off
+ how an introverted engineer learned to lead
+ dyson is releasing the world's most expensive hairdryer
+ what to do when you hate your job and you don't have anything else lined up (yet)
+ 5 tips for keeping small teams efficient
---
FYI, until May 1st, we're still taking applicants for the Business Director position.