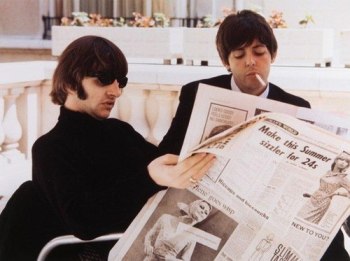 HELLO and welcome to the 96th installment of Things I Read That I Love, wherein I share with you some of the longer-form journalism/essays I've read recently so that you can read them too and we can all know more about Dave Chapelle! This "column" is less feminist/queer focused than the rest of the site because when something is feminist/queer focused, I put it on the rest of the site. Here is where the other things are.
The title of this feature is inspired by the title of Emily Gould's tumblr, Things I Ate That I Love.
We're at A-Camp this week so my reading has been a bit frantic and pretty "light" (not a lot of investigative journalism this week), but it's kinda a miracle I'm publishing this at all, so I hope it's okay!
**If He Hollers Let Him Go (September 2013), by Rachel Kaadzi Ghansah for The Believer – A really really interesting well-written in-depth look at Dave Chapelle's career, race, his family, his politics, Negritude, his family, comedy, black comedians, and Yellow Springs, Ohio.
Confessions of a Spoiler Whore: The Pleasures of Participatory TV (April 2004), by Emily Nussbaum for Slate – An early piece by the incredible television writer Emily Nussbaum, back when Joss Whedon was all up on the Buffy boards and Television Without Pity was just taking off. It's an argument in favor of how the internet has improved television.
Second Life's Strange Second Life, (September 2013), by Chris Stokel-Walker for The Verge – It seems like everybody was talking and writing about Second Life a few years back, but not so much lately. This article looks at the people who are still as involved with Second Life as they've always been, or passionate late advisors.
Those Calls Had Come Before: An American Love Story, by Candace Mitchell for Gawker – "Whether this slips into memoir, political essay, or eulogy, you should know that the story Danielle and my Baby Sis has always been, an cracked around the edges, too black, too queer, too short, more hospital room than beach at sunset, American love story."
The Sweet and The Dry (September 2013), by Jason Wilson for The Smart Set – I have trouble reading about wine because everybody is SO SERIOUS ABOUT IT. But I really like Riesling so somehow I read this entire weird thing.
4-Chan Camgirl Loli-Chan Grows Up (October 2013), by Allie Conti for The Miami New-Times – "Way before sexting became the topic of national conversation, girls like Loli were setting the prototype for self-exploitation. And because they did so in the nascent days of the internet, no one could have anticipated the consequences. Today, entire academic journals exist to study the effect of the web on attention-seeking kids, but nothing like that existed even a few years ago. The Chans provide pretty much the only longitudinal study on the fallout of oversharing."
The Campy TV World of Ryan Murphy (November 2012), by Emily Nussbaum for The New Yorker – UM HOW DID I NOT KNOW ABOTU THIS ARTICLE BEFORE? It's genius and it makes Ryan Murphy's whole situation make so much more sense, while not letting any of his show's complete entire failures off the hook. It's interesting to think about his work in the greater world of gay male camp culture.
How to Design a City For Women (September 2013), by Clare Foran for Atlantic Cities – How Vienna made cities that work by listening to women tell them how they used cities, and seeing how boys and girls played differently, and how the whole world would be better if we all could be more like Vienna.
Northwestern's Journalism Program Offers Students Internships With Prestige, But No Paycheck  – by Kara Bradeisky for ProPublica – This is part of ProPublica's larger look into internship programs — what kids are paid (if anything), what they learn, how Universities are complicit in what often amounts to exploitation.