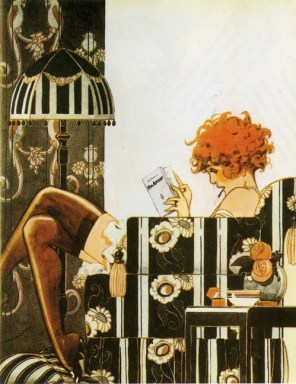 HELLO and welcome to the 61st installment of Things I Read That I Love, wherein I share with you some of the longer-form journalism/essays I've read recently so that you can read them too and we can all know more about Richard Pryor! This "column" is less feminist/queer focused than the rest of the site because when something is feminist/queer focused, I put it on the rest of the site. Here is where the other things are.
The title of this feature is inspired by the title of Emily Gould's tumblr, Things I Ate That I Love.
The Art Of Omission (January 2013), by Simone Gorrindo for Vela Magazine – "I've told a lot of harrowing stories about those four months in Indonesia, but this is the part I always leave out, the detail that undoes the narrative I've spent the better part of my adult life trying to construct: Throughout it all, I was in pain. Throughout my entire adult life, in fact—eleven years—I've been in varying degrees of it, sometimes crippling, other times a low hum that has become the background noise of my life."
The day I saw 248 girls suffering genital mutilation (November 2012), by Abigail Haworth for The Guardian – This was not an easy thing to read. "In 2006, while in Indonesia and six months pregnant, Abigail Haworth became one of the few journalists ever to see young girls being 'circumcised'. Until now she has been unable to tell this shocking story."
Extinguishing Features: The Last Years of Richard Pryor (May 2007), by Julian Upton for Bright Lights Film Journal – The guy who wrote this is like an expert on stars who have experienced tragic downfalls, I guess. Anyhow, this is the life & career of Richard Pryor, arguably the best stand-up comedian of all time, from his early groundbreaking days to his struggle with drugs and then MS and his film career. This is not mentioned.
The Price of a Stolen Childhood (January 2013), by Emily Bazelon for The New York Times Magazine – On the new practice of demanding fianancial restitution from child pornography viewers for the victims pictured in those images. It focuses on two girls specifically who lived through some horrific shit as kids and now have to relive it every time their picture is downloaded to another hard drive all over the world.
Not an Ike and Tina Thing (March 2012), by Eva Holland for Vela Magazine – Having been there and done that, this really resonated with me – "I no longer felt confident that I was doing the right thing…in imaginary conversations with my friends, I no longer replied "You just don't understand" when they told me to cut all ties. I now answered silently, "You're right." But at the same time, I felt less able than ever to leave. He needed serious help – and given his paranoia, his distrust of the medical system, his alienation from old friends and family, there was nobody but me to give it."
Live on TV: The Fall of Greece (December 2012), by Chris Heath for GQ – I did not know about this — a representation of fringe political group Golden Dawn threw water in a female politician's face and punched another female politician on live TV and his party is totally okay with it. – "We already knew about the economic crisis, the mass unemployment, the riots. But this summer we saw the tensions and turmoil of a nation erupt in a single act of startling violence on a morning television program. Within days, it was beamed around the world. Chris Heath uncovers the truth of what happened in that TV studio, a cautionary tale not just for the future of Greece but for the rest of us, too"
Smog & Sympathy (June 2011), by Karen Tongson for You Offend Me You Offend My Family – "Like any good Pinay, for me karaoke isn't just a drunken, weekend recreation. It's a belief system. A world-view. It's therapy, pedagogy and seduction all rolled into one—though thankfully these things don't always happen simultaneously. The Smog serves it up six nights a week."
Inside Disney's New Fantasyland (December 2012), by Stephanie Rosenbloom for The New York Times – I don't know if I've mentioned this but I LOVE DISNEYWORLD. Also obvs I'm upset to hear that the spooky-as-fuck Snow White ride has been retried but pumped for Ariel's Grotto.
Dispatch From Angola: Faith-Based Slavery in a Louisiana Prison (August 2011), by Liliana Segura for Colorlines – Where most inmates work in the fields eight hours a day, locals flock to the Prison Rodeo (which opens with a black inmate on a horse carrying a Confederate flag while The Book of Revelations is quoted over the loudspeaker), and at least 90 percent of inmates will die there. Including probably the two guys who've been in solitary for 40 years.
The Strange and Mysterious Death of Mrs Jerry Lee Lewis (February 1984), by Richard Ben Cramer for Rolling Stone – Um, how is this guy still alive and not in jail? He abused his wife, pretty clearly killed her, married a 13-year-old when he was 22, did shit-tons of drugs… ugh  I hate the world of rich white men who protect each other from paying for anything ever. Here's a quote for you: "They'll never bust [Jerry Lee Lewis] in DeSoto County. That's like bustin' Elvis in Memphis. Never. Never. And you can quote me on that.""