Welcome to the 317th episode of Pretty Little Liars. Wait, that's not right. The 17th episode of the third season of Pretty Little Liars— there we go– the only show on television where the time frame is so warped that the writers have committed to completely ignoring weather/seasons. This week something so gay and exciting happens that I don't even want to waste my time with build up.
We open on on the lovestruck town of Rosewood to Spencer and TobAy doing making the beast with two backs.
Wait…. didn't our big reveal just happen last episode?! Oops! It did. This is just the worst dream sequence ever.
This is how you do a dream sequence:
Elsewhere, Aria is still on that goddamn couch! This is just like that time Melissa wouldn't get off the couch. She was pregnant. Just saying. Aria talks on the phone with Emily about whether or not to tell Spencer about Melissa being at Ali's the night of her murder. The two are dead set on believing Byron even though he's a ragehead who they thought killed their BFF last week.
Emily's mom is back on salary and appearently working at the police station now. Isn't that convenient/going to go terribly wrong.
On a potentially related note, the family of Nate aka Lyndon Jame aka that creep from earlier in the season sent Emily a box.
It's a collection of every super lezzie birthday card, love note and life sized cardboard cutout Emily ever gave Ali. Ooooh and a notebook! Isn't that every teenage lezzie's dream? To have all your unrequited love shoved back in your face? Classic. Particularly since this means Lyndonate had his little mitts all over them.
Starsweep to the Marin residence where it looks like all the moms are on salary this week! Ashley checks in on how Hanna's doing. Probably because Hanna has been insisting on sitting alone in the dark. Hanna is doing bad, what with the whole MonA thing.
Ashley is nervous about the MonA situation and wants to call the principal, but unfortunately Hanna won't give her the go ahead. I mean, that would be, like, so totally embarrassing. Hanna is actually shockingly honest with her mother. While she doesn't tell her about the new A notes, she admits she's worried Caleb will do something stupid trying to protect her.
Starsweep to Aria's again where Meredith's "motive" is revealed. Surprise! Her motive is that she's just totally crazy. Seriously, they didn't give her any other motive. Not even a drug problem or thinking she would somehow get in trouble with the police. Not even a hilarious miscommunication a la Spencer's Dad Think Melissa Killed Ali from last season.
I hate when women's motives are just craziness. That's so lazy. Byron's all, "She shouldn't be anywhere near my family," and Aria is all "coolbeans let's try not to get dead, cool?"
There's also a super emotional part where Byron shares all the feelings about not protecting Aria well enough. I tuned that part out because I really couldn't care less about the adults on this show. Where are the titties?
The next day, Aria, Hanna and Spencer walk to get coffee together before school at approximately 4:30 am. Hanna is particularly excited to tell the girls about her new gig as a 70s lounge singer. It becomes instantly clear that Spencer hasn't told her friends that she knows TobAy is A. You can tell Spencer is emotional about the whole thing because for the first time ever Spencer's hair doesn't look washed and her shirt is so not tucked in. Spencer's hair at its dirtiest is still pretty perfect.
The liars meet Emily outside the Life Cafe where they go through Ali's old stuff. It includes Emily's bio notebook which Ali borrowed. I know I always like to review a little miosis before sneaking out and getting murdered. The girls flip through the notebook and discovered Ali was doing that thing where you write notes back and forth on the same notebook. Like with a friend or scissoring partner. There are notes back and forth between Ali and someone else, mostly detailing the elaborate Truth or Dare game Ali had been playing with some Beach Hottie. The girls don't know who Ali was writing with, but there's something written about TobAy.
If you're like me, you probably really really want to see what's written in the notebook. So here it is. Honestly I'm not sure it reveals much of anything but it's weirdly gratifying to read anyways.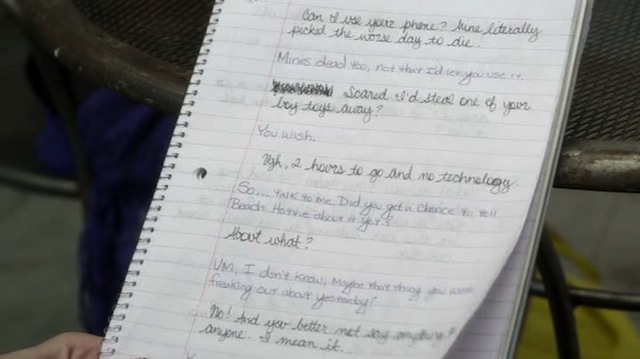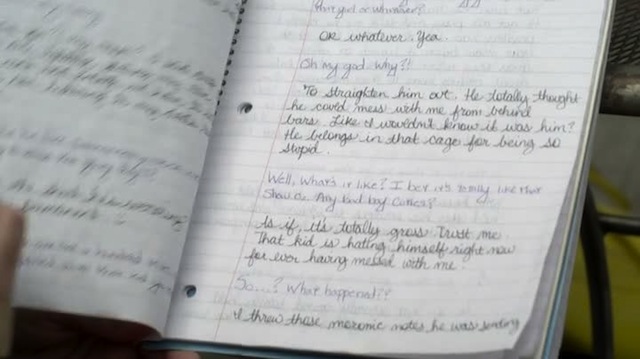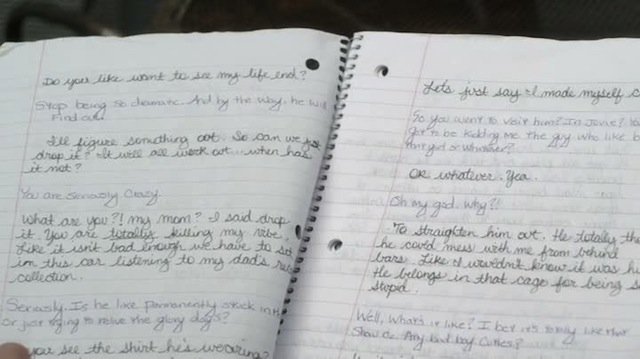 At school, everyone is on their cell phones dialing the phone sex psychic hotline. Hanna is all about eavesdropping. Hanna overheads Aria telling Ezra to come by at lunch. She suggests Aria just rip the baby band-aid off. She also overhears Paige on the phone with Caleb.
In the hallowed stalls of the girls bathroom, Emily tracks down Spencer. She tries to tell her about the notebook but Spencer doesn't give a shit anymore because she's totally busy pulling a Twilight: New Moon and not speaking to anyone ever. At least until she meets her new werewolf bestie. Not that I read those books.
Emily finally convinces Spencer to read the portion of the notebook where it talks about TobAy. Cue the pastels. We flashback to Ali's meeting with TobAy while TobAy was in juvenile detention. Ali confronted TobAy about the notes from A, which he denied writing. He does say he wishes he knew who had because he would totally offer his services to them. Seriously he said "services." I assume he means BJs and stuff. Oh and Ali also was also all like, "I bet you wish you could kiss my face."
It's a whole thing but, like I've been saying, I just don't care about Ali anymore. Also the costume designer took her cue from Half Past Dead.
Spencer cries and tells Emily the truth about TobAy. Just kidding, she tells Emily that she and TobAy broke up but doesn't give any details. Then she flips out about Ali.
In class, Aria texts Spencer that Ezra freaked out and dumped her. Spencer reacts by completely losing her shit and storming out of class. Ella, who is there by magic, tries to stop Spencer. Instead of coming up with literally the thinnest lie she would need, "OH MY GOD. MY PERIOD," Spencer screams at Ella/the class about how reading is dumb and a waste of her time. It is, quite literally, the least Spencer moment of all time.
Spencer finds Ezra using his laptop alone in the middle of the park. Because that's a thing people do. Spencer goes off on him about what a horrible terrible no good awful person he is for dumping Aria even though all she did was lie to him for months about the existence of his son. It is instantly clear that Ezra has no idea what Spencer is talking about. Like instantly obviously Ezra has no idea. Fucking A strikes again. That girl is good.
At work/the police station, Emily's mom asks the police officer if she should be worried about the package. I'm unclear exactly what Pam's job is. For some reason I thought she worked at the Banana Republic.
An officer, who I think is supposed to be Detective Wilden but I'm not sure – Is this the same actor even? – Wilden claims that he knows what Emily went through. I guess he also killed someone in self defense. Weirdly he just seems to be trying to lead Pam into saying Emily killed Lyndonate. Or maybe he just has a lot of feelings. I don't feel bad for him at all because I saw the first two seasons of this show where he was an assface.
Meanwhile, the younger Fields does some digging of her own. Flipping through Ali's notebook she finds a picture of Ali and Cece at Cape May.
Remember Cece? She owns a clothing store and spends her time getting involved in high school drama that probably shouldn't concern her. So basically she's like every other 20-something year old in Rosewood.
Ezra, unable to wait until 2:20pm when high school lets out, finds Aria at Rosewood High. He confronts Aria about the big baby situation. My favorite part is how after over a year of trying to cover up their relationship Ezra does basically his best to blow it by obviously having a lover's spat in the cafeteria. Ezra is, of course, pretty pissed about the whole not telling him about his son thing. Oddly he refers to Aria as "the person I'm spending my life with." Ezra may or may have not just officially joined the Lesbian Club. I will say, for the record, Ezra does the angry/disappointed thing without turning into Scary Angry Man. I appreciate that.
I can't believe an entire page worth of stuff has gone by and it's not even 2:20pm yet!
Pages: 1 2 See entire article on one page