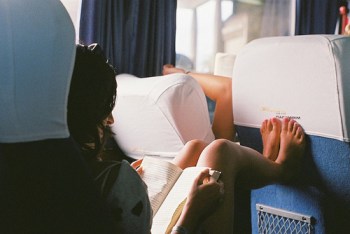 HELLO and welcome to the 53rd installment of Things I Read That I Love, wherein I share with you some of the longer-form journalism/essays I've read recently so that you can read them too and we can all know more about Mormon Fundamentalists and people who don't feel pain! This "column" is less feminist/queer focused than the rest of the site because when something is feminist/queer focused, I put it on the rest of the site. Here is where the other things are.
The title of this feature is inspired by the title of Emily Gould's tumblr, Things I Ate That I Love.
When Books Could Change Your Life (September 2008), by Tim Kreider for City Paper – About why we'll never love anything as much as we loved Little House on the Prairie. 
Freedom High (May 2008), by Pam Houston – this is really good! "If there isn't time, what is there? Simultaneity? Collective experience? One long continuous present tense? One day you receive an e-mail inviting you to write an essay on the subject of Prom. But I didn't even go to my Prom, you are thinking, reading the e-mail, and that is the moment Prom loses whatever essential meaning it may have started with, and begins its long transmutation into something else."
Columbia's Gang Scholar Lives On The Edge (November 2012), by Ariel Kaminer for The New York Times – "Some of his peers say that in search of a broader readership he takes liberties not appropriate for a scholar: sensationalizing his experiences, exaggerating the reliability of his memory and, in one case, physically assaulting someone. Others who might not have attracted mainstream attention say he steps too eagerly into the spotlight."
Persistent Genital Arousal Disorder Brings Woman Agony, Not Ecstasy, by Leonora LaPeter Anton for The Tampa Bay Times – The woman who this article is about killed herself before it came out — after enthusiastically thanking The Times for the story and hoping it would help her case. Unfortunately, she didn't live long enough to hear from the doctors and other women with the same condition who contacted The Times in hopes of getting in touch with her. It's heartbreaking all around.
The Hazards Of Growing Up Painlessly (November 2012), by Justin Heckert for The New York Times – About the rare situation in which a human being is born without the ability to feel pain, which seems cool until you remember that means your body doesn't warn you that your hand is about to burn off.
I Pretty Much Wanted to Die (November 2012), by Alan Sepinwall for Grantland – So we just finished watching all six seasons of LOST in a month, clearly this article could not possibly come at a better time. It also inspired me to buy the book.
The Man Who Charged Himself With Murder (November 2012), by Jennifer Gonnerman for New York Magazine – Trevell Coleman, who once had a rap career alongside Puff Daddy, was haunted for years and years with the memory of a holdup in which Coleman, a drug addict at the time, may have killed the person he was mugging but never knew for sure. Eventually he turned himself in to see if he could find out what happened.
White Hot Trash! (August 1994), by Tad Friend for New York Magazine – This is an interesting artifact from the New York Magazine archives which discusses Tonya Harding, Paula Jones, Joey Buttafuco, Amy Fisher, Roseanne, Howard Stern, etc etc. The article quotes people like Mike Judge… and Dorothy Allison.
The Crash of EgyptAir 990 (November 2001), by William Langewiesche for The Atlantic – "Two years afterward the U.S. and Egyptian governments are still quarreling over the cause—a clash that grows out of cultural division, not factual uncertainty. A look at the flight data from a pilot's perspective, with the help of simulations of the accident, points to what the Egyptians must already know: the crash was caused not by any mechanical failure but by a pilot's intentional act."
The Courthouse Ring (August 2009), by Malcolm Gladwell for The New Yorker – "Here is where the criticism of Finch begins, because the hearts-and-minds approach is about accommodation, not reform. At one point, Scout asks him if it is O.K. to hate Hitler. Finch answers, firmly, that it is not O.K. to hate anyone. Really? Not even Hitler?"
Under the Banner of Heaven (July 2003) by Jon Krakauer – "Although religious devotion is commonly extolled in this country, it has a troubling aspect that is often ignored or denied. As a means of motivating people to be cruel and inhumane—as a means of inciting evil, to borrow the vocabulary of the devout—there may be no more potent force than religion. When the subject of religiously inspired bloodshed comes up, Americans immediately think of Islamic fundamentalism, which is to be expected in the wake of the September 11 attacks on New York and Washington. But men have been committing heinous acts in the name of God ever since mankind began believing in deities, and extremists exist within all religions."