Vicci Martinez burst on the national landscape last Spring when she made it all the way to the final four of NBC's saving grace, The Voice, under the thoughtful coaching of Cee-Lo Green.  Interestingly, this wasn't Vicci's first shot at stardom – she auditioned for American Idol when she was just 16, during the Kelly Clarkson-winning premiere season. However, after careful consideration, she declined the offer to go through to Hollywood and instead spent the next 10 years as a road musician, independently writing and recording six solo albums and building a passionate Pacific Northwest fan base.
Golden opportunity number two presented itself last winter when she got the call to audition for a new singing competition presented as a potential Idol-killer. Within five minutes of appearing on The Voice, she introduced her then-girlfriend to host Carson Daly, immediately separating herself – and The Voice – from the hetero-until-competition-over Idol legacy. In fact, Vicci was one of four openly gay contestants during the debut season in 2011. Her crowd-pleasing performances of  "Rolling in the Deep," "Dog Days Are Over," and "Jolene" helped her climb all the way to the final four and secured her a major label record deal on Universal Republic, which released her brand new album, Vicci last month.
I chatted with Vicci about turning down American Idol, coming out, her musical guilty pleasure and of course, The Real L Word.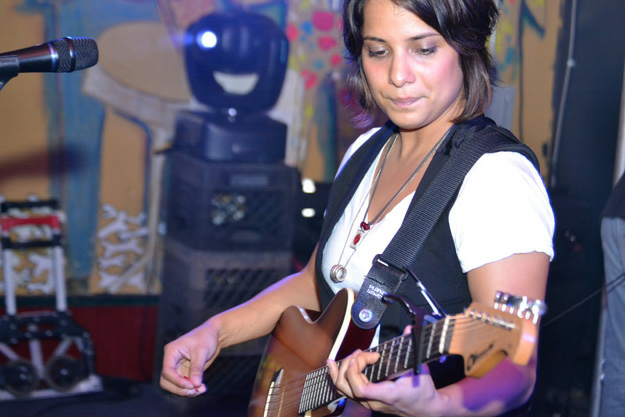 The story goes that you auditioned for American Idol during the first season and made it through to Hollywood but declined… How did you come to that decision?
Yea, I think that huge contract at first was kind of a little scary for me.  Not only that, but I realized I was 16 and I just needed to grow up a little bit. I didn't know what the show was going to be because it was the first season.  I wasn't sure what would end up on TV or not so I didn't want to misrepresent myself. I wanted to hone in on my craft a little more.
And you had said something that there were restrictions on your makeup and wardrobe. Is that true?
Well, when they passed me through to Hollywood they told me that I needed to go shopping and look more like a "rock star" and all this stuff. And I was like "Nah, I'll be myself."
That's a huge leap of faith, putting it on hold. You obviously didn't know that another opportunity that big was coming down the line. Did you have any regrets once you saw how many stars were coming off of Idol?
Well, at first I was definitely really sure of my decision. It wasn't until literally a few months before The Voice came out that I was talking to somebody and saying "Man, I wish there was another show." I was like, "look at all these people that are doing well from talent shows." So I wished there was another show I could do that wasn't as… I don't want to call American Idol cheesy, but it's just a bunch of the same thing over and over. I wished there was a show where I could be myself and talk about my life and who I am as a singer and be able to show the world that I can sing and write.
Adam Lambert and Clay Aiken came out after they were off the show but there has yet to be an out Idol contestant while the show is on. Did they say anything to you about being gay?
Well, at the time when I was sixteen I hadn't even come out so I wasn't about to do that on TV to my parents! [laughs] That's something that I would do on my own. When I auditioned for The Voice, that's part of what got me through. I was like well, this is who I am and they actually wanted me to talk about it on camera, so that really made me want to be part of the show.
How did you choose Cee-Lo as your coach?
I've always been a huge fan of both Cee-Lo and Christina but the strategy was that I felt like everyone who was going to be on Christina's team were going to be crazy diva singers.  I haven't really been trained as a singer. I just kind of sing what comes out naturally so I didn't want to have to compete against these huge female singers on her team.
I'm curious about Cee Lo. What is his deal?
He's his own entity. He always dresses up as a character or something different for every performance. It was interesting the way he performed with me on The Voice. He just did his own thing and wore a suit.
His flamboyant performance nature reminds me of Elton John in a way.
He would probably be honored to have you think that!
In the early years had any representatives asked you be quiet about the gay thing?
No, not really. I mean my first manager was Bill Leopold and he managed Melissa Etheridge so that wasn't really a factor. Mostly because I never made it an  issue for anyone to have a problem with it. It was just kind of like "Well, this is me. If you don't like it then we aren't going to work together."
How is this record different from the eight albums that you had produced independently?
I was with a label on this record so I definitely had a lot more financial support. When I was on my own I used to take a week in the studio and be out because I couldn't afford any more than that. The biggest difference this time around is I really got to take my time. I'm bringing the experience of making past albums and touring all these years and everything I've learned to this album which is really exciting. As far as the sound, I like electronic music, I like dance music, I like reggae. I like nice, soft ballads and everything. I got to do all that in this album so it's a product of what I've become.
What would you say is the most personal song on the record?
I think it would be a song called "Let Go," which was a ballad that I wrote about my father who passed away. And it was just kind of a song basically talking about the evolution of who we become after losing somebody and just coming to terms with that and to let go of the situation. You never really let go of the person and them being a part of you, but just letting go of the sadness and all the negative things that come with losing somebody.
Do you have a dream collaboration who you'd  love to write a song with?
Man, there's so many people. Shit. [laughs] I always thought doing something with Eminem would be cool.
Oh wow! That'd be awesome.
Yeah. I think he's a great rapper, but I like the things that he talks about. And you know there used to be a point where I used to think that things were so negative but he kind of reminded me of Tupac. I feel like Tupac…I mean that's somebody who I would have loved to collaborate with. But at the end of his years I feel like Tupac was starting to talk about things and was bringing awareness to so many situations and I think Eminem has the ability to do that and I would love to do something like that with him.
Growing up was there a singer or an album that just completely blew you away and really changed your life?
There were many, but I have to say Michael Jackson's Thriller. My parents bought the record and I just…it was just something that I listened to over and over and every single song…I just love the music on that album and it inspired me so much. I didn't know much about him and who he was. I was young. I just knew that he was an amazing singer that made an amazing album. I felt the authenticity of it.
What are you listening to right now?
Last night I was doing Passion Pit Pandora station. Gosh. I'm listening to Janelle Monae recently and, of course, Bob Marley, Paul Simon. I'm in LA right now so I'll be spending days living like a Bob Marley song. [laughs]
Do you have a favorite song that's current, on the radio right now?
Don't make fun of me.
I won't.
[laughs] And I'm just being completely honest, I'm not even going to try to sit here and try to give you a cool answer. I'm just going to own up to it. This is pretty funny…I just downloaded Katy Perry's album on Spotify. And I was like "oh, I already feel like I've listened to the whole album" because every single song on there was a single on the radio and then there's a song called "Wide Awake" and I was like "yeah, I fuckin' love this shit." It's great. And then I was listening to it over and over. My friends are like "Dude, what the hell? Turn this off." And I'm like "shut up. This is great." And then literally the next day I turn on the radio and it was Katy Perry saying "Hey, thanks for listening to Shoobie Doobie. This is my new single 'Wide Awake'."
That's so funny.
Another single. Yeah. so that's my guilty pleasure.
I thought that you were going to say the Justin Bieber song "Boyfriend!"
[laughs] No, Katy Perry wins.


Did you watch Season 2 of The Voice?
Yeah. Absolutely. I went to some of the tapings, too, and got to perform "Come Along."
[yframe url='https://www.youtube.com/watch?v=xxkyBqGBPfE']
What was your take on the whole Christina / Tony Lucca controversy? Did he pull her hair in The Mickey Mouse Club and she's still pissed at him?
I will go with you on that. Maybe she liked him when they were younger and he wouldn't give her the time of day. Those are things that as we grow older and evolve into mature adults…when you see somebody that broke your heart or did something rude to you when you were younger it always still hurts. It always does. "Oh yeah, you didn't call me back." Who knows, maybe he didn't call her back.
It was a little strange when Christina went after him saying he was disrespecting women when he performed the country version of "99 Problems."
Honestly, I didn't see that performance. I mean it's a song. What's cool about The Voice is you got to know these people. You got to see them their families and their kids and clearly he's a good family guy. And I met him, you know. He's a really sweet guy. So it was just a song. It wasn't him trying to be an asshole.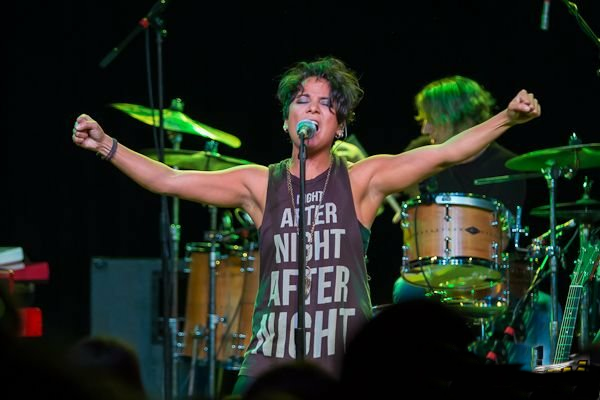 You had said that you were considering presenting "Come Along" to the Obama Campaign. What's the meaning behind the song?
I'd love to let Obama use it in his campaign but I have no idea how to do that! For me it's a song with meaning and I don't want to tell people what to use it for, but really for me it's telling people who are sitting on the couch letting everybody else make decisions for them to get up and start making their own decisions. That is what that song comes for me and I think it would be perfect for an Obama campaign. Like, get up and make a choice, whatever it is.
What are your thoughts on the upcoming election?
I'm scared, but, of course, I would love Obama to get some more time to do some things that I've very sure he wants to do.
[yframe url='https://www.youtube.com/watch?v=MWABLPSDFmg']
Would share your coming out story with our readers?
Sure… Basically it started with me actually at church and they were talking about living with secrets and how bad that is for a person. Then they were talking about heaven and hell and all this kind of shit. I had already been debating when I was going to tell my family.  Literally after that evening on the way home I told my parents that I had a secret that was making me sick inside and that I needed to let it out. And that's what it was.
I was with a girl and my dad was just like "I don't want you to be with anybody. I don't want you to be with a girl, a guy or anybody right now. I just want you to grow up because you are making decisions based on this girl." Blah, blah, blah. And he was like, "Honestly, I don't want you to bring this lifestyle in my house." So, I was seventeen and I left the house. I don't want to say I was kicked out, but had it come to that…and I never went home. He got over it a year later but he didn't talk to me for a year.
Wow. And how did your mom react?
My mom went along with my dad but she would secretly pay for my allergy medicine and my contacts because I couldn't afford it. And she would meet up with me secretly and buy me a new toothbrush and all those kind of little things. She would put little packages together for me to have. When my mom and I had some real talks about it she even said her heart broke when my dad kicked me out.
Your mom sounds like a really good person. 
Yeah. I agreed with my father just saying don't give up your whole life right now for a teenage relationship. Let yourself grow up a little bit more. I don't disagree with him on that. I'm saying the same thing to my niece right now who's graduating from high school talking about wanting to get married. [laughs] She's the same as me. But as you know, in those years after high school you figure yourself out. I don't know what I would be if was married to my first relationship.
Is it true that you are engaged?
No,  I'm not engaged anymore…. It didn't work out.
I'm sorry to hear that. So you're single right now.
That's OK. I'm dating, but I'm not as crazy official as I was in my last relationship.
How is it dating now that you have this level of fame?
I'm sticking to people who don't know me from the show. Right when I got off the show everybody wanted to be my friend and I could see right through all of that so I'm pretty good about picking people out and knowing who's basing their friendship or relationship with me on one thing.
[yframe url='https://www.youtube.com/watch?v=ESaLaIUOksw']
Do you have a favorite lesbian movie or TV show?
Well, the first movie that gave me that tingle [laughs] was definitely Gia.  That was the first one. I was younger and I was like "Ah. For some reason I feel weird when I watch this. And I have to lock my door so my mom doesn't come in." [laughs] I'd go with that.
Do you watch The Real L Word, the reality show?
Yeah. [laughs]  I just watched a couple of episodes. My friend, Jaq, was on…I forget the episode…I guess she worked with the girl with dreadlocks so she was in a couple of the episodes with her.
What did you think of the show?
Well, I liked it. I would have watched more if I wasn't just watching the ones that she was on, but I like The L Word so watching The Real L Word was cool. I wonder if some of that drama is sometimes fabricated, but according to Jaq it's not. So that was pretty interesting.  I'm like wow, I'm not that dramatic with my friends.
Pages: 1 2See entire article on one page