The USWNT pulled off an incredible feat this past weekend, not only capping one of the hardest final legs to victory ever, but making the president of their own country (who was rooting against them???) eat it on Twitter. That it was led by veterans and out lesbians Megan Rapinoe, Ashlyn Harris and Ali Krieger, celebrated with players running to kiss their girlfriends in the stands, and backed by millions of women of all orientations begging for the team to step on their necks is a gift that only the power of Christine Baranski screaming gay rights can give.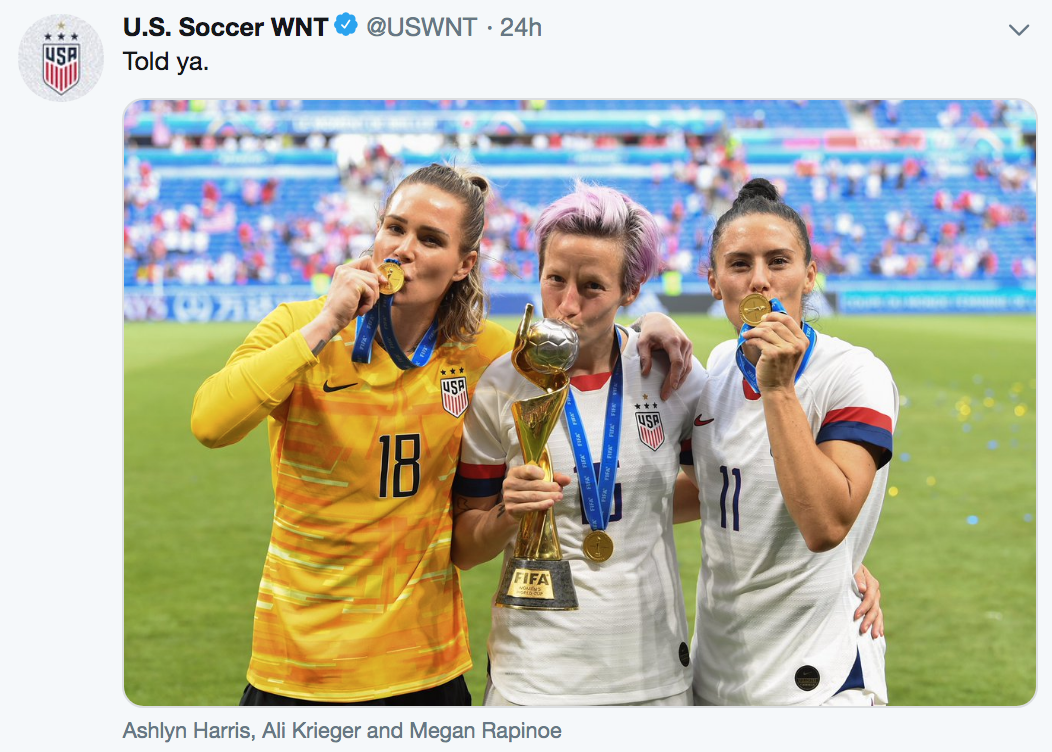 If it was all too much to handle, Rapinoe did warn us. "Go gays. You can't win a championship without gays on your team," she said in an interview days before the final. "It's never been done before. Ever. That's science right there."
The "never" in that quote is an important inclusion there, especially considering the USWNT's three previous World Cup championship wins. Because save for Abby Wambach's wonderful array of undercuts and unabashed alignment with the LGBTQ community, the USWNT in its previous iterations has mostly been a sea of ambiguity. Sure, those of us who knew, knew, but until now it's never been such a free-for-all of gay chaos™.
For women's soccer, that's saying something. I can say that because I played! Which means none of you can be mad at me!
Here it is in higher quality 😭 pic.twitter.com/m0VgWU9yq2

— emily (@meandthegwb) July 7, 2019
Joining the ranks of out USWNT members yesterday was Kelley O'Hara, who was one of those players running to kiss their girlfriend in the stands. With that, my friend and I did some light accounting and calculated queer woman making up about 30% of the USWNT roster. Being watched in a final with more viewers than the 2018 men's final.
It would be tempting to say that the numbers don't matter, but putting myself as a kid watching my idols win the 1999 World Cup in the shoes of kids watching their idols win the 2019 World Cup, whew does it matter! May Carol Aird be waiting for you all with a martini in hand.
And for the rest of the USWNT team who confusingly choose not run to the stands to kiss a hot woman in celebration, well, like Alyssa Naeher standing in front of a penalty kick, we can dare to dream.