When I loaded up Pokemon Violet onto my Nintendo Switch last week, to download the game's first little DLC, I was shocked by how excited I was to find myself back in Paldea. I put a hundred hours into the game when it came out last November, but it turns out I was hungry for more. Super hungry. Miraidon-staring-down-a-sandwich hungry, in fact. I've already logged another 30 hours, even though The Teal Mask isn't a huge addition to the game, land-wise. It takes place in the landlocked Kitakami region, which has more real-life Japanese influence than really any of the other games so far. Very cool.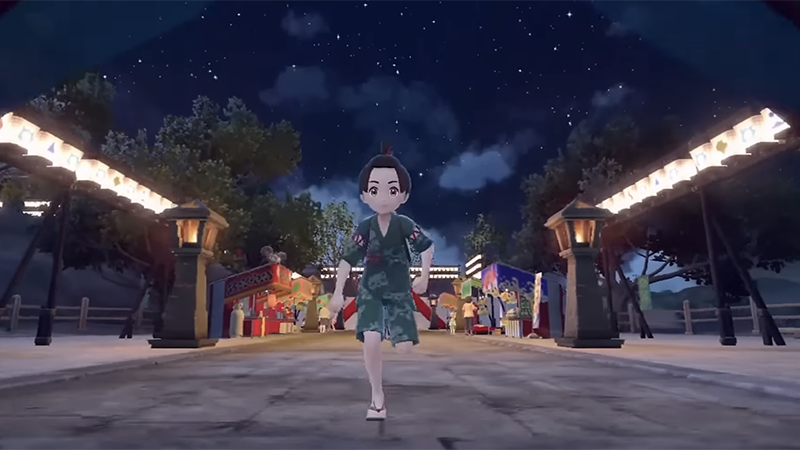 The Teal Mask boasts 200 new and returning Pokemon to the game's Pokdex, including Dipplin — the new final evolution of Applin — with a special shiny move where Syrup Bomb changes color from red to yellow. Pokemon's first shiny moves in the video games! There's a wild new Legendary that's like four Legendaries wrapped into one! (Plus even more Legendaries.) There's a new way to earn a LOT more shards for your various fashion and Terastallize-swapping needs! But best of all, The Teal Mask builds on the sweetness that the base game gave us in all our main character stories last time around.
Keiran and Carmine are a brother/sister duo who become your friends and rivals in the Teal Mask. Carmine's one of those chaotic big sister hard-asses with a heart of gold you can only uncover if your spend enough time earning her trust. Kieran is an often-overlooked sweetie who is maybe the first NPC in history who doesn't just happily let you character shove their way onto the scene and soak up all the glory and Legendary Pokemon. (Hop could never!) Much like Arven's story in the main game, Keiran and Carmine will surprise you. You've played enough video games to know their type, but before you even realize it, their narratives are flipped on their heads, making your heart growing like the Grinch. (OMG they're metaphorically Terastallized!) The main story also ends on a kinda spooky note that sets up The Indigo Disk, the Scarlet & Violet DLC that will be out later this winter.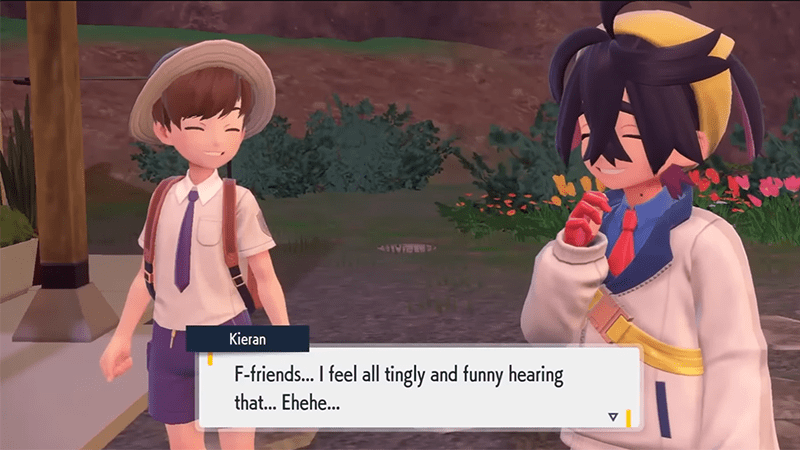 Ogerpon is one of the weirdest, wildest Legendary Pokemon I have ever seen. He looks like some little chaos fairy you'd accidentally stub your toe on in the woods and end up hexed by his adorable yet sinister laugh. Until you put one of his four masks on him and he becomes a powerhouse of chaotic awesomeness. The Teal Mask is his main thing but you can also get the Wellspring Mask, Hearthflame Mask, and Cornerstone Mask — all of which change Ogerpon's type from straight-up Grass type to Grass/Fire, Grass/Water, and Grass/Rock, depending on which one you wear. Scovillain already proved how lethal Grass/Fire types can be, in the main game!
All the buggy issues from Scarlet and Violet persist in the DLC, with some annoying framerate drops at times, but honestly, that stuff didn't diminish my enjoyment in the main game and it doesn't here either. No, it's not Breath of the Wild or Tears of the Kingdom, but it's still an open-world, above-ground Pokemon game with a zillion pocket monsters to battle and befriend and so many butchy clothes a gal can wear while riding around on the back of an ancient/future dragon.