This is ostensibly a recap of last night's Republican debate, of which you can read a full transcript here.
The threat of "radical Islam" has been thrumming through Republican debates and speeches since the beginning of the campaign, and with the San Bernardino shooting in our recent history, it's not really a surprise that this most recent debate would seize overtly onto the subtext it's been relying on. The premise of this debate, and of much of the GOP's current strategy, is this: there are people who want to hurt you and the ones you love, they're all around you, and the only hope you have at protection is us.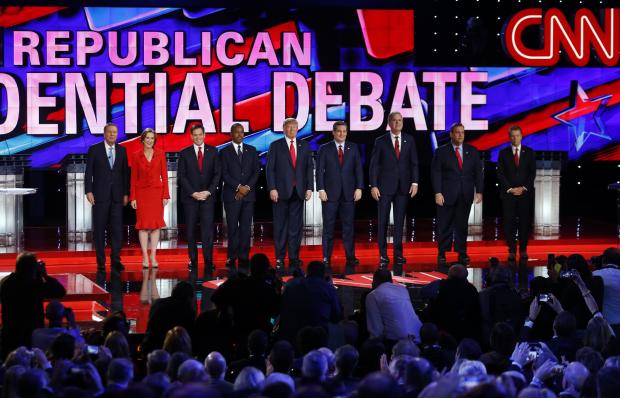 Sometimes, in the most recent debate, this was implied. When the question of immigration came up, the usual GOP standbys — how people should wait their turn and follow the rules, the importance of Americans having American jobs, etc — were replaced by fearmongering: "people who immigrated legally have committed terrorist acts in the past!" Sometimes — often — it was more than implied, it was articulated explicitly. When call-in viewer Carla Hernandez asked "If the Bible clearly states that we need to embrace those in need and not fear, how can we justify not accepting refugees?", Chris Christie answered:
"What I say to Carla is that the first job of the president of the United States is to protect your safety and your security and the security and safety of your family. And this debate stops with me in the discussions with the FBI director… We have to put America's security first."
That's it! There's nothing I can say that will put it more simply or clearly than that. "How do you respond to the commandment to not fear?" "Remember, you're not safe."
The concept of safety here, of course, is a very specifically articulated one. For instance, at one point Donald Trump indicated he'd be willing to kill the families of those suspected of terrorism for not reporting or stopping the attacks: "I would be very, very firm with families. Frankly, that will make people think because they may not care much about their lives, but they do care, believe it or not, about their families' lives." Ted Cruz said that the way to defeat ISIS was to go after them with military power to such an extent that everyone in the world knew that "when you join ISIS that you are giving up your life, you are signing your death warrant."
Who, here, is imagined as safe? "Americans," maybe, is the answer that these candidates would give. Chris Christie indicated that if Russian planes entered a no-fly zone under his presidency, he'd pursue military action against them, possibly beginning a war between the US and Russia. Several candidates championed the importance of increasing surveillance of US citizens — now, in a time where according to Edward Snowden, NSA employees already pass around our nudes. Ben Carson said that "We have to get rid of all this PC stuff. And people are worried about if somebody's going to say that I'm Islamophobic or what have you."
So, even among Americans, the question remains: whose safety are we talking about, here, exactly?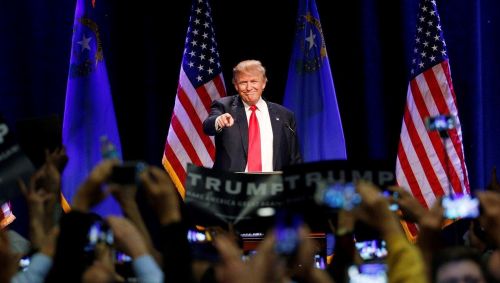 The answer is no one's, really, of course, unless you interpret the question generously to include the safety of the GOP or state power in general. In terms of data or policy recommendations, the foreign policy moves discussed on the stage tonight don't have a great track record of actually keeping American citizens — or anyone — safe. In support of that theory, it's notable what wasn't discussed. While the mass shooting in San Bernardino was mentioned 19 times, and was invoked in a range of contexts from proving that our current immigration standards are too low to arguing that the government needs more access to private citizens' online lives, no one mentioned the fact that their guns were purchased legally. Also not mentioned was the major environmental policy accord between over 190 countries that was just reached in Paris, a plan meant to keep everyone on Earth safe and alive by keeping the planet survivable.
The strategies proposed by the GOP candidates last night do have a proven track record, though, of keeping American citizens afraid; not increasing safety, really, but driving up the price you're willing to pay for it by convincing you the supply is very limited. It's not a new strategy, but it's had success in the past. Will it work this time? It's possible — it may even work in what's something of an innovative iteration, where we are scared enough of what more extreme candidates (like Trump and Cruz) threaten to do to keep us safe that we feel affinity towards the safer-sounding options that more moderate candidates (like Bush or Rubio) offer to keep us safe.
But on the other hand, this is a not-new tactic being tried in something of a new era. This is the age of Wikileaks and cell phone video recording police violence even when officers turn off their dashcams; the internet that Trump has said he'd consider "closing down" has delivered America first-hand accounts of the real human experiences of Syrian refugees. That isn't to say that it's impossible or even all that difficult to misinform or spook voters — after all, Fox News is still doing a land-office business. But there are also accessible forums in which that misinformation is being critiqued, like this excellent investigation into Fox and its rhetorical strategies. A scared, desperate and malleable populace is still a pretty good bet, but it's not the only one worth taking.
It's worth remembering that the Republican party has good reason to step so hard on the pedal to foment a feeling of desperation among voters; they're feeling pretty desperate themselves. With Trump's alarming domination of the polls, multiple sources are confirming that Republicans higherups are meeting secretly to plan for the possibility of a contested convention — basically, what to do if there's no clear winner for the Republican candidate after the first round of ballots is voted on. They're concerned about what to do if Trump is still in the lead at that point, and how to handle him without encouraging him to jump ship and run as an independent. Everyone's feeling a little jumpy these days.
There are still (incredibly) seven more debates in the next three months, and primary voting won't begin until March — we're still a long way from seeing what shape this will all take. We can see already, though, how badly these candidates need us to feel afraid, and how much potential power there is in choosing not to be.