As the 2012 election gets ever closer, the back-and-forth on Obama in the gay community gets more and more intense. Has he done enough? Has he done anything at all? Everyone has very different answers to those questions, but if you're looking for something to add to your "things Obama has done for us" column, this might work. The federal government is putting pressure on the child welfare and foster system to live up to its promise to gay kids, something that could finally make a difference for thousands of children and teens who are otherwise powerless.

Anyone with any experience with foster care or the adoption system knows that there are major gaps – all kids are at risk for unsafe homes, endless bouncing around from placement to placement, and lack of adequate attention or understanding from social workers. Frequently these kids are left without any resources or support once they reach the legal age of adulthood and are no longer supported by the state – they're suddenly homeless adults instead of orphaned kids, and have no options besides the street or a shelter. Clearly this should matter to everyone who cares about kids or other human beings, but why is this an issue for the gay community in particular? Because an overwhelmingly disproportionate number of kids in the foster system are queer or trans.
[ACF Commissioner Bryan Samuels] cited a numbing list of statistics showing just how vulnerable LGBTQ youth are in the system. Although five to 10 percent of the general population is estimated to be gay, anywhere between 20 and 40 percent of homeless youth are gay, according to the National Network of Runaway and Youth services. They are also far more likely to age out of the child welfare system without finding an adoptive family.
Horrifyingly, these numbers are made up of all the children and teens thrown out of their homes or disowned by their biological families for their sexual orientation or gender identity, or who have run away themselves to escape the abuse or anger they face. They have no other support system or family to turn to, and in an unconscionable echo of their first abandonment, their experiences in foster care are often very similar. There are countless stories of teens abused repeatedly by foster families in an attempt to punish or change their sexual orientations or gender identities, or who are given up by families who don't want to care for a gay kid. While the statistics that show kids are coming out at a younger age than ever may be good news in terms of our culture's increasing awareness of queer identity and its normalization among the next generation, it also means that more and younger kids are experiencing abuse and abandonment in the foster care system because of it. Shockingly, experts say that some gay kids abandoned by both biological and foster families end up at least temporarily behind bars in juvenile detention, just because there's nowhere else for them to go.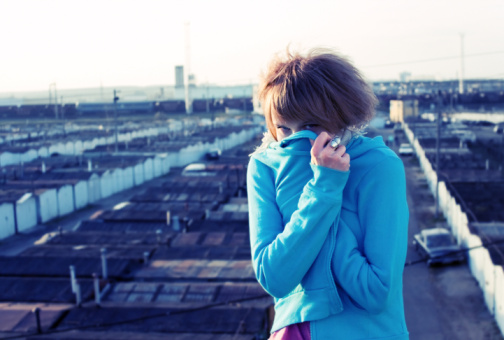 So what is the administration doing? Well, like everything else in the government, it starts with a memo. It has some standard and unsurprising language about making the safety of LGBTQ kids a priority, and acknowledging the fact that those kids face a compounded level of crisis. But it also mentions something more unexpected: it explicitly states that LGBTQ foster and adoptive parents should be considered as placements. This is huge news, and could be instrumental in the fight to reverse situations like that in Florida, where gay and lesbian families are completely banned from adoption. But aside from being the ethical and American thing to do, it would also be the most obvious way to ensure that queer kids had at least one option where if the placement didn't work out, they could be sure it wasn't because of their sexual orientation. Which really doesn't seem like that much to ask.
What's more, the administration is putting millions into a five-year pilot program in LA County which is aimed at aiding and providing support to queer youth in the foster system. Programs that are supported by federal dollars are under great pressure from the government to provide quantifiable results; hopefully LA County will develop policies and strategies that can then be implemented across the country. And if the administration's support for queer adoptive and foster families remains this strong, it could have repercussions for families all across the country as well.
Without overstating the issue, it may not be too much to say that this is one of the most important things the Obama administration has ever done for us. It remains to be seen how effective it will be, but the choice of issues to take up represents an understanding of the issues that the queer community really faces that previous Presidents haven't been willing to pursue. Marriage equality will be an important milestone, but in truth it's largely symbolic, and there are those in the queer community for whom it represents assimilation, not progress. An effective repeal of DADT will be momentous if it ever really goes through, but it affects only those and their families in the armed forces – who are courageous and admirable and who deserve our thanks and respect, but whom are also there by choice. Homelessness, especially for kids and teens who have no power or agency on their own, is a hugely pressing issue for the gay and especially trans communities. It's not a very cool or sexy cause to get behind, but it's an epidemic, and it hits those who are the absolute most helpless members of our society. And for decades, there's been virtually zero interest from any previous administration in improving their lot – until now.
Under the previous administration, advocates couldn't recall the phrase LGBTQ being uttered once. It was as if those kids just didn't exist.
"Literally in the last administration you were not allowed to talk about this," explained Gerald P. Mallon, a professor at New York's Hunter College School of Social Work who began researching LGBTQ kids in the mid-'90s. "If you put 'lesbian' or 'gay' in a workshop, you were guaranteed it wasn't going to be approved. It's night and day."
If Obama does manage to repeal DOMA or DADT while he's in office, that may be what he's remembered for in the history books. But if his initiatives to support queer teens in the child welfare system are effective, that's what he'll be remembered for by generations of one-time teen child welfare recipients for, as a hero.