On Monday, the Movement for Black Lives, a coalition of more than 50 organizations representing Black lives around the country, released their platform containing a thorough list of demands and collective vision for Black liberation. "A Vision for Black Lives: Policy Demands for Black Power, Freedom and Justice," is organized into six top policy demands that include: ending the war on Black people, reparations, divesting and investing, economic justice, community control and political power. Demos Action and Mijente translated the coalition's platform into a Spanish version, which you can read here.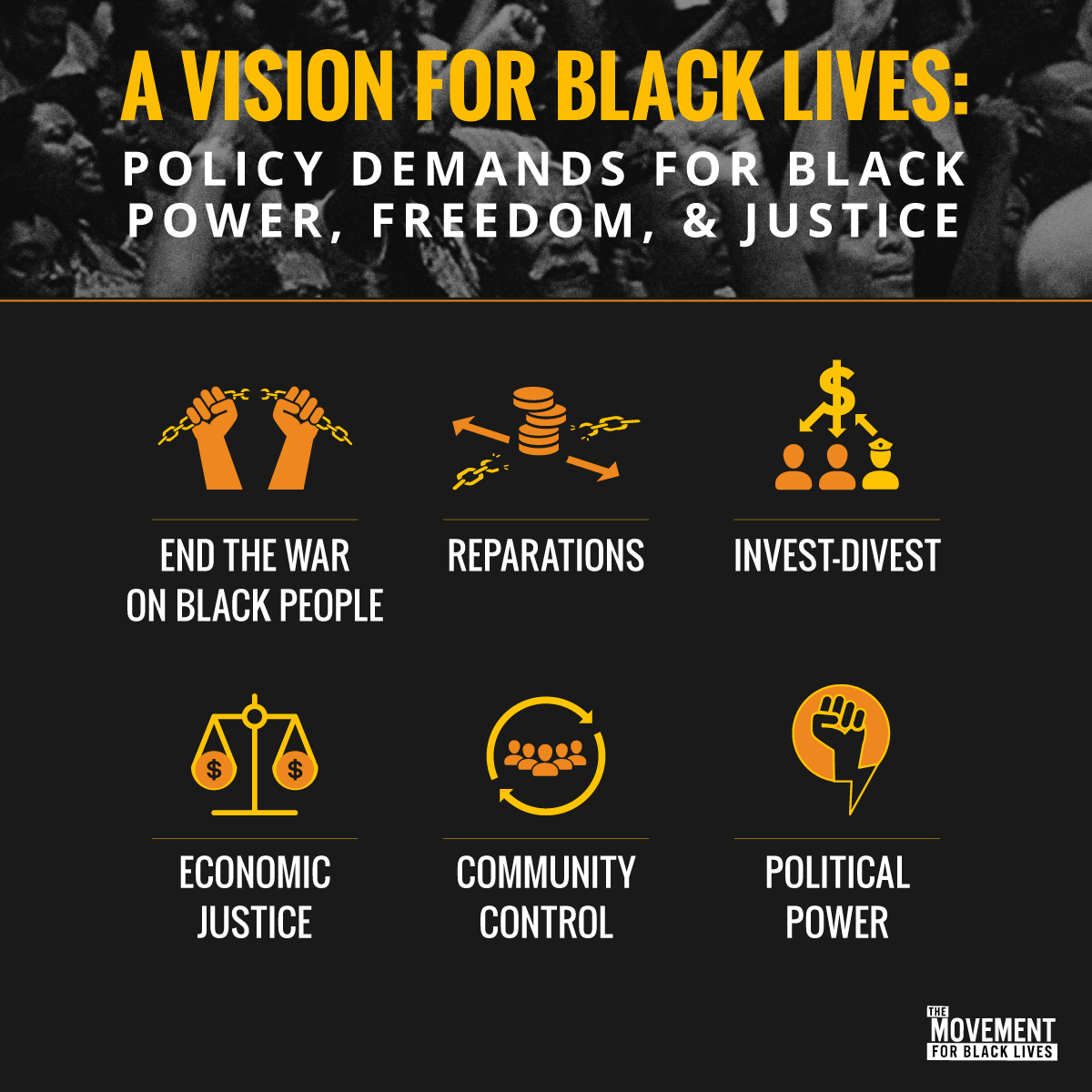 The organizations involved are rooted in Black communities but recognize they share struggles with all oppressed people so their platform is written with an intersectional approach and acknowledges they must center the most marginalized folks in their platform, especially black queer, trans and gender nonconforming people. Dedicated LGBT organizations like Southerners on New Ground and FIERCE are part of the coalition or endorsed the platform. From the platform:
We believe in elevating the experiences and leadership of the most marginalized Black people, including but not limited to those who are women, queer, trans, femmes, gender nonconforming, Muslim, formerly and currently incarcerated, cash poor and working class, differently-abled, undocumented, and immigrant. We are intentional about amplifying the particular experience of state and gendered violence that Black queer, trans, gender nonconforming, women and intersex people face. There can be no liberation for all Black people if we do not center and fight for those who have been marginalized. It is our hope that by working together to create and amplify a shared agenda, we can continue to move towards a world in which the full humanity and dignity of all people is recognized.
Each policy demand is extensive — backed by research and containing targeted actions at the federal, state and local levels, links to resources and model legislation where it exists, and a list of organizations already working toward these goals. Here's a short look at what those policy demands contain:
End The War on Black People: We demand an end to the named and unnamed wars on Black people — including the criminalization, incarceration and killing of our people.
Reparations: We demand reparations for harms inflicted on Black people: from colonialism to slavery through food and housing redlining, mass incarceration and surveillance.
Invest-Divest: We demand investments in the education, health and safety of Black people, instead of investments in the criminalizing, caging, and harming of Black people.
Economic Justice: We demand economic justice for all and a reconstruction of the economy to ensure Black communities have collective ownership, not merely access.
Common Control: We demand a world where those most impacted in our communities control the laws, institutions and policies that are meant to serve us.
Political Power: We demand independent Black political power and Black self-determination in all areas of society.
Non-Black people should all take some time to dive deep into this platform and find ways we can support it and take the action steps to put it into effect in anyway we can contribute. One way to do that is to check out the "Take Action" section. The Movement for Black Lives teamed up with ColorofChange to dedicate an online platform that allows you to create a local campaign or to find campaigns in your area. 
We know that change at a national level is not possible unless we build power locally. We also know that petitions, online organizing, social media and anything digital can only create long-term systemic change when it is used to support and uplift existing work on the frontlines. That is why we have partnered with the Movement for Black Lives to create a digital space to launch campaigns, share strategies, build relationships, and the trans-local power needed to advance new transformative policy.