I talk (and joke) a lot about nail care and maintenance with my fellow queer ladies, but it almost always leads to me yelling about my latest manicure or what sweet new colors I picked up at the beauty supply store. I've had a fairly intense obsession with nail polish and painting my nails for as long as I can remember, and it may have actually been the first thing I fangirled over (I'm talking mass blog-following, amassing way too many bottles of nail polish, etc.). My collection of nail polish and various nail tools has evolved over the years, but one thing has remained constant: the hour or so I spend creating miniature art on my fingernails gives me so much happiness!
I love me a good themed mani, so: To coincide with the release of Harry Potter and the Cursed Child, I decided to do Harry Potter-themed polka dot manicure and give you a play by play of how it's done so you can try it yourself. There are a lot of Harry Potter inspired manis out there, but I haven't seen any with polka dots!
You'll find a full list of nail polish brand and colors at the end of this post. In the meantime, let's "Tarantino" this thing. Here's the finished product:
Now, here's how we get there.
Step One
The first thing I do is put together a manicure mise en place, if you will. It helps me to see all of the tools and polishes laid out before getting started. I won't go into my pre-polish process, but here's a look at what I used to prep and the polishes I used.
Step Two
Once your nails are prepped, start with one coat of base coat. Right now I'm using the Seche Clear base, but I like to change it up too.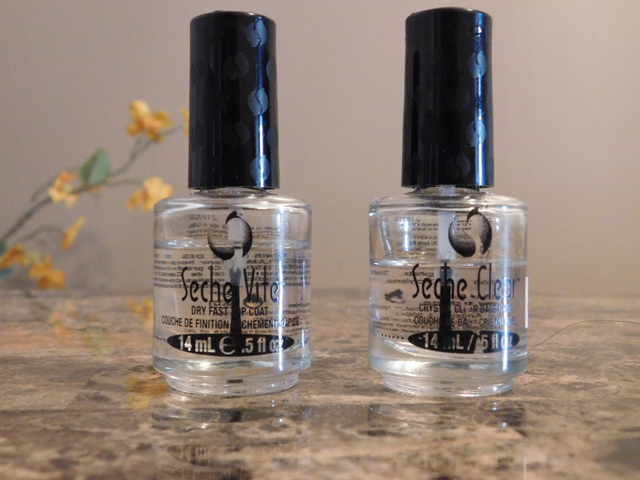 Step Three
Then, follow up with two coats of each house color. In order from pinky to thumb it's Ravenclaw (navy), Deathly Hallows (white base), Gryffindor (red), Slytherin (green), Hufflepuff (yellow).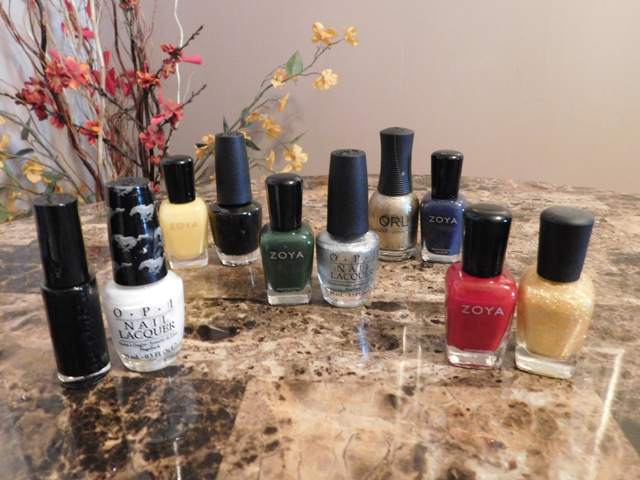 As a Hufflepuff, I decided to give it the most nail real estate, but probably one of the best things about doing your nails is you have the freedom to take creative liberties, so mix it up!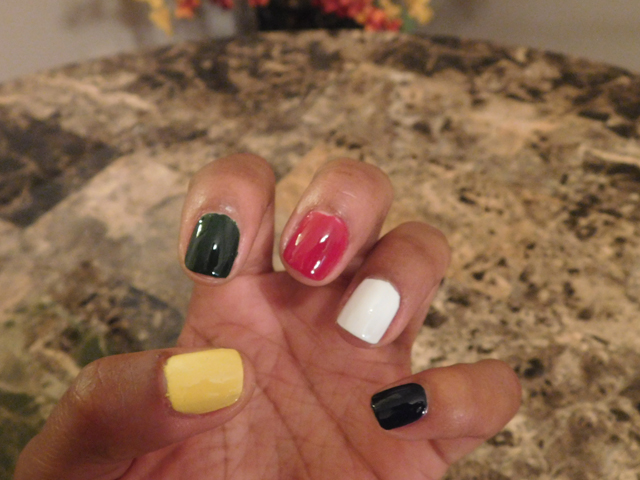 Step Four
Next up, the Deathly Hallows! Admittedly, this turned out about as straight as I am (spoiler: not at all), but I love it anyway! I used a polish that comes with a thin black brush to draw the symbol. First, I drew the triangle (the Cloak of Invisibility), then drew a straight line representing the Elder Wand, and finally added a circle for the Resurrection Stone.
Step Five
To create the polka dots, I used a dotting tool. You can find them for pretty cheap on Amazon. Start with three dots down the center of the nail, then two dots to the left and right of center, and then two more sets of dots the the left and right of those! Continue this for the rest of the Houses, finish with the top coat of your choosing (wait about 3-5 minutes for the dots to dry first) and voila! You have a manicure that J.K. herself will be proud of!
(See, I promised we'd get back here!)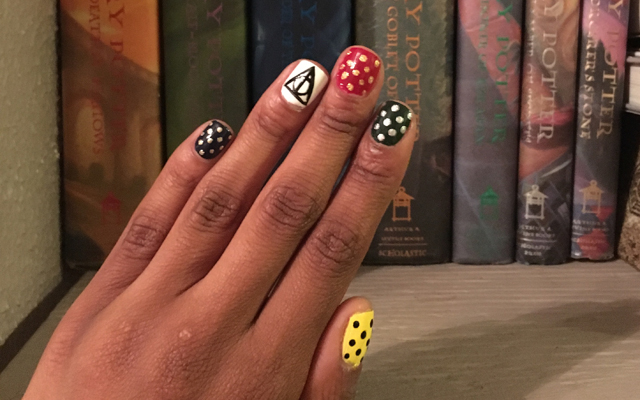 Supplies
Here's a list of the colors that I used for this manicure:
Base Coat: Seche Clear
Top Coat: Seche Vite
Deathly Hallows: OPI Angel With a Leadfoot, Art Club NA2 Black
Ravenclaw: Zoya Sailor, Orly LUXE
Gryffindor: Zoya Rekha, Zoya Solange
Slytherin: Zoya Hunter, OPI My Signature is "DC"
Hufflepuff: Zoya Pippa, OPI Black Onyx
What are some of your favorite products to use? Do you like to keep it simple with solid colors or get fancy and mix it up? I'd love to hear from you!