This week there was much ado when it was revealed that J. Crew's Creative Director Jenna Lyons, fashion's "it girl" and a fan of feminizing menswear, was leaving her husband for jeweler Courtney Crangi. As if we needed any more evidence — this year, with the presentation of the Spring collections in New York, London, Milan and Paris, let us rejoice, for lesbian is IN.
Designers are broadcasting their love for the inherent beauty of girl-on-girl, plastering homoerotic fashion spreads and ads in places where the word "lesbian" was never printed, showcasing that timeless androgynous silhouette designers love so much.
It's leather, studs, punk and beautifully aggressive. It's the darkened change in appearance of those attending the shows. It's the boundaries designers, buyers and editors are pushing. It's the silent decision to change the idea of what's sexy, and what's sellable, and to put a new idea on the table…something with a little more edge.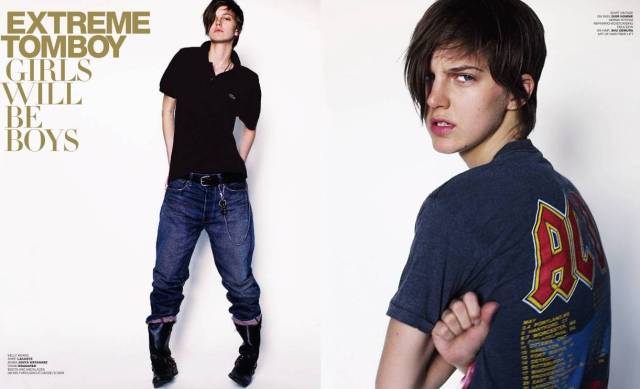 On and off the runway, the concept of girl-on-girl has always permeated the inspiration boards of some of the industry's major players and this year there's been much more of that — cleanly shaven heads and lipstick in the front row, the marriage of Doc Martens and sequined skirts in the back row, and when it comes to identifying trends, androgyny is the word on everybody's lips.
Back in 2003, The New York Times declared a sea change in the fashion world with respect to its relationship with lesbians, who'd heretofore been passed over by designers as lumberjacks or golfers, citing The L Word as the turning point for making it clear that "lesbians are a powerful presence in fashion, in both predictable and unexpected ways."
The story goes on to credit lesbians with introducing the following ideas and items into the fashion world: innate confidence in sexuality, the "choppy boyish shag" haircut, trucker hats, wallet chains, cowboy boots, straw Stetsons, "a sexually flexible style you could characterize as L.A Tomboy," playing with gender roles, heightened outsider awareness, everything on Sex and the City (Patricia Field, their designer, is a lesbian), innate confidence in sexuality, the subtle incorporation of butch and femme dualities, androgynous slacker cool and newsboy caps.
Eight years later and fashion has never loved the lesbian as much as they do today — all over the world.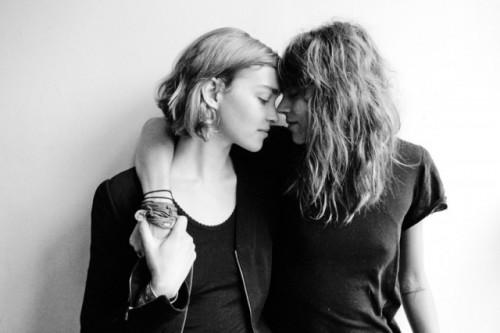 Perhaps it's that women are no longer victims to men when deciding what to wear. Maybe her independent success allows her the freedom to dress like a man, adopt a shocking hairstyle, and emulate those of whom she admires the most…other women. But not just any women, those of free spirit, of sexual abundance, those who chose to flaunt their appetite for the same sex without restraint.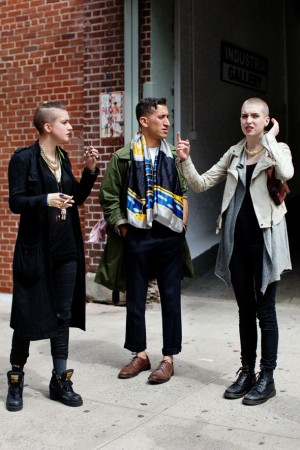 It's the models too. Females are eschewing their rippled counterparts for a more streamlined version of themselves. Six-foot something clothes-horses are departing the shows as couples, manicured hands intertwined, and glossed lips locked, walking in heeled (and booted) unison.
In 2005 Danish (and openly gay) model Freja Beha opened the show for Miu Miu's Fall collection, today she is Karl Lagerfeld's muse and with Lagerfeld's sponsorship she has become the poster child for the new gay— the luxury lesbian. Her masculine style, boyish figure and softly tattooed skin, summarise a unique type of sex appeal that is being used to lure in even the most unrelenting of straight women, to sell everything from magazines to tweed boucle jackets.
The idea of a woman, whose sexuality that adds an element of danger (and this can be controversial) delivers a commercial point of difference and potential money in the bank. Like Eve and the apple, the want of something you are told is forbidden makes it all the more desirable, similar to the price tag on a Chanel dress. And who better to promote the allure of the untouchable than one of the worlds most requested models, who is gay, and who successfully uses her sexual preference to promote the brands that hire her.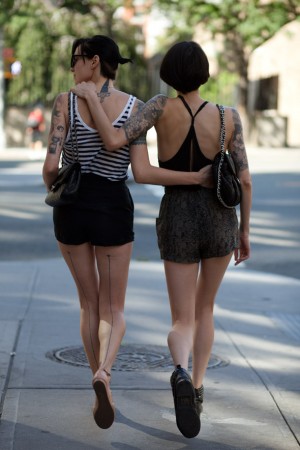 Then there's the bloggers. Probably the best known is The Sartorialist. New York photographer Scott Schuman has a knack for capturing trends, and with one swift click he conveys visual messages, both commercial and cultural, to a varied yet very clued-in audience. Lately, a majority of his posts see female couples embracing on the streets of Brooklyn, and androgynous, punkish and gothic looking girls smoking in groups outside the shows. There's a shift to a more obvious sexual orientation to his subjects, and it's not intentional. It's happening on it's own. It's an appreciation of beauty. So much so, that the impact of these types of women left him wanting to share what he was seeing.
Then there's the glossies. British magazine i-D recently ran a feature titled 'I kissed a girl and I liked it'. It profiles six London girls. All cropped haired, tattooed and pierced, and the imagery is nails-to-skin raw. Each girl speaks of her own understanding of what it is to be gay, of her career and life goals, and ultimately, her relationship experiences. Emily, 23 describes love as "hell", whilst Erin, 29, says love is "when you're 'in a relationship' on facebook". My favourite line was from Erin when asked, 'where do you see yourself in five years'. Her response…"Rolling around a four poster bed throwing $100 bills into the air with Beyonce and possibly Kelly Rowland".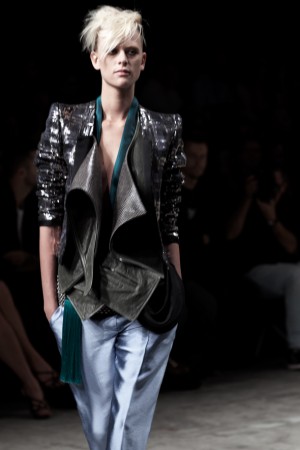 Next time you're at the newsagency flick straight to page 222.
Anyway, my point is, both the stereotypical and realistic images of what a 'lesbian' looks like, is influencing mainstream fashion trends and the people that dictate them. Print publications are devoting pages of advertising real estate to the exploration of reality within the gay community, and fashion bloggers are enamoured with the visual stimulation of a woman who openly advertises her gender orientation through her personal style. Oh, and lets not forget the designers. They're the ones responsible for posting ten feet tall advertisements of a gay woman clad head-to-toe in couture in the middle of Paris, Hollywood Boulevard and in the windows of their every store around the world. Basically, they're using the semiotics of two women fucking to sell their clothing, shoes and accessories. Which is pretty great.
I know there's always the argument, 'but why should a gay woman be viewed any differently from a straight woman'. But all I want to do is draw attention to what's happening right now. Yes, we've been there before — in the shadows, though, not front & center or "out of the closet," so to speak. I don't think the fashion scene has so openly embraced the idea of lesbian women, to the point where the associated imagery is being used to sell a luxury product and lifestyle ever before, and in my opinion, that's cause for celebration.