Hello and welcome to the fourth recap of the first season of The L Word: Generation Q, brought to you by the same network that brought you The L Word, an invigorating show about female small business owners and the rise of the Pear Polenta Tart!
Just a heads-up that I co-hosted the "To L and Back: Generation Q" podcast this week 'cause Analyssa is Home for the Holigays, so you can listen to all my thoughts there!
This week's episode took some journeys into the valley of What Is Happening but also featured a sex scene that inspired me to text AV Club L Word reviewer Kayla "wowowowowowowowowow," to which she replied, "YEAH." It's my favorite episode of the series thus far!
---
We open with a collection of Big Tall Fancy Buildings B-roll before zooming in on a tall glass of BETTE PORTER NAKED IN BED WITH FELICITY HAVING ROOM SERVICE BREAKFAST..
It's just a lazy eternal morning for two women having a clandestine affair. Felicity wishes she'd met Bette 20 years ago, back when she was a Musical Theater minor at Howard and dating a boy named Leonard. This reminds me of yet another Leonard who dated a queer woman…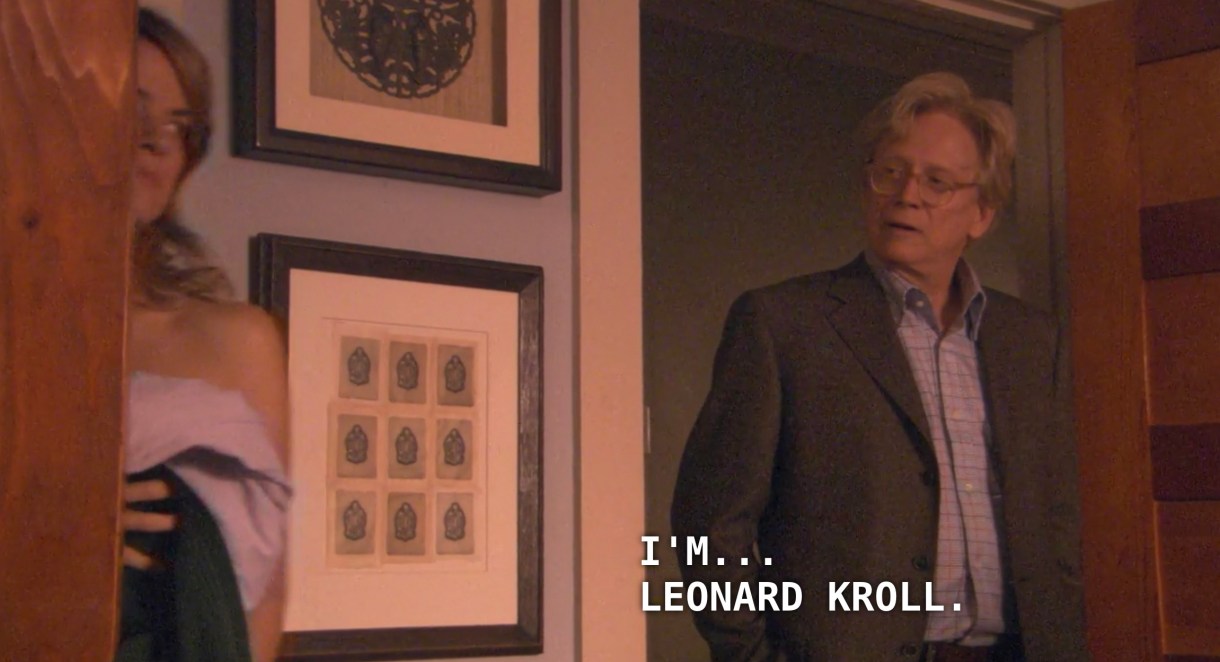 Bette says she'd never wanna be 20 again. Probs 'cause that'd mean she'd have to go back in time to when she was having mediocre sex with Coleman at Yale and then relive the whole meditation storyline, eventually bang a chair into the ground at The Planet while yelling ARSON ARSON and ultimately do a weird dance in her kitchen while chanting "Shake it, don't bake it" with Jessie Spano from Saved by the Bell. Lez be honest, aren't we glad those days are behind us? Anyhow, Felicity would like to know what Bette would like now, here, today.
Felicity: What do you want?
Bette: Mmm… a better cup of coffee and a fruit bowl would be great.
Felicity: No, what do you want for us?
Bette: Right now? All I want is this.
It's unlike Bette to deny emotional processing in favor of Distraction Action unless she's cheating on someone and thus trying to avoid confrontation, but bless our emotional growth/regression  — Felicity bends over. Bette reaches up, reaches into Felicity's robe, lets it fall off as her breasts fall out, and with her hand firm on the back of Felicity's neck, pulls her in for another kiss. Okay, GET IT GIRLS.
---
Then we cut right over to Shane's subconscious for consummated sexual intercourse!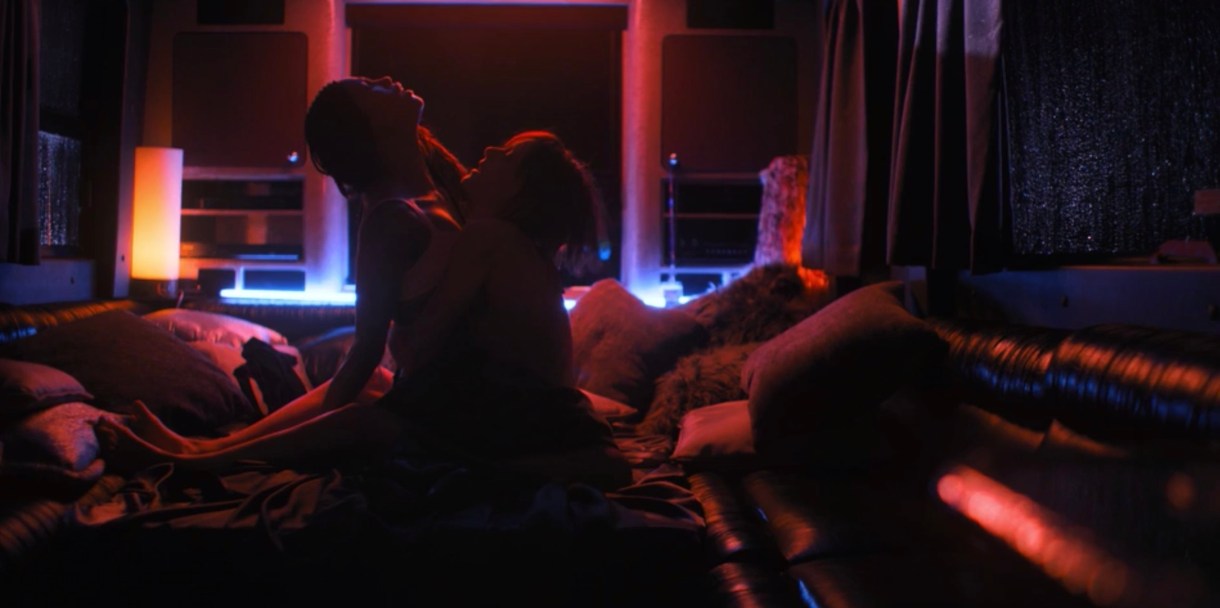 Lesbian Sexy Moment #10: It Was All a Dream, I Used To Read LA Magazine
The Players: Shane and Quiara
The Pick Up: Probably conscious Shane taking an ambien or smoking three joints.
Hot or Not? Shane's fucking Quiara and Quiara says "you're so beautiful" and Shane says "I love you" and it is very hot, this is Sex Lighting but then BUT THEN it is over as soon as it began.
Shane wakes up from her hot sex dream and roots around for her cell phone, which lucky for us! Is chock-full of birthday wishes revealing key pieces of information:
1. Angie calls Shane "Uncle Shane"
2. Helena is in England for some reason [Throwback #15: Helena exists]
3. Alice goes by Aloce in on all platforms now
4. Tina and Shane are still friends and Tina is still corny
5. Shane is friends with someone named "Floyd"
6. Quiara has NOT texted Shane back yet to re-invigorate the "I miss you" "this is hard" "I can't" "I don't know how to do this" "I'm so sad" "I can't stop crying" post-breakup cycle.
It's Shane's 40th birthday!
---
Elsewhere in this fine home, Rebecca and Finley are also making the most of television's Morning XL time to make out. Rebecca invites Finley to dinner that evening with her buddies and Finley says she's got a party thing to go to. Finley joke-asks if Rebecca's inviting two priests and a rabbi and Rebecca's like "kinda."
Rebecca's developing Real Feelings for Finley and is curious if she's ever gonna get over this religion-related hangup but luckily, Finley's saved by the (door)bell!
---
Cut to Shane's bedroom — Finley charges in carrying a wooden box of generic Gourmet Foodstuffs that a mother might send her daughter in college OR that two of Shane's best friends might ship Shane on the morning of her 40th birthday. When someone asks "what do you get for a millionaire you've known for 10+ years who can buy whatever she wants for herself?" I always say, "a bottle of your finest Harry & David™ 2017 Cabernet Sauvignon!"
Finley, despite having plans to attend Shane's birthday party that very evening — plans she just shared with her holy lover Rebecca — didn't know that it was Shane's birthday. "Are you really forty?" she asks, and Shane acknowledges that yes, this is 40. It's a fun, goofy scene — starting with Shane's annoyance at how loud Finley is to her request that Finley bring the box anywhere but here to Shane's consent to Finley's request to "sample a little summer sausage."
---
And then we come to DaSoMi's Home!
Where Dani, a dear, a female dear!
Wants to sprint out in the sun!
Finley's heading in
for some orange juice
'cause that summer sausage was such fun!
They're out, but almond milk will do!
They're out, but now my song is through!
Sophie, wearing very cute very small shorts and enjoying a morning coffee, says Dani's doing her "weird distant thing."  Finley's got no input, so Sophie switches topics: how's Finley's "lovah-priest"? Finley reports that it's good and the sex is great, despite some lingering post-sex guilt.
Finley describes a "swirly feeling" in her torso inspired by Rebecca that I'm pretty sure is acid reflux, but Sophie's got another diagnosis: LOVE.
---
Cut to a VERY cool coffee shop (Filmed at Kettle Black on Sunset Boulevard) where Alice and Shane are meeting up with Bette to order items and not consume them.
Shane: "Is there a reason why you're dressed like an Easter Peep?"
Alice: "Shane, I chose this color so it would pop. This LA Times reporter is following me around all day for this profile and I would like it to say "Alice Pieszecki is KILLING IT," like in all capitals."
This is THRILLING news 'cause that means it's ROBIN'S EPISODE! My friend Robin who has done 45 different jobs for this website including A-Camp Co-Director, Photographer and Event Planner, has a cameo in this very episode! (Also, Robin is married to my "To L and Back" co-host, Carly Usdin!)
Bette shows up a little late because AHEM. She informs Shane that 40 is a fantastic and transformative time. Alice adds that your body starts falling off your body, like for example her ass is sliding from her hips to the earth like the Tower of Terror. Bette says "none of us has anything to worry about." (Because they are all rich and have tighter skin and bodies than they did ten years ago because this is Los Angeles and everybody sticks needles and/or microneedles into their faces here, it's just what people do here!) Shane refuses a birthday party, but consents to drinks with Alice and Bette.
Bette lies when Alice asks why she looks "all glowy," then communicates with Shane via Vulcan mind-meld that she fucked Felicity. Alice asks how long it's been since Bette had sex, suggesting "a year" as a potential answer as if Bette wasn't recently busted for a very notable affair. Furthermore, according to Mandy-Munch, Bette fucked the whole school board. Shane's taking the ladies on a field trip, but briefly shames Alice's backpack, which's unacceptable 'cause backpacks rule.
---
Shane leads her two pals, who stumble around like gerbils, to the bar to unveil the new sign reading "DANA'S."
"Open your eyes," says Shane, but everybody's wearing sunglasses so lord knows if they followed directions or not. Subsequently, everybody cried including me! [Throwback #16: Dana died]
Inside Dana's Watering Hole for Thirsty-ass Lesbians, we've got a hottie delivering alcohol and Tess telling Lena she over-ordered.
Shane strides in and Lena pounces like a tiger on the prowl, cajoling her way into the back room via demands for checks and nonsense.
Shane is dying inside. Tess watches them walk off together like someone who knows what's going on and is DEFINITELY not aware that Lena would be describing their relationship as "already over." This is sad!
---
Is there…. anything more humbling and humiliating than putting one of your employees in a position to smooth over an absurd situation you, a professional grown-up woman, have created despite definitely "knowing better"? There is not! And that is where Bette Porter finds herself this morning at a campaign photoshoot when she realizes she's taken Felicity's phone with her, and thus Felicity must have Bette's phone.
Dani strikes the appropriate tone here, which's nice to remember when things take a sharp turn pretty shortly thereafter. She's not scolding, but offering firm dedication. "You know — Sophie and I accidentally took each other's laptops to work once. Do you think something like that may have happened to you?" She offers.
Bette eventually concedes and Dani says she'll sort it out and Bette says "you don't need to do that." Dani goes, "would you prefer I send a volunteer?" and Bette is like [clenched teeth] "fine." YIKES.
---
Cut to the offices of The Aloce Show, where OUR VERY OWN ROBIN ROEMER IS PHOTOGRAPHING ALICE FOR THE MAGAZINE!!!!
Nat and the kids are in the hallway, waiting for their big moment in the spotlight!
Gigi pops in with a wardrobe change for the kiddos and to tell Alice she looks great. The L.A. Times writer, just like this writer (me), notes Alice and Gigi's chemistry and starts asking her questions about their relationship. They're like OH LOL no the rule of this show is you can only have chemistry with people you're not dating, Nat's over there! "I'm sorry, I assumed she was the nanny," the writer says.
"How do you and Alice maintain a healthy work-life balance?" the writer asks.
"Oh whoah I'm not sure that we do," Nat responds. They eventually agree that it's a "joyful hard" which the writer doesn't believe.
GOOD JOB ROBIN!!!!
---
Elsewhere in a roomy Los Angeles parking lot, Dani is meeting up with her drug dealer in a parked car to talk about drugs and stuff. Just kidding it's Felicity and they're gonna switch phones!
And then. And then!!!!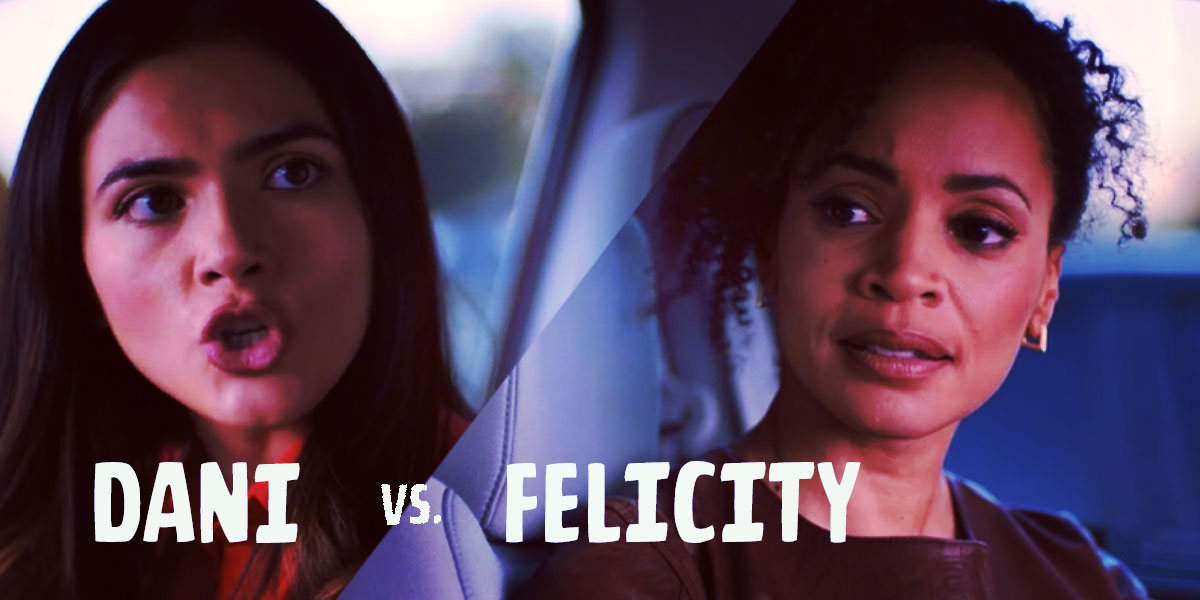 Lesbian Squabble #9: Wha-wha-what Did You Say?
In the Ring: Dani v. Felicity
Content: Dani hops into the car, hands Felicity the phone, and then proceeds to, as they say, "go off." This affair could end Bette! Felicity manages to squeeze in that by the way, she sill works at the Department for Cultural Affairs and everybody in that Department can't stop talking about her Actual Affair. She's still married to that terrible man in her phone background! Dani cannot hold back! Felicity is like, how many marriages have you failed at, my dear young friend? Well, none… YET. "I love her," Felicity says. "I wish the world were different," says stone cold Dani. "But it's not." Okay.
Who Wins? Felicity's husband.
[ETA: Natalie, who knows 10000x more about politics than I do, has a very different take on Dani's behavior which you can read in the comments!]
---
Back at the offices of The Aloce Show, Sophie's got an idea for Mayoral Contestant Mister White Man, who apparently is guesting on the program because municipal mayoral candidates who haven't engaged in any newsworthy sex scandals are EXACTLY who middle America is dying to see on their television screens. Sophie says Alice should ask him abut the lack of diversity on his campaign staff! Drew's got a different idea — ask him about his high school superlatives!
Drew: Milner wants to be seen as a real guy, he wants what you did with Bette Porter.
Alice: Okay Drew, I would love that. Because Bette and I talked about her scandal and about feminism and sexism and what it's like to be queer. I wonder which one of those he really identifies with.
Sophie: You know what? I bet it's feminism? A good guy like him?
Alice: Oh yeah I bet he's like, balls deep in feminism.
Throughout this exchange, Alice and Sophie insist upon keeping their smiles real big 'cause the LA Times reporter is right outside, watching it all go down, so all this happens with teeth clenched up tight, which's a successful humorous device. Finley stops in with coffee for everyone except Drew, but Drew doesn't really count, so.
Drew gets that Alice wants to "do her feminism" and stuff, but also he'd like to do stuff to make the show not get cancelled.
Drew: "Look I've been down this road before, and I've learned the hard way. The only way to deviate is through incremental change."
Alice: "Fine. I'll ask him about his fucking horse."
Drew: "It's a pony, but deal."
As Drew leaves the office to go compare his personality to a styrofoam plate and then hopefully dispose of it in an earth-friendly manner, Sophie's like Alice, don't forget — it's your show. I love how they're exploring specific workplace dynamics this season, and I appreciate how Sophie pushes Alice to be better. I also just… love Sophie?
---
Back at Bette 2020 HQ, Dani is still on a tear and now the shame train is coming for Bette!
Lesbian Squabble #10: I Want People to Be Afraid Of How Much They Love Me
In the Ring: Dani vs. Bette
Content: Dani's like "you jeopardized the campaign!" and Bette's like "I'm pretty sure you've course-corrected worse when you were working for your father." Like DEATH. Dani says she was numb then, but ever since meeting Bette she's learned how to feel, just like Shane and Cherie Jaffe. Then, despite this being a job that Dani both invented and demanded she be hired for, she tells Bette the job has fucked up her life and her relationship with Sophie and her Dad and "right now none of that feels worth it." Dani hisses, "I just don't understand how you can throw everything away for some woman!" Bette says, of course, that Felicity isn't just "some woman" and then. AND THEN. Dani responds, "Is this your M.O.? You do something great and then you fuck up?" Which is — wow!
Okay listen. Personally, I'm all in for Dani holding her boss accountable for her actions, especially since her job is Bette's public image and because she wants Bette to live up to the expectations that inspired her to leave her father for Bette to begin with. Upwards feedback is integral to a healthy workplace and without it, your boss will just go on hurting people — including you! — and being a bad boss forever! However. The way Dani is delivering it and her tone with Bette is disrespectful and inappropriate.
But now we get the grim reaper we've all been gritting our teeth about for three weeks:
Bette: "My sister died of a heroin overdose. That is why I'm running. I'm running for her. I'm running to change the broken system that failed her."
I REJECT THIS NEWS. Killing a sexual assault survivor and now a recovering addict is… not great, y'all!
Dani barely winces to hear it! Bette, now emotionally destroyed, explains that when Kit died, Felicity picked up all the pieces, and Bette can't turn her back on Felicity now. Lest Dani expose an emotional core of any kind, she tells Bette she can either run and win and stand up for her beliefs, or she can have Happy Beautiful Breakfast In Bed Time with Felicity American Girl.
Who Wins? Bette, but only because Dani loses.
---
Today the person on The Aloce Show who took the bomp is local nobody, mayoral candidate Jeff Milner!
Unfortunately…. Drew Wilson is a terrible writer. This is his plan for the interview:
1. Talk about things you have in common
2. FYI the only thing you have in common is that you have both been to summer camp
3. Alice that's fine that you worked at summer camp for $6 an hour and Jeff attended a summer camp where people apparently got their own ponies, you both camped, okay? You both were out there with the cabins and the bug spray and the singing of "Cats in the Cradle" around the campfire and the holding hands with a boy who is significantly shorter than you.
4. As aforementioned, this conversation will lead directly into discovering that Jeff Milner NAMED HIS PONY "TUBMAN" BECAUSE HE ADMIRED HARRIET TUBMAN'S BRAVERY
Alice glances at Sophie in the wings. We're ready for Alice to ask Jeff about his campaign staff's diversity. Perhaps she could try, "so, you named an animal after a Black woman you admired — I'd love to hear stories about some Black women you hired?"
But … nope. Instead, Alice asks him IF HE THINKS HARRIET TUBMAN WAS A FEMINIST. What is happening here? This is a wild little journey we're taking to enable the Los Angeles Times reporter to say to Sophie, "she doesn't hold back, does she?"
Jeff uses this opportunity to say that Bette's affair was not feminist, which is, as we all know, how affairs are generally judged. Alice's defense of this absurd line of inquiry is that it's fine 'cause Bette made a mistake and now her and Felicity have broken up. "I totally believe her that it's over," Alice says. WHAT IS HAPPENING HERE
---
Off we go to DaSoMi's Home! I was holding onto a shred of hope that DanSo's arguments would eventually start making sense but my friends… they have not. However, bath scenes and the sexy carefree bodies that go along with them are cute. Sophie says very adorably that Dani's missing out on the joy of spending time with her. She thinks about Dani all the time but does Dani think about HER all the time? It doesn't seem like it!
Dani says she's scared. Why are you scared Dani? Dani's scared because when she met Sophie she had a girlfriend, and one day Sophie could leave her for a girl just like she left that girl for Dani. What is happening!! This feels out of the blue. It seems like the real issue is that Dani doesn't know how to talk about her emotions and she's in constant psychological turmoil about work and her father and has a new job she's obsessed with but she needs to make that job worth what she's given up to take it and doesn't know how to balance all of that with her totally emotionally available girlfriend!  Anyhow: Sophie says of course, but that that girl wasn't Dani!
Sophie hops out of the bath to grab her great-grandmother's ring and propose to Dani and promise her that she will never leave her because Dani is her person. Dani climbs on top of Sophie and I get nervous that someone's gonna bump a limb on something and get a bruise, but also I guess that's what life is, right? Bumping our limbs, getting wet and bruised and making promises we hope we can keep.
---
Cut to Shane's Penthouse where Shane is getting high and guess who else wants to get high? BETTE PORTER.
Bette: Did you ever think you'd be spending your 40th birthday with a middle-aged lesbian and no chance of sex?
[pause]
Shane: I wish you had told me you were a lesbian. You're so secretive!
They toast to our inevitably brief future (because climate change) with a joint and then Shane confesses that she's already Shaned up her impulsive small business venture by having impulse desk-sex with Lena, who's still dating Tess. Bette says it's okay Shane it's totally okay bro it's so cool CUZ LIKE wEr'e only humans!?!! And humans do fucked up shit sometimes because WE wanna move ONNNNNNN, man, or because MISTAKES and WOWWOWOWOWW THIS POT IS STRONG.
"I feel like such a fuck-up," Bette says. Shane is like, you're fucking Felicity, right? The revelation of this fact requires a conversation relocation from standing up to sitting firmly upon the ground, beneath which an earthquake is likely rumbling that will destroy us all.
So, a little Felicity backstory: Bette tried ending things when the campaign began but couldn't — maybe it was not to hurt Felicity's feelings, maybe it was to avoid hurting her own because "that would've been a total fucking free-fall." Bette's lost so much — her mother, her father, her sister —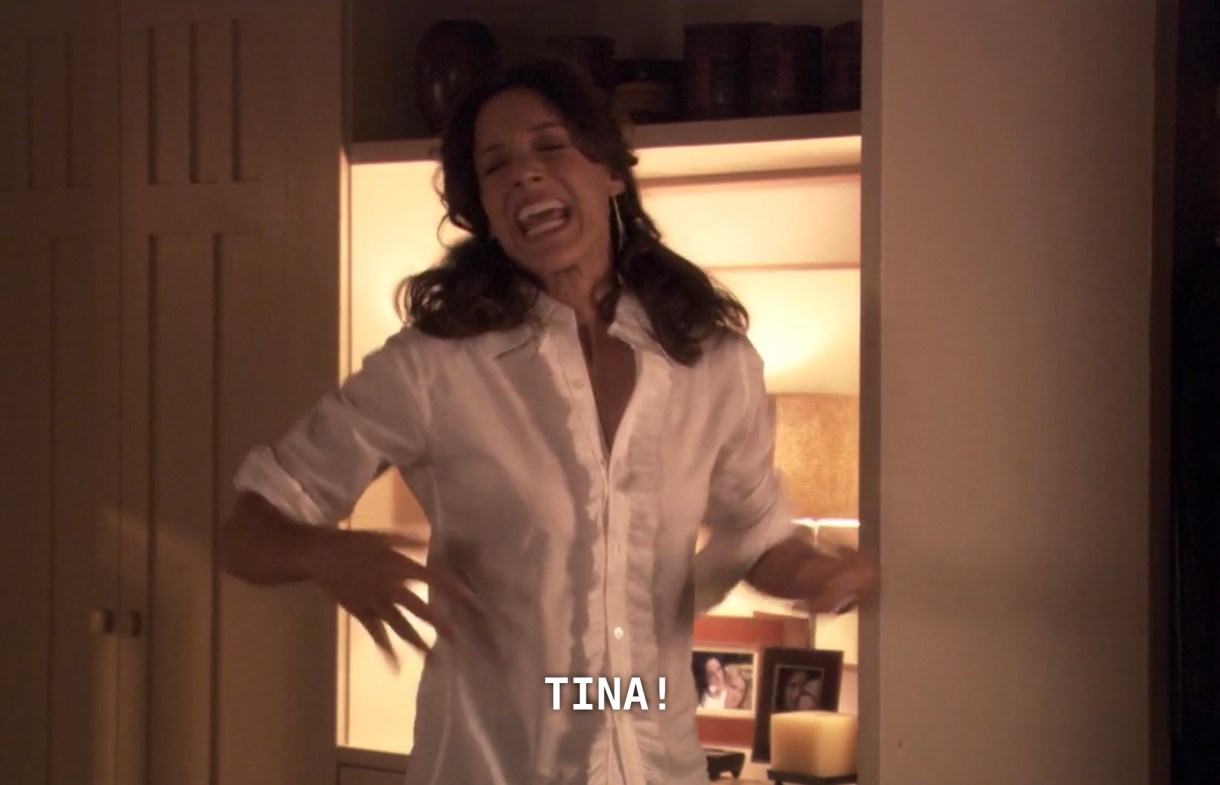 I get it. When you've lost everything that makes sense to you and grief is all you have in your bones, you can feel entitled to relationships you maybe shouldn't be having in the first place. Because without them…. the free fall, you know?
But Bette also wonders if maybe she's just sabotaging herself, over and over? This is the moment when I realized that I am Bette now and also had to sit down.
Bette wants to do right by Kit. She hears her, sometimes, saying "Girl, you gotta love the life you live and — " Shane joins her, on this next verse, "live the life you love." [Throwback #17: Episode #302 when Kit told her son that she liked seeing all the happy homos at Casino Night.]
Bette is enchanted by the bouquet of flowers on Shane's table. Shane reveals that they are indeed from Tina. "Of course they are," groans High Bette before moaning something about Tina's "good taste." Does anybody remember Henry or what?
More exposition when Shane whips out her divorce papers 'cause there's never a better time to sign 'em than on the big 40-0. Exposition: Shane and Quiara broke up 'cause Shane doesn't want kids and doesn't wanna raise 'em while Quiara's on tour. She knows that sounds selfish, but Bette says it doesn't, it's ok Shane!
"To new beginnings," says Bette "High as a Kite" Porter, and they both start cracking up laughing.
"I got divorced on my birthday," says Shane.
Instead of eating the gourmet meal Bette actually DONNED AN APRON to prepare and for which they are surely feeling a little hungry, they grab two pieces of asparagus each and leave so they won't be late, thus disappointing Alice.
---
OH MY LORDY LORDY IT'S A SURPRISE PARTY FOR SHANE TURNING FORTY!
"Who are all these people, Al?" Shane asks as she's dragged through the bar by an eager Alice, who "took some liberties with the guest list" which means she posted a general casting call on the Lex app. (Headline: YOU'VE HEARD OF SHANE, RIGHT?)
Then it's time for a little slideshow from the original series — specifically, these are photos Jennifer Beals took behind the scenes (and eventually sold in book format) that're now being passed off as part of the scenes but you know what? They're in costume. We'll take it.
They also pretend like this is a photograph somebody took, 'cause we should #neverforget:
That trip down memory lane has got everybody thirsty for a tequila shot. Meanwhile, the new class arrives: Dani and Sophie with their rings, Finley in her interesting shirt (btw she downed a flask on her way here, not knowing it was open bar and now shit's gonna get WILD!), Micah vaguely unsure of whether or not he actually likes his date. Sophie's got her eye on Finley's hollow leg, asking if she's sure she wants to get hammered in front of everybody's bosses.
Dani saddles up next to Bette Porter at the bar, and I'm prepped for a light apology regarding being extra earlier or perhaps conversation appropriate for the venue (Bette's friend's birthday party) but nope, instead Dani amps up to Serious Level 1000 and asks, "Have you made a decision?"
Bette says she's gonna end it. Dani says she's sorry for coming down on Bette so hard, but Bette says it's okay, but gets one barb in, after promising to end it: "You don't have to be so fucking excited about it."
Anyhow, Shane's standing on a table now! She's like listen, I didn't wanna have a party, but since half of the Chart is here, we may as well party!
Lena's filming it for her "Shane <3 Shane" Highlight on Instagram.
Finley's missing Rebecca, who she recently sent a bunch of emojis to. Sophie suggests ditching the fake-faces for her real face and some real words! Go tell her how you feel, Finley! This is a terrible idea.
Micah's chugging ice with Hassan when Jose walks in wearing an unforgivable shirt. He smiles at Micah and Hassan, who's thrusting chaotic energy into the air like a fog machine.
Alice and Nat are pursuing their #1 hobby — bickering — this time about the interview earlier today when Alice felt like Nat said she was hard to be with. Nat clarifies that work-life balance presents struggles for two busy career women, but don't worry — they're nailing it!!! Then Gigi saunters up, dressed like an extra in Moulin Rogue who refused to wear a skirt, to echo how great everybody's doing and to drink to that.
Then, Bette and Shane gift Alice a framed copy of her LA Times Cover Story! It's not EXACTLY what they'd expected in one major way: Gigi's in the family portrait.
"It's the Church of Latter Day Saints!" Shane teases instead of just saying "Mormons." "It's amazing!"
"Or a cult in Portland," Nat notes. Or a polycule, NAT.
---
Finley rolls up to Rebecca's ENTIRE HOUSE where Rebecca's inside dining with grown-up adults. Finley tosses her bike on the lawn, and requests her beloved's attention via aggressive knocking. Becca's pleased to see her 'til she smells the mini-bar emanating from Finley's pores.
Finley proceeds to blow it.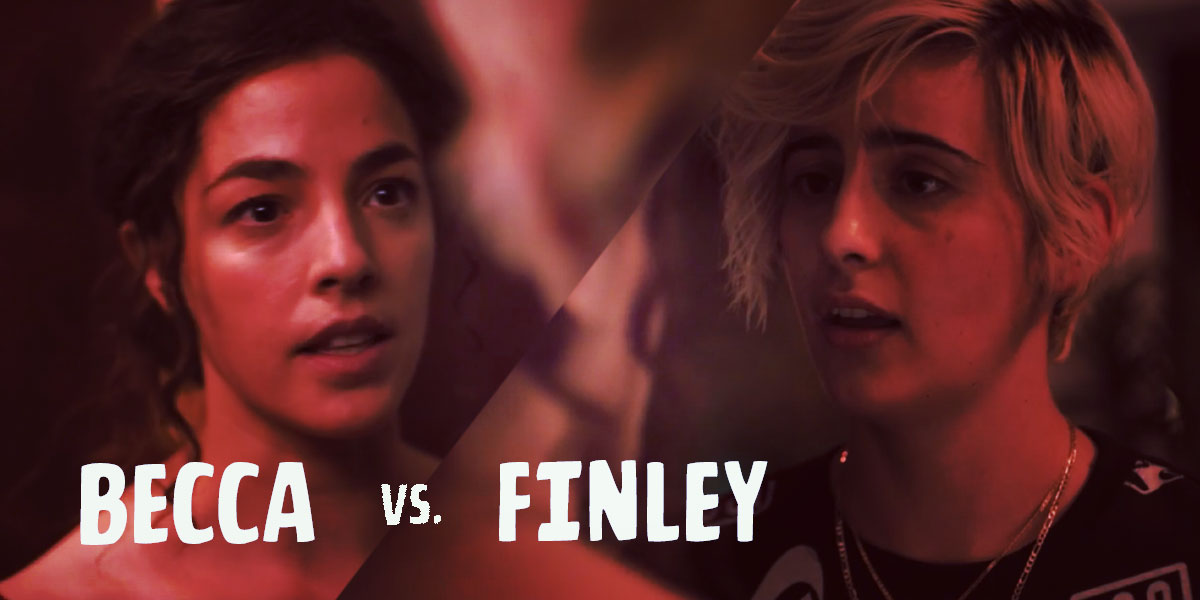 Lesbian Squabble #11: I love Jesus But I Drink A Little
In the Ring: Becca v Finley
Content: Finley's gotten over the priest thing 'cause she realized Rebecca's not a real priest! "You know you have the church and the outfits but it's not a real church so I can totally do it." Rebecca counters, "that's really hurtful." Everybody's face crumples. Finley's barely sure if her arms are coming out of her legholes or what's the upside-down game? Nothing's computing. Finley adds that she was freaking out about having sex with Jesus, but she's cool with it now, and loves Rebecca. "I think you should go home," Rebecca responds to that.
Who Wins? Love is a lie
---
Back at the Raging Surprise Party, Hassan's like heyyyy how do you know all these lesbians? and Micah's like I dated Dani in college! Hassan says Micah's got great taste in men and women. What a strange thing to say!
Everybody's getting low to the window to the wall. Sophie and Dani are dancing like sex. Maybe being really hot together is the steel core of their relationship and that's fine, people have based entire marriages on less.
Meanwhile, Lena's genitals are squirming to escape that pantsuit as her full-body longing for Shane compels her to, despite her girlfriend's ATTENTIVE eye, stroll over to Shane, whisper in her ear, and put her hand on Shane's waist. Shane pushes it away.
Jose cuts in to Hassan and Micah's dance dance revolution to ask what Hassan "does." Hassan tells Jose that he's an actor and Jose should come to his improv show next week. There goes that boner!
Jose's not into Hassan and turns around to talk to Micah. It feels like Micah's in this position a lot: still there waiting when the guy turns around.
Elsewhere in this Swarming Surprise Party….
Nat's gnawing at Alice's shoulder like a turkey drumstick…. and making eyes at Gigi.
o h  f u c k  y e s
You can tell me, you know, Alice informs Nat during a 3-second tonsil hockey time out. If there's a part of you that still wants her.
Remember Jamie and Tasha and the dance marathon? No reason, I was just thinking about it.
Nat: I want you.
Alice: I know…
Nat: I want you… and her.
Alice: Right?
Nat: She's so great.
Alice and Nat gesture Gigi over by yelling HEY COME OVER HERE WE NEED YOU and then delivering EYEBALLS of DRUNKEN LUST. I love this part of a threesome, when you know you're a hot couple and you're about to give some lucky lady an all-expenses-paid ticket to ride.
Meanwhile out back, Micah asks Jose a series of relevant questions regarding his feelings, which Jose mostly responds to with a half-open mouth that no words are coming out of. Micah pounds Jose's chest with his fists and demands to know what Jose wants. This is what Jose wants:
Alice, Nat and Gigi stumble into a back room of some kind and HERE WE GO

Lesbian Sex Moment #11: And If You Want to Dance and If She Wants to Lead I Won't Mind
The Players: Alice, Gigi and Nat (with a little backup from the dancers on the dance floor as we cut back and forth)
The Pick-Up: "Hiiiiiiiii"
Hot or Not?  SCORCHING. This is hole in the ozone layer hot. This is your flat iron cranked up to permanent hair damage hot. This is the cap of Red Pepper Flakes falling off mid-shake, thus dumping the entire container onto your pasta hot. This is sadistic boys burning insects with magnifying glasses on the sidewalk level hot. This is "'Ilomilo' by Billie Eilish is playing" Hot.
They do the standard invocation ceremony one must perform before a TV threesome:
1. the two people who haven't kissed before; kiss (I believe on ye olde Faking It, "kissing the girl you like less first" was delivered as a Rule of Threesomes)
2. the two people who have kissed or flirted before but it's a little complicated, kiss
3. the two people who kiss each other regularly; kiss
4. All hell breaks lose
Gigi's tongue is in Alice's mouth and Gigi's blazer looks great on the floor and then everybody's mouth is vying 2 become 1. Alice pushes Gigi onto a surface — a bench? a couch? What room is this? Who cares — Alice climbs over her and grinds into her and then it's Nat behind Alice and Gigi slipping one entire finger into Nat's mouth and because lesbians and their hands!!! uses another finger to guide Nat's lips back to Alice's and then Nat's got one hand going under Alice's skirt while Gigi's got one hand going up Alice's bra and then we cut to the great outdoors…
And then back to the indoors where Dani and Sophie are gripping hips, grazing side-boob, kissing, breathing into each other's necks and, eventually, needing to get the fuck out of there to fuck.
… and then we get back to the back, to Nat's fingers tracing/grabbing the full length of Alice's leg, her skirt bunched up into a mass of golden shimmer on Gigi's lap because Gigi is grinding beneath her, Alice's thong barely snagging the heel of her strappy gold shoe as it's pushed to the floor and Nat mounts her. Jump cut to Nat in front of Alice and Gigi behind – we have Alice getting fucked by Nat, we've got Gigi between Nat's thighs, we've got Alice getting fucked by Gigi while Nat watches with her hand between her own thighs her finger inside her own cunt my friends WE HAVE IT ALL. BRAVO. Emmys for everybody!!!!!
---
Back out into the land of OK Sure, Lena flirtatiously accosts Tess and gushes about how amazing everything looks.
Which brings us to…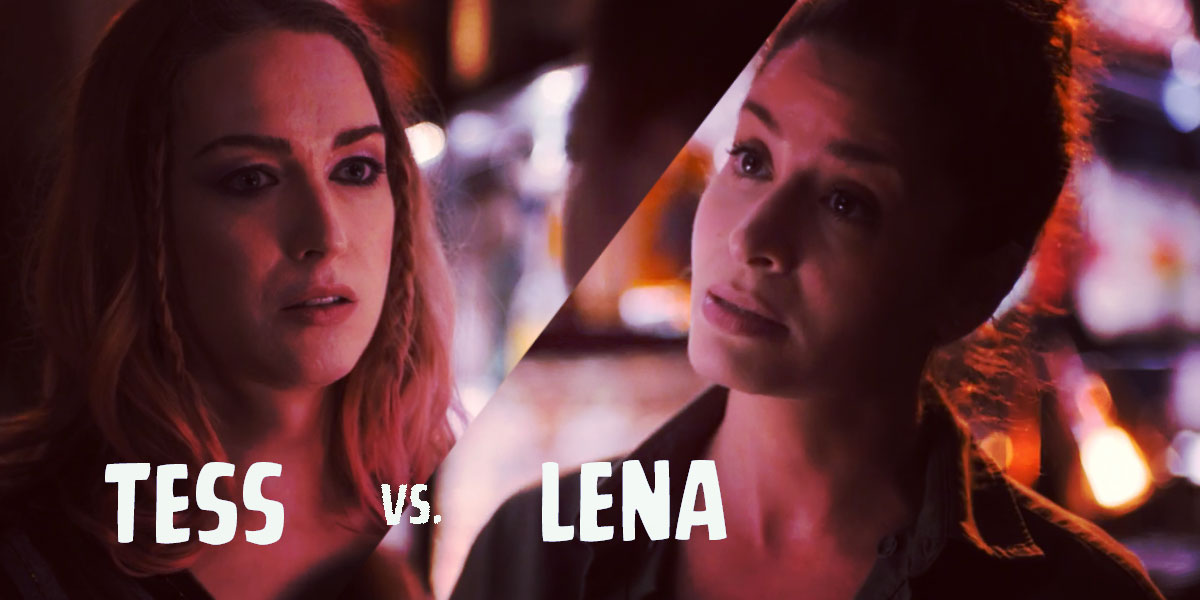 Lesbian Squabble #12: Someone I Loved Once Gave Me a Box Full of Darkness
In the Ring: Tess vs Lena
Content: "Is there something you wanna tell me?" Tess asks her. Lena plays innocent: "what do you mean." Tess tries it like this, "I know that there's something going on between the two of you, I can feel it." Lena says there is not. And then Tess delivers a single, perfect line: "You know, when you look back on our relationship I want you to know that it wasn't your infidelity that ended us. It was this moment."
DAMN!!!!
Lena backs up or steps forward, maybe she's not sure which, and so Tess asks again if there's something Lena needs to tell her — and then Lena, finally, apologizes. I wonder how long, exactly, did Lena think her lie to Shane about being on the rocks with Tess would hold up? What was her long game here? Tess says she can't do this. She walks out.
Who Wins? Gonna go with "love is a lie" again here.
---
Bette wheels out Shane's cake as Alice, Gigi and Nat stumble out of the backroom with sex hair.
Lez get a shot of that cake, shall we?
"Strangers" by Halsey starts playing, just in case I didn't already listen to that song three times today (I did) and lest we dwell too extensively upon this award-winning dessert, Alice kinda stumbles with her drink and her messed-up hair like Tallulah Bankhead and goes "Holy shit," and Bette goes, "Oh my God" and Shane turns around and look who got out of her dreams and into her car!!!
"Happy birthday," says Shane's wife.
DUM DUM DUMMMMMM
---
The Round Up:
Sexy Moments: 2 this episode, 11 total
Squabbles: 4 this episode, 12 total
Throwbacks: 5 this episode, 19 total
Quote of the Week: "You know, when you look back on our relationship I want you to know that it wasn't your infidelity that ended us. It was this moment." – Tess
GOOD JOB ROBIN ROEMER!
Pages: 1 2 3See entire article on one page